When you see these ham and cheese pinwheels in your freezer, your heart will rejoice. You will know that lunch is all set once you add some crunchy carrot sticks, you have lunch done. Nothing makes a tired mama happier than realizing her earlier preparations have made her life easier. I swear I hear angels singing on those occasions. Yes and amen!
Get the Best-Selling Large Family Freezer Meals Collection here! Use promo code HELLO20 to take 20% off your first order.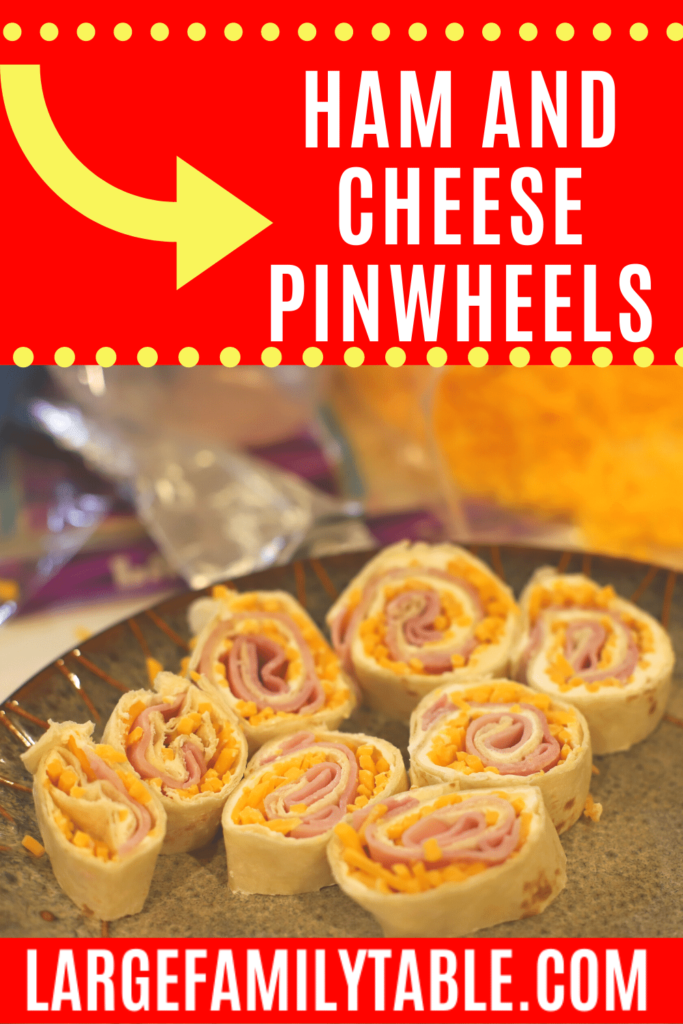 Now get ready to be amazed at my culinary prowess here. This recipe is so delicious yet so simple. Grab a large package of flour tortillas, 2 packages of cream cheese, a bag of shredded cheddar cheese, and a family size package of ham. Your cream cheese will spread easier if you let it come to room temperature first. You're less likely to tear the tortillas if you do this one step. Trust me on this one. I'm here to make all the mistakes for you. You can thank me later.
Lay out a tortilla. Slather with cream cheese all over. Don't be stingy. Sprinkle a good heaping of cheese on there. Carefully place 3 slices of ham across the cheese. Roll tortilla and cut into slices if you desire. I like to freeze them whole and slice before serving. Do what's best for your family.
Freezer directions: Make pinwheel log. Cut in half. Wrap both halves together in plastic wrap. Place all pinwheel logs in freezer bag. Freeze for up to 6 months. Defrost in the fridge for 24 hours before slicing and being the hero of lunch.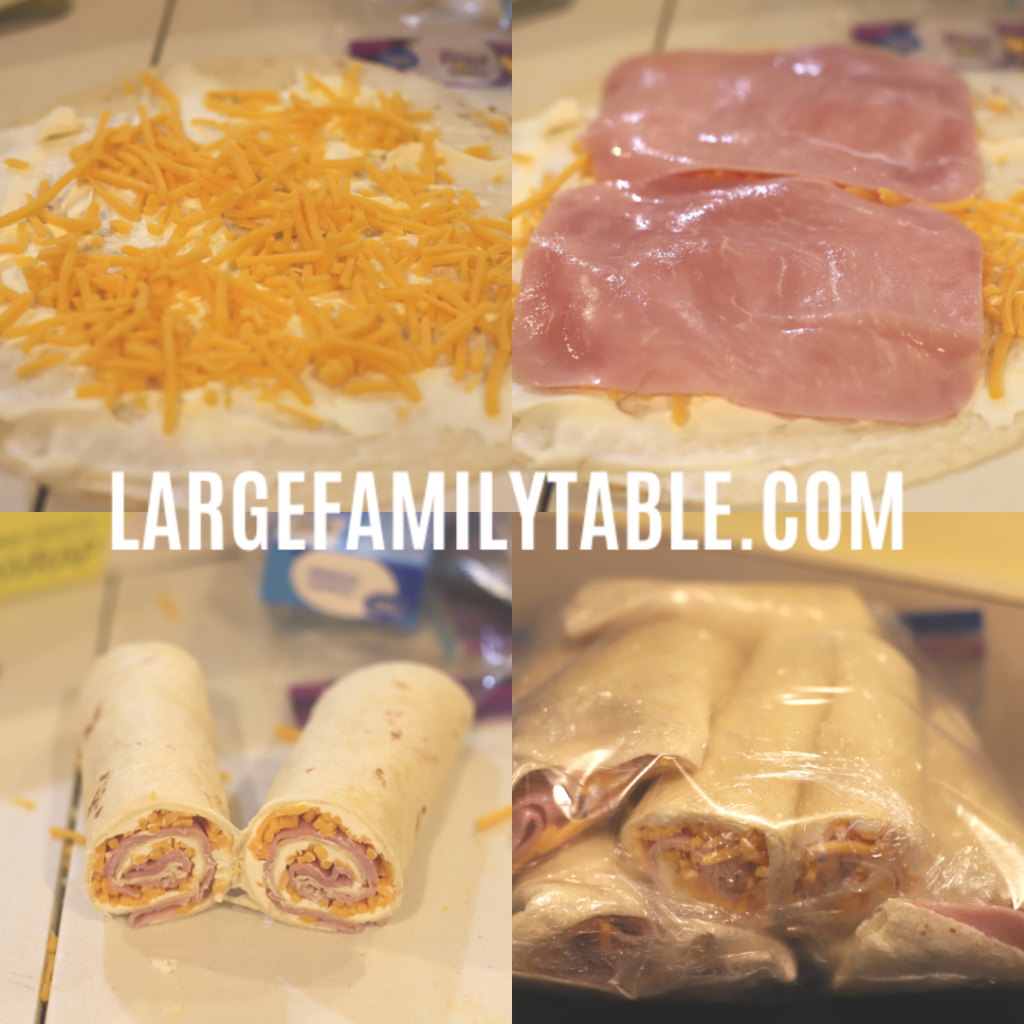 Print
---
Description
A fast and easy lunch can be procured from the freezer and be tasty too!
---
Ingredients
family size package of burrito size flour tortillas
16 oz package cheddar cheese
2 packages (8 oz) cream cheese
Family size package deli ham
---
Instructions
Lay tortilla flat.
Spread cream cheese all over tortilla.
Sprinkle hand full of cheese across cream cheese.
Lay 3 ham slices across the tortilla.
Roll tortilla and either slice or freeze.
---
Notes
Freezer directions: 
Cut tortilla in half.
Wrap both halves in same plastic wrap. 
Place in freezer bag with other pinwheel logs.
When Remove pinwheel log from freezer. Let thaw 24 hours in fridge.
Slice and serve.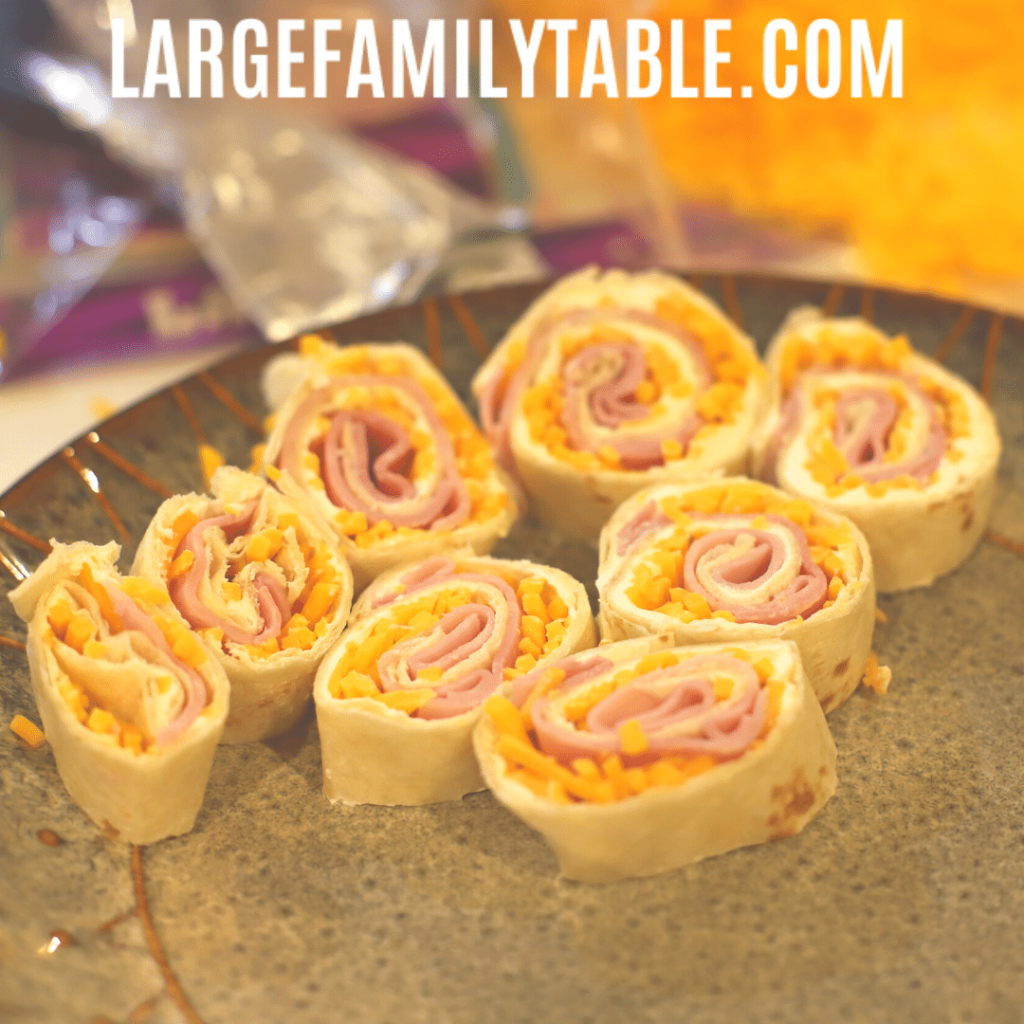 This meal is exceptionally fast and tasty. No one will complain when they see these babies coming toward them at lunch. You might even get a request for them from a kid or two occasionally. That makes it a winner in my book.
Check out these other fast freezer lunch meals!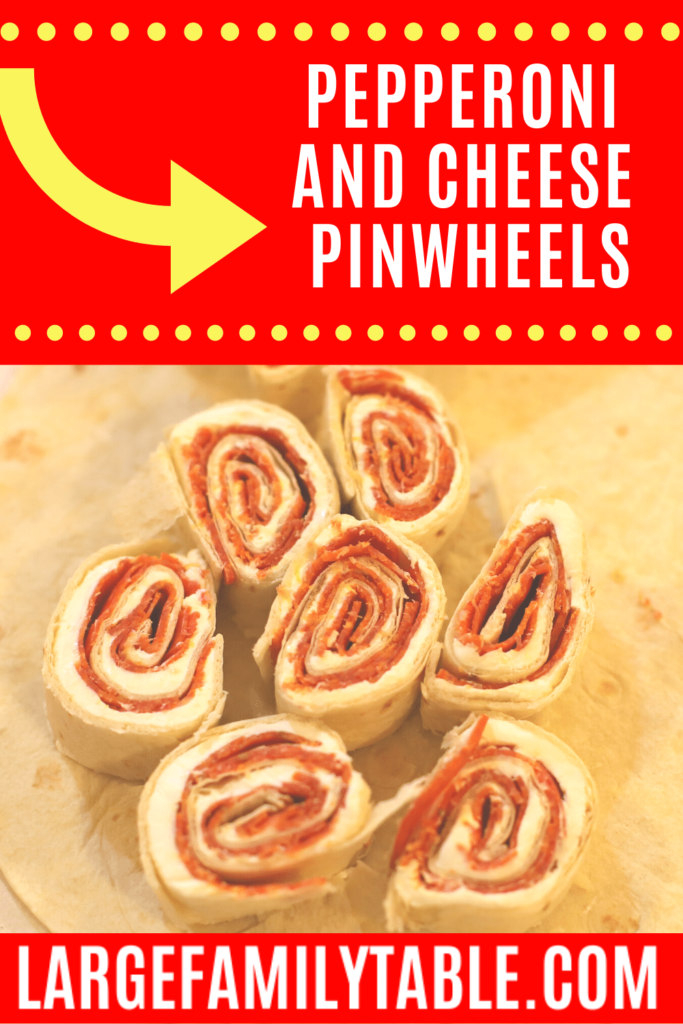 Looking for more easy ways to fill your freezer?
You need this huge large family freezer meals collection because you have a lot of people to feed every. single. day. They always seem to want breakfast, lunch, and dinner (don't forget the snacks!) and they always look to you for all this food.