Want to make breakfast the stress-free way? Follow this recipe for Big Family Sheet Pan Berry Pancakes to have a simple yet delicious breakfast ready for your family.
Big Family Sheet Pan Berry Pancakes are a simple, stress-free way to prepare breakfast ahead of time. If you are tired of watching over the griddle, worrying about burning the outsides of your pancakes while leaving the center undercooked, stress no more. This foolproof pancake recipe will help you prepare the tastiest pancakes your family has ever had. You create the pancake batter, spread it out on a baking sheet, and let them cook in the oven while you relax and wait.
****Use special promo code HELLO20 to take 20% off the entire MEGA DEAL get-it-all Bundle including the best-selling Large Family Freezer Meal Packs 1-12 + so much more!!****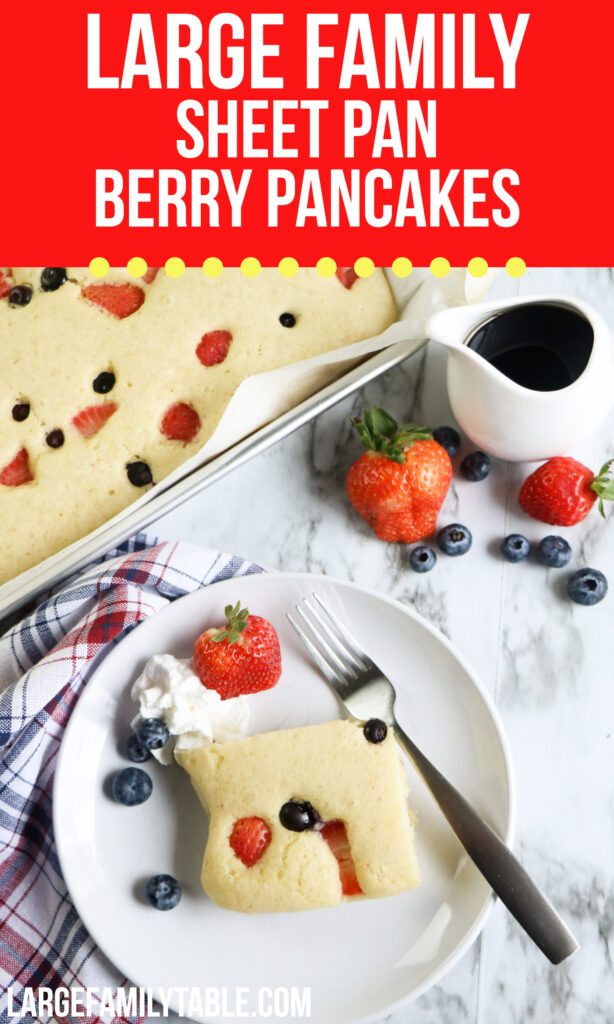 What Do You Need to Make the Big Family Sheet Pan Berry Pancakes?
Make the Big Family Sheet Pan Berry Pancakes with the following ingredients:
All-Purpose Flour. Use four cups of the flour to create a base for your pancake batter.
Baking Powder. Adding baking powder into the mix with your flour is a great way to ensure your pancakes turn out fluffy and soft.
Brown Sugar. Use the brown sugar to bring a touch of sweetness to your pancakes.
Strawberries. Slice your strawberries into thin pieces.
Blueberries. Use at least a cup of blueberries in your pancake mix.
The other ingredients you need include salt, eggs, milk, butter, and vanilla.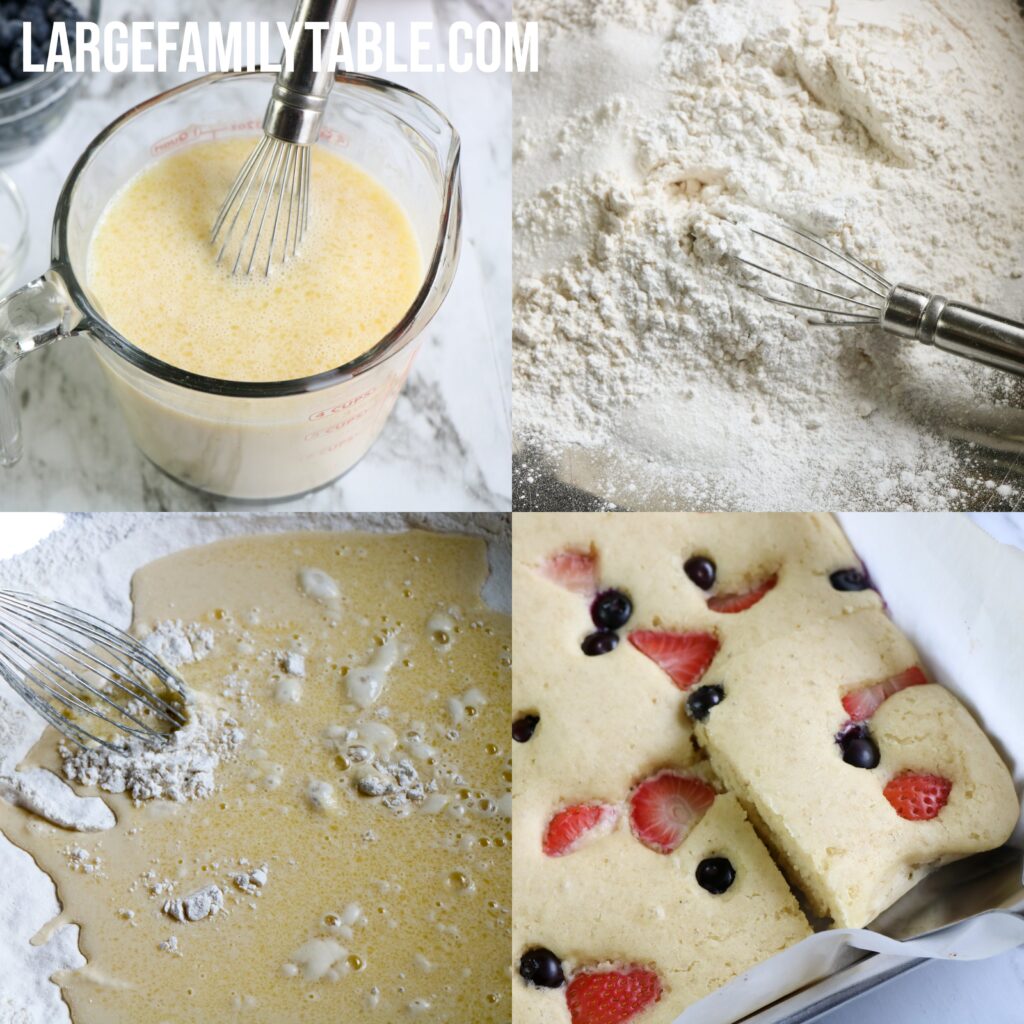 Can I Freeze and Reheat Pancakes?
Have a busy week ahead of you and wondering if you can make these pancakes before the week begins? Yes! You absolutely can make the pancakes in advance to save time and avoid stress. Bake the pancakes as directed, let them cool down, then cut them into individual servings. Next, place them on a sheet pan in a single layer for about 30 minutes until they freeze. If you stack them without freezing them separately first, they will likely stick together due to the moisture- even with parchment paper between them. They will stay fresh in the fridge for a week or three months in the freezer. You can reheat them in the microwave in stacks or all at once on a sheet pan in the oven.
What to Add on top of the Pancakes
The Sheet Pan Berry Pancakes taste great on their own, but there are many toppings you can add on top of them. Consider using powdered sugar, whipped cream, or even your favorite type of pancake syrup. You might also want to add a bit of butter on top, allowing it to melt into the pancakes for more flavor.
Here are my Sheet Pan Breakfast Sandwiches with Sausage, egg, and cheese. You use sheet pan pancakes to make them!
Other Varieties of Pancakes
The blueberries and strawberries are a healthy and flavorful addition to the pancake mix, but I have other varieties to try, too. One option is to add other pieces of fruit into your mix, including Blueberry Pancakes, raspberries, blackberries, and chopped pieces of pineapple. Other tasty ingredients that go well with the mixture include shaved coconut flakes, mini chocolate chip morsel Pancakes, and crushed peanuts.
I also have recipes for Red Velvet Pancakes with Cream Cheese, Chocolate Chip Sheet Pan Pancakes, Elephant Pancakes, Lion Face Pancakes, Pumpkin Pancakes, and Pancake Muffins.
Here are more large family breakfast ideas!
I have lots of breakfast recipes, pancake, French Toast, and muffin recipes, sheet pan recipes, baked goods for breakfast, and ideas to feed your large family.
Where can I find more large family breakfast recipes?
Breakfast doesn't have to be complicated to be filling and healthy. I know it may seem easier to buy pre-made breakfast items, but you can save lots of time and money just by making breakfast ahead of time with my Breakfast Freezer Meals Pack, it's number 10 in my Large Family Freezer Meals Series. It includes 10 amazing breakfast recipes with directions to help you make 25 breakfast meals to put in your freezer!
Big Family Sheet Pan Berry Pancakes
Print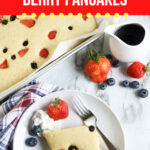 Big Family Sheet Pan Berry Pancakes
Author:

Prep Time:

25 Minutes

Cook Time:

18 minutes

Total Time:

43 minutes

Yield:

24 servings

Category:

Breakfast

Method:

Oven
---
Description
If you don't feel like making your big family pancakes one at a time, then these Big Family Sheet Pan Berry Pancakes will hit the spot! 
---
Ingredients
8 cups all purpose flour

1  cup brown sugar

4 tablespoons baking powder

1  teaspoon salt

8 large eggs

5 cups milk

1 cup butter, melted

4 teaspoons vanilla

2 cup sliced strawberries

2 cup blueberries 
---
Instructions
Preheat the oven to 425 degrees. Prepare two large rimmed baking sheets with parchment paper. Spritz the paper with nonstick cooking spray. 

In an extra-large mixing bowl, whisk together the dry ingredients: flour, sugar, baking powder, and salt. 

In another large bowl, whisk together the eggs, milk, butter, and vanilla. Stir the wet ingredients into the dry ingredients just until everything is moistened. Transfer the batter to the prepared baking sheets.

Drop berries onto the batter.

Place in the oven and bake for 15 to 18 minutes or until the pancake springs back at the touch.

Serve with powdered sugar and/or syrup.
---
Notes
To Freeze or Make-ahead: Make Pancakes as directed. When done, allow to cool then cut into individual pieces and place in an airtight container with parchment paper between each piece. You can also store them in freezer bags with parchment paper between them. To reheat, place frozen pancakes on a stack in the microwave and heat until warm. 
Keywords: Big Family Sheet Pan Berry Pancakes
Make these easy sheet pan pancakes for your next large family breakfast. Eat them fresh or make them ahead and pull them out of the freezer when you're ready for breakfast.
FREE Emergency Pantry Planning Pack!
Don't forget to sign up for the emergency pantry planning pack for free to help you plan your pantry meals! The free Emergency Pantry Planning Pack will help you plan your needed pantry items! Printable pages include pantry inventory, grocery lists, meal planners, list of pantry staple items, and more.