Homemade Blueberry Pancakes Recipe
I mentioned in another pancake post that making pancakes for my family is a job. I can remember making pancakes for my little family when it was just Travis and me and maybe a baby or two. I could easily use my skillet and make one batch of pancakes and still have leftovers. Let me tell you, folks, that is not how it is anymore!
These people can put away some pancakes. But I don't mind because they are such a yummy and filling breakfast. I usually add some fresh fruit or a breakfast meat like bacon or sausage to be sure that all these tummies stay full for a while.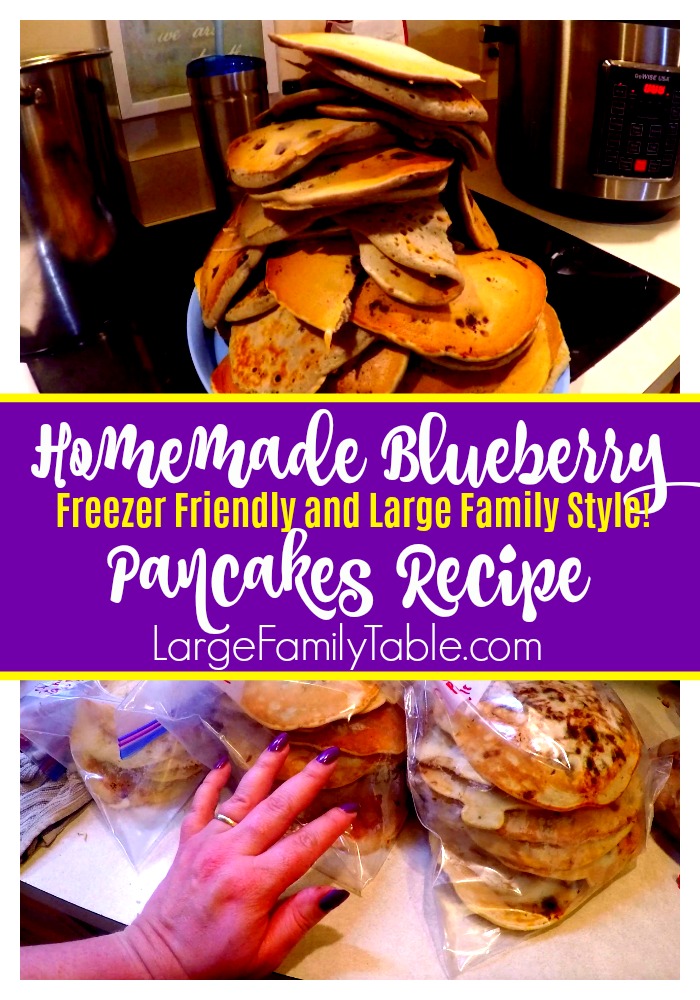 Pancakes are also delicious for snacks spread with some peanut butter and rolled up like a crepe. The kids can easily grab one and not have to dirty a dish to enjoy a yummy pancake. I like that they can have a protein-filled snack that will tide them over until dinner when our forest hikes run long. And they are completely portable. Portable pancakes for the win!
Let's make some blueberry pancakes!
Print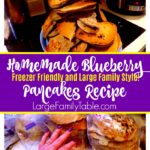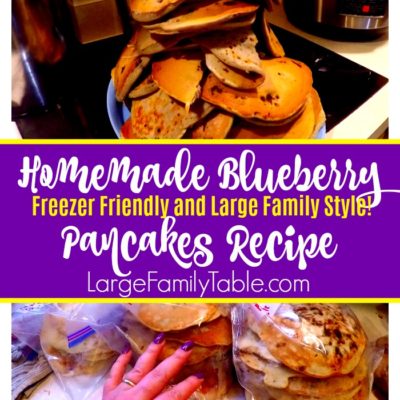 Homemade Blueberry Pancakes Recipe | Freezer Friendly and Large Family Style!
---
Ingredients
12 cups flour (use whatever kind you prefer)
1 cup sugar
1/2 cup baking powder
2 1/2 TBSP salt
2 TBSP cinnamon
12 eggs
12 cups milk
4 cups frozen blueberries
---
Instructions
Mix all dry ingredients and make a well in the center.
Combine wet ingredients and pour into the well you created.
Stir all together until wet but not overmixed.
Stir in blueberries.
Spoon onto hot griddle or skillet and brown on both sides.
Let cool completely and store in gallon-sized freezer bags.
To eat, place bag in frig the night before.
Heat in microwave or toaster oven.
---
Notes
I have done these pancakes many ways, with the blueberries still frozen, with them fresh, and with them thawed. You do whatever works for you and what's easiest.
This Homemade Blueberry Pancakes Recipe was in my 27+ Large Family Meals in 10 Hours vlog from my day two large family freezer cooking day. Let me know how your family loves this freezer friendly pancake recipe!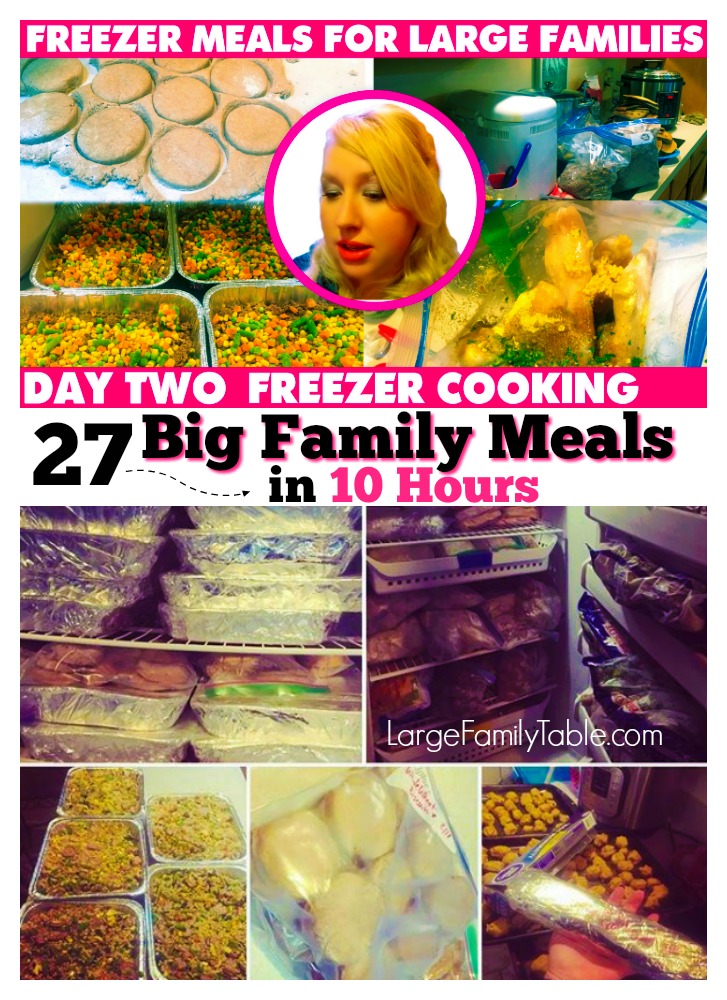 Try out these large family breakfast recipes as well!
Large Family Sheet Pan Pancakes Recipe
Baked Eggs in the Oven
How To Cook Bacon in the oven