Save money while having pizza night with your family using this Large Family Sheet Pan Pepperoni Pizza recipe. Make fresh and tasty pizza that is better than what you would normally get from a fast-food restaurant! Plus I've added a detailed list of lots of other pizza-style recipes to make pizza night a weekly menu option!
When your family loves pizza, and you've tried my Pizza Casserole, but the price of it gets a bit high because you have many mouths to feed, make it yourself! You do not need tons of ingredients to prepare a pizza that everyone in your household can enjoy weekly on the menu. Have a weekly pizza night with your large family using a few essential ingredients, such as refrigerated pizza dough (or make your own pizza dough!), mozzarella cheese, and jarred pizza sauce. It will not take long for you to put this large family meal together!
***Use special promo code HELLO20 to take 20% off your first order in the shop including the SUPER MEGA ULTIMATE Large Family Freezer Meals Bundle here!**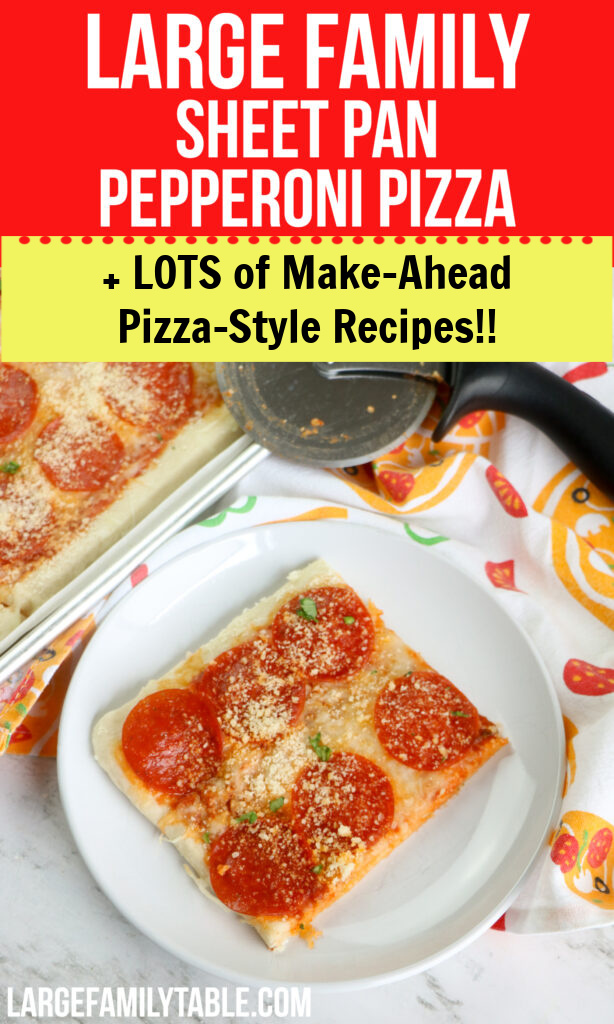 What You Will Need to Make the Sheet Pan Pepperoni Pizza
You will need several ingredients to prepare the Large Family Sheet Pan Pepperoni Pizza, including:
Pizza Sauce. You should have two jars of pizza sauce to use. It does not matter which brand you choose!
Pizza Dough. Use four cans of refrigerated pizza dough. You can also make your own pizza dough with my recipe.
Pepperoni. Grab one 6 oz. package of pepperoni to add on top of your cheese before baking your pizza.
Mozzarella Cheese. Add plenty of mozzarella cheese on top of your pizza sauce.
You will also need extra-virgin olive oil, grated parmesan or pecorino romano cheese, and freshly chopped basil. With minimal ingredients, you can have a fresh and tasty pizza ready to serve! See my kitchen tools list to help stock your kitchen.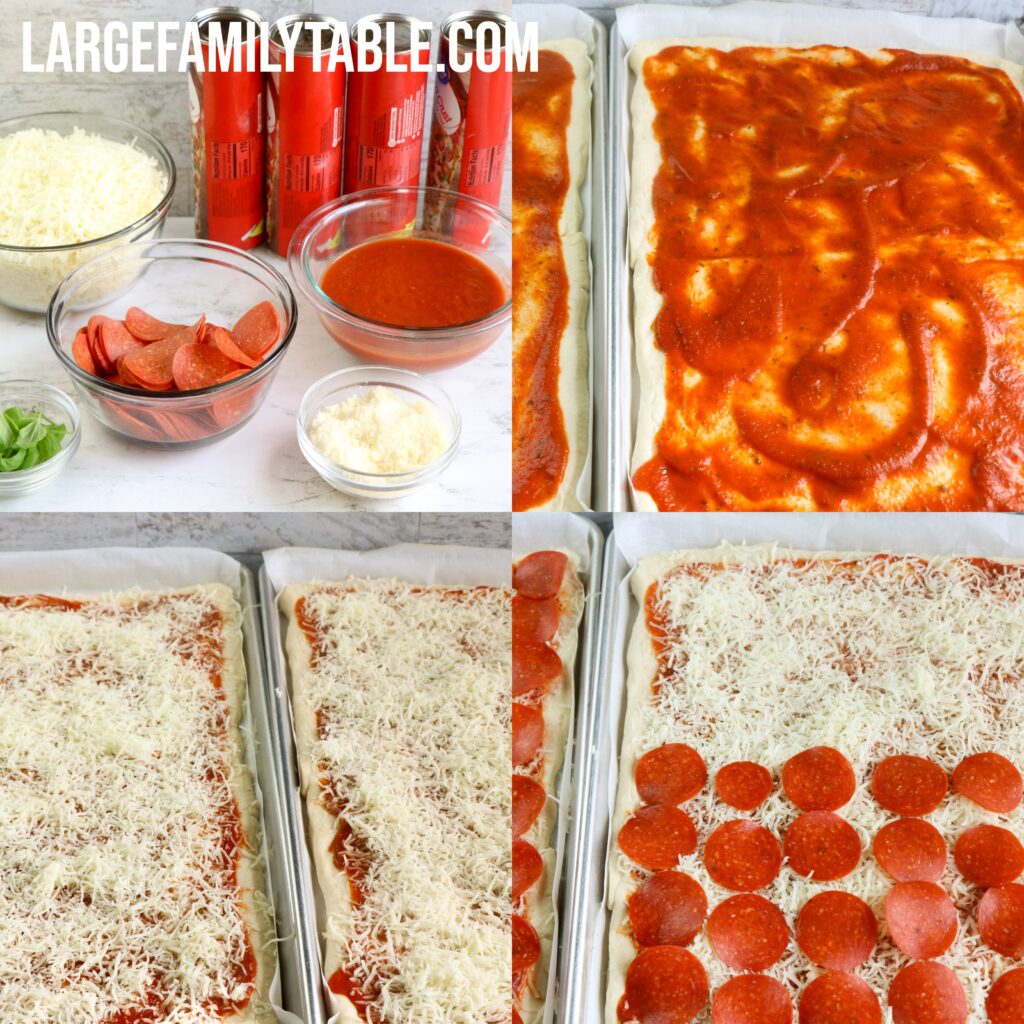 How to Make Pizza Dough for Homemade Pizza
If you have the extra time, you might want to make the pizza dough for your Large Family Sheet Pan Pepperoni Pizza. The only ingredients needed to prepare a fresh and tasty pizza dough include all-purpose flour, sea salt, olive oil, garlic powder, and dry yeast. It takes a bit more effort, but the homemade pizza dough is just as good as the pre-made one that you can buy at your local grocery store. You can also make the pizza dough ahead and freeze it using my recipes so it's ready to go!
Other Toppings to Add to Your Pizza
If you want to add more toppings or replace the pepperoni, consider using seasoned ground beef, or crumbled sausage, bacon, or ham as toppings for your pizza. If you would prefer vegetarian toppings, try baby spinach, chopped black olive, sliced mushrooms, sliced red onions, and green peppers.
What Other Ways Can I Make Pizza Every Week?
If your family loves pizza, I've got you covered! I have lots of different pizza-style recipes for you to make. Start with my Low Carb Deep Dish Pizza, or my Low Carb Pizza Casserole if you want a low-carb meal. For lunch, here are my English Muffin Pepperoni Pizzas, my  Pepperoni Pizza Boats, these Pepperoni Pizza Muffins, or these Pepperoni Pizza Hot Pockets. Both of those are freezer-friendly and easy lunch ideas. If you love chicken, here is Low Carb Pizza Stuffed Chicken. For breakfast, try Breakfast Pizza. For a fun snack, try this Cheesy Skillet Dip Pizza. A fun lunch or dinner is this Angry Birds Pizza. Finally, here are two casseroles. This Original Pizza Casserole (freezer friendly!), and this Sausage and Pepperoni Casserole.
How to Freeze or Make-ahead Pizza Meals
Most of the pizza recipes listed above are freezer-friendly. You can check each recipe individually for freezer directions. For the most part, if it's a casserole you should be able to assemble it, then wrap it with foil and plastic wrap and place it in the freezer. Most casseroles are good for 3-6 months in the freezer. Place them in the fridge the evening before you plan to use them and then follow the heating instructions for each casserole.
If they are individual pieces or a whole pizza cut into pieces, then you will want to cut your pizza into individual slices if it is not individual pieces already and wrap each piece in plastic wrap. After wrapping the pizza slice with plastic wrap, add a sheet of aluminum foil over each of the slices and put them in the refrigerator. Your pizza slices should stay good in the fridge for three days. You can freeze the pizza slices and store them in your freezer for two months. Reheat them in the microwave, toaster oven, or oven.
Here are more large family recipes to try!
Check out all my casseroles, instant pot and slow cooker meals, low carb recipes, desserts, lunch ideas, Low Carb Recipes, THM meals, and more!
Large Family Sheet Pan Pepperoni Pizza
Print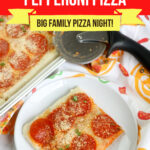 Large Family Sheet Pan Pepperoni Pizza
Author:

Prep Time:

15 Minutes

Cook Time:

20 Minutes

Total Time:

35 minutes

Yield:

24 Slices

Category:

Dinner/Lunch

Method:

Oven
---
Description
Save money while having pizza night with your family using this Large Family Sheet Pan Pepperoni Pizza recipe. Make fresh and tasty pizza that is better than what you would normally get from a fast-food restaurant!
---
Ingredients
2 (14 ounce) jars pizza sauce

2 tablespoon extra-virgin olive oil, plus 1 for drizzling

4 cans refrigerated pizza dough

3 tablespoons grated hard cheese, such as Parmesan or pecorino Romano

4 cups mozzarella cheese, shredded

1 (6 ounce) package pepperoni

2 tablespoons freshly chopped basil
---
Instructions
Preheat the oven to 400 degrees. Prepare two large rimmed baking sheets with parchment paper spritzed with nonstick cooking spray.

Unroll 2 pizza dough per sheet pan and place on the baking sheet, pinching the center edge together to seal. Bake for 8 to 10 minutes or until the edges begin to cook.

Remove from the oven and spread pizza sauce over the dough.

Add a layer of cheese over the sauce and top with pepperoni.

Return to the oven and bake for an additional 5 to 10 minutes or until the dough is cooked through and the cheese is completely melted.

Remove from the oven, cut into squares, and serve.
Keywords: Large Family Sheet Pan Pizza
No matter how you make it, there is always a new way to spin a pizza recipe! Just give it a try and your family will thank you!
FREE Emergency Pantry Planning Pack!
Don't forget to sign up for the emergency pantry planning pack for free to help you plan your pantry meals! The free Emergency Pantry Planning Pack will help you plan your needed pantry items! Printable pages include pantry inventory, grocery lists, meal planners, list of pantry staple items, and more.