Get the Best-Selling Large Family Freezer Meals Collection here! Use promo code HELLO20 to take 20% off your first order!
Bread Machine Pizza Dough
It was time for some big batch freezer cooking while I'm home alone with 5 kiddos under 10. It was rainy outside so I thought why not do some big batch freezer cooking and make bread machine pizza dough? How awesome will it be to have bread machine pizza dough already in the freezer for those lazy summer days or even busy weeknights? Because mama has to eat too, I also make some lavash bread pizza for a low carb option.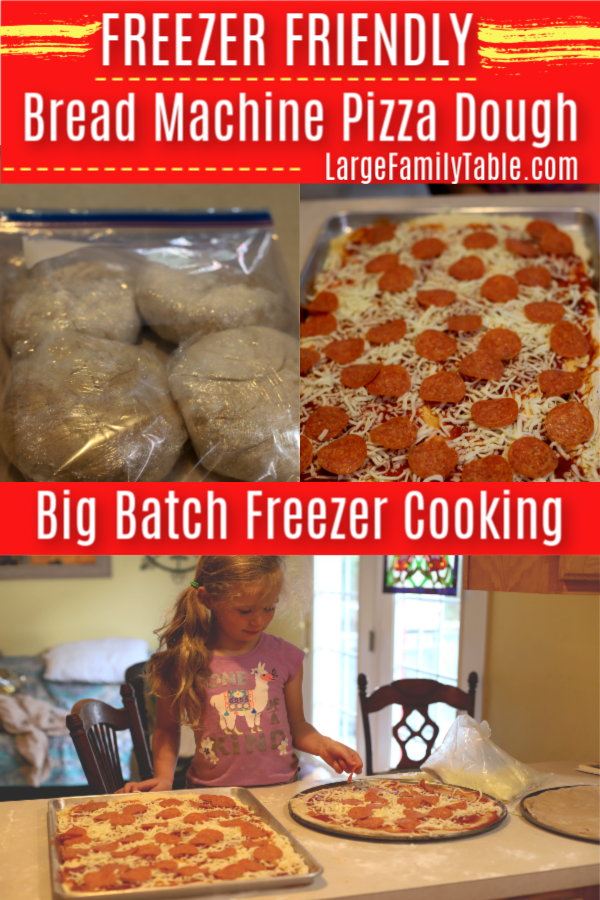 How long does pizza dough last in the freezer?
My goal for this during this big batch freezer cooking time was to get 20 bread machine pizza dough balls in the freezer for my large family. This would fill our pizza needs for about 2 months. If wrapped well, pizza dough will be fine in the freezer for 3 months or more.
I start off strong until I forget to turn on the bread machine while visiting with my friend. Oh well, at least I was able to feed the kids pizza that night. None went in the freezer but our bellies were full so that's all that matters. I also made the first of several lavash bread versions for a low carb option for this mama.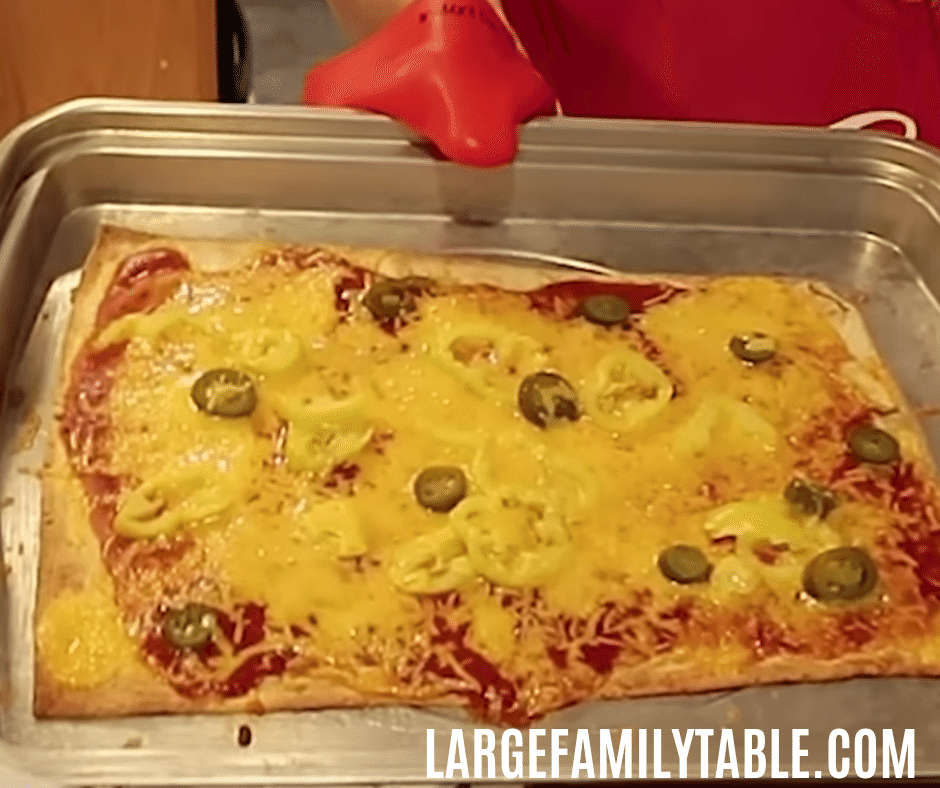 Bread Machine Pizza Dough Recipe
I shared my full bread machine pizza dough recipe here on Large Family Table over a year ago. You can click here to get my full bread machine pizza dough recipe with extra tips, helps, and more homemade pizza recipes that are family favorites around here!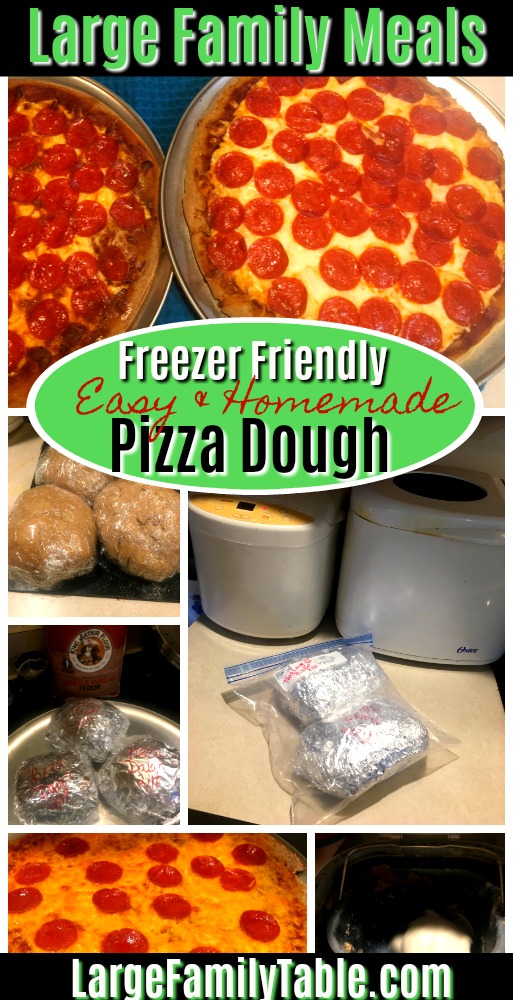 Low Carb Lavash Bread Pizza Recipe
Lavash bread pizza is so easy. Lay a piece of lavash bread on a small sheet pan. Top with pizza sauce, cheese and any other toppings you want. Bake in the oven at 450 for 4 to 5 minutes. Voila, even low carb mamas can enjoy pizza.
Can I roll out pizza dough ahead of time?
Absolutely! You could even roll them out, top them then freeze so all you have to do is bake in oven later. This large family mama doesn't always have the time to do that so pizza balls for the win. A great tip would be to lay the freezer wrap on the pan to roll it out then let it flash freeze before taking it off the pan. This way the pizza keeps it shape. You could even use cardboard underneath it too. Whatever you have on hand will work is the Jamerrill motto.
Sheet Pan Pizza
Sheet pan pizza would work really well if you wanted to freeze the complete pizza . My full size sheet pans take 2 dough balls to cover. Roll it out like any other pizza then stretch to fit the pan. I added some garlic powder and oregano to season up the crust. Add your pizza sauce and toppings then bake as usual. This translates to 2 large pizzas on a full sheet pan or 1 large on a half sheet pan.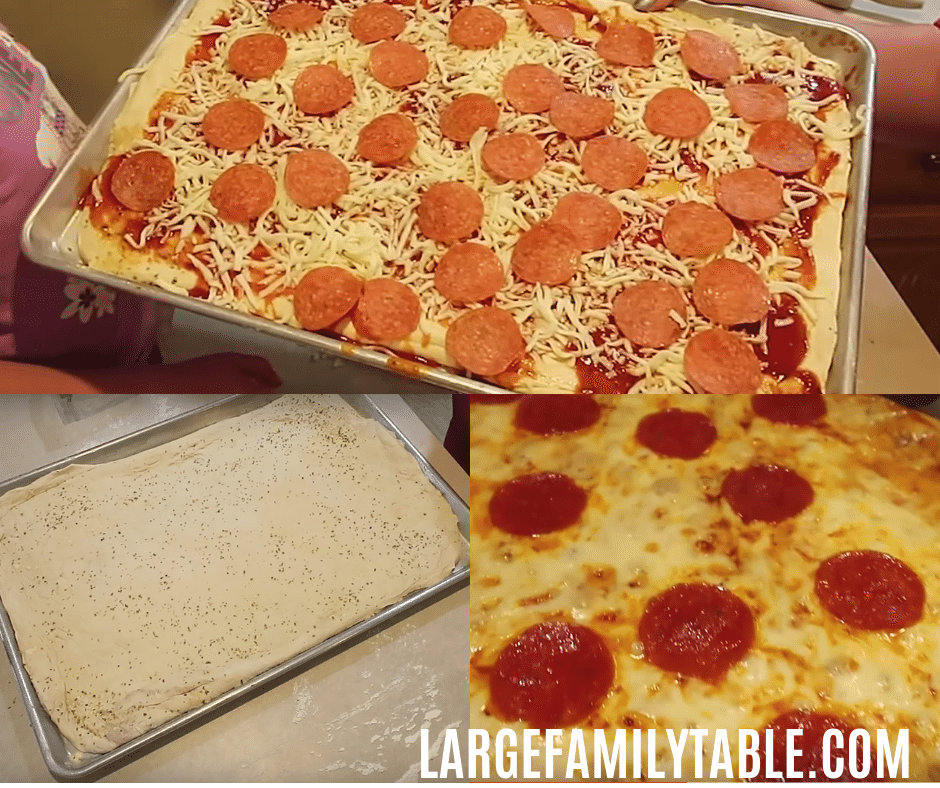 How do you store homemade pizza dough?
I let my bread machine pizza dough rise in the bowl while the next batch mixes in the bread machines. When time allows in my large family, I wrap it in plastic wrap then in foil in plastic wrap again. Add flour to your hands if the dough is sticky. I add 3 wrapped pizza balls to each freezer bag. Since each ball makes 1 large pizza, it's the perfect portion for my large family.
How do you defrost frozen pizza dough?
I take my pizza dough out in the morning to defrost for dinner that night. Alternately, you could take it out the night before and throw it in the fridge. Either way works so it all depends on how far ahead my large family mama brain is thinking as to which one gets done.
If you want to thaw it quickly, put each ball into its' own freezer bag and seal it tightly. Submerge each bag in a bowl of cold water. Change the water every 15 minutes until thawed.
Did I meet my goal of 20 pizza balls in this big batch freezer cooking session? No but that's ok too. I made 21 pizza balls and my family ate 8 of them before they could be frozen. I still got 13 of them in the freezer for future meals. That's a great help for this large family mama.
You can watch my full big batch freezer cooking session of making bread machine pizza dough here on YouTube!
Breadman Bread Machine
Here's my Amazon affiliate link for the Breadman Bread Machine that I bought about 5 years ago. It has served me well as I use it several times a month and some weeks daily.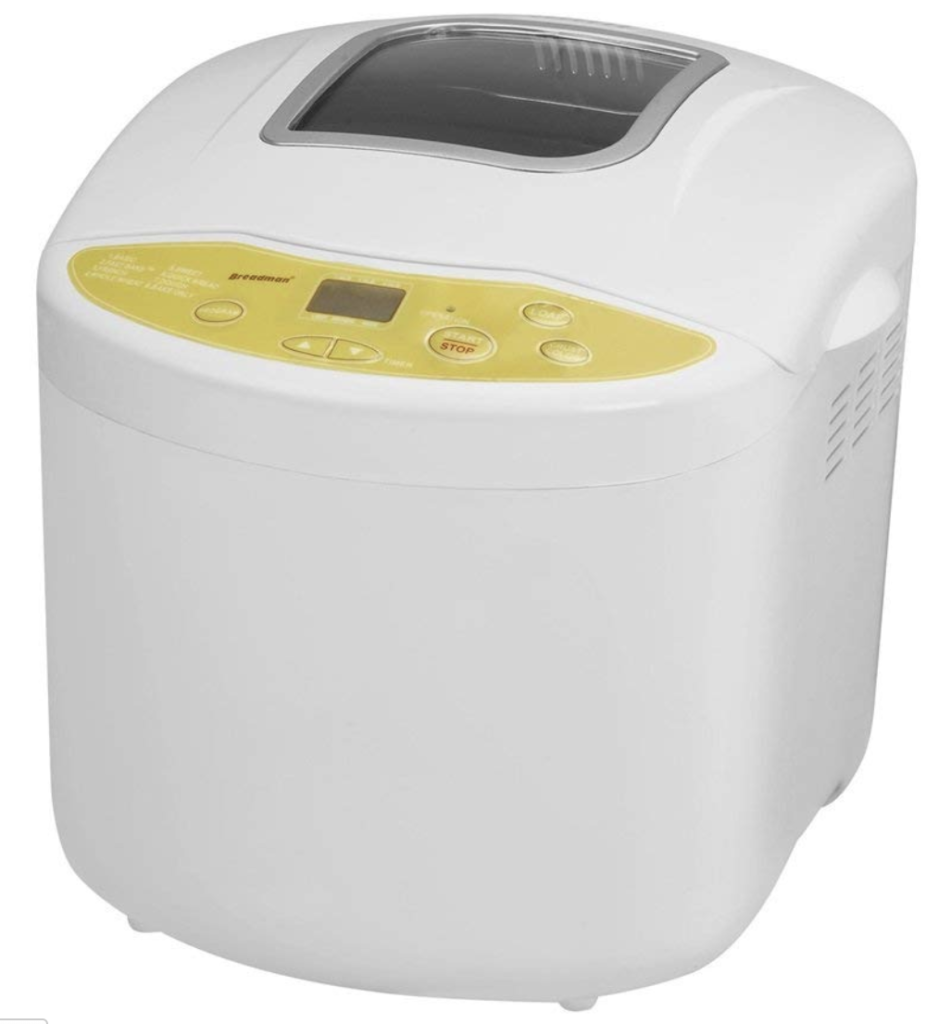 MOM TIP! I found my 2nd bread machine at the thrift store for only $2.99 about 4 years ago. It has run perfectly along side my Breadman Bread Machine all this time. Check your thrift store for used bread machines. Always make sure they have the dough hook. Take the dough pan out. Sometimes the dough hook has been taped under the pan so it doesn't get lost. Since buying my used bread machine I've seen bread machines at thrift stores for less than $5 multipe times. It's a great place to check!
This Pizza Dough Recipe was featured in Large Family Meal Plan #2. You can find more large family meal plans here.
Want more Big Batch Freezer Cooking recipes?