5 Tips for Grocery Shopping for a Large Family Freezer Cooking Day
I'm having lots of fun sharing with you all about making large family freezer meals recently. We've talked about The BEST Freezer Cooking Methods to Fill Your Freezer Fast and 10 Benefits of Large Family Freezer Meals. I also did a really fun YouTube LIVE chatting up about Freezer Cooking Days & Freezer Meals Q&A! Follow these 5 tips for grocery shopping for a large family freezer cooking day!
DON'T MISS the entire ULTIMATE SUPER MEGA Large Family Freezer Meal Packs 1, 2, 3, 4, 5, 6, 7, 8, & 9 here! Brand new packs 7 & 8 are low carb and pack 9 is by special request Dairy Free!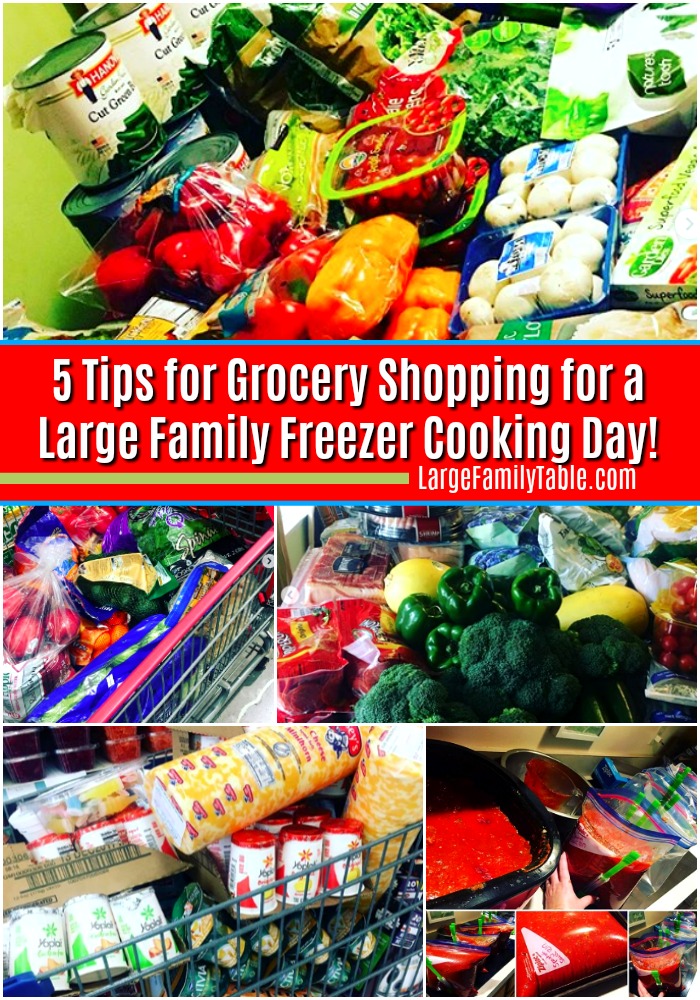 Making all of these freezer meals is a blessing, and it's a whole lot of food. It's a lot of food to buy. It's a lot of food to manage. It's a lot of food to organize. As a mom of 8, I certainly get it. The thing I've learned is whether I'm making 40+ freezer meals on a Saturday to ease my load in the coming weeks, or cooking every single night, it's a lot of food either way.
These people like to eat. I might as well manage it in a way so I can spend more time with my kids doing things like going on that hour nature hike in the late afternoon or continuing our current read aloud for another hour instead of being in the kitchen. And all the moms said amen ?.
Today I'm going to share 5 tips for grocery shopping for a large family freezer cooking day. These are grocery shopping tips I've found after several years of shopping for a big family and doing tons of freezer meals. There are many more, but let's chat about these 5 right now!
Grocery Shopping for a Large Family Freezer Cooking Day
Make room in your freezer(s)
Before you head out to grocery shop for your large family freezer cooking day, you should clear out your freezers as much as possible. Keep some meals in your current freezer stash if possible. If you can, try to stretch out your grocery shopping for another week. Sometimes I try to see just how far I can stretch it. This clears out the room in the freezers. This is also a good time to make sure there are no forgotten meals as well.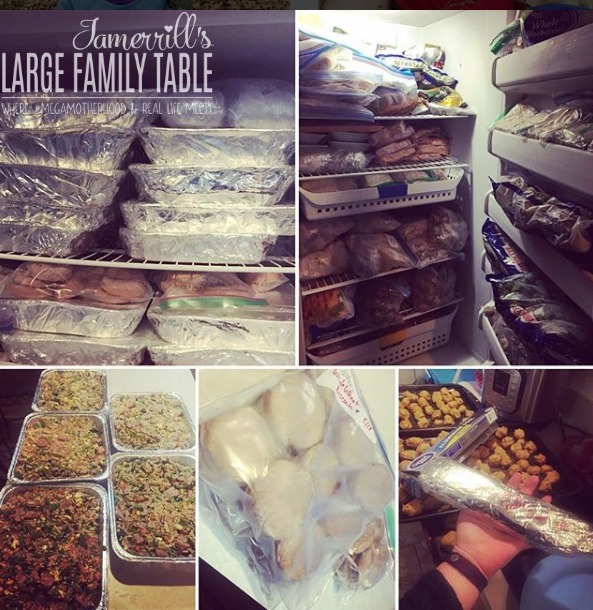 Take inventory of what you already have on hand
While you're cleaning out your freezers, this is a great time to take inventory of what you have available. Have you been freezing the last pound or two of bananas that the kids couldn't get to before they went bad? If you realize you now have 4-8 lbs of frozen bananas that's a great time to add banana bread to your freezer cooking plan list!
This is also a good time to see what meats you have in the freezer. If there's a pack of pork chops that have been hanging out you could add a pork meal to your list of freezer meals.
Don't freeze your meat
I understand that juggling a large grocery haul for a freezer cooking day can put a strain on your food storage areas. This is how after many years of feeding a large family I've ended up with three refrigerators and a full freezer (my first full freezer was a $ 75-yard sale find!). There are no hard fast rules around here, but if possible, don't freeze the meat you're going to use for your freezer cooking, especially if you're cooking the following day.
It'll just be easier and quicker to cook your meat if it's not already frozen. It's also more convenient for doing slow cooker freezer meals. I have found it's easier for me if I start out with unfrozen meat on a freezer cooking day.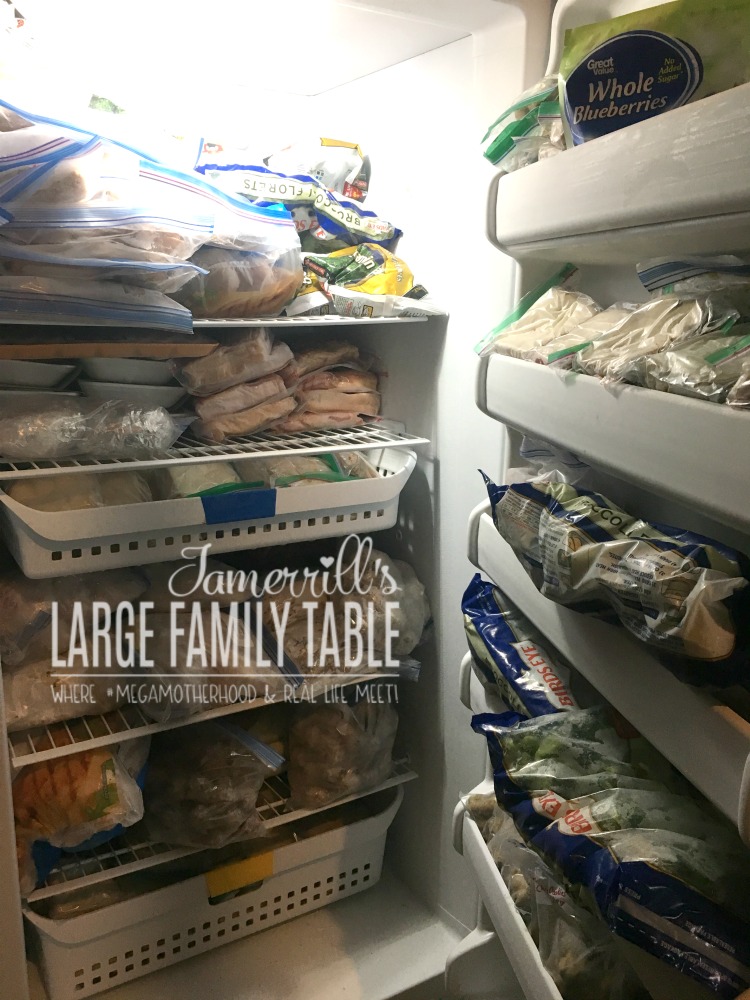 Utilize online grocery ordering
I have always loved grocery shopping. I think it stems from so many happy memories of grocery shopping being my only real outing as a young mom. I'd plan the entire day out first taking my two little boys (or my one little boy) to the library for story time. Then we'd hit the playground for a bit. Next, we'd get our week's worth of groceries at Walmart and head home. Because of that, I have all kinds of warm-fuzzy grocery shopping feelings. And boy, what I could now teach that young mom about stretching her $75 a week grocery budget, sigh.
That being said, online grocery ordering from Walmart has given me *all the heart eyes!* In my area a few Walmart's starting offering this service late Spring 2017, when I was heading into my 3rd trimester of my 8th pregnancy. I quickly found I could be in knocked out full pregnancy exhausted nap mode and still put my grocery order in using the Walmart grocery ordering app on my phone. Then I'd send my husband to pick it up and that would be that!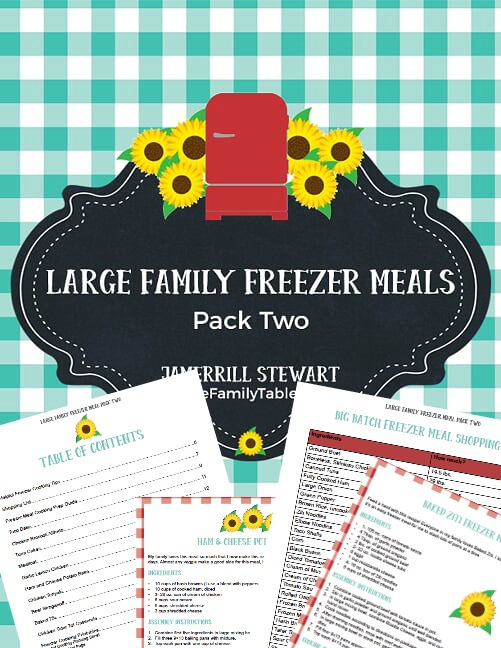 Just last week using the Large Family Freezer Meals pack 2 I put in a freezer cooking grocery order using the freezer meals grocery list included in the pack. It took me less than 15 minutes to follow the list and put in my order. I actually did two orders, one for my freezer meals and one for the other items my family needed. This way I knew exactly how much of my grocery budget my freezer meals were taking. You can easily do two separate orders with Walmart grocery ordering and schedule their pick up for the same time if you like to nerd out on your grocery budget, too.
Know that things won't stay this way
If you're like me and you shop for your freezer meals and the rest of your family groceries at the same time you know that freezer and refrigerator space can get tight (yes even with three refrigerators and a full freezer). There are big bags of cheese where they wouldn't normally be located, extra eggs, meat that would otherwise be frozen. Just move slowly and as your progress in your freezer cooking day and get more meals into the freezer you'll have more room open up in your refrigerators. Know that things won't stay this way. You'll have a full freezer and much of your refrigerator space by the time your freezer meals are completed.
LARGE FAMILY FREEZER MEALS BUNDLE 1, 2, 3, 4, 5, 6, 7, 8, & 9!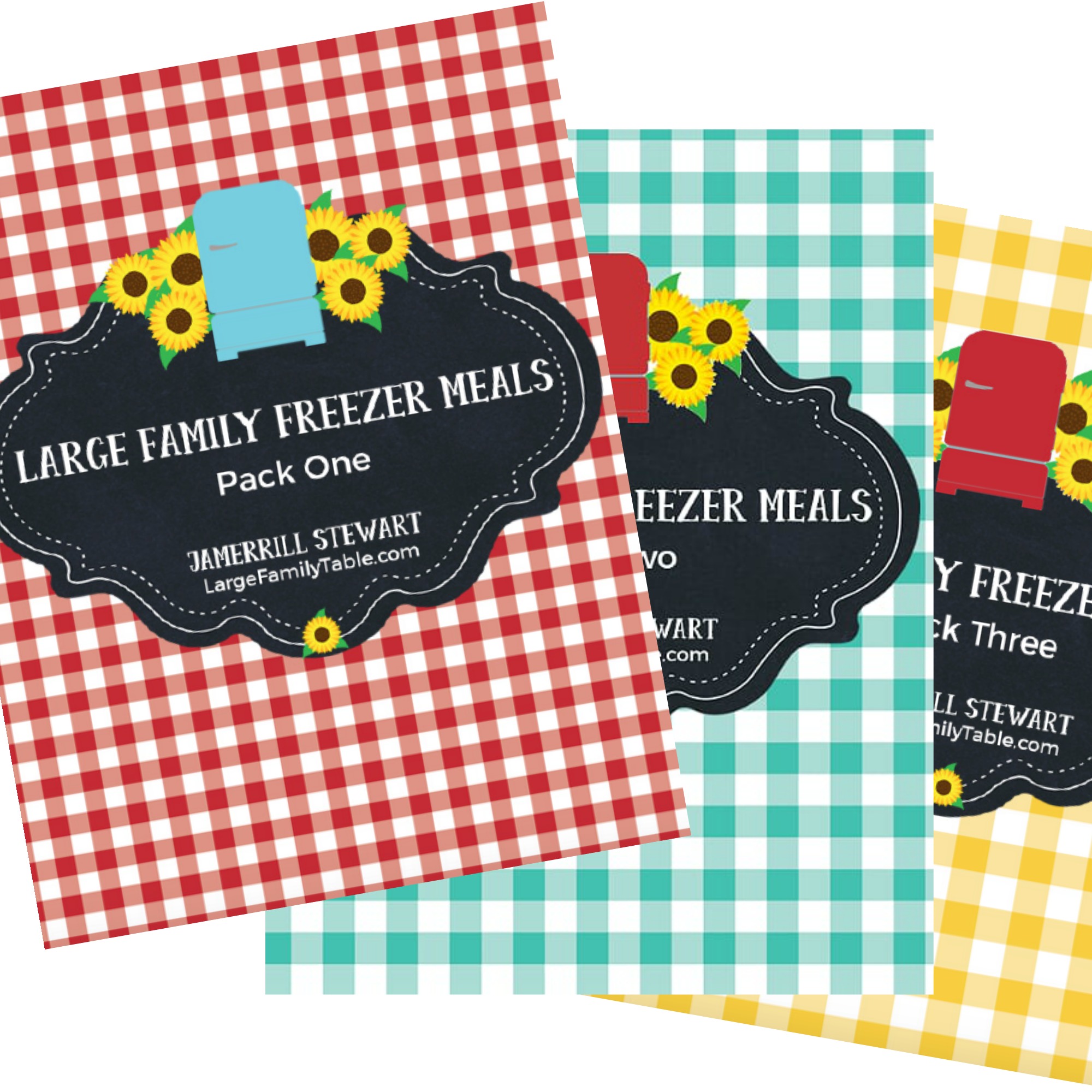 Don't miss the *Best Value* Large Family Freezer Meals Collection which includes the brand new Large Family Freezer Meals Packs 1, 2, 3, 4, 5, 6!!