Spring is here! It's time to fling open the windows and let those wonderful breezes flow through your home. This may put you in the mood to give your house a good deep cleaning to shake off those winter doldrums. I've been asked multiple times to write a post and do a video about our large family cleaning routines. I plan to get to that here shortly, but in the meantime, I thought we could chat about spring cleaning since 'tis the season.
From my Instagram, "Feeling accomplished with the big seasonal clothing switch out this evening. Three bags of girls clothes are getting passed on to a friend with younger kiddos. One large bag is ready to donate to the thrift store. I'm almost done purging and working in fresh items. I also have a list of a few more goodies we need. What's your system for handling kid's seasonal clothing needs?"
As a large family mom, you quickly come to realize that seasonal deep cleaning pushes and purges are a must. With lots of kiddos in the household, of course, there's more mess and clutter. However as the saying goes, "many hands make light work." So get the entire family involved and tackle the areas in your home that need attention.
Large Family Spring Cleaning Pack
Don't forget to grab your Free Large Family Spring Cleaning Pack which includes the Large Family Spring Cleaning List Pages and free Kid's Chore Challange Card set, too!
To get your spring cleaning off to a great start, be sure to set attainable goals and make a realistic plan of action. Use the free large family spring cleaning checklist to figure out everything you want to accomplish, include all of the areas you want to clean and organize.
Don't edit your list; just keep it going until you write everything down. It will help to walk around your house and look at different areas to see if any new ideas strike you. Which rooms feel cluttered? Which ones need some extra attention? After you finish making your list, prioritize all of your tasks and assign family members to help clean and organize the family home. Everyone lives there, so there's nothing wrong with everyone pitching in. Even younger children can help with tasks such as pulling toys out from under beds, wiping down the walls and baseboards, etc.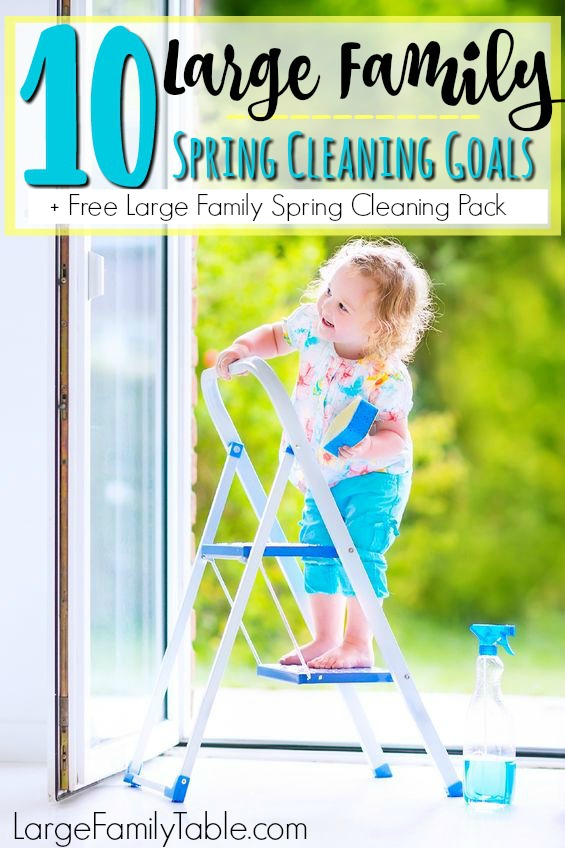 Copyright: famveldman / 123RF Stock Photo
Next, schedule time for cleaning. Be realistic; you won't be able to get everything done in one day most likely. Although if you can clear 1-2 full days in your family's schedule and just focus on spring cleaning, then go for it! Schedule the first three areas where you want to start and stick to your schedule the best you can. Once you start seeing progress, you'll feel so good that you'll want to keep going.
Jamerrill's Large Family Spring Cleaning Goals
I do spring cleaning in small stages based on our family's schedule and my current pregnancy energies. I tend to do my business work most Saturdays, and we church on Sundays, so I don't tackle too many weekend projects around here during this season. I look for a day during the week when we'll really be home all day and try to get in a spring cleaning task or two on that home day. I plan to take 1-2 dedicated days as well to bust through the larger projects.
I tend to do a big household purge twice a year, and more as needed. Usually spring and fall I tear through the house doing more than our weekly home maintenance and cleaning.
One simple spring cleaning task I was able to complete a few days ago was the top of our kitchen refrigerator. It had started to take on a life of its own. I took everything off the top and used a vinegar/water homemade cleaning mix to clean it well. If you haven't cleaned the top of your refrigerator in a few months, you may want to add it to your list. Mine gets very grubby up there. It looks so much better now with just two simple baskets and one decorative bowl on top.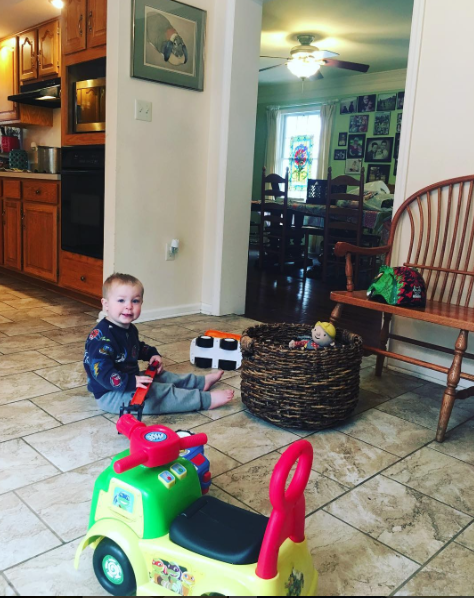 I also recently bought two large, sturdy baskets from Home Goods for the toys we have out downstairs. This has offered a beautiful way to organize these toys quickly. Even Daniel can clean up his trucks!
Other areas I'm spring cleaning
Top of refrigerator
Downstairs toy storage
Purging Girl's and Mom's Clothing
Airing out kid's mattresses in the sunshine
Steam clean upstairs carpets
Wipe down ceiling fans
Wiping down mantles, shelving, and crown molding (the high places!)
Purging broken or unused toys in kid's bedrooms
Purging broken or unused outside toys
Finish spray painting green iron lawn furniture black (I also got the house shutters painted in my fall push.)
Rake out leaves from flower beds
Transforming master bedroom walk-in closet into personal home office
My biggest project is going to be turning my master bedroom walk-in closet into my personal home office over the next few weeks. This probably goes beyond spring cleaning, but look for more posts from me on my closet/office makeover!
10 Large Family Spring Cleaning Goals You Could Tackle
Affiliate links are used in this post and help support the work of this site.
I would love to hear about your large family spring cleaning goals. Be sure to leave those in the comments below. Here's a list of ten spring cleaning projects you may want to add to your list!
1. Windows
Cleaning your windows will make a huge difference both inside and outside. Your house will look better from the outside, and the clean windows will let in more natural light. These Microfiber Window & Mirror Cleaning cloths are helpful. As long as you're washing windows, take down curtains and give them a good wash or take them to the dry cleaners.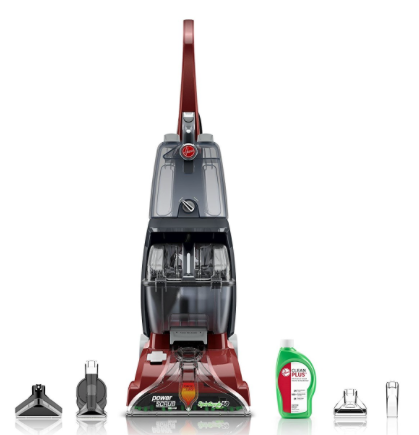 2. Carpets
Spring is a great time to get stale odors and dirt from the winter out of your carpets. You may already have a nice home carpet steamer, or you can rent a carpet cleaner or hire a professional service to come in. I usually rent a carpet cleaner for under $30 from Walmart, but I'd love to pick up one of these.
3. Light Fixtures
Use a lint-free cloth to dust fixtures and bulbs. For ceiling fans, use an extendable duster to reach the blades.
4. Tile Grout
Whether you have tiles on the floor, in a kitchen backsplash or around your tub, grout start to look dirty over time. To clean it quickly, sprinkle the grout with baking soda and gently rub it in. Then, with a spray bottle filled with white vinegar, spray the grout and let it sit for a few minutes then wipe it away with a damp sponge or cloth.
This isn't currently at my house, but whew, makes me want to fill some thrift store bags for donation! Not that my house is perfect. It happens!

Copyright: christingasner / 123RF Stock Photo
5. Dust and Declutter Shelves
If it's been a while since you've taken everything out of your bookcase or shelves, now is a perfect time. Remove all the books, knickknacks and electronics then dust the shelves, doors and very item before putting it back in place. Take a look at each item before returning it. If you don't use it, don't need it, or don't like it, get rid of it.
6. Furniture
Refresh leather with an upholstery cleaner and conditioner. Make wood furniture glow with a wood polish. If you notice any knicks, get a wood stain touch-up pen to fill them in.
7. Hidden Areas
Spring cleaning means taking care of those areas that don't get cleaned every week, like underneath furniture and behind appliances. Don't forget to vacuum the refrigerator vent to keep it running efficiently.
8. Doors
Wipe down the doors and window casings around your house with vinegar and water to remove any smudges or fingerprints. Add a drop of lemon essential oil for a fresh scent.
9. Exterior Paint
Spring is the perfect time to freshen up your curb appeal. Touch up your trim and doors, or give your home a fresh look with a new color scheme.
10. Garden Beds
Remove dead plants, rake out leaves and add new mulch. Add a few spring plants for early color. As soon as fresh hanging ferns become available I'll snag several for our porches.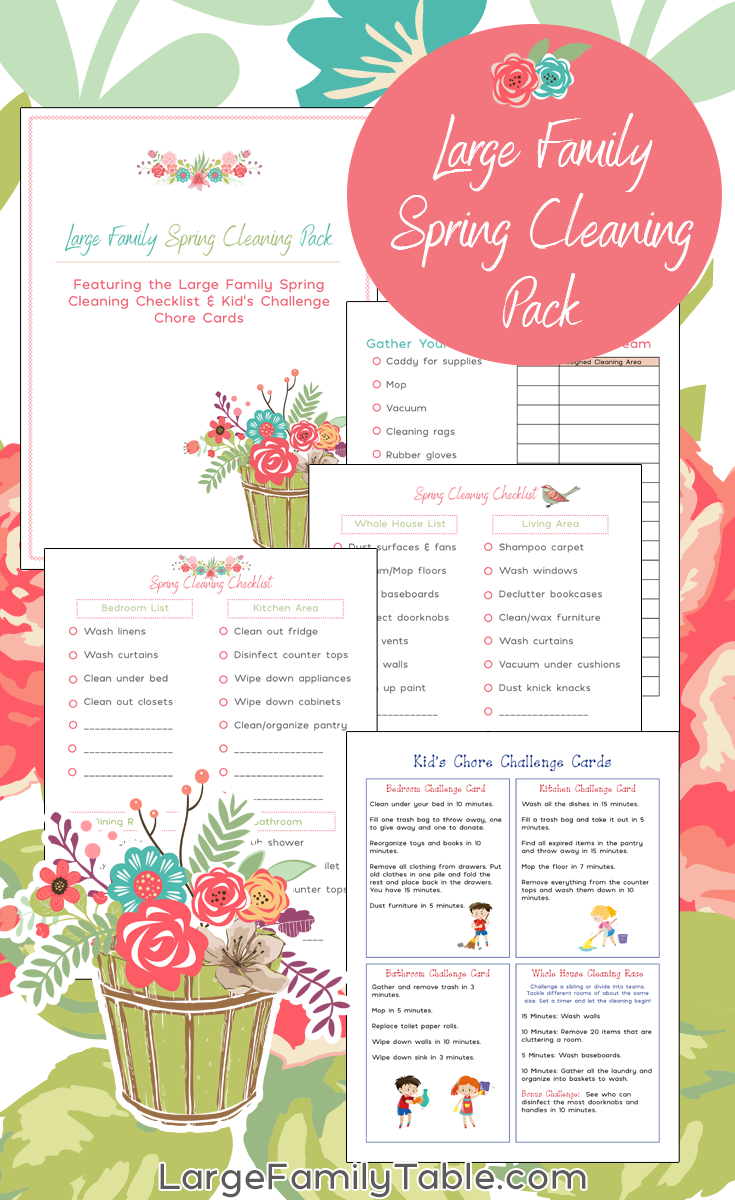 Don't forget to grab your Free Large Family Spring Cleaning Pack which includes the Large Family Spring Cleaning List Pages and free Kid's Chore Challange Card set, too!
You might also be interested in The Beautiful Household Management Binder which is also currently free, $12.99 value!