A quick name from Jamerrill: Today's post about large family shoe storage is from homeschooling mom of 10, Amy Roberts. She has lots of feet to manage and shoes go along with that process! I love her ideas, and I think you will, too. In our large family the kids keep their boots and outdoor shoes in a crate in the breezeway. Then their "going out" shoes are kept in the hall coat closet. xoxo ~ Jamerrill
Large Family Shoe Storage
As my family grew, something else grew that I never really thought about until it had taken over my house – the shoes!
Even if each of my kids had just one pair of shoes (which they don't), that's still a boatload of shoes. And even if my kids were all older (which they're not), it's still a struggle to contain that many shoes.
There is only one shoe storage method that has worked consistently for our family, and that is our Shoe Crate.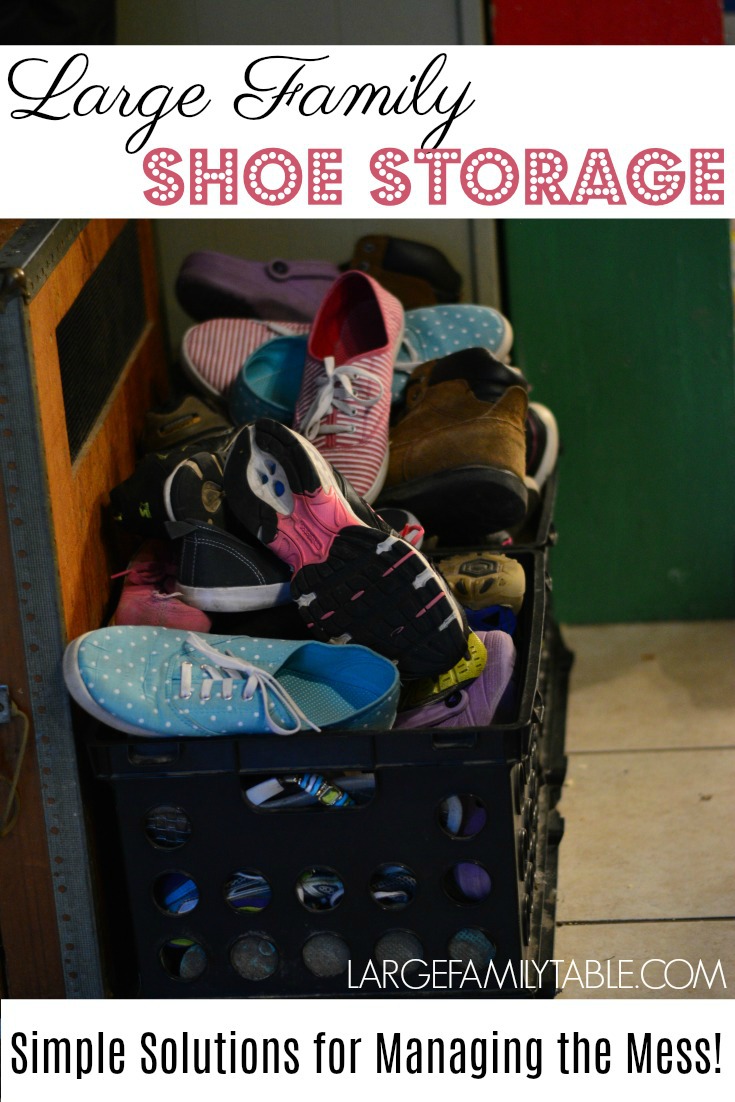 Now, I'll be the first to admit, it's ugly, but it's easy. (If you are looking for aesthetically-pleasing shoe storage ideas, scroll down to the bottom of the post where I offer other ideas that didn't work for us, but might work for someone more organized than myself!)
I used to only need one crate to contain the craziness, but as the kids have gotten bigger and there are more of them, the crate has grown into two crates. These are simple black milk crates – open crates like this allows for good airflow. The shoes in the crate are shoes that don't need to be kept nice. These are play shoes, or grab and go shoes. No mud boots, no dress shoes, and no mom and dad shoes allowed!
The mud boots are kept in open crates in the garage where the mess doesn't matter. Dress shoes are kept in bedroom closets. Although I must admit, my boys do not have dress shoes – just their tennis shoes. (Note: comfortable boys makes for much calmer church services, weddings, and funerals!) Mom and Dad keep their shoes in their closet – the privilege of being an adult.
If shoes are dirty when the kids come in from playing, they leave them on the rug at the door until the mud dries, then we knock the dirt off and into the crate they go.
Having a central location for the shoes has cut down on the number of times we have to go on a Great Shoe Hunt (you know, the one that happens right before you are supposed to be somewhere and you end up threatening to either not take the shoeless child or threatening to take them without shoes – neither of which are good options, and neither of which you actually plan to enforce.)
And in the spirit of total disclosure, my shoe crate photos were taken before I went through and culled shoes that no longer fit, don't belong in there, or are too worn out to be called shoes. I go through the crates a couple of times a year, but it's been a while since the last declutter. It's on my list.
Other Large Family Shoe Storage Ideas
Now for other large family shoe storage ideas for those of you with an aversion to piled up shoes…
metal storage shelves in the garage or mudroom
A shoe storage cabinet can look lovely in your hallway if you pick the right one for you.
cubbies in the hall (works best if you have smaller children and no more than 6 kiddos)
A storage bench near the door
A bookshelf you aren't using (do those actually exist?)
An over-the-door shoe holder (older kids get higher pockets, younger kids get lower pockets)
A tiered shoe rack in the mudroom
Hooks on an unused wall (shoes hang on hooks by the inner heel quarter)
Tubs inside closets
Hanging rack inside closets
And old changing table
Feel free to share your large family shoe solutions! We can all learn from each other when it comes to managing the mess!
Amy Roberts of RaisingArrows.net is a Christ-follower, devoted wife, homeschooling mother of 10, blogger, conference speaker, podcaster, and author. Amy inspires the hearts of weary, overwhelmed mamas across the world as she offers practical and encouraging advice to help simplify the path and enjoy the journey of homemaking, homeschooling, marriage, and mothering. Find her on Facebook, Pinterest, YouTube, and Instagram.