Today we are going to attempt 50 freezer meals in one evening and fail. It's officially my Freezer Pack 5 recipe collection which has 45- 50 freezer meals in one collection depending how you divide things up. Don't have a large family then you will have more meals. There is something for everyone. Like all days in the Stewart household, there is never a dull moment in our attempt to get this accomplished.
While you're at it Click here to sign up for my brand new Free Feeding My Freezer 5-Day Freezer Cooking Challenge! You get the new Quick Start Freezer Cooking Guide including recipes, grocery shopping list, cheat sheets, and more!! It's going to be so fun and you won't want to miss out.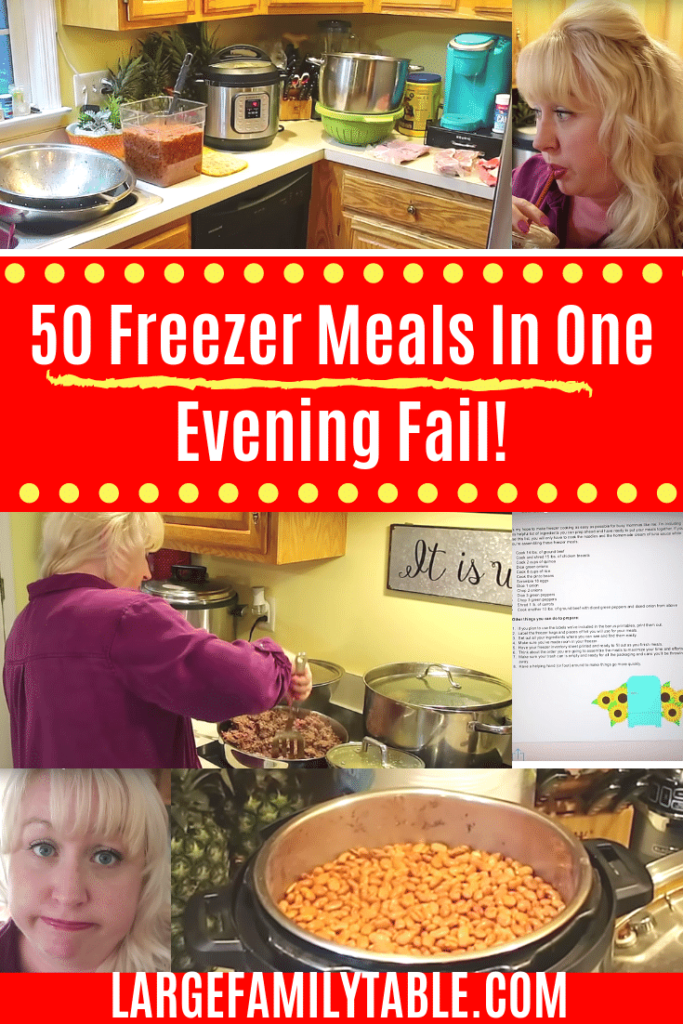 One of my favorite things about the Freezer Pack Recipes is that I give you a complete grocery list for what you need to make all of the recipes listed. I put in a grocery pickup for Walmart that Travis graciously picked up for me. I needed everything on the list with the exception of the spices and tomato products. The total came to around $370 which translates to about $7.40 per meal. You can't beat that for having your freezer stocked up with delicious meals for months to come!
What recipes can you use to make 50 freezer meals?
Quinoa Tortellini Sausage Soup
Baked Beef Macaroni and Cheese
Sausage and Spinach Fried Rice
And a bazillion meatballs!
On to the batch cooking part of the freezer meal prep! This is when we cook all the meat, quinoa, pinto beans and chicken. Dice onions, green peppers, shred carrots, etc. You get the idea. Just start at step one and keep plugging along until it's done. A time saving idea I like to use is to cook the meat overnight in the slow cooker or in a big roasting pan to get it done in a timely fashion. Not today though. It's almost 4 o'clock and we haven't cooked the meat. Let's get this show on the road.
Hamburger cooking in my Ikea pot, chicken breasts in the large electric pressure cooker then the pinto beans into the Instant Pot. I forgot to mention that I had the pinto beans already as well when I told you about my grocery haul.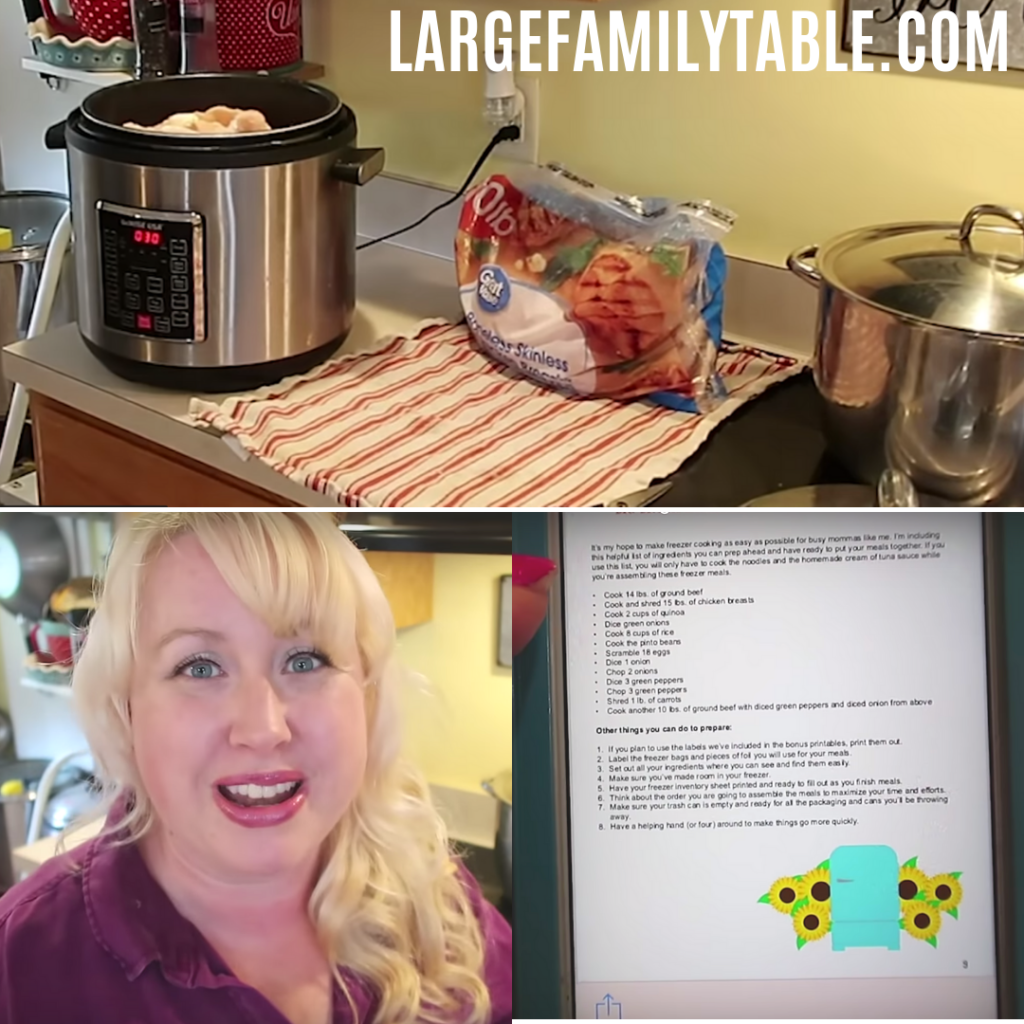 In the stuff you can't make up file, the power goes out just as we get all this started. Wearing my less than amused mom face, I decide to chop the veggies while I wait for the power to return. Here's hoping we don't have to fire up the generator to get this all done this evening.
Gracious, power comes back on at 6:30. There's that and all but we're gonna power through. Meat cooking in every possible spot when Travis appears with an iced coffee. He's learned something in our 21 years of marriage. Let's start the quinoa and check the pinto beans while the meat does its thing.
Here's the thing with the pinto beans. I needed to cook 4 lbs of pinto beans. I was about to use my 8 qt Instant Pot when my brain went wait a minute. 1 cup of dried beans makes 3 cups of cooked beans. This isn't your 14 qt electric pressure cooker, Jamerrill. I had chicken cooking in that one. So I took a pound out which turned out to be just the ticket. Moral of this story? You can never have too many 14 qt pressure cookers with a large family. Cook the 3 lbs of beans with 20 cups of water for 45 minutes manual npr.
Take the beans out and put in 8 cups of rice with 16 cups of water. Hit the rice button and watch the Instant Pot do it's magic deciphering how much time to cook it to perfection. I swear it's like magic. It's probably listening to all the sweet giggles coming from the kids too. It sure makes me happy to listen to those sweet giggles.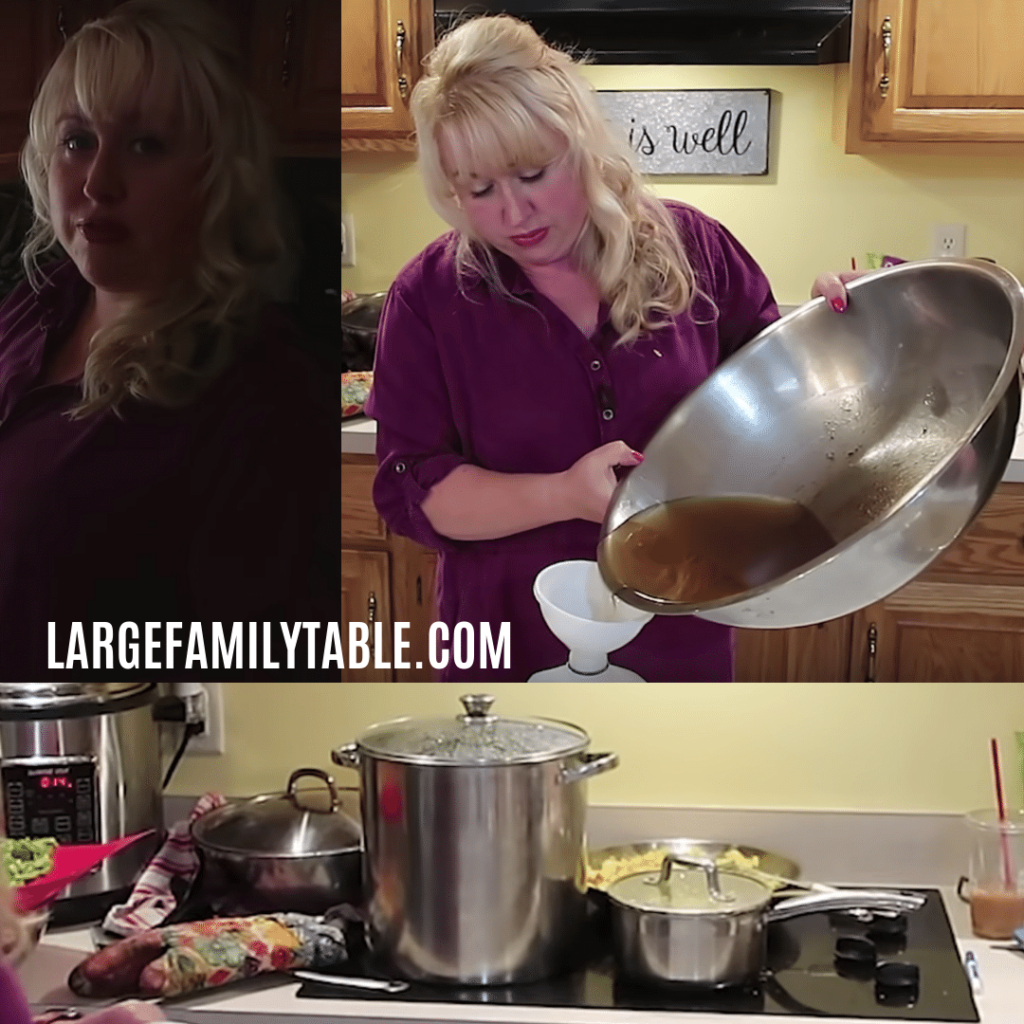 Time for some greasy meat draining. Cue the giant colander and next to largest bowl to tackle this herculean task. Drain the meat as best you can and put into another bowl to await its fate in one of many recipes.Don't forget to pick up any you might have dropped on the counter. Cook the other ground beef with the peppers and the onions. Scramble up the eggs and start the noodles. Whew, that's multitasking at its finest.
I make some homemade cream of chicken although you can use the canned variety if you choose. After we finish this up, we are ready to get assembling. I am gonna change the plan a bit for the orange chicken. I'm going to completely prepare both meals, feed one to my family then put one in the freezer for a microwavable heat up meal. The recipe makes two gallon size freezer meals so that's perfect.
After making the orange chicken, we're gonna roll into making burrito pie and soup. No rest for the weary yet. Many of my viewers have suggested a folding table in the kitchen for freezer cooking and we got one last time we went camping. Why not throw that bad boy up to help with freezer cooking? It helps clear off a counter so all my sweet children can have their snacks and talk to me. Large family living is the best!
I need my bowl and it's full of grease. What's a girl to do? Pour the grease using a funnel into a gallon size orange juice container. That way, there's a lid to keep it from going everywhere in the trash can. No one wants a greasy mess all over their trash can.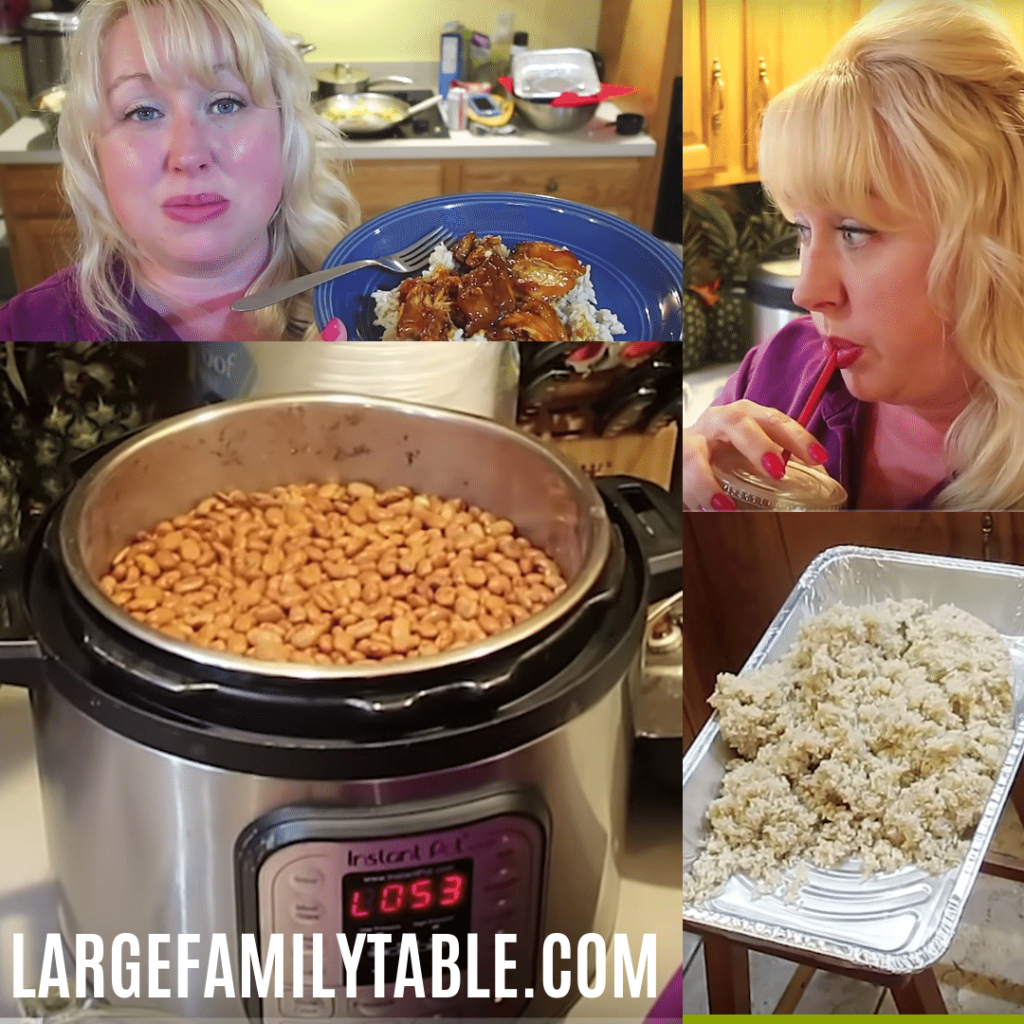 While getting everything geared up for burrito pie, I realize that this large family mama is human and forget to order the 4 cans of pinto beans. Never fear, we still have the 4 lbs of pinto beans left over from the 8 lb bag we used earlier. We can just cook them up in the 14 quart pressure cooker and make our own refried beans. Cook the beans, let them cool, add seasonings (I like to add homemade taco seasoning) then mash those bad boys up. Where there's a will there's a way.
Refried beans are all mashed up so let's put together our burrito pie. We like this recipe a lot so 6 pans are going in the freezer. You can easily make this gluten free by using corn tortillas in place of the flour. So yummy and filling!
So, it's 10:45. I still haven't fed my kids dinner. Just keeping it real for you. They've been snacking and grazing all evening but I just finished the sesame orange chicken. Most of the kids aren't even hungry anymore. Six burrito pies done with 2 more to assemble and wrap for the freezer.
11 PM and there's a choice to be made. Do I listen to Superwoman Jamerrill and power through until 1 or 2 AM? Do I listen to Sensible Jamerrill , a little gift to myself, and stop at the 10 meals we have done? I've been going for 4 hours solid and most of the meal prep is done with the exception of spaghetti noodle still need cooking. I'm going to listen to Sensible Jamerrill and finish the burrito pies then wrap everything up to be put away. This kitchen isn't going to clean itself either.
The kids empathize with my pain and help me wallow in how late it is for a few minutes. Seriously, remember that I'm cooking for a large family out of my large freezer meal pack 5. You can try it out and don't even need for the power to go out or start earlier in the day. Don't want to do it all in one day? I anticipate it takes 8-10 hours to make 40 – 50 freezer meals. Do 4 hours in one day then 4 hours the next. It doesn't matter how you split it up. It only matter that you do it to help your family. Share your success using #largefamilytable on Facebook or Instagram.
Hop over to my shop to get your Freezer Pack 5 used in this cooking session!