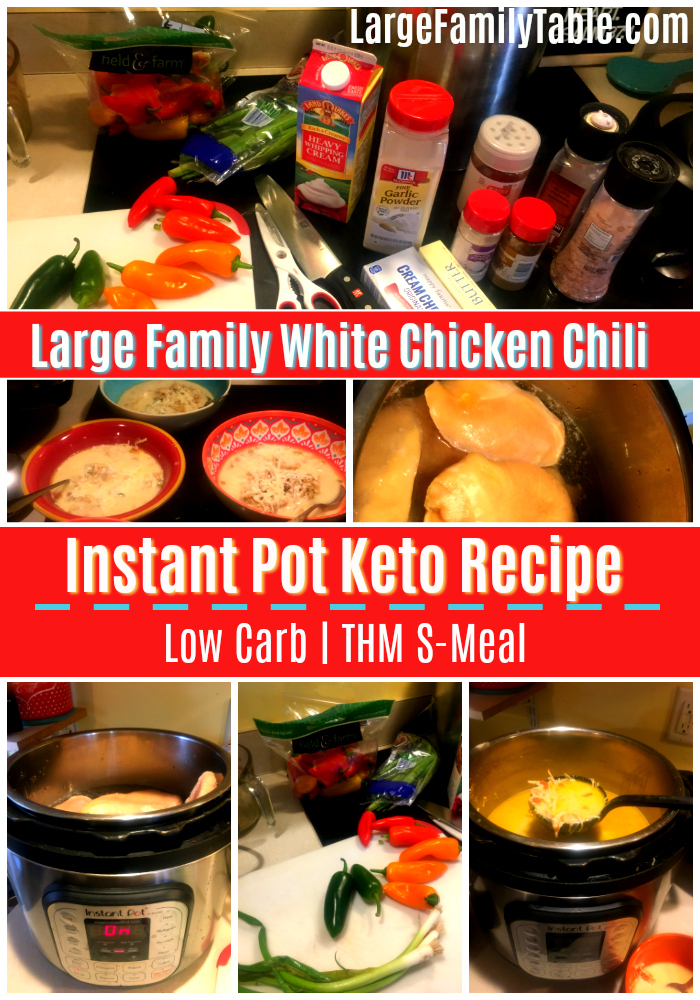 I've shared my Instant Pot recipe for White Chicken Chili before. Today's new Instant Pot Keto recipe is different because it puts a low carb (also THM S-meal) spin on this large family classic favorite!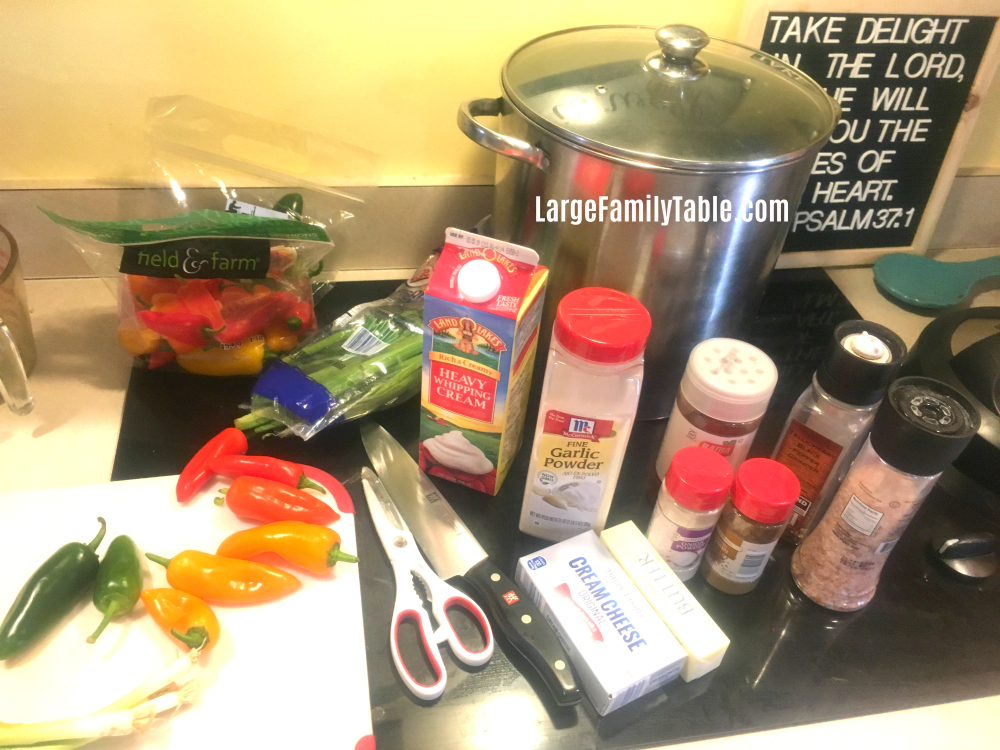 I made this Instant Pot Keto recipe the other week and didn't quite plan my time well. It happens, mommas (we know this :). Once I got everything thrown in the Instant Pot I realized it was time for the family to get in their Taekwondo gear and head off to practice.
Having to run out the door isn't a problem with the Instant Pot. It has a lovely "keep warm" automatic function. When we got back from practice the White Chicken Chili was right there in the Instant Pot waiting for me.
At that point I added the last two quick ingredients, finished up the White Chicken Chili, and served it up to the family topped with shreedded cheese.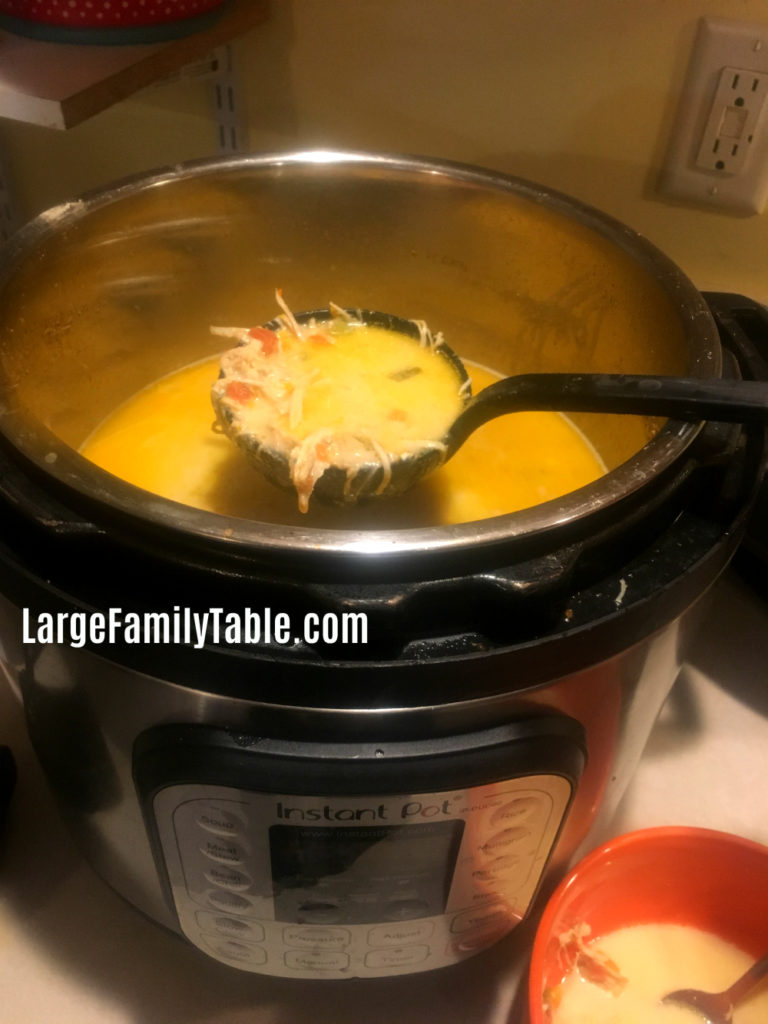 Print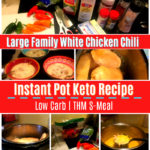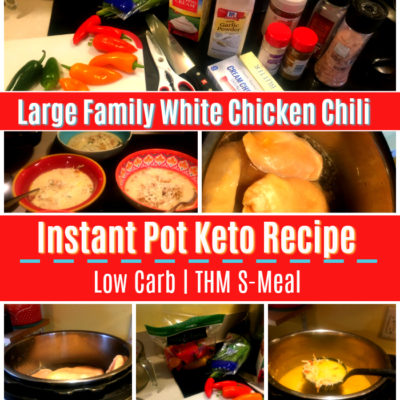 Instant Pot Keto Recipe | Large Family White Chicken Chili
---
Description
Make this Instant Pot Keto recipe for White Chicken Chili for your family tonight. We like to top ours with shredded cheese. I make this Instant Pot Keto recipe in my 8 Qt Instant Pot or 14 Qt Go Wise Pressure Cooker. I've also included the easy slow cooker directions because I still use my slow cooker often as well. 
---
Ingredients
4 lbs Boneless Skinless Chicken Breast
2 diced Jalapenos
6 diced Mini Peppers (you could use 2 bell peppers)
6 diced Green Onions
1 cup Heavy Cream
1- 8 oz block of softened Cream Cheese
1- 4 oz stick of butter
8 cups of water
2 TBS Garlic Powder
2 TBS Onion Powder
2 TBS Ground Cumin
2 TBS Chili Powder
1 tsp salt
1 tsp pepper
Shredded cheese for topping
---
Instructions
Place 4 lbs of Boneless Skinless Chicken Breast in the Instant Pot.
Add all of the above-listed ingredients minus the heavy cream and softened cream cheese.

Cook on manual high for 30 minutes.

Remember there is always 10-15 minutes to build up the pressure and at least the same amount of time to release pressure.
Once pressure is released either naturally or quick release, open the lid and remove a few chicken breasts to shred with a fork. Then place those shredded chicken breasts right back in the Instant Pot.
Next, place the Instant Pot on Saute mode and add 1 cup of heavy cream and 1-8 oz package of softened cream cheese. Stir until softened cream cheese is well blended.
Unplug your Instant Pot and serve your low-carb White Chicken Chili! We enjoy eating ours topped with shredded cheese.
---
Notes
Keto White Chicken Chili SLOW COOKER Recipe Directions
Add the above-mentioned ingredients to your 8 qt slow cooker minus the heavy cream and soften cream cheese.
Cook on high for 4 hours or low for 8 hours.
Once done add the 1 cup of heavy cream and 1-8 oz block of softened cream cheese to your slow cooker. Gently stir slow cooker ingredients as cream cheese blends. This will also give you the opportunity to break up the super tender chicken.
Serve in bowls and top with your favorite shredded cheese! You can also add a dab of sour cream, fresh green onions, salsa and more as topping ideas. Dress it up in your family's favorite way or let everyone dress their White Chicken Chili with their favorite toppings. 
?2 INSTANT POT KETO RECIPES | Keto Beef Stew & White Chicken Chili
Today on YouTube I'm sharing 2 new Instant Pot Keto Recipes including this White Chicken Chili and Keto Beef Stew!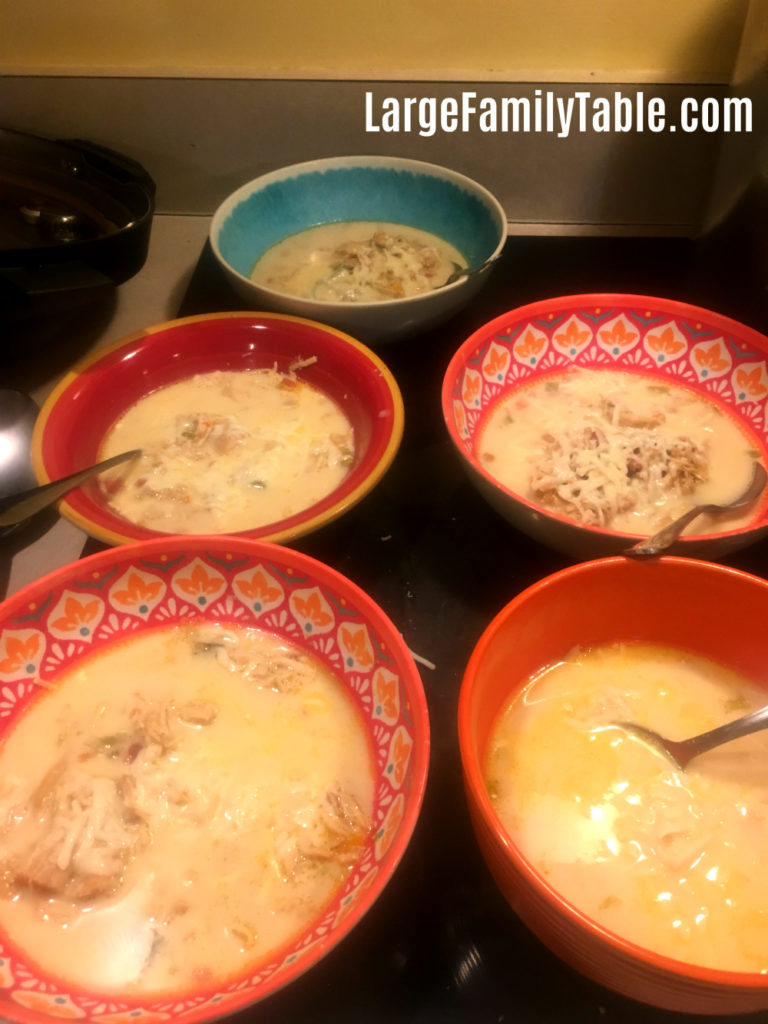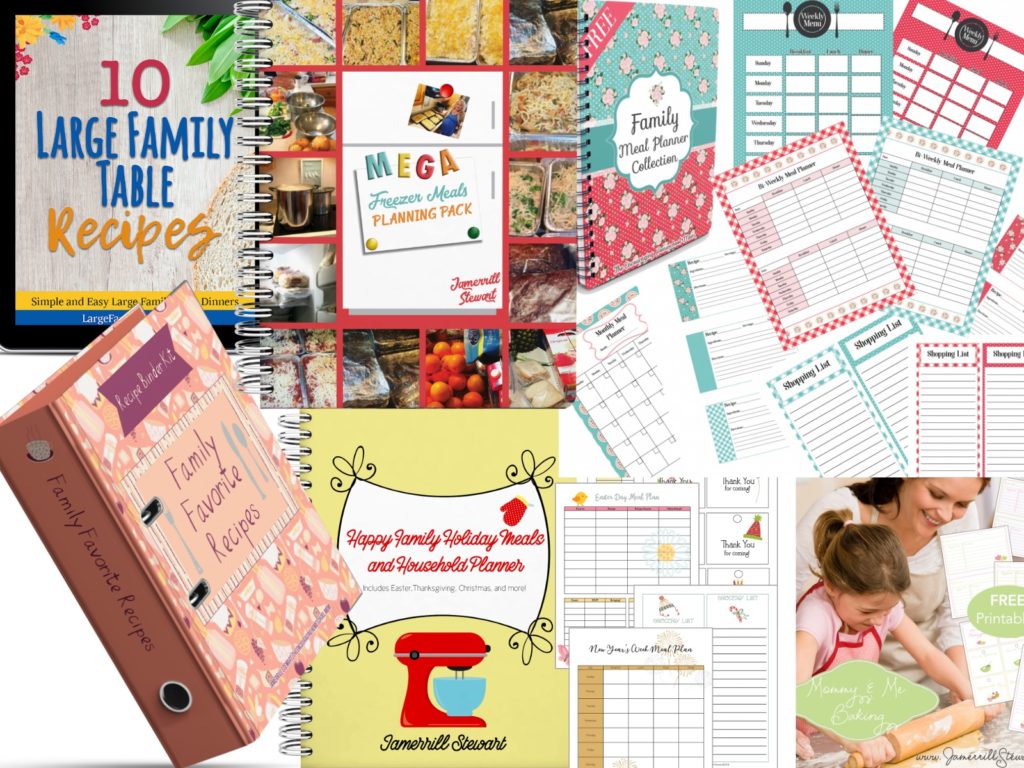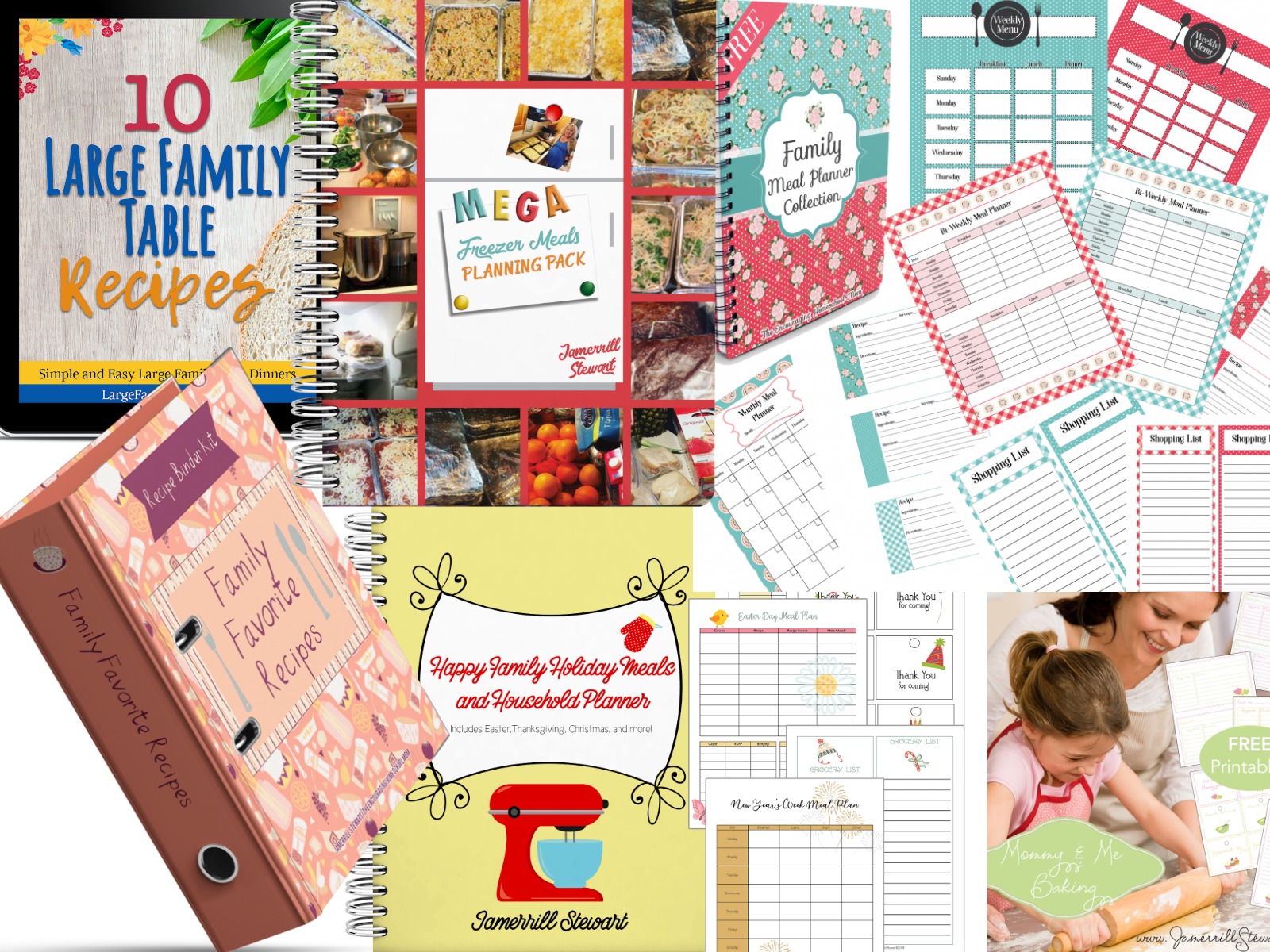 Don't forget to sign up for the free large family food collection that offers free Mega Freezer Meals Planning Pages, Family Meal Planning Collection, and more!