Woohoo! I'm back with another Large Family Meals of the Week post and video! These posts have been a fun way to show you what our large family actually eats in a week. I hope it gives you some foodie inspiration!
** Get the Best-Selling Large Family Freezer Meals Collection here! Use promo code HELLO20 to take 20% off your first order. **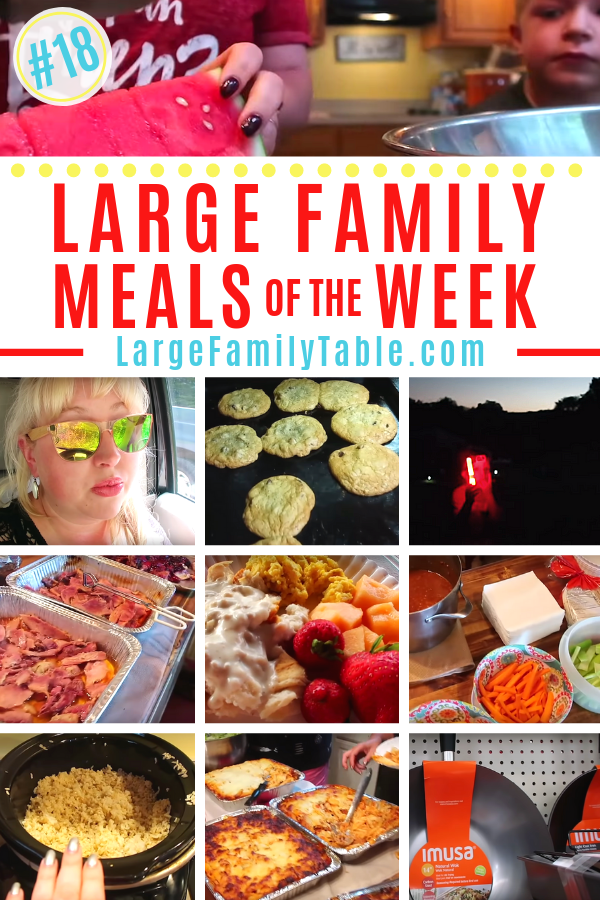 Large Family Meals of the Week – What we actually ate!
My youngest thought Mommy was on the menu as I attempted to kick off this week's Large Family Meals of the Week video (you have to see it to fully appreciate the adorableness!!), but rest assured, no humans were eaten in the making of this post and video! ?
We had A LOT going on this week, visiting multiple friends for some fun large family fellowship on multiple days midweek, and taking the family camping with several other large families over the weekend. Whew! I'm tired just remembering all that we did! ?
This Week's Meals –
Monday –
Breakfast – Sheet Pan Pancakes, click to get my Large Family Sheet Pan Pancakes Recipe.
Lunch – Leftovers from the previous night's dinner. Yes, even in a large family, if you make a meal big enough, there will be leftovers, and they will get eaten!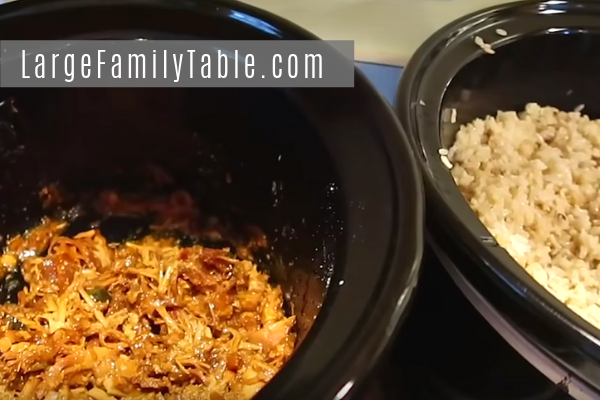 Supper – For supper, I had two slow cookers going, one with my Large Family Slow Cooker Chicken Teriyaki Freezer Meal Recipe, and the other one with brown rice.
See how I do brown rice in the slow cooker in this recipe post – Steak Roast and Brown Rice in the Slow Cooker|Large Family Recipes
Tuesday –
We took a day trip to visit some friends*, so in the busyness of the day I didn't remember to log breakfast & lunch… but I promise you we all ate, lol! We brought along a snowcone machine, so I know the kids at least enjoyed some yummy frozen treats at some point before supper!
*Check out my friend Ashley on her YouTube channel, Freedom Moms!
Supper – Lasagna, salads, & bread, with some strawberries and homemade cookies chocked full of chocolate chips by some adventurous baking girls. ?
Wednesday –
Breakfast – Yogurts & stuff ?
Much of the rest of the day is a blur. I know there were errands, including dropping off a vehicle for a minor repair. There's always something, right?
I do remember that we met up with some new friends from the internet (ha, that's not something I saw myself saying 20 years ago, and yes, always be careful meeting strangers on the internet!) And I remember that I didn't cook, but we did buy the kids hot dogs at Sheetz while we were out! #reallife
Thursday –
Camping preparation day! We are no camping experts, in fact, we actually bought a tent on the way to our friends' place, lol! We're livin' on the edge, I tell ya! ?
Breakfast – We had fruit to cut up and eat, so it was watermelon & pineapple in the morning.
Lunch – Lunch was on the go in between errands this day!
Supper – After a full day of errands, this mama was happy to have a freezer full of already prepared meals to pull from! I had the kids pull out a Shepherd's Pie Freezer Meal and a pan of Twice Baked Potatoes. All the carbs, I know, I know.
You might also like this Low Carb Shepherd's Pie Recipe!
Friday –
Camping Day!!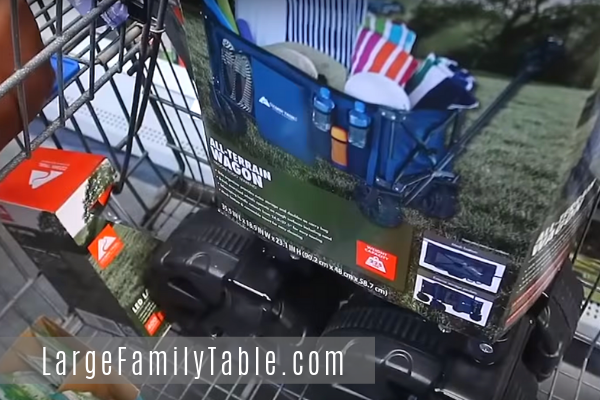 We managed to pick up a couple of tents, a table, a foldable wagon, and all the camping things, at a Walmart along the way, including enough glowsticks for the kids to light up the night in spectacular fun, and enough watermelon to feed a small army. Then we settled in for the long drive to our friends' amazing property & a weekend full of large family food, fun, and fellowship!
Supper – Large family lasagna served with bread & salads. (you can see this meal and all the meals listed below in today's new video!)
Saturday –
Breakfast – My dear friend Shannon cooked up several pans of sliced ham and some stuffed french toast, which was so good! Imagine if french toast and cheesecake had a baby. Yeah, it was that good. And watermelon, can't forget the watermelon. ?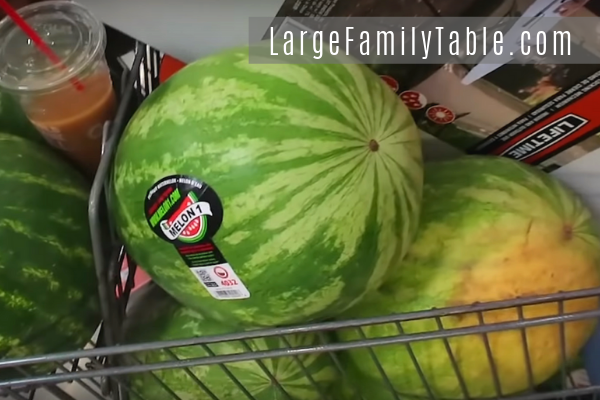 Lunch – Classic camping & picnic foods – Brats & baked beans with chips and more watermelon.
Supper – Taco bar! Yummo!!
And a camping trip wouldn't be a camping trip without the kids enjoying some S'mores! You know those happened!
Sunday –
Breakfast – Biscuits & gravy, scrambled eggs, strawberries, and cantaloupe.
*Here's is my large family style biscuits and gravy recipe!
And just like that, it was time to get back on the road for the long drive home, but what a blessing it was to spend a beautiful weekend with a bunch of like-minded families!
Large Family Meal Plans
Don't miss my large and growing collection of large family meals plans here! Including
Watch the Large Family Meals of the Week #18 unfold in the video below!
Watch the full Large Family Meals of the Week #18 video here!
DON'T FORGET to snag your FREE Large Family Food Collection right here! You won't believe all the mega food goodness I'm giving you! Woot!!