WEEKLY LARGE FAMILY MEAL PLAN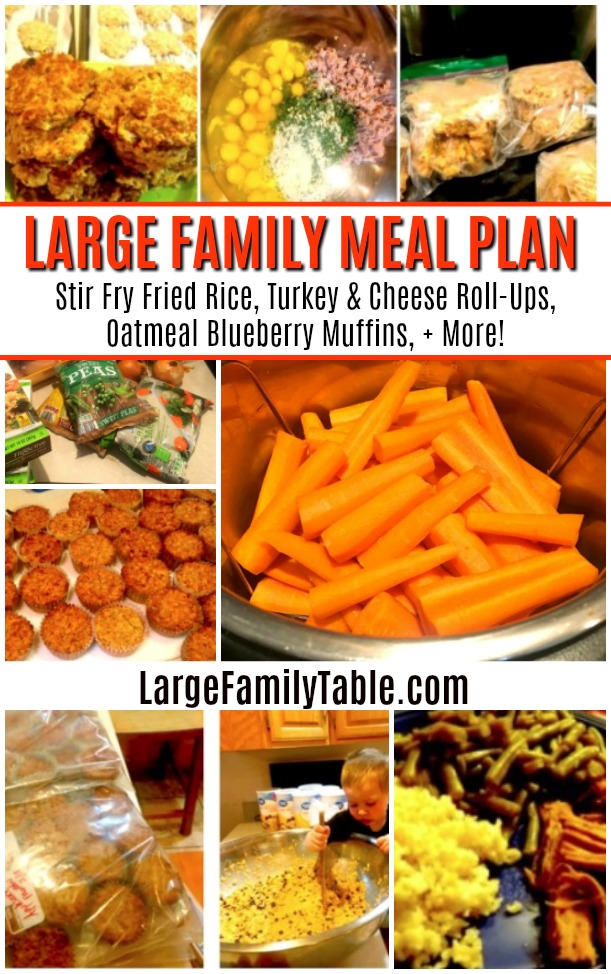 Welcome back to another large family meal plan from my family to yours! This week you'll find healthy Turkey & Cheese Roll-Ups for lunch, Slow Cooker Steak Roast and BBQ Meatloaf among the large family meals, plus tons of fruits and veggies thrown all around.
Give my idea shared below to fix up a big weekend meal on Friday for your family to enjoy the entire weekend a try! I use this idea for weekends when I'm busy with work on Saturday or we have a lot of family activities. You know how it goes 🙂
As always you can find the super popular 4-Week Large Family Meal Plan here. And you can click here to find my growing list of weekly large family meal plans! Make these work for your family.
Monday
Breakfast: Baked Oatmeal Blueberry Muffins
Lunch: Cottage Cheese, Turkey & Cheese Roll-Ups, Fruit choices
*For Turkey & Cheese roll-ups I just roll up a slice of deli turkey meat with a piece of cheese. Super simple 🙂
Dinner: BBQ Meatloaf with Lima Beans and Apple Sauce
Tuesday
Breakfast: Cereal and Fruit
Lunch: Chicken Salad/Clemintines
*Mix up a big batch of Chicken Salad to last two days worth of lunches
Dinner: Tuna Cakes with Instant Pot Brown Rice and Steamed Carrots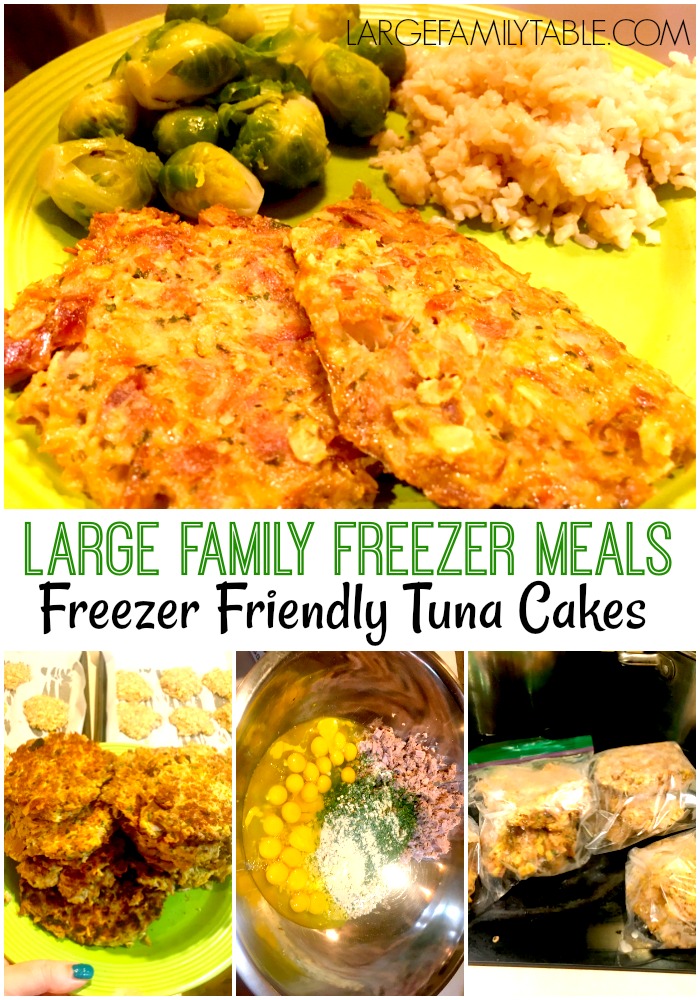 Wednesday
Breakfast: Eggs/Bacon/Toast/Fruit
Lunch: Chicken Salad/Clemintines
Dinner: Steak Roast in the Slow Cooker & Big Salad
Thursday
Breakfast: Baked Oatmeal Applesauce Muffins
Lunch: Freezer PBJs with available fruit choices and cheese sticks
Dinner: Bacon, Egg, and Cheese Oven Bake
Friday
Breakfast: Eggs/Bacon/Toast/Fruit
Lunch: Fruit/Veggie/Yogurt Plates
BIG WEEKEND MEAL: Stir Fry Fried Rice and fresh veggies with dip
*For a "Big Weekend Meal," as I call it I cook up a large batch of one of our family favorite recipes, like the Stir Fry Fried Rice listed above. Since many Saturdays, I have a dedicated work day for my business, or we have a weekend full of projects and family activities, I like to not have to think about cooking on the weekends (can I get an amen?!).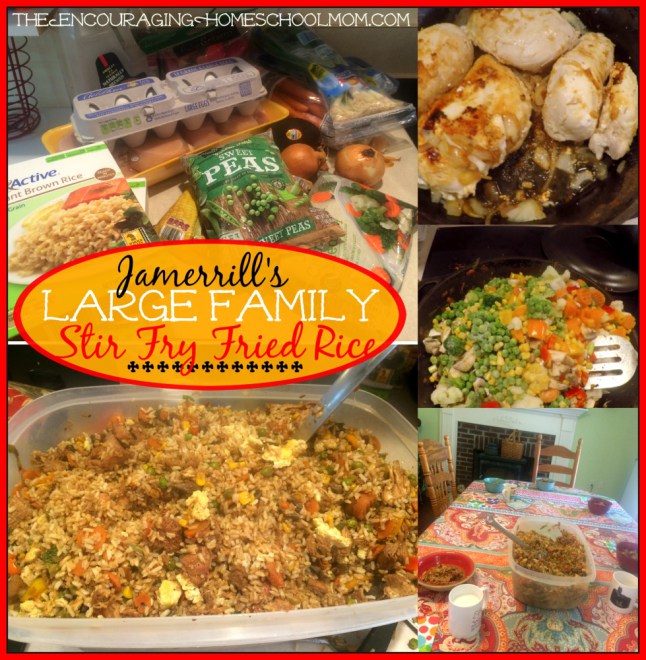 For some weekends I like to set us up for success (and set momma up for easy 🙂 by cooking this big weekend meal on Friday afternoons. We'll have it for dinner Friday, Saturday, and usually Sunday too. Since I always pick a family favorite many times the family will have it for lunch Saturday as well. As always additional leftovers and fresh fruits and veggies are always available.
Saturday
Breakfast: Cereal and Fruit
BIG WEEKEND MEAL
BIG WEEKEND MEAL
Sunday
Breakfast: Fruit & Yogurt
Lunch: Lunch out after church
Sunday: Leftover Night / Fix Your Own / BIG WEEKEND MEAL
More Large Family Dinner Ideas
I don't know about you, but I feel like as a large family mom I can never have enough large family recipes in my collection. If you're looking for more dinner ideas for your family be sure to check out these 25 quick and easy large family slow cooker recipes! My friend Vicki shared her Large Family Meal Planning System here that is simply brilliant as well.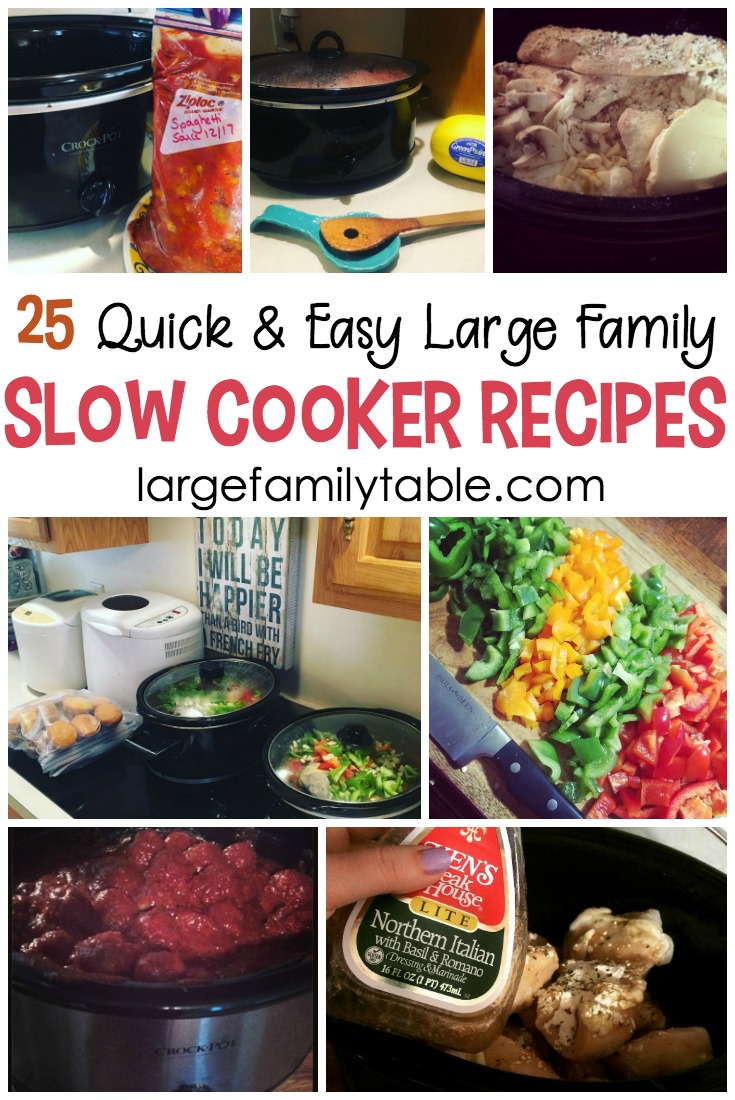 I hope you enjoy this new one-week large family meal plan. I can't wait to share with you all the exciting new large family recipes and resources I have in the works! *so excited*
Be sure to let me know how dinner works out for your family this week!!