This edition of large family meal plan of the week includes lemon pepper chicken along with some real life mama moments and also how we pack meals for on the go! Lots of you have asked for that so this is the week you get to see it!
I love sharing large family meal plans here on LargeFamilyTable.com and on YouTube. I hope you enjoy this one week large family meal plan including Lemon Pepper Chicken, lots of snacks for kids, and more! Of course, my most popular large family meal plan recap of all time is when I shared this large family meal plan for the entire month!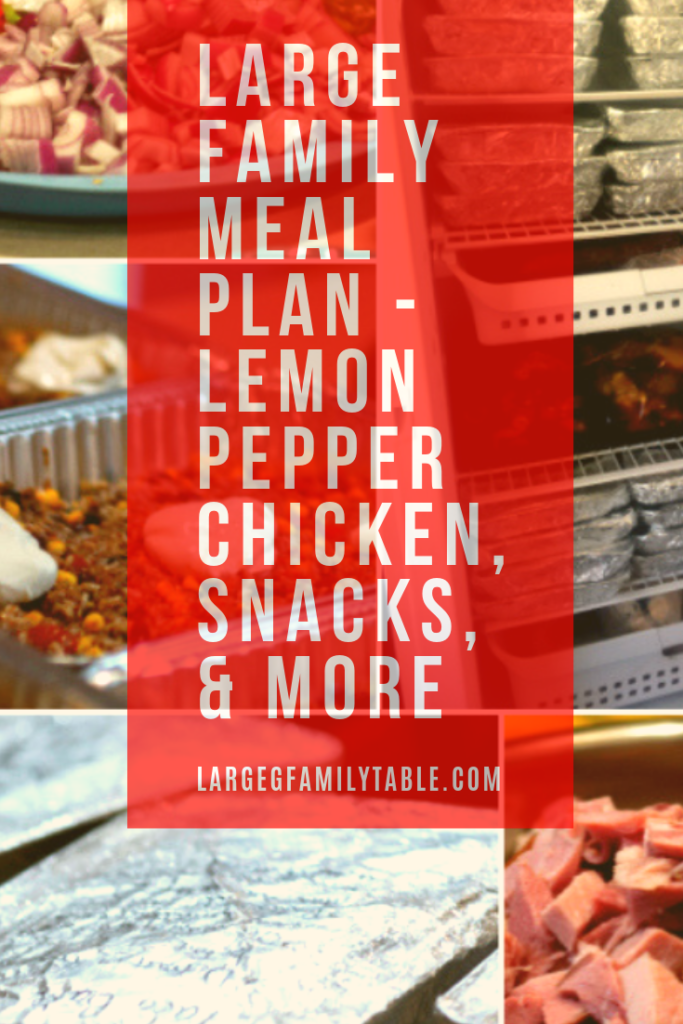 Large Family Meal Plan
I have a series on YouTube where I'm sharing what I fed my large family of ten that week (you can watch this post's large family meal plan #15 here). It doesn't share what I'd planned to feed us. This large family meals of the week shares how our meals actually worked out. As you will see, some meals work out perfectly and some call for a large salad to stand in while we wait for them to finish cooking.
Here's the full "I'M TOO TIRED to COOK" large family meals of the week video!
Monday
I start the week off late but welcome to #momlife, right? It was a bit chilly but a beautiful day so we ran off some energy.
Breakfast – Who knows? Several cups of coffee to help me wake up from working late and getting up early.
Lunch – Peppered Lemon Chicken with slow-cooked baked potatoes for the kids from what we had left over from Sunday dinner. I added the amazing Sugar-Free BBQ sauce to mine and had cauli rice to keep it low carb.
Dinner – 2 of the Sausage Pepper Bake from the freezer with a pile of butter bread and applesauce cups. Hopefully, we will have some leftover sausage for lunch later in the week. We are looking for quick and easy so we can get to Taekwondo.
Tuesday
Breakfast – Fried eggs for everyone! Have you seen how we fry eggs for a large family? Don't miss this Baked Eggs in the Oven recipe!
Lunch – We have a ton of apples along with turkey and cheese. Freezer sandwiches did not happen this month so fresh sandwiches it is today. We have 5 sausages left over from last night so someone will eat those if they don't want sandwiches.
Dinner – I pulled out one of the Taco Bakes from the freezer along with the short ribs for tomorrow.
Extra Snacks – Lots of apples and I pulled some homemade protein bites to the front of the freezer for easy access.
You can watch me make baked eggs in the oven here in this video!
Wednesday
Breakfast was toast and fruit before Naomi and I headed out for appointments and shopping.
Lunch was out with Naomi at Tropical Smoothie where I had the Peanut Butter Cup Smoothie and she had the fruity sunrise/sunset smoothie.
Dinner was Aldi pizza because who has the energy to cook after a large family fill in haul at Aldi. Not this mama. This pizza is economical and tasty. What more can you ask for?
Thursday
We have homeschool group today so it's a hectic morning. This is where I show you our Snacky lunch plates for when we are out and about.
Lunch is Snacky lunch plates which have carrots, ranch dressing, salami slices, pretzels, mandarin oranges, pears, apples, and a yogurt for everyone. Not everyone will have everything but there is enough variety for everyone to have something.
Dinner – Home to put the Instant Pot Beef Ribs in with the most amazing Sugar-Free BBQ sauce. Since I love to show you real life, you will see that not everything turns out as planned. We will actually have a large salad with turkey mixed in because I started the ribs too late. Those don't get done until after 8 PM and we come back from Taekwondo. Such is life. I do show you how to make a low carb, gluten free sauce to top the ribs.
Extra snacks had the kids finishing off a 3 lb bag of clementine in one day.
Friday
Breakfast – Hard boiled eggs & cantaloupe while we drive to a friend's house. Isn't this how mamas usually eat?
For lunch, we went to a friend's house so I brought salad, fruit, and hard boiled eggs we didn't eat at breakfast.
Dinner is started before I leave by dumping cilantro lime chicken in one slow cooker and an almost 10 lb bag of potatoes in another.
Extra snacks – fruit and pretzels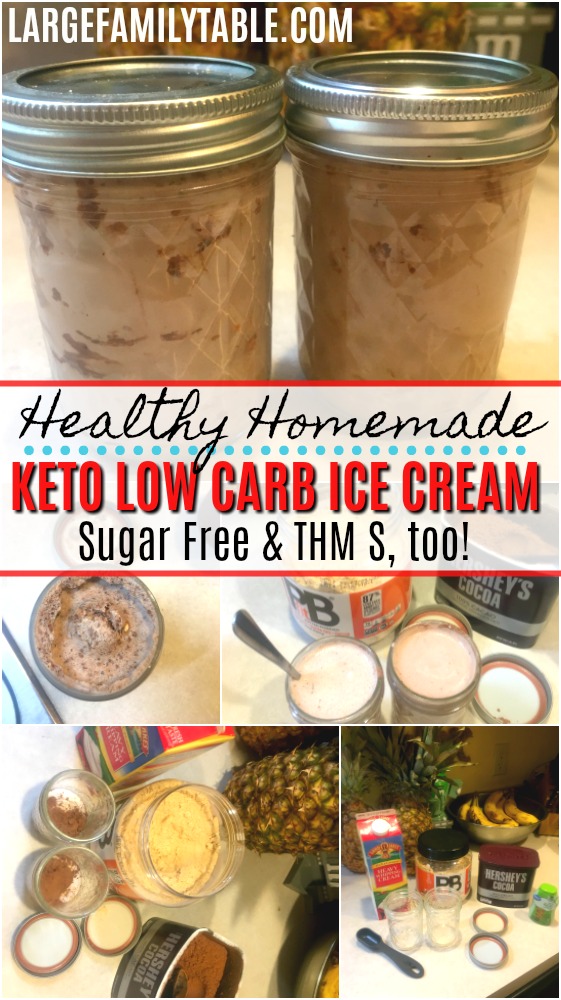 Saturday
The weather was gorgeous so I worked outside while the kids roamed and Travis works on his truck. I'm sure breakfast was eaten.
Lunch – I had a large salad with leftover lime chicken, an onion, a jalapeno for spiciness, and a dash of ranch dressing.
I told the kids to eat the rest of the turkey and cheese that never got made into freezer sandwiches as well as much fruit as they could muster.
Dinner – Slow cooker meatloaf and baked potatoes was the plan. Travis grilled burgers as one does when it gets warm. I had a large bed of greens with two burgers on top.
Extra snacks – Protein bites and hard-boiled eggs for the kids. I had homemade keto ice cream as a reward for working so hard. Yay me!
Sunday
Happy Easter!
Cinnamon rolls and a cheese stick were enjoyed by all for breakfast.
The plan was to get up early and do Easter meal prep but that didn't happen. Mom life is a tough life. We decide to go out to an Easter buffet instead to keep everyone happy, especially mom.
Monday again!
Breakfast – We cracked 4 dozen eggs to make scrambled eggs. There was a smidgen left over, maybe enough for one more person.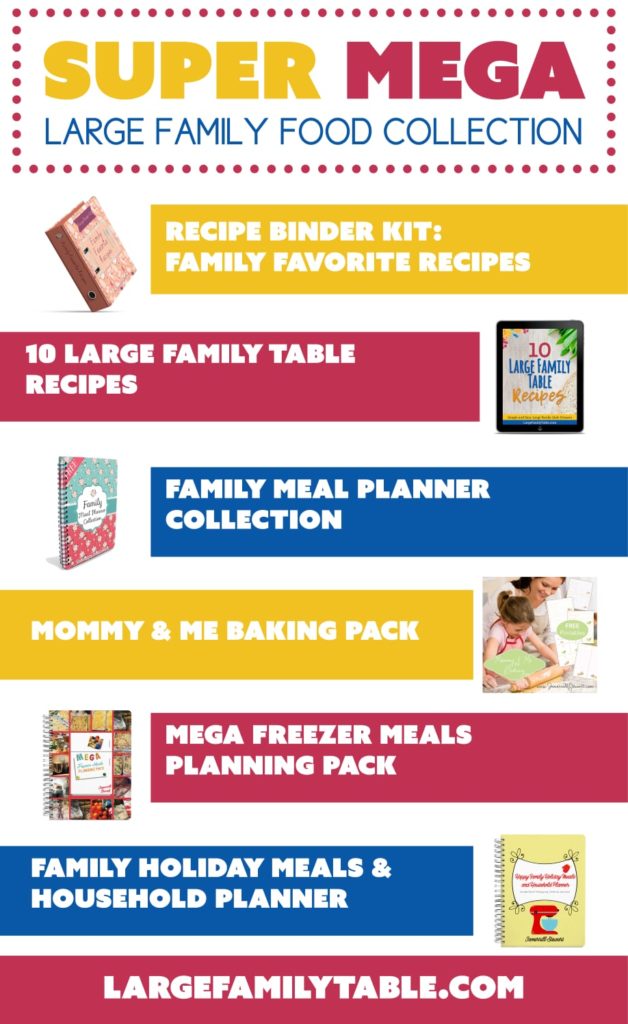 Meal Planning for Large Families
That was our week in a nutshell. I hope you see that a meal plan should be flexible to meet the demands of your family. Sometimes it works out and sometimes it doesn't. Here are additional large family meal plans and planning helps for you.
Watch the full Large Family Meals of the Week series here on Youtube!