Need a quick meal that you can make ahead and freeze? Try this delicious Low Carb Chili Dog Casserole Freezer Meal recipe that will impress the family and leave them wanting more of it.
Are you on the search for a family-friendly meal that's also a low carb meal, too? The Low Carb Chili Dog Casserole Freezer Meal is a tasty, meaty dish that your children will love. It is a savory casserole that you can easily prepare when you have extra time and then freeze the meal until you feel like serving it as a large family lunch or delicious dinner.
It consists of many great ingredients, including ground beef, sharp cheddar cheese, and the type of hot dogs that you like most. If you want a simple meal that tastes good and is not carb-heavy, follow this recipe!
****Use special promo code HELLO20 to take 20% off the entire MEGA DEAL get-it-all Bundle including the best-selling Large Family Freezer Meal Packs 1-12 + so much more!!****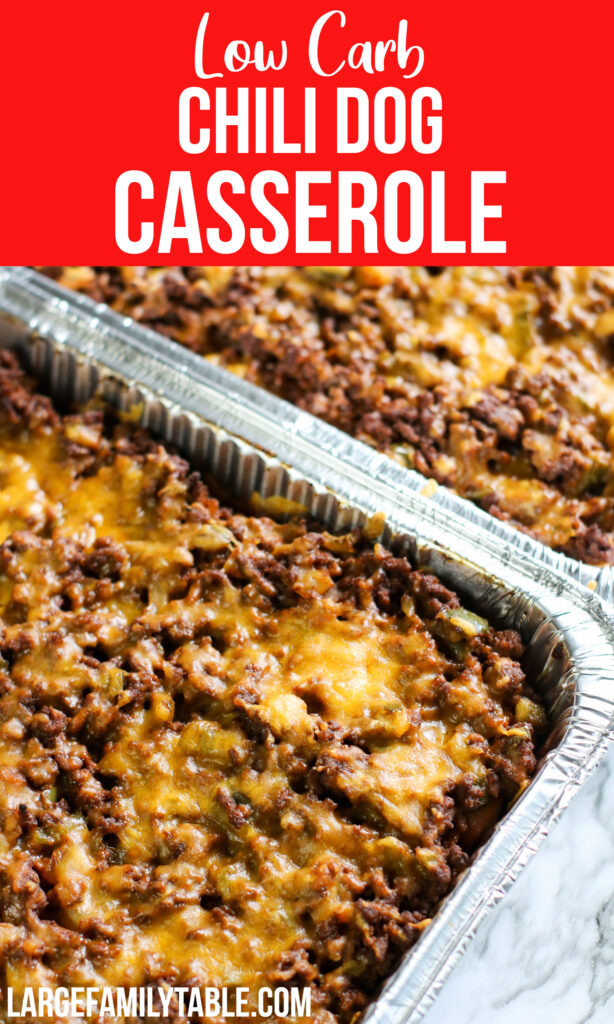 Must-Have Ingredients to Make the Low Carb Chili Dog Casserole Freezer Meal
When you would like to give this dish a try, make sure that you have these ingredients available to get started:
Ground Beef. Use ground beef to prepare the chili for this casserole.
Green Peppers. The peppers are a great addition to this casserole, but make sure to remove the seeds and chop them into pieces beforehand.
Brown Sugar Substitute. You will need a brown sugar substitute to make this low carb meal. Consider using a brand like Swerve.
Hot Dogs. Use your favorite brand of hot dogs to add to this chili dog casserole meal that your family will love.
Beef Broth. The beef broth adds flavor to the dish, and it is just one of several essential ingredients.
Tomato Sauce. Add your favorite brand of tomato sauce to this casserole to create a chili-like texture.
Shredded Sharp Cheddar Cheese. The cheese adds something extra to the dish, making it cheesy and flavorful with each bite.
You will also need a handful of other ingredients to make the Low Carb Chili Dog Casserole Freezer Meal, including garlic, onions, chili powder, cumin, Worcestershire sauce, salt, and pepper.
Stock your kitchen using my must-have kitchen list so you're ready to cook.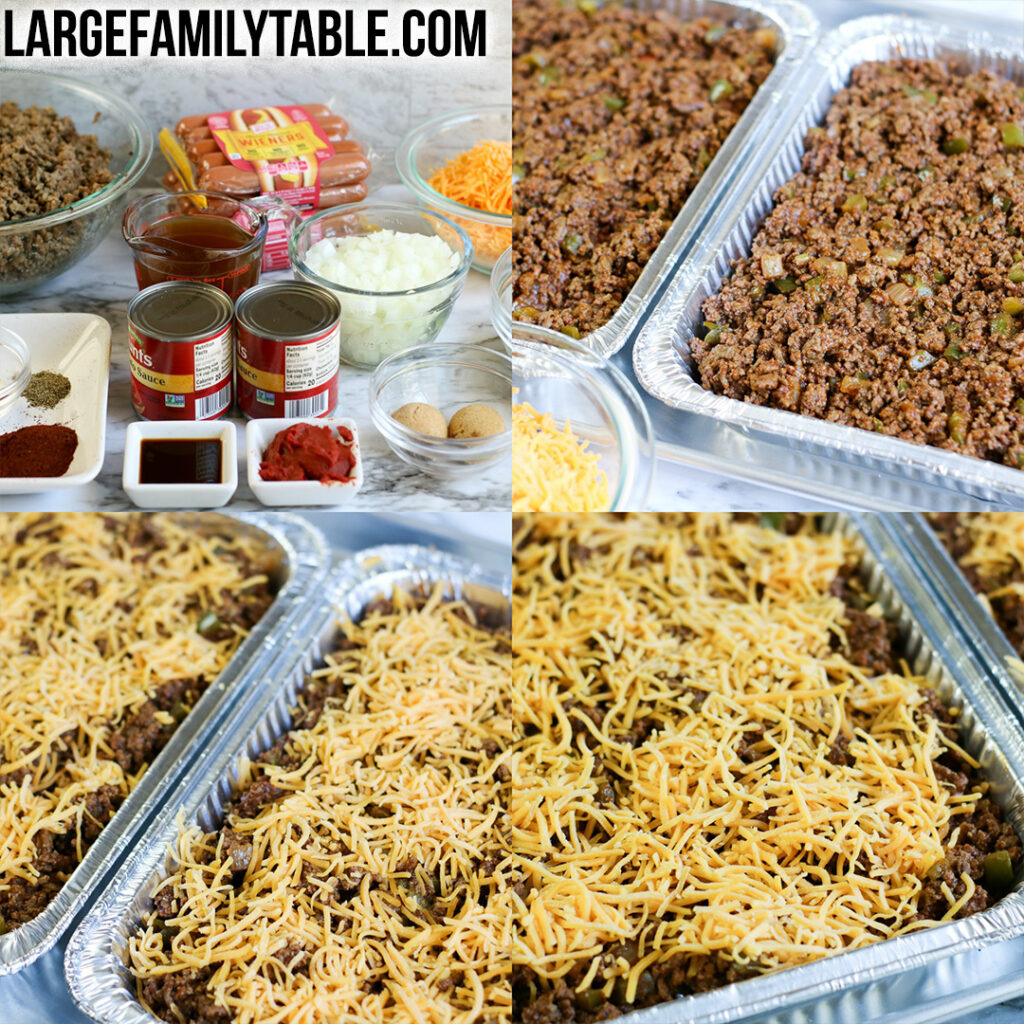 How to Freeze the Low Carb Chili Dog Casserole
Making freezer meals is convenient because you can put the food together when you have the spare time to do so and then put the meal in the freezer for a night where you do not have much time to make anything. The Low Carb Chili Dog Casserole Freezer Meal is a dish you can store in the freezer for up to four months.
In order to freeze this meal, you can assemble the casserole, and then before you cook it wrap it with plastic wrap, then with a layer of aluminum foil. Then place it in the freezer after you label it with it's name and cooking instructions.
If you prefer to cook it first, cook it and then place it in an airtight storage container or wrap the dish as instructed above. You will need a large food storage container with a secure airtight lid that fits perfectly on top of it if you choose to go that route. When stored properly, you can preserve its freshness and enjoy it with the family whenever you feel like having this hearty low-carb dish.
To heat this dish, place it in the fridge the night before to thaw. Then cook as usual.
What to Serve with Your Low Carb Chili Dog Casserole Freezer Meal
It can be tricky to add things to a low carb dish without adding carbs, but no worries, we've got you covered with lots of low carb recipe options. We have plenty of low carb desserts like our Peanut Butter Cheesecake, and our Pumpkin Chocolate Chip Cookies. Also, try our low carb sides such as Low Carb Cheesy Asparagus, or Marinated Cucumber Salad.
You also don't want to miss these amazing Large Family Low Carb Meals to Feed a Crowd (Budget Friendly, too!). This post has over 65 low carb meal ideas including low carb recipes made with beef, chicken, soup, slow cooker recipes, and low carb instant pot recipes. You also might enjoy the LOW CARB Large Family Freezer Meals Pack 7 and LOW CARB Large Family Freezer Meals Pack 8 to FILL YOUR FREEZER with amazing low carb freezer meals!!
Here are more low carb casseroles for your large family!
Low Carb Chili Dog Casserole Freezer Meal
Print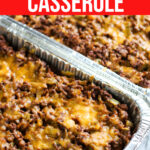 Low Carb Chili Dog Casserole Freezer Meal | Large Family Casseroles
Author:

Prep Time:

30 minutes

Cook Time:

20 Minutes

Total Time:

50 minutes

Yield:

2 9×13 Casserole Dishes

Category:

Dinner

Method:

Stove top/ Oven
---
Description
Need a quick meal that you can make ahead and freeze? Try this delicious Low Carb Chili Dog Casserole Freezer Meal recipe that will impress the family and leave them wanting more of it.
---
Ingredients
2 to 3 pounds ground beef

2 onions, diced

2 green peppers, seeded and diced

4 garlic cloves, minced

2 tablespoons chili powder

1 teaspoon cumin

1 teaspoon salt

½ teaspoon black pepper

1 tablespoon worcestershire sauce

2 tablespoons brown sugar substitute, like Swerve Brown Sugar, 

1 (15 ounce) can tomato sauce

2 tablespoons tomato paste

1 cup beef broth

1 (16 ounce) packages hot dogs

3 cups shredded sharp cheddar cheese
---
Instructions
Preheat oven to 400 degrees. Prepare two (9×13) casserole dishes with nonstick cooking spray.

In a large skillet over medium-high heat, cook ground beef with onions and green peppers until the meat ir browned and crumbled. Drain well.

Stir the garlic, cumin, chili powder, salt, pepper, worcestershire sauce, brown sugar, tomato sauce, tomato paste, and beef broth into the beef and bring to a boil. Reduce heat to medium-low and simmer for 20 minutes.

Slice the hot dogs and place in the bottom of the baking dishes, dividing evenly between the two. Pour the cooked beef mixture on top of the hot dogs.

Top the casserole with cheddar cheese. Bake for 15 to 20 minutes or until the cheese is completely melted and the edges are bubbling.
Keywords: Low Carb Chili Dog Casserole Freezer Meal
This fun to eat large family casserole is going to be a large family favorite! You'll love how easy it is to make and the kids will love the great flavor. Be sure to add this to your weekly meal plan menu!
FREE Emergency Pantry Planning Pack!
Don't forget to sign up for the emergency pantry planning pack for free to help you plan your pantry meals! The free Emergency Pantry Planning Pack will help you plan your needed pantry items! Printable pages include pantry inventory, grocery lists, meal planners, a list of pantry staple items, and more.