Enjoy a savory and filling meal consisting of fresh chicken, mushrooms, and spinach that blend perfectly together to create a spaghetti dish like no other. Once you prepare this Instant Pot Spinach and Mushroom Chicken Spaghetti, you will never want to make spaghetti any other way.
**Use special promo code HELLO20 to take 20% off your first order in the shop including the SUPER MEGA ULTIMATE Large Family Freezer Meals Bundle here!**
Try Spaghetti a New Way!
Spaghetti is one of my favorite comfort foods, and I love that there are plenty of ways to prepare it. The reason this spinach and mushroom chicken spaghetti is such a great option for me is that it contains healthy ingredients to make the meal even more nutritious, but it still has so much flavor. It is a unique way of preparing a traditional dish. If you are tired of eating spaghetti with jarred sauce all the time, you need to try this recipe.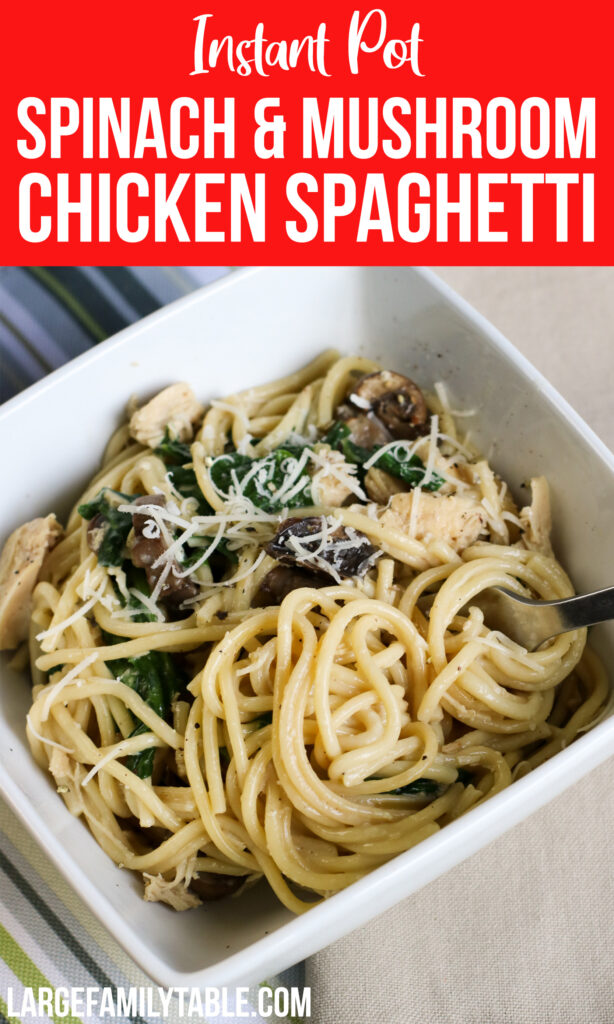 Instant Pot Spinach and Mushroom Chicken Spaghetti
The preparation time for the Instant Pot Spinach and Mushroom Chicken does not take long at all. You will need some essential ingredients, including your favorite brand of spaghetti, parmesan cheese, spinach, mushrooms, and chicken broth to name a few. Because this is an Instant Pot recipe, the process of preparing it is that much easier because the cooking device makes prepping and cooking the dish quick, easy, and fun.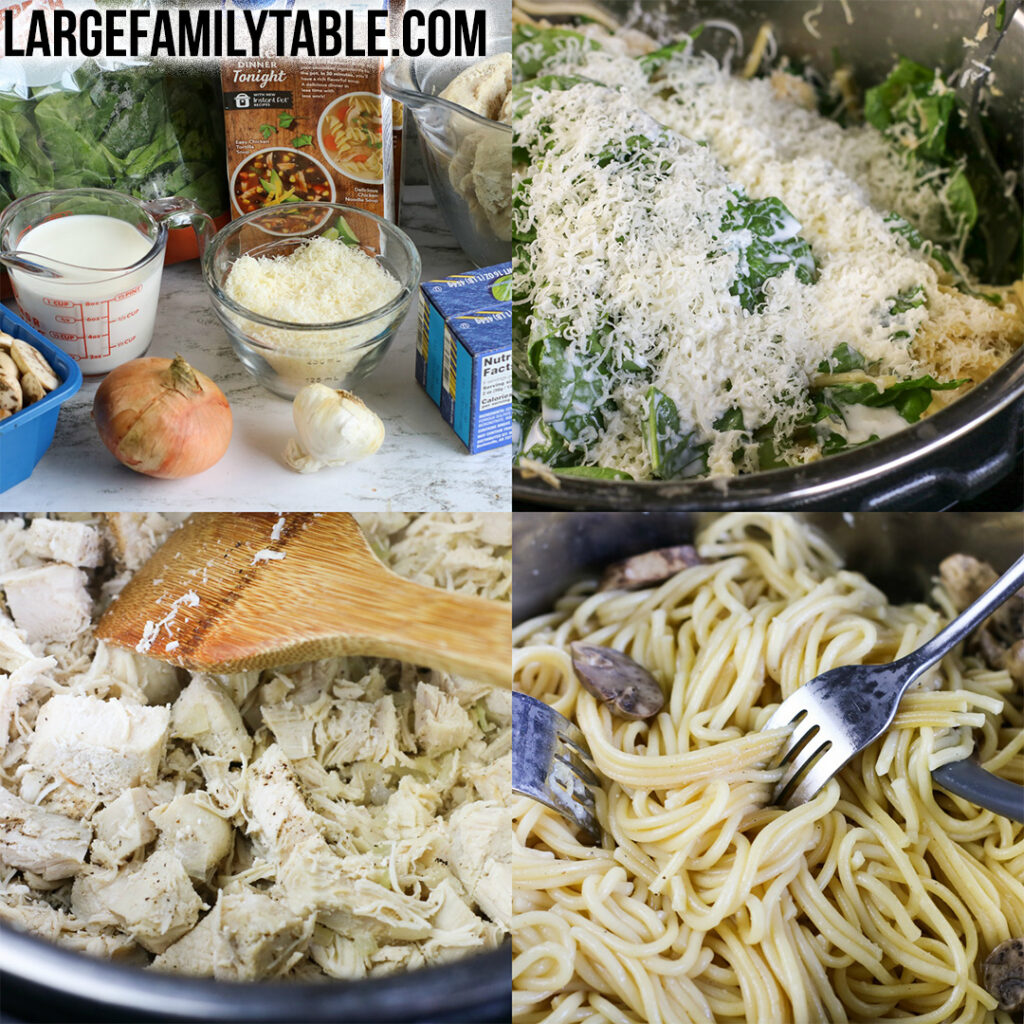 The Advantages of Trying Instant Pot Chicken Spaghetti
The Instant Pot Spinach and Mushroom Chicken Spaghetti is a twist on a traditional family favorite. If your family enjoys eating spaghetti but would like to have new options, this is a fantastic recipe to follow.
The dish contains baby spinach that is the perfect source of iron and essential vitamins, mushrooms that contain riboflavin and vitamin B, and chicken that is the ideal protein source.
When making this dish, you do not have to worry about doing a bunch of mixing or stirring.
You are adding ingredients into your Instant Pot little by little and allowing the instant pot to do much of the work for you.
If your goal is to prepare a healthy, tasty meal that is kid-friendly and easy to prepare, you cannot go wrong with following this recipe.
Slow Cooker Options When Preparing the Spinach and Mushroom Chicken Spaghetti
Although this is a simple Instant Pot recipe, you can also prepare the Spinach and Mushroom Chicken Spaghetti in a slow cooker.
In fact, you can even use your Instant Pot as a slow cooker if you would like to prepare the meal at a slow and steady pace.
If you would like to use the Instant Pot as a slow cooker, use the slow cooker button and place the settings for the slow cooker feature on normal or high.
The exact heat setting selected will depend on how fast you would like to have your meal ready to eat.
If you do not have the Instant Pot at home, you can use a Crockpot or any other type of slow cooker that you might have.
You would simply need to add most of your ingredients into the slow cooker together at once, leave covered for up to six hours, and then add in your parmesan cheese, half and half, and baby spinach as a finishing touch.
The next time you need to make a dish for your large family table, give this Chicken Spaghetti meal a try. My family loved it the first time they tried it and so will yours!
Here are more Instant Pot and Slow Cooker Recipes your family will enjoy!
Instant Pot Spinach and Mushroom Chicken Spaghetti
Print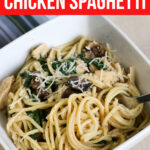 Instant Pot Spinach and Mushroom Chicken Spaghetti | Large Family Meals
Author:

Prep Time:

10 Minutes

Cook Time:

6 Minutes

Total Time:

16 minutes

Category:

Dinner

Method:

Instant Pot/ Slow Cooker
---
Description
Don't give up trying new recipes with your family. This Instant Pot Spinach and Mushroom Chicken Spaghetti feeds a lot of people, plus it's delicious! Say goodbye to traditional spaghetti. 
---
Ingredients
2 (16 ounce) packages spaghetti
2 teaspoons olive oil
1 onion, diced
4 cloves garlic, minced
1 (16 ounce) package mushrooms, sliced
8 cups low sodium chicken broth
8 cups water
6 cups baby spinach, coarsely chopped
1 cup half and half
1 cup shredded parmesan cheese
---
Instructions
Using the saute mode, heat the electric pressure cooker until "hot." Add the olive oil and saute the onion until soft. Stir in the garlic. Deglaze the bottom of the pot by adding the chicken broth or water and scraping with a flat wooden spoon. Cancel the saute mode.

Add the spaghetti to the pressure cooker, creating cross-crossing layers to keep the spaghetti from sticking in clumps.

Top the spaghetti with the mushrooms. Do not stir.

Place the lid on the electric pressure cooker and set the valve to sealing. Set the pressure cooker to "manual" or "pressure cook" for 6 minutes. Quick release the pressure when the cook cycle is complete.

Stir the spaghetti, separating any stuck pieces.

Add the spinach, half and half, and parmesan and stir to combine.
In a slow cooker:
In the slow cooker, mix the spaghetti, onion, garlic, chicken stock, and water. Place the mushrooms on top.

Cover and cook for 4 to 6 hours.

Stir in the spinach, half and half, and parmesan cheese.
Keywords: Instant Pot Spinach and Mushroom Chicken Spaghetti
I just love a good Instant Pot/ Slow Cooker recipe! They are so easy to make and my family really enjoys them. I hope your family enjoys these as well.
5-Day Freezer Cooking Challenge with Jamerrill!
FREE Freezer Cooking Quick Start Guide 17-page PDF with grocery list, recipes, full freezer cooking plan, cheat sheets, More!
I WILL HELP YOU fill your freezer with 10+ freezer meals including breakfast, lunches, & dinners!
Any family size or dietary needs can easily accommodate and follow along!