Get the Best-Selling Large Family Freezer Meals Collection here! Use promo code HELLO20 to take 20% off your first order.
Homemade Slow Cooker Yogurt
I love homemade slow cooker yogurt when I'm going to be out of the kitchen for the day as it is set it and forget it for many hours. It's virtually foolproof. I've also made it overnight while we're sleeping! You might also enjoy how to make yogurt in the Instant Pot! You can also read my comparison of Instant Pot verses slow cooker yogurt here.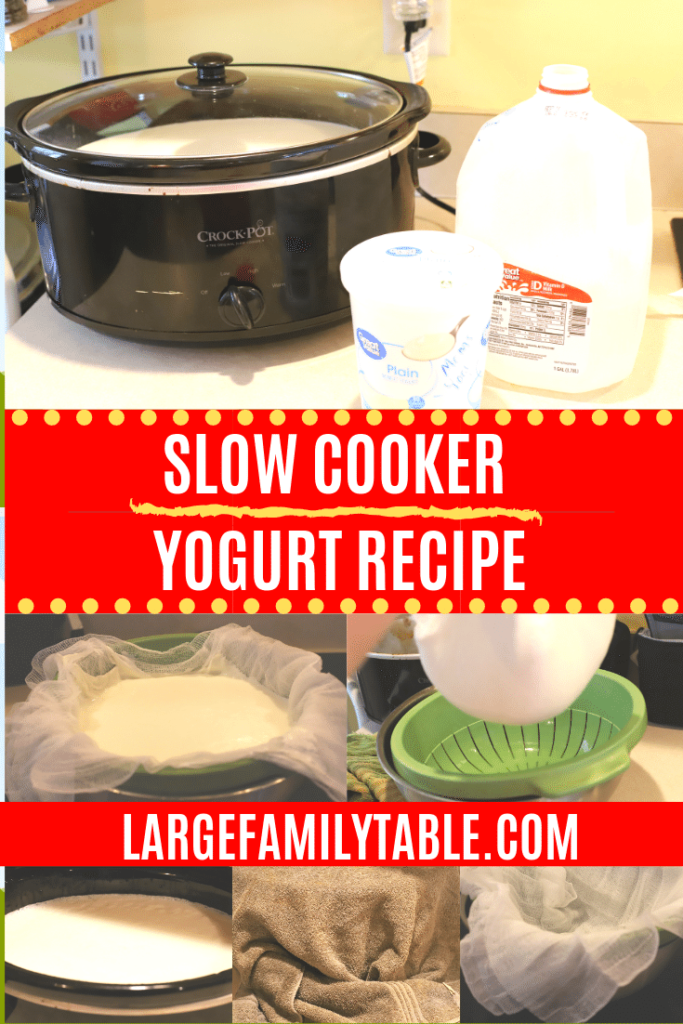 How long does homemade yogurt last?
As I mention in the yogurt video, homemade yogurt lasts for about 2 weeks in the refrigerator. It never lasts that long in my large family so that is a rough estimate. I would not keep it past 2 weeks. If you don't have a large family that will gobble it all up in that time frame, cut the recipe in half so you make less. I would rather run out and have to make more slow cooker yogurt than have to throw it away because it went bad.
How much yogurt does a gallon of milk make?
A gallon of milk makes approximately a gallon or a large family size container of unsweetened yogurt. You can keep it in a container together or split it up into serving sizes and sweeten each one individually. We like to add a bit of honey and vanilla to ours before the kids gobble it up. You could add fruit preserves to the bottom or anything you want really.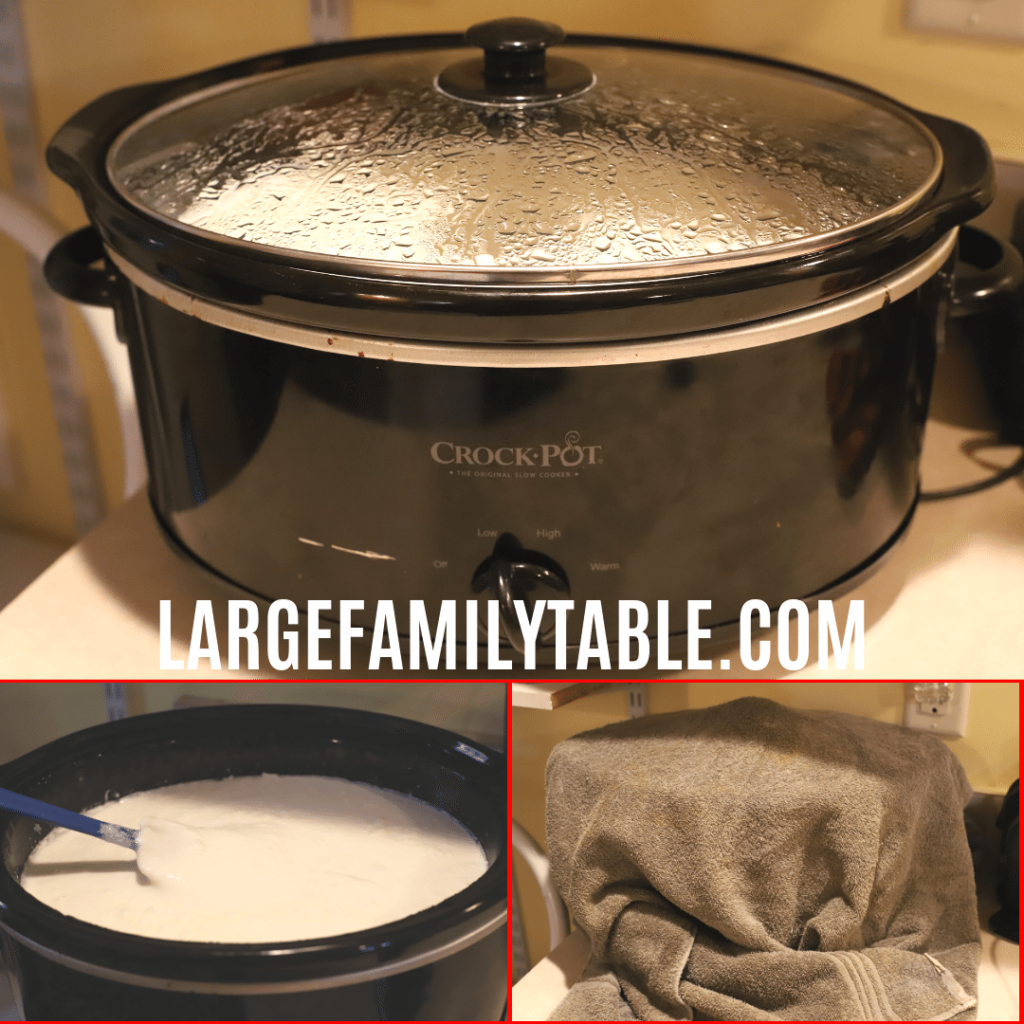 Is it cheaper to make yogurt at home?
Yep, it sure is. This frugal mama has a yogurt loving family. For the cost of a gallon of milk and a container of plain yogurt, I can get a family size bowl or container of fresh made yogurt with no additives or preservatives. You can't buy that kind of yogurt cheap. Add in the cost of the sweetener and you still come out a winner with slow cooker yogurt.
Can I use store bought yogurt as a starter?
Great Value plain yogurt works for this frugal mama. Buy a container with a serving size of at least one cup of yogurt since that is what you need for the recipe. Any store bought yogurt is sufficient. Just be sure it's unsweetened or it will kill all your active cultures which makes for not so good yogurt.
Print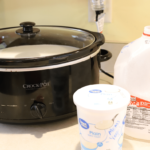 Homemade Slow Cooker Yogurt
Author:

Category:

Dairy

Method:

Slow Cooker

Cuisine:

American
---
Description
Here's how to make yogurt in the slow cooker! Slow cooker yogurt is an easy and frugal alternative to store bought. 
---
Ingredients
1 gallon whole milk
1 cup plain yogurt
---
Instructions
Place 1 gallon of whole milk in the slow cooker on the low setting for 2 1/2 to 3 hours. You want the yogurt to reach a temperature of 180°.

After Yogurt reaches 180, unplug the crockpot and let it sit for another 3 hours or so.

After 3 hours, whisk in 1 cup of plain vanilla yogurt.

Wrap the Crockpot with a towel and let it sit (still unplugged) for 8 to 12 hours. For me, it always depends on when I'm able to head to bed and get up the next morning. Sometimes I'm not able to get right back to the yogurt when we wake up, and it still sits until after breakfast is finished.

Once the yogurt is complete you can drain off the whey using the cheesecloth method I show in the video.

Add honey or your favorite sweetener to your yogurt!
With minimal prep and steps, slow cooker yogurt is virtually foolproof. It's also tasty and healthy for my large family. There are days that call for slow cooker yogurt and days when Instant Pot yogurt is the answer. Check out this post to see the comparison and decide which one works best for your family.