How Writing Bible Verses on My Hand Gives Me Strength, Hope, and Encouragement Each Day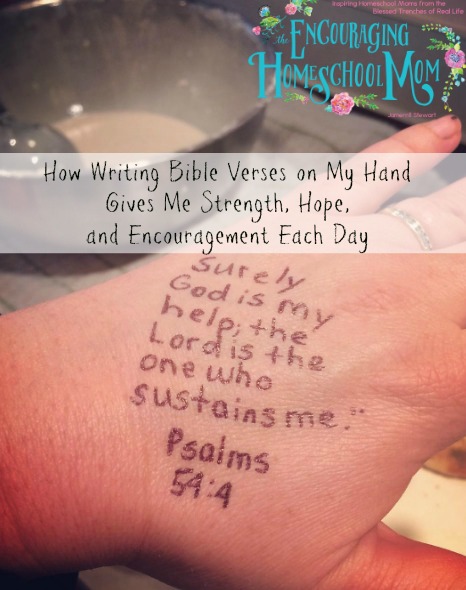 It's no secret that as moms we quickly find ourselves smack dab in a place (that "place" being daily life) where we know we need to cling to God's word for all it's worth. These little people need us, and boy that fact quickly points us back to Jesus and our desperate need for Him!
The truth is each day I need the Lord to breathe on me. I pray for the Lord to strengthen me, give me wisdom, and help me daily serve and minister to my family in a way that brings Him glory. Of course, I can't do any of this mothering thing without His full empowerment.
Daily I'm reminded of my weakness and my complete need of God's grace,
"But he said to me, '
My grace is sufficient for you, for my power is made perfect in weakness
.' Therefore I will boast all the more gladly about my weaknesses, so that Christ's power may rest on me."
2 Corinthians 12:9
I used to print out Bible verses on printer paper and hang them around the house. Even before that, I wrote Bible verses on notecards and placed them in the kitchen window for when I hand-washed dishes. I would carry a notecard in my back pocket or my purse. I kept a verse on a notecard on my van dashboard, in my wallet, wherever I might need my eyes to rest on the Word.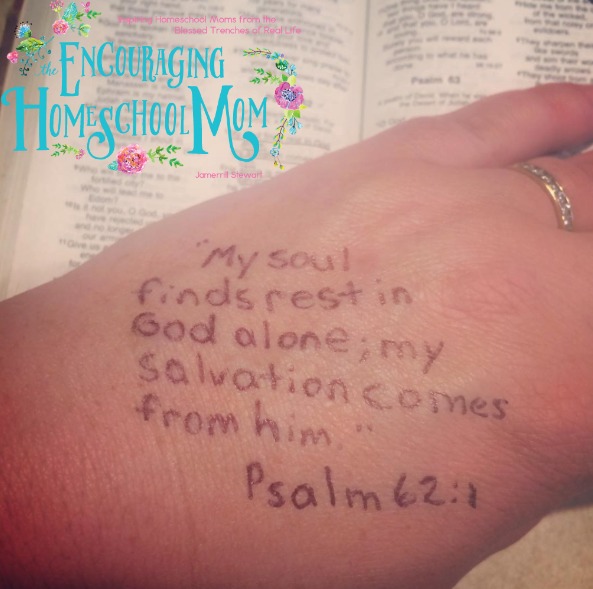 Thoughts for today, "
My soul finds rest in God alone; my salvation comes from him
." Psalm 62:1″ from
Instagram
One of the many times #handverses have helped me!
Two years ago, when I was pregnant with our seventh child, I was feeling hurried and pressured on a particular morning. My to-do list was screaming, needs were all around me, and I desperately felt in my heart that I needed a fresh verse to devour and feed my spirit throughout that day.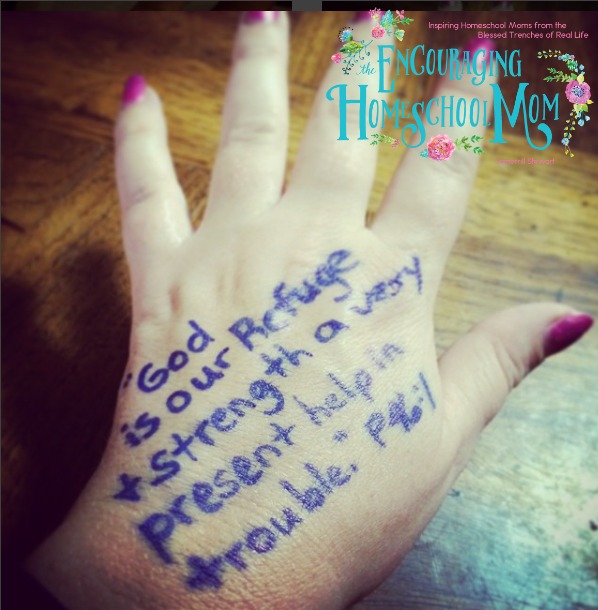 From
Instagram
, "
I don't know friends, this very well may be a total mess later today. Multitasking and running errands/grocery shopping for our beach trip with six kids and 3rd trimester pregnant. I figured this would be a good reminder today (easier than a note card in my pocket)
"
That day I loaded up the children, did our needed shopping, ran the errands, made the phone calls, and packed the bags, all the while memorizing and savoring, "God is our refuge and strength, a very present help in trouble." Psalm 46:1
Putting my focus in the Word, during that very busy day, gave me the strength to accomplish the seemingly impossible. The Holy Spirit met me in that verse, whispered over me, encouraged my heart, and gave me great hope.
I continue the practice of writing a verse on my hand several times a week. Yes, there are days I don't write a verse on my hand, but boy in the middle of those days I always wish I had (and I lean on the verses I already have memorized of course; it's just nice to have something plastered on my hand, too 🙂 )
Scrambling eggs, I focus on my verse.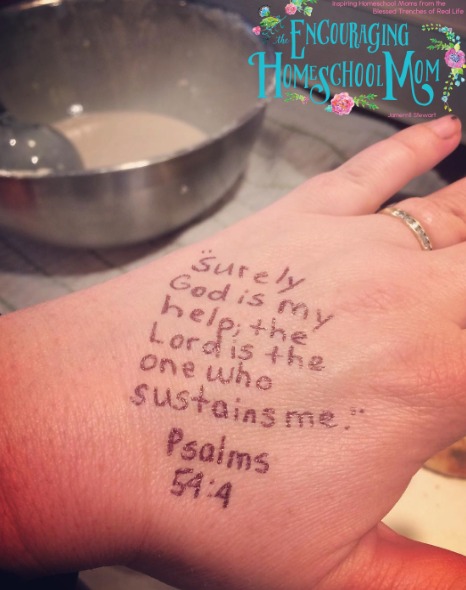 "Surely God is my help; the Lord is the one who sustains me." from Instagram
Dealing with real life stuff, I attempt to respond calmly and practice my verse.
*insert some other* pressure, weakness, or trial that comes at me, I say my verse over and over and over and over and over.
Why hand verses?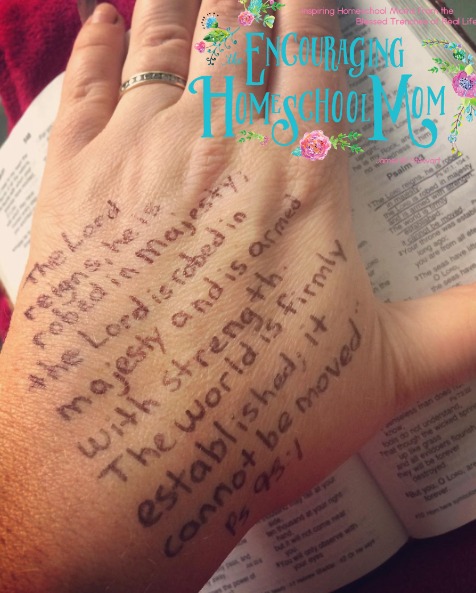 "
The Lord reigns, he is robed in majesty; the Lord is robed in majesty and is armed with strength. The world is firmly established; it cannot be moved
." Psalm 93:1 NIV from
my Instagram
.
Focusing on God's Word gets my mind off of me, off my failings, off my holes and inconsistencies. Having a promise so close, in my face if need be, reminds me who my Father is, and who I am in Him.
Believe me friends, no perfection here. I am simply a lady who desperately needs the Lord more and more each day.
Focusing on God's Word keeps my heart on Jesus, and quickly gets my heart back on Jesus if I need to realign myself in faith. Did I start to worry, feel confusion, or let stress or anxiety creep in? For me, that usually means my mind has gotten too busy reasoning or trying to figure things out. I need to remember who my father God is, and what
His good promises are for my family and me
.
There's power in God's Word. When I keep my mind running through a verse or several verses throughout the day, it affects how I feel. I physically feel stronger. I'm mentally sharper. I feel freedom in knowing that my Father has me.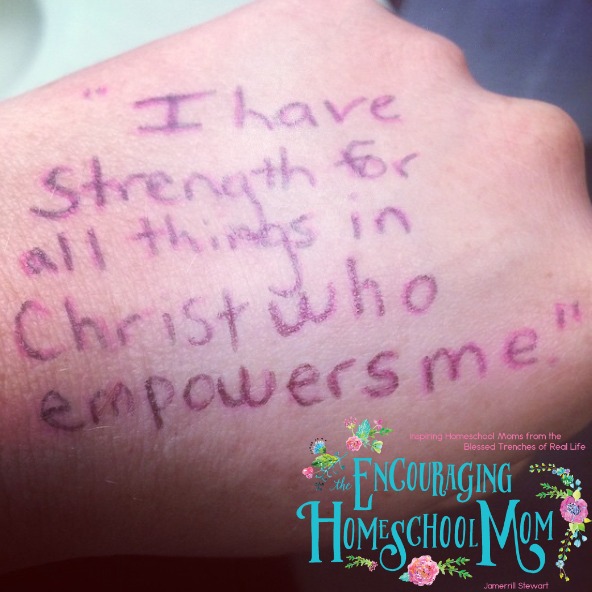 My
#

powerverse for today
, "
I have strength for all things in Christ who empowers me
," Philippians 4:13 AMP
For me, having a Bible verse on my hand has been a
practical way to intertwine the Word into every fiber of my day–
changing poopy diapers, wiping noses,
transplanting hostas
,
making tacos
,
playing in waterfalls
, dealing with the hearts of little ones and big ones (my own heart included), and the list goes on. This simple practice of writing one Bible verse on my hand helps keep my heart and mind in check. It invites the Holy into the practical and overflows my heart with reminders of God's awesome goodness. I wanted to share this with you in case you needed a doable way to keep God's Word alive in your heart each day, too.
If you decide to give it a try and want to share, just use the hashtag
#handverses
on
Instagram
so we can find you (
my friend Christy
started the
#handverses
hashtag a few years ago after hearing me mention this simple practice in a video. It's a great way to quickly find encouragement!)
I pray God's richest blessings on you this day. <3