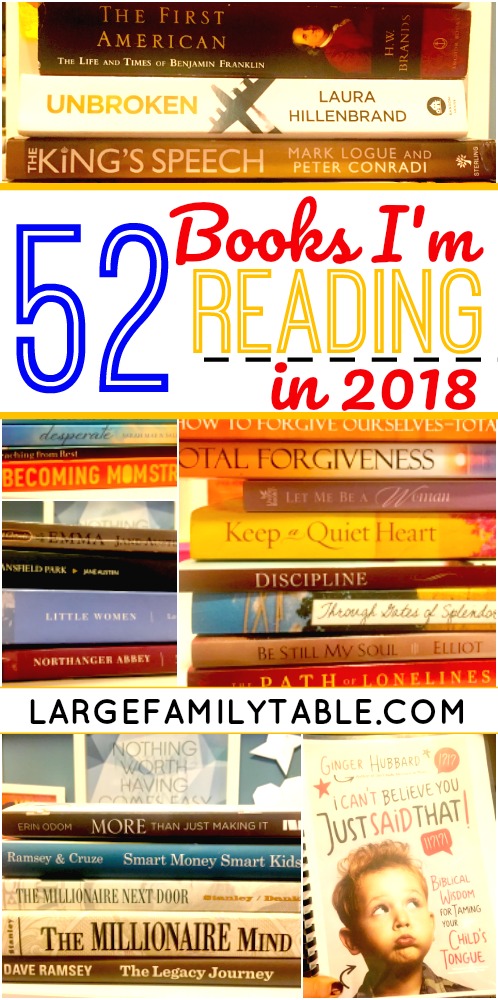 One of my personal goals in 2018 is to read 52 books and the complete Bible. I already own about 3/4 of the books I'm choosing to read. They are books I've bought brand new, snagged at the thrift store, ordered used, or have been given free. A few of these books I've already read, but most of them are new reading for me. The other 1/3 of the books that I do not currently own are sitting in my Amazon cart and waiting for me to click purchase. I own a Kindle, but I still prefer hard copies when possible.
You'll find my list includes Christian topics, Historical, Motherhood/Homeschooling/Parenting (I just took it upon myself to lump all of those together), Classic Literature, Financial, and a few additional titles.
I've shared 50 titles at this moment. That gives me room to add two more titles over the next 12-months. I had planned to pick 42 books and leave room for ten additional choices over the next year. It's hard to stop once I start stacking up books.
Here's my reading stack I shared in early January for Day4 of the #MegaMotherhood photo challenge.
HOW IN THE WORLD AM I GETTING PERSONAL READING TIME
I'm getting reading time in during the early morning and at bedtime. I've also kept whatever book I'm currently reading with me during our homeschool tablework time and nearby during the day. Much of the time a child needs me, (which is wonderful, that's what I'm here for :). However, if I have a book nearby, I can usually read 5-minutes here or even 10-minutes there while nursing the baby and still being available.
We also have at least an hour drive each way to most places. I don't leave the wilderness daily, but about once-a-week or so I'll be able to catch some reading time during a long drive if Travis is my chauffeur. I'm also changing up my work hours, so for the first time in about 7-years, I'm no longer working every single Saturday. This change is giving me extra reading time, too.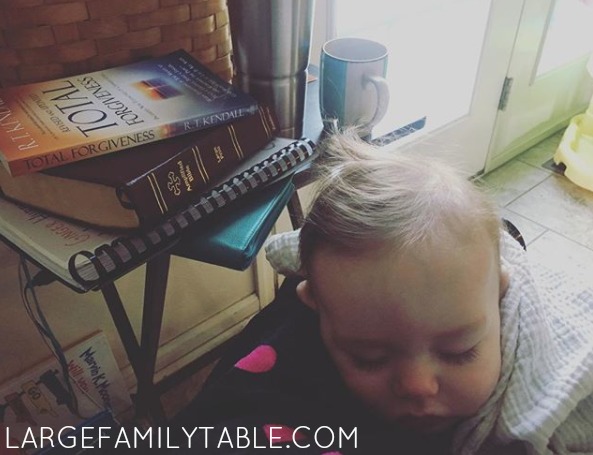 Here's the *almost* complete list of 52 books I'm personally reading in 2018. This reading list doesn't include the chapter books I'm reading aloud to the kids. I hope to share that list with you in the coming weeks.
Christian Books I'm Reading in 2018
This list includes my Amazon affiliate links. Here's my full discloser policy.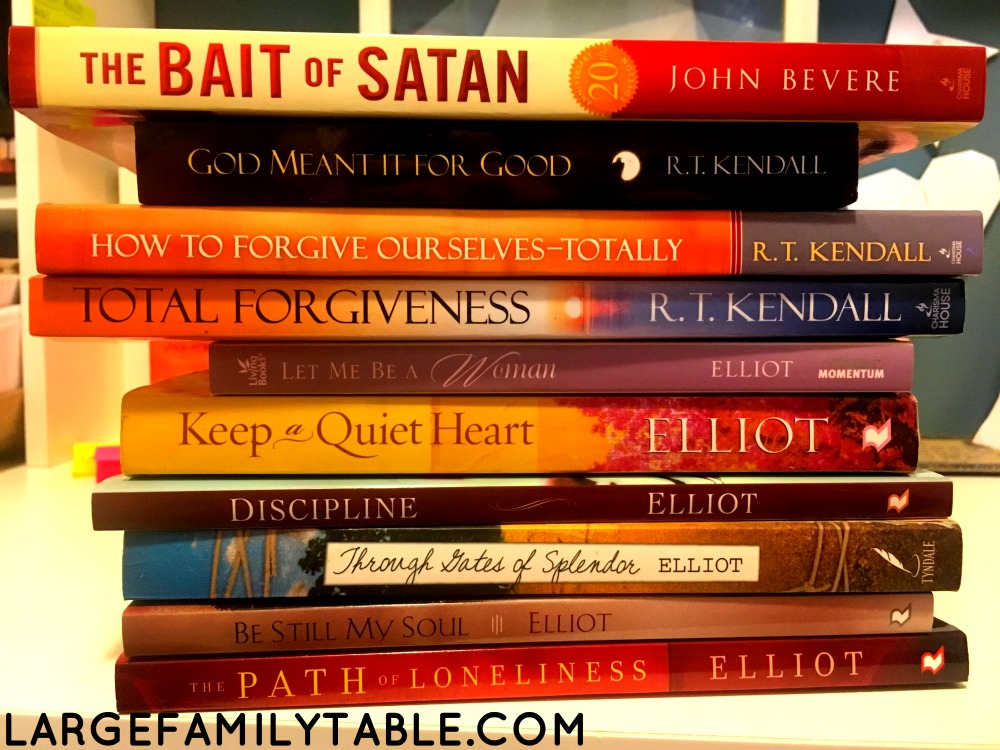 I have 13 Christian books chosen at this point. I'm reading three books by R. T. Kendall. I haven't read any of his books prior. His book Total Forgiveness was recommended to me by a friend. It looked so compelling that I ordered two more of his titles as well.
I'm also reading The Bait of Satan another time. I read it about 15-years ago, and it's worth reading again. It's a real eyeopener on the trap of being offended. You'll also see several Elizabeth Elliot books and a Sally Clarkson.
The Bait of Satan, 20th Anniversary Edition: Living Free from the Deadly Trap of Offense
Total Forgiveness (currently reading)
How To Forgive Ourselves Totally: Begin Again by Breaking Free from Past Mistakes
Discipline: The Glad Surrender
The Path of Loneliness: Finding Your Way Through the Wilderness to God
Own Your Life: Living with Deep Intention, Bold Faith, and Generous Love
No Longer a Slumdog: Bringing Hope to Children in Crisis
What's It Like to Be Married to Me?: And Other Dangerous Questions
Historical Books I'm Reading in 2018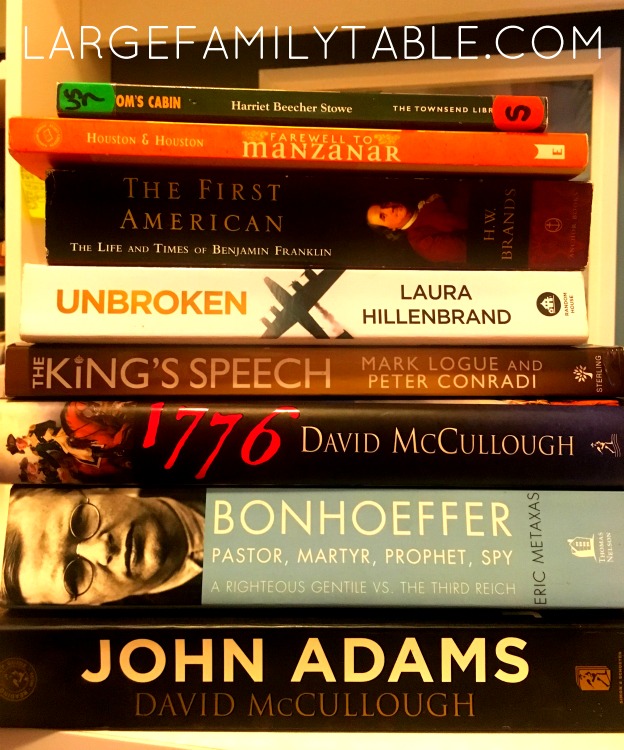 Can you tell who loves historical, historical fiction, biographies, and the like? Below are 11 books that I'll safely say count as historical. We have a growing David McCullough and Eric Metaxas collection.
Farewell to Manzanar (finished January 2018)
The First American: The Life and Times of Benjamin Franklin
Unbroken: A World War II Story of Survival, Resilience, and Redemption
The King's Speech: How One Man Saved the British Monarchy
Bonhoeffer: Pastor, Martyr, Prophet, Spy
Caroline: Little House, Revisited
Prairie Fires: The American Dreams of Laura Ingalls Wilder (mixed Amazon reviews on this one, but I want to read it for myself)
Amazing Grace: William Wilberforce and the Heroic Campaign to End Slavery
Classic Literature I'm Reading in 2018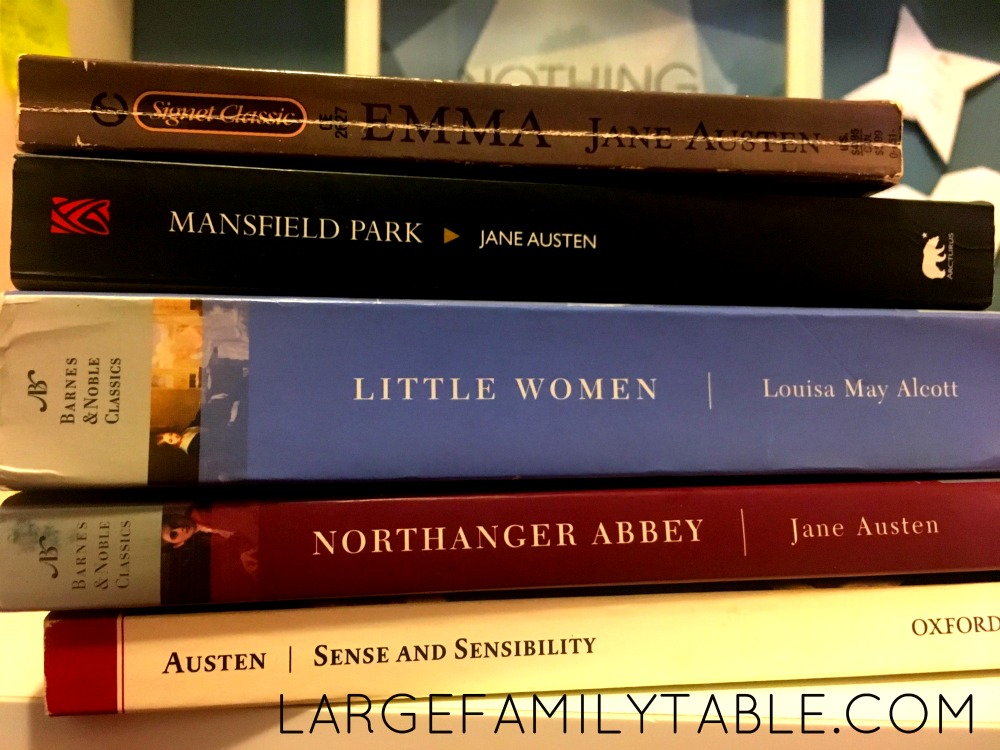 Oh, Jane Austen, you are my girl. I'm a huge Austen fan and can't wait to reread Emma!
Sense and Sensibility (finished January 2018)
Motherhood, Homeschooling, Parenting Books I'm Reading in 2018
I just jumbled up motherhood/homeschooling/parenting together. I feel like those topics are all rolled into one (in my world anyway). I read the advanced reader publisher's copy from my friend Ginger Hubbard for, "I Can't Believe You Just Said That," this fall. I'd like to read the public copy that comes out in April. Here's the rest of my picks below. And yes, lots of Sally Clarkson!
Hope for the Weary Mom: Let God Meet You in the Mess
A Sane Woman's Guide to Raising a Large Family
Teaching from Rest: A Homeschooler's Guide to Unshakable Peace (finished January 2018)
Desperate: Hope for the Mom Who Needs to Breathe
Becoming MomStrong: How to Fight with All That's in You for Your Family and Your Faith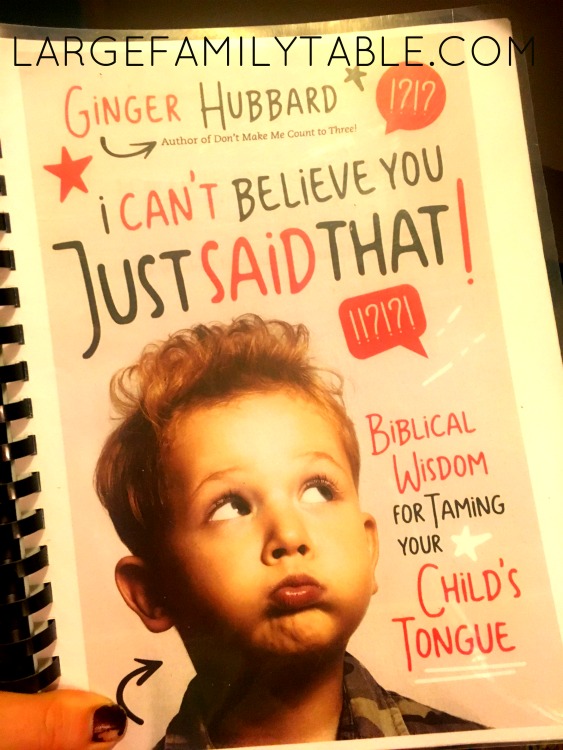 I Can't Believe You Just Said That!: Biblical Wisdom for Taming Your Child's Tongue – available April 2018
Rethinking School: How to Take Charge of Your Child's Education
The Read-Aloud Family: Making Meaningful and Lasting Connections with Your Kids – available March 2018
Different: The Story of an Outside-the-Box Kid and the Mom Who Loved Him
The Lifegiving Home: Creating a Place of Belonging and Becoming
The Mission of Motherhood: Touching Your Child's Heart for Eternity
The Ministry of Motherhood: Following Christ's Example in Reaching the Hearts of Our Children
The Lifegiving Table: Nurturing Faith through Feasting, One Meal at a Time
Financial/Money Related Books I'm Reading in 2018
More Than Just Making It is written by my friend, Erin Odom. The rest of the financial books listed are either by Dave Ramsey or Dave Ramsey recommended.
More Than Just Making It: Hope for the Heart of the Financially Frustrated
Smart Money Smart Kids: Raising the Next Generation to Win with Money
The Millionaire Next Door: The Surprising Secrets of America's Wealthy
The Legacy Journey: A Radical View of Biblical Wealth and Generosity
Additional Books I'm Reading in 2018
I read On Writing Well about five years ago or so. I'd like to read that again and possibly some other writing books (suggestions?). I haven't read Boundaries yet, but it's another one I hear Dave Ramsey mention often. I don't currently have any business books on my list. I've read several over the years and honestly, there's not one that's jumping out at me at the moment.
On Writing Well: The Classic Guide to Writing Nonfiction
Boundaries Updated and Expanded Edition: When to Say Yes, How to Say No To Take Control of Your Life
Tell me, tell me, what are a few more titles you suggest I add to my list?
I won't be able to share my current reading on the blog weekly. Most likely I'll share those weekly updates on Instagram. I plan to share a monthly post here on the blog with my current and accomplished personal reading plus include the additional read-aloud chapter books I've read that month to the kids. Would you enjoy that?