Hello, friend! Today, I've got the next large family meal plan in my weekly meal plan series ready for you! It's a full week of meals for a big family so you can make meals for your large family. This Fast and Fresh Large Family Meal Plan #35 +FREE Printable Grocery List and Meal Planning Pages will help take the stress out of meal planning! Yay! Below you will find the Fast and Fresh Large Family Meal Plan #35 for a Large Family which is part of my large family meal plan series. Plus, you get a FREE printable grocery list and planning pack that matches the meal plan.
Each week I serve up a fresh big meal plan with seven nights of dinners for a large family. PLUS, because I *only know mega & lots,* each large family meal plan will guide you through making a little extra to help fill your freezer with delicious meals, yay! You'll also want to grab all my other weekly meal plans, too!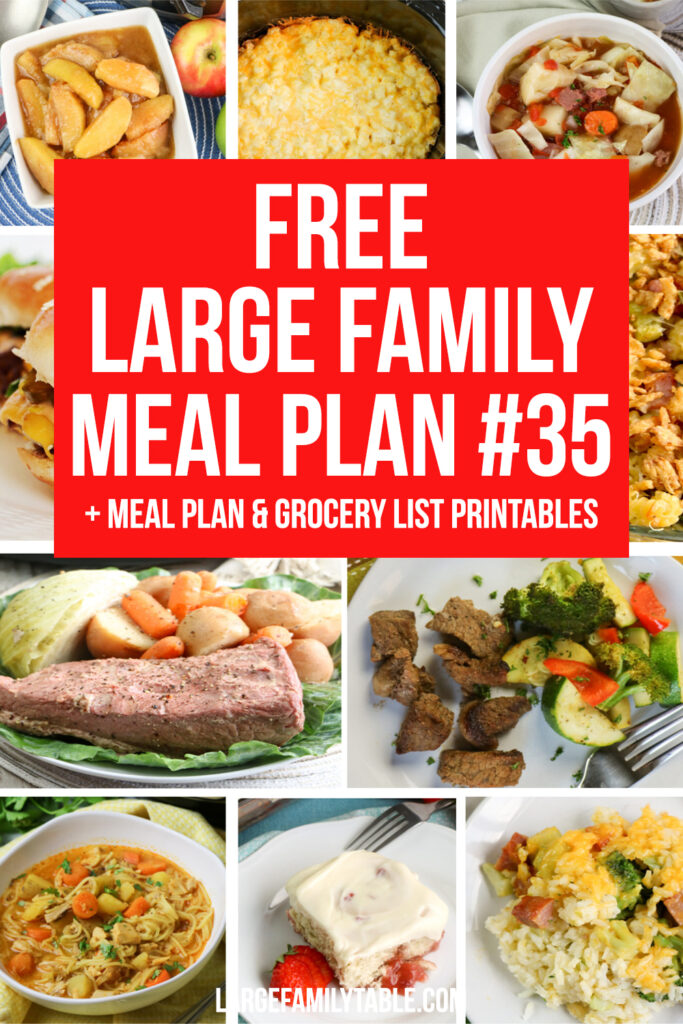 This Fast and Fresh Large Family Meal Plan #35 + grocery list printables includes Instant Pot Spiced Chicken Noodle Soup, Double Decker Cheeseburgers, Corned Beef with Cabbage, Low Carb Steak Bites and Veggies, and more quick and easy meals! Plus a few kid-friendly snacks and simple breakfast ideas, too!
>>> CLICK HERE TO SIGN UP FOR YOUR FREE ONE WEEK MEAL PLAN, GROCERY LIST PACK & PLANNING PAGES!!!<<<
If you are a large family you may find you'll get 7 Large family dinners, plus some extra meals prepped ahead. If you are heading up a smaller family you will have plenty of leftovers for lunches and lots of extra to build your freezer stash. Don't forget to sign up for the Fast and Fresh Large Family Meal Plan #35 for a Large Family + Free Grocery List Printables set HERE!
Fast and Fresh Large Family Meal Plan #35 + Free Clickable Planning Pack and Grocery List for a Week
Each week I give you a FREE COMPLETE Downloadable Meal Plan with a detailed GROCERY LIST. Just SIGN UP HERE FOR THE Week 35 LARGE FAMILY MEAL PLAN GROCERY LIST and Pack! You'll receive a thought-out grocery list to guide you through buying everything on this week's large family meal plan, plus bonus meal planning pages – yay!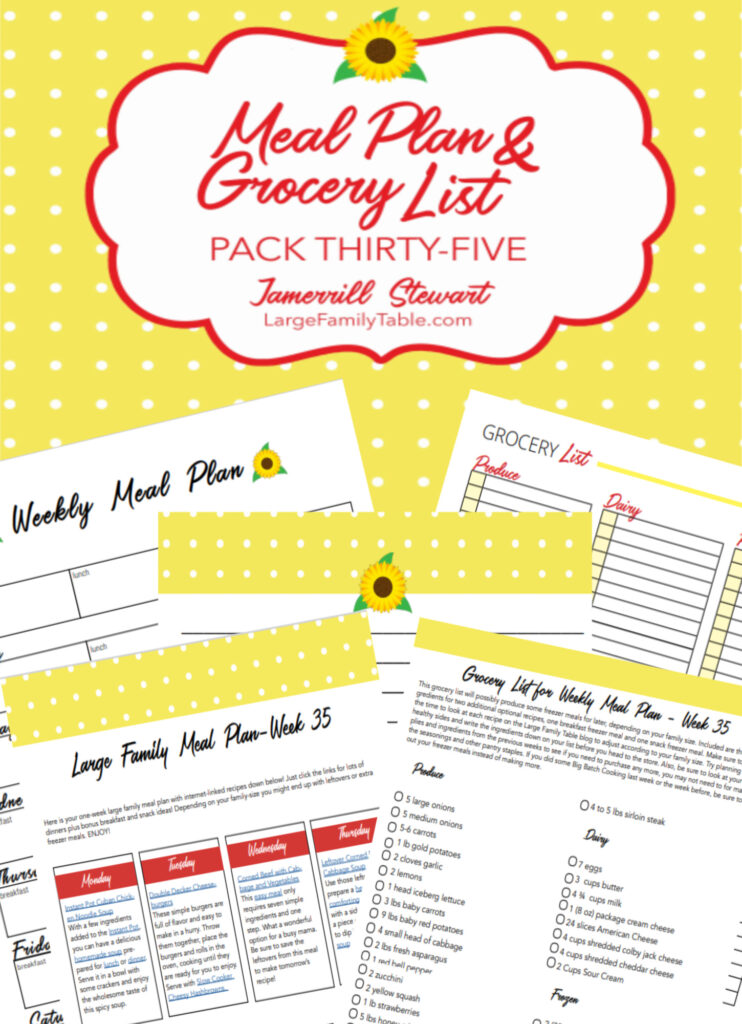 If you plan ahead, you can do some big batch cooking to add some meals to your freezer for later. Serve up these delicious recipes at your own Large Family Table. Check out this post if you would like to know my Must Have Large Family Freezer Meal Supplies.
>>> CLICK HERE TO SIGN UP FOR YOUR FREE ONE WEEK MEAL PLAN, GROCERY LIST PACK & PLANNING PAGES!!!<<<
More Large Family Meal Plans
We have a mega-ton of large family meal plans for you! I've listed the most recent five here, but be sure to grab the rest of the large family meal plans.
Fast and Fresh Large Family Meal Plan #35
When you are craving a satisfying meal that your family will love, prepare this Large Family Instant Pot Cuban Chicken Noodle Soup. With several essential ingredients added to the Instant Pot, you can have a delicious homemade soup prepared for your loved ones for lunch or dinner. Serve it in a bowl with some crackers and enjoy the wholesome taste of this soup. The recipe offers a unique twist on traditional chicken soup recipes.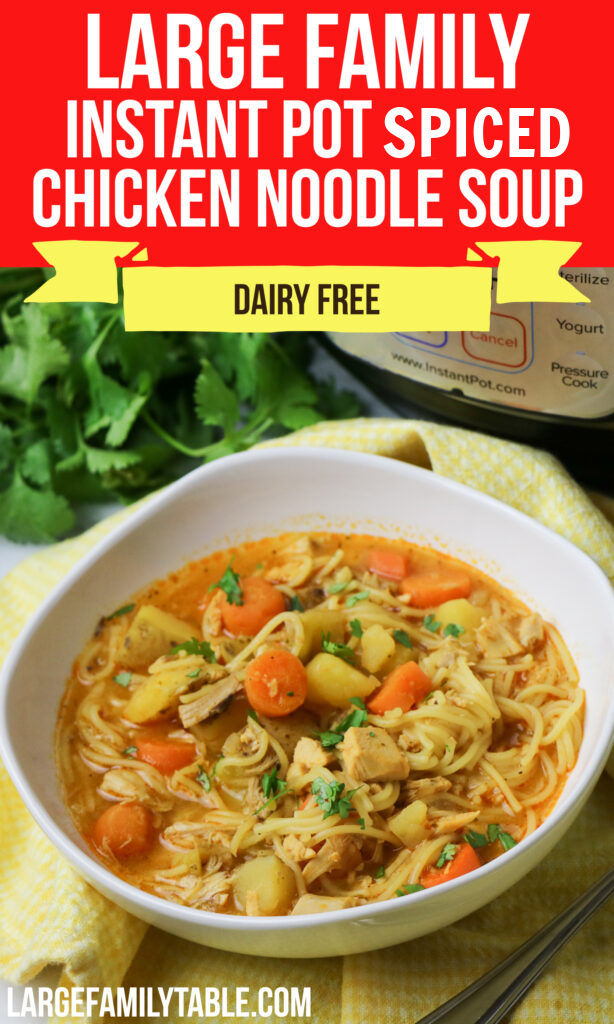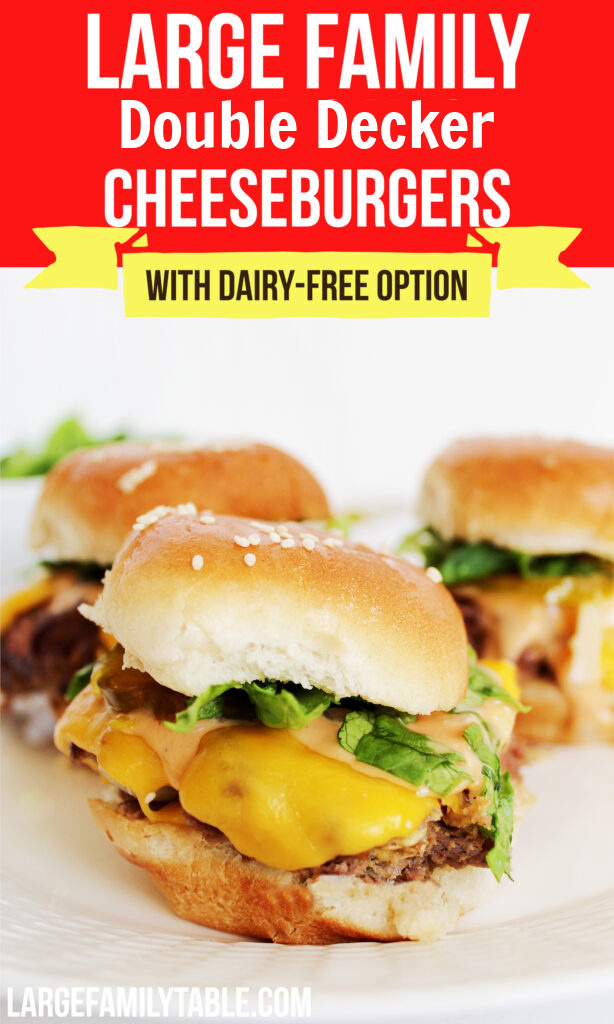 Do you enjoy a delicious burger? If so, you will love this recipe for Large Family Double Decker Cheeseburgers. You can prepare these cheeseburger sliders for yourself and the entire family. The recipe is easy to follow and does not require the use of too many ingredients. When you want a simple and delicious dinner that will satisfy everyone in the house, this is the perfect recipe to prepare. Once you put your ingredients together, you can place the burgers and rolls in the oven, cooking until they are ready for you to enjoy. To make this dish dairy-free, just leave off the cheese or replace it with a dairy-free cheese option. Serve with Slow Cooker Cheesy Hashbrowns.
This easy meal only requires seven simple ingredients and one step. What a wonderful option for a busy mama. This will be one dish you will want to add to your regular large family menu. I also have a Leftover Corned Beef and Cabbage soup recipe. Use the leftovers from this meal to make that recipe!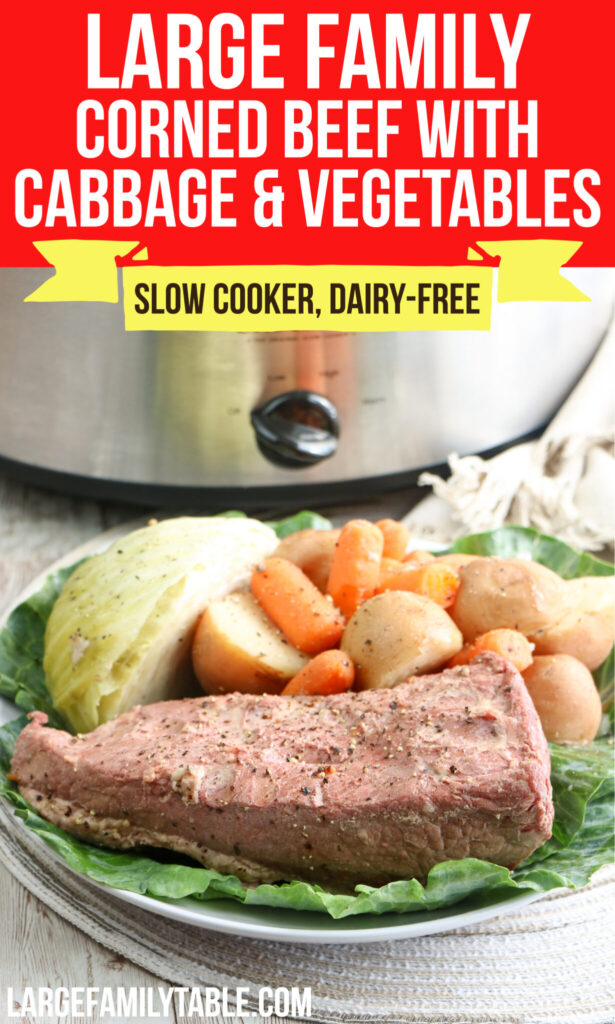 If you often have leftovers after preparing corned beef for your family, use those leftovers to prepare a hearty and comforting dish. Follow this Large Family Leftover Corned Beef and Cabbage Soup recipe to create something simple that tastes delicious. It is a dairy-free recipe that your family can enjoy. Serve with a side of crackers or a piece of French bread to dip into the delicious soup while you eat it. You might also want to make the meal in advance, freeze the meal, and save it for later when you want to prepare a homemade meal in a pinch.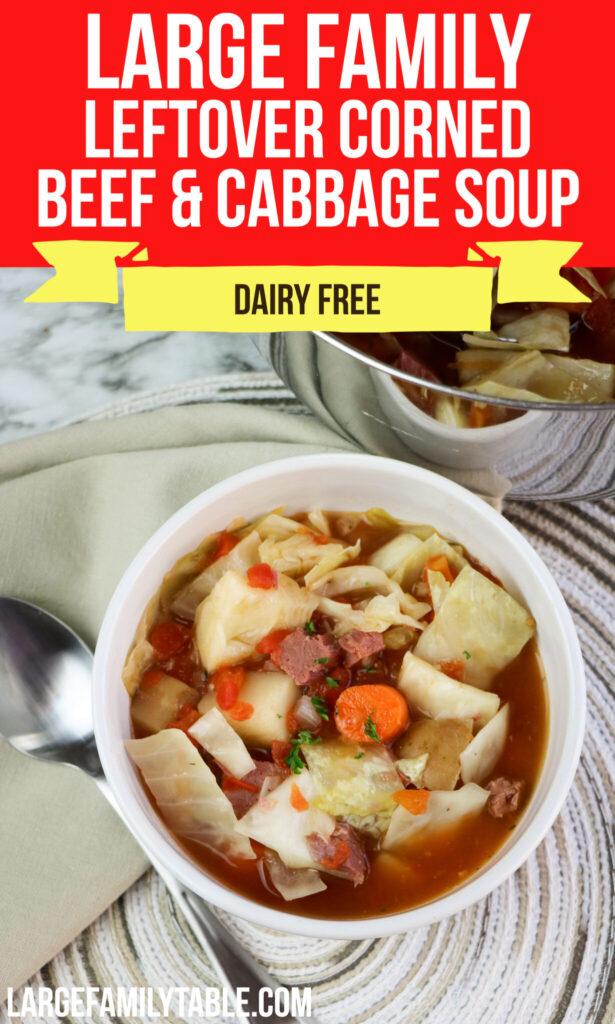 Create the perfect meat and veggie meal with this Large Family Smoked Sausage and Broccoli Casserole. The broccoli and cheese compliment the flavor of the smoked sausage so well to create such an enjoyable large family meal.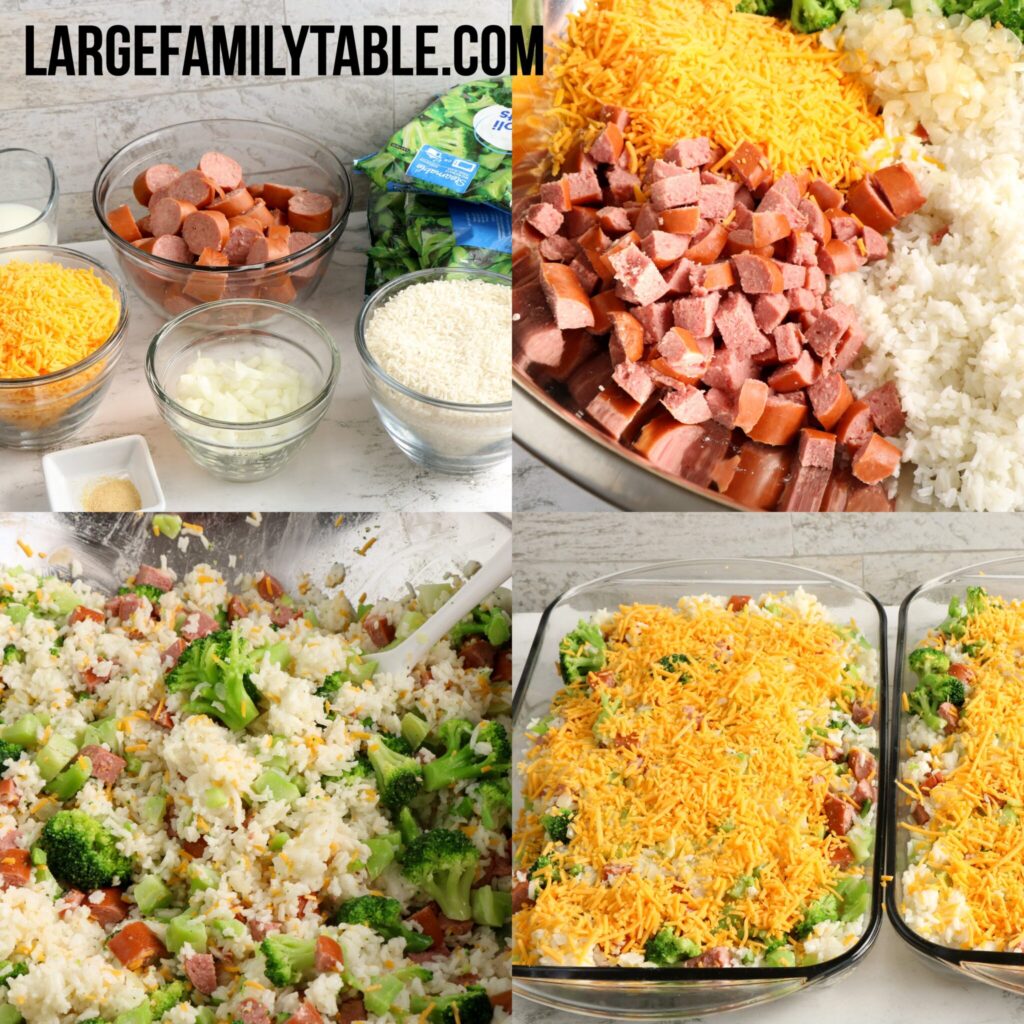 Does your family enjoy a ham with asparagus and other easy sides for large family dinner? If you are in the mood for something similar without all the extra work, you will love this Large Family Ham and Asparagus Casserole. It is easy to put together and has the perfect taste to it because of the different ingredients used to make it. If you enjoy ham, asparagus, pasta, and a few extras, you will enjoy the taste of this quick casserole and may decide to make it quite often.
You might think that coming up with tasty low-carb meals is difficult, especially when it also needs to be a dairy-free meal. This recipe proves that you can avoid the extra carbohydrates while enjoying a flavorful meal that will satisfy and feed your large family. If you are a meat-eater, you will enjoy this steak dish with the side of fresh vegetables that taste perfect together. Of course, you may still want to add brown rice or be pleasantly surprised with these tasty seasoned vegetables and steak bites.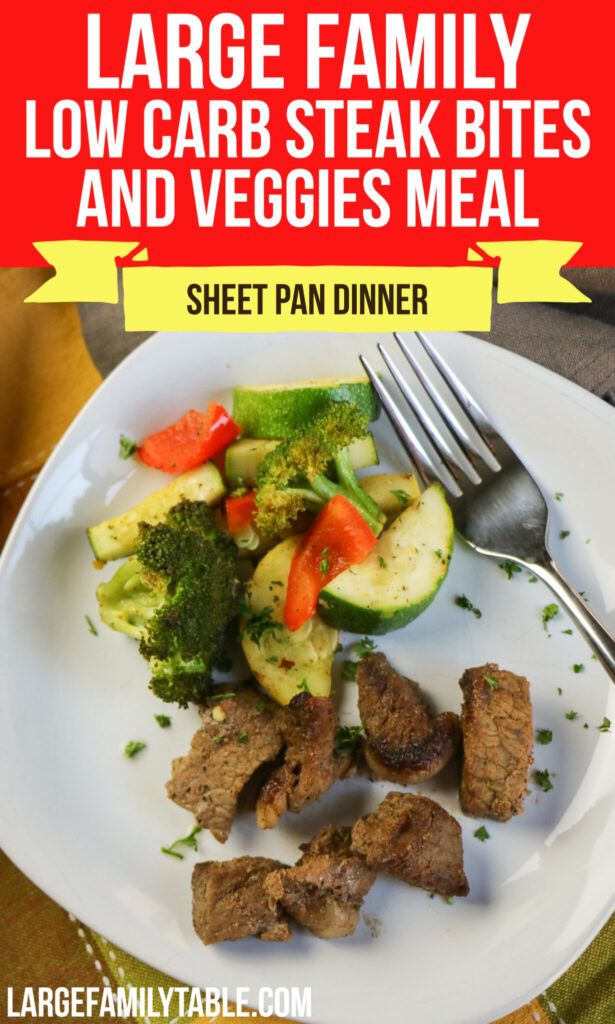 Bonus Breakfast Recipe idea: Strawberry Cinnamon Rolls with Cream Cheese Icing
Bonus Snack Recipe idea: Slow Cooker Baked Apples Dessert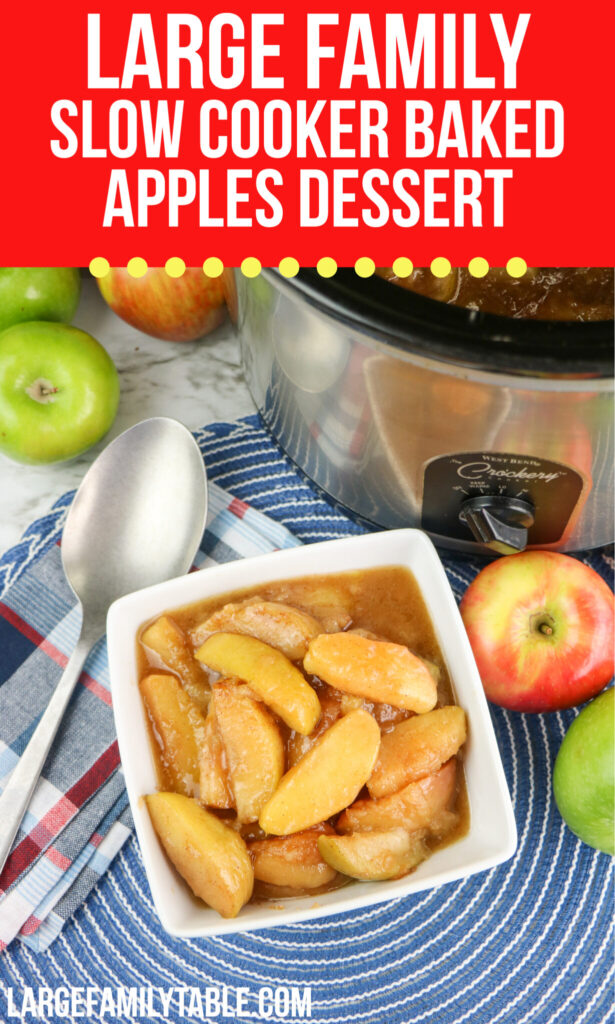 >>> CLICK HERE TO SIGN UP FOR YOUR FREE ONE WEEK MEAL PLAN, GROCERY LIST PACK & PLANNING PAGES!!!<<<
Large Family Meal Planning
Making a meal plan is a great way to make sure you're eating at home and with only a small amount of extra effort, you can also add food to your freezer to make later meals more convenient. For more meal planning ideas, check out Large Family Meal Planning.
Fast and Fresh Large Family Meal Plan #35 + FREE Clickable Planning Pack and Grocery List
SIGN UP NOW to receive the free grocery list and planning pack for week 35 that goes with this meal plan! You'll have everything you'll need to shop delivered right to your inbox including a detailed grocery list, meal planning pages, and more!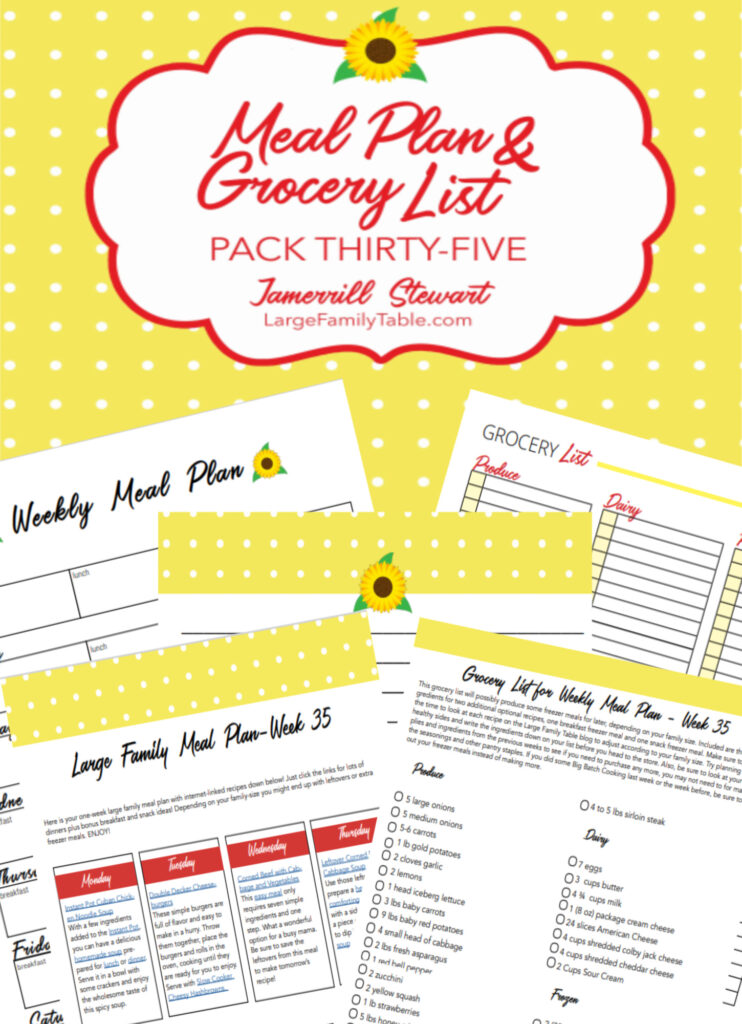 >>> CLICK HERE TO SIGN UP FOR YOUR FREE ONE WEEK MEAL PLAN, GROCERY LIST PACK & PLANNING PAGES!!!<<<