Chicken Instant Pot Recipe
I am a huge fan of getting my kitchen servants going in the morning in order to save time later in the day when I need to make dinner. In days past, if I didn't get my slow cooker going right before lunch, I was in big trouble. Something has happened though to make dinner a sure bet even if I don't load my slow cooker in the morning.
What happened is called an Instant Pot electric pressure cooker. I currently own both an 8-quart Instant pot and a 14-quart GoWise electric pressure cooker (you can see both models here on my large family cooking page). The wonderful thing about an electric pressure cooker is that you can cook a meal from frozen to done in a very short time. So if we have a busier day than usual and I forget to get the slow cooker going, or if I just decide not to, I know that my electric pressure cookers can get the job done for me.
On the day I made this video, we had all sorts of things going on. Baby Benjamin learned to clap his chubby little hands which required much watching and encouraging from the rest of us. Grandmother was visiting, Travis was using his amazing building and design skills out in the garage, and we were gone for a big part of the day to our homeschool group.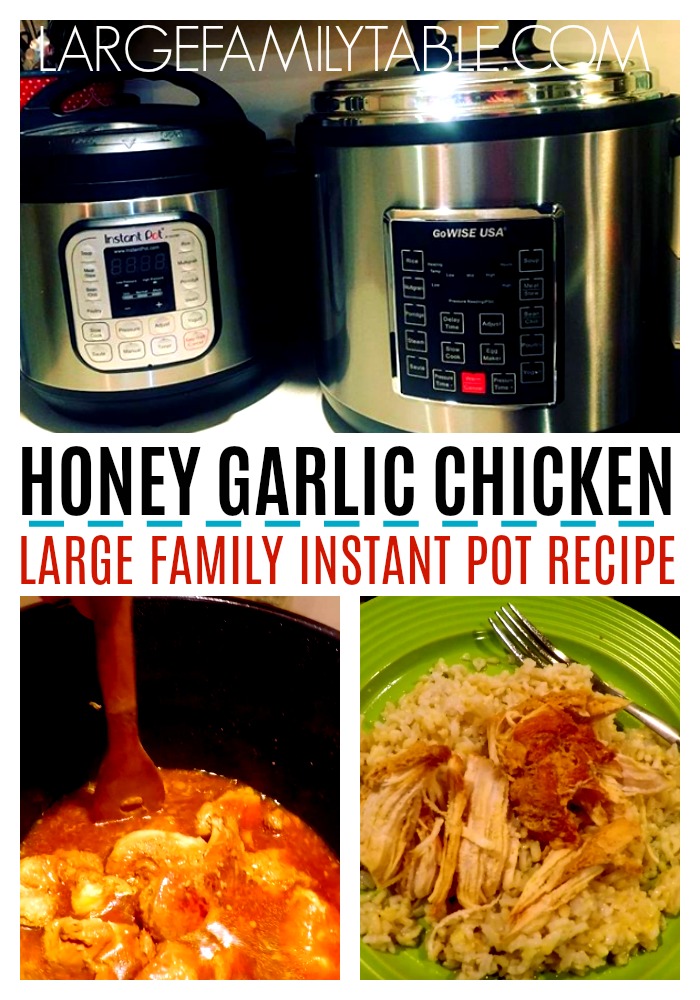 I also hadn't gotten in my big Mom stomping that I'm trying to get in every day. I try to get at least 10,000 steps in every day and it takes a dedicated march to achieve it. I can get around 4,000 steps in just from doing the typical Mom stuff around the house but I do want to hit that 10,000 mark as often as I can.
I can load up my electric pressure cookers and take off to our forest for my Mom-walk and get in all my steps while dinner cooks without me. Gotta love that! Let's talk about how to make this yummy Chicken Instant Pot Recipe that I made for our dinner. I decided to use my 14-quart GoWise for the chicken and the smaller 8-quart Instant pot for the rice to go with it. I could have done this in my slow cooker if I had started earlier but that would have required thawed chicken and I hadn't thought to thaw it in the frig the night before. So GoWise it is!
Keep in mind that the times on pressure cookers do not include the time for them to build up the pressure or to release it. Even though I set my chicken for 25 minutes, it takes at least 10 minutes to build up the pressure and another 10 to release it. This recipe took more like 45 minutes start to finish. If you're pinched for time, be sure to allow the extra minutes for the electric pressure cooker to do its thing. : )
By the time I got back from my big walk, I had 9,900 steps and our dinner was hot and ready. The electric pressure cookers have a "keep warm" function so all I had to do was walk in the door, remove the lids, and start serving plates. I hope you'll try it and comment below and tell me if your family enjoyed it!
Print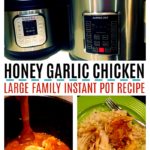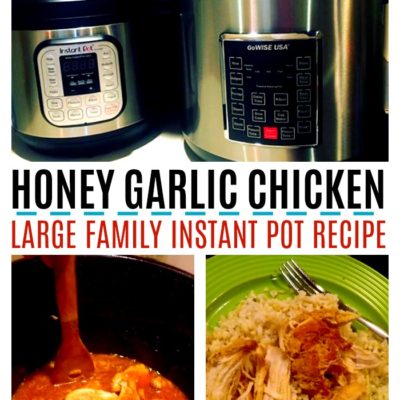 Honey Garlic Chicken Instant Pot Recipe | Large Family Dinners
---
Description
This chicken Instant Pot Recipe is delicious served over a bed of brown rice with some fresh veggies on the side. We enjoyed raw cauliflower with ranch dressing with ours. If you're eating low carb, you can serve it over riced cauliflower. Anyway you serve it, it is yummy!
---
Ingredients
4 lbs chicken
1/2 cup soy sauce
1/2 cup honey
1 whole onion, chopped (I didn't have an onion on this particular day so we did without)
4 TBSP minced garlic
1 TBSP ground ginger
2 tsp cayenne pepper
---
Instructions
Remove steamer rack from pressure cooker.
Add 1 cup water.
Place chicken in pressure cooker.
Add soy sauce, honey, and spices.
Secure lid.
Set on manual HIGH for 25 minutes. I let my pot do the natural release since I was out getting in my steps. You can do quick release if needed. xoxo
---
Notes
I cooked my rice in the 8-quart Instant pot on this day. I simply use the Rice button which sets the time for 12 minutes. This works perfectly for me but as usual, times may vary so know your pot. : )
SLOW COOKER RECIPE
For the Slow Cooker variation of this recipe just combined all ingredients listed above along with your defrosted Chicken in your slow cooker appliance. Cook on high up to 4 hours and low up to 8 hours. Slow Cookers temps and times may vary as well. xoxo
?HONEY GARLIC CHICKEN ?INSTANT POT RECIPE | Cook with Me ~ Large Family Mom Style!
Click here to watch the full Chicken Instant Pot Recipe on YouTube!!
You might also be interested in how to cook potatoes in the electric pressure cooker, here's a large family cooking recipe for weekend chili, and don't forget this Chicken Enchilada Freezer meal – large family style of course!