If you have a large family to feed, you know how long it can take to make food for all your people. That's the main reason I do so much freezer cooking; it saves me tons of time every single day when I spend a day or two making a month's worth of meals. There is nothing worse than having a great meat dish but no side dish to go with it. This is when I like to throw on my large family Instant Pot macaroni and cheese for a quick and easy answer!
Get the Best-Selling Large Family Freezer Meals Collection here! Use promo code HELLO20 to take 20% off your first order!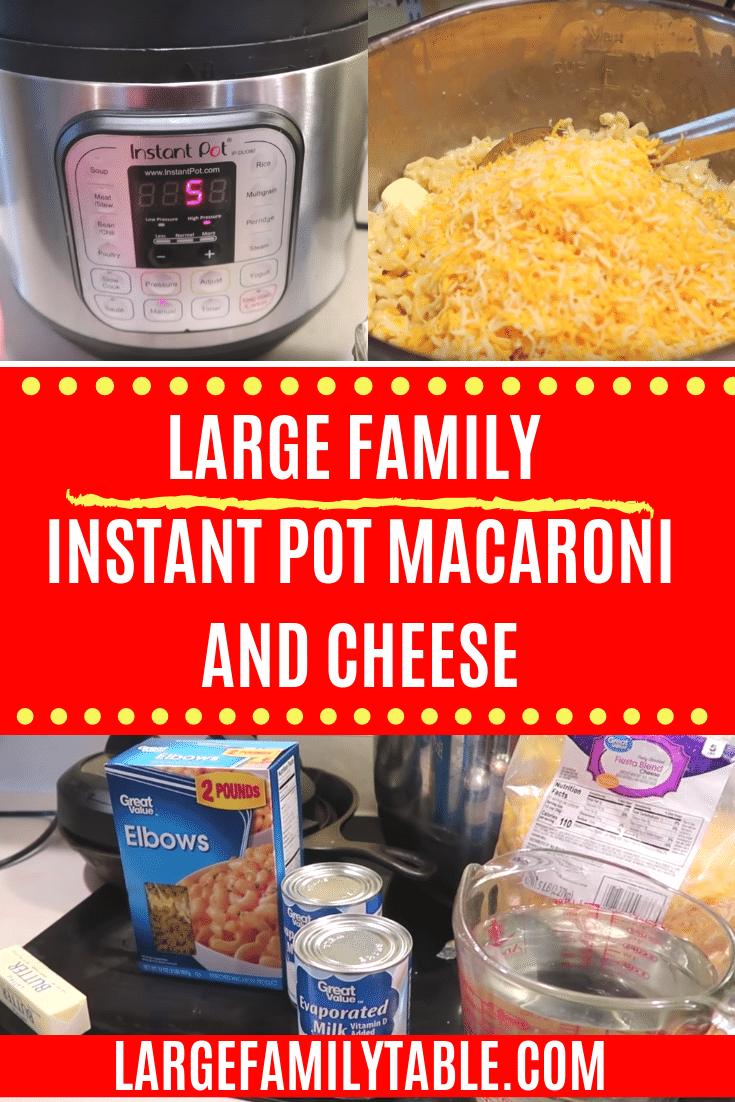 Let's face it, traditional mac and cheese is not a quick and easy process. There's all that cheese grating, cooking the noodles, getting all the layers in the pan, and then baking it for nearly an hour before you can even eat it.
Sometimes it's worth it to go through all the steps to make it the traditional way. Other times you may need a quicker, but still homemade, version. And that's where the Instant Pot comes in. The Instant Pot makes everything quicker and it tastes just as yummy.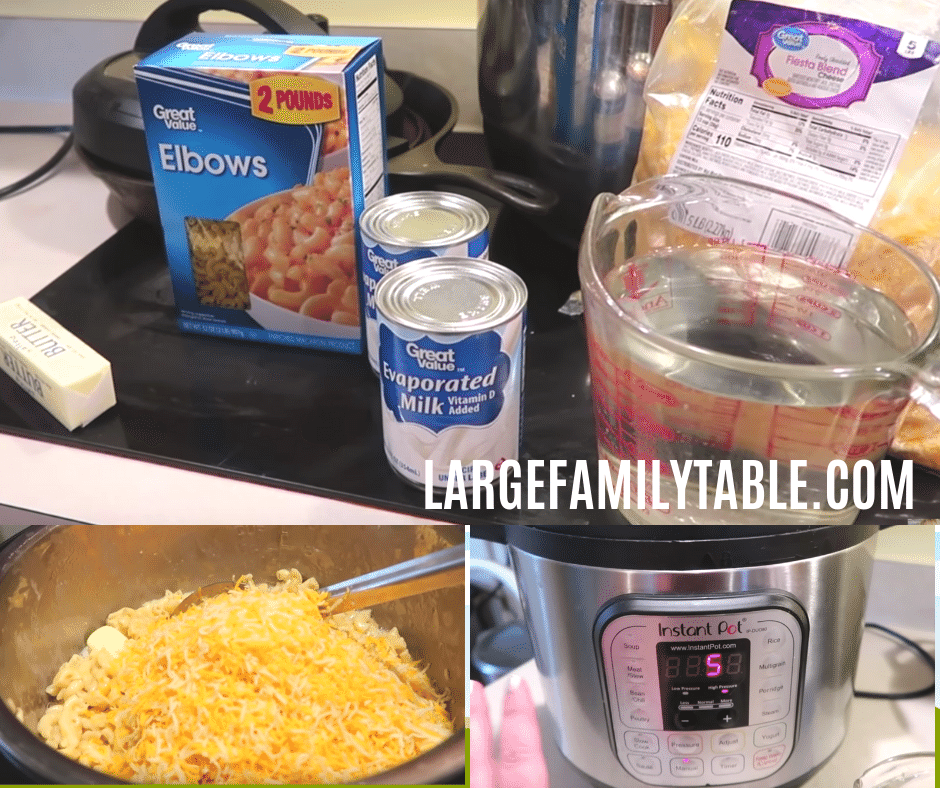 The day I made this large family Instant Pot macaroni and cheese, we were headed out for a "Not First Day of Homeschool picnic" which hosted dozens of families of all sizes. I kid you not, it is so quick to make that the kids were actually sitting in the van waiting on me as I was putting this together.
It only took 5 minutes to cook the noodles, and of course, that's not counting the time it takes to build up pressure or release it. I did use the quick pressure release option for this recipe and that sped things up. Just promise me that if you use the quick pressure release, you will read the directions for your Instant Pot very carefully and that you will be careful. We don't want any steam accidents.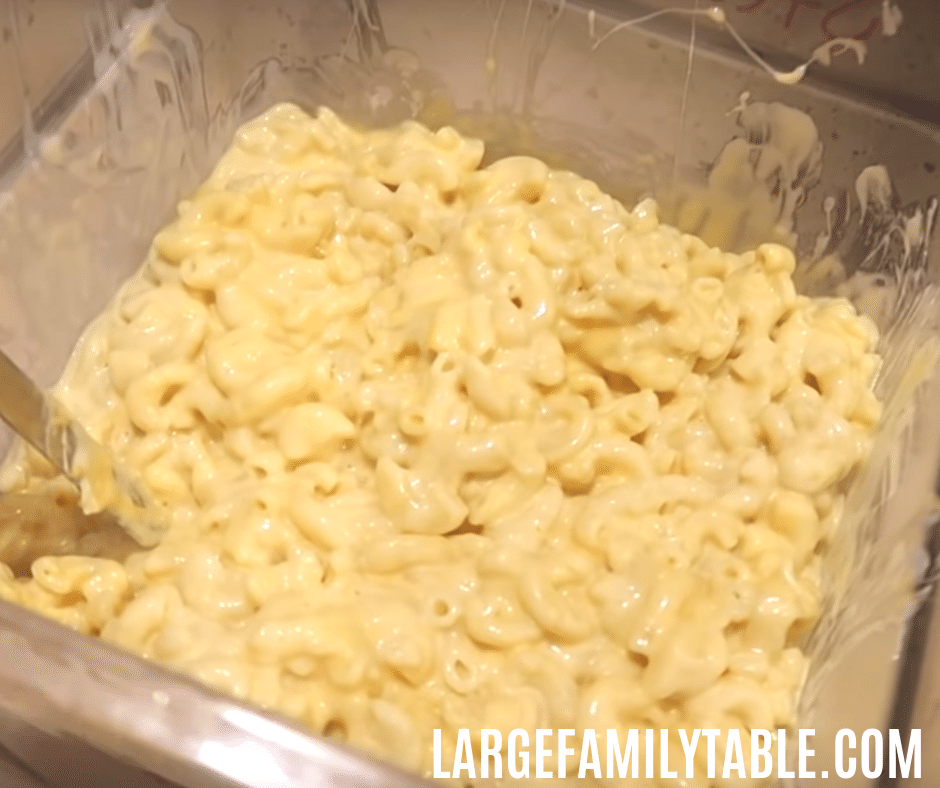 Print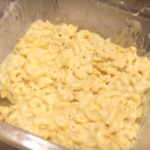 Large Family Instant Pot Macaroni and Cheese
Author:

Prep Time:

15 mins

Cook Time:

5 mins

Total Time:

20 minutes

Category:

side dish

Method:

Instant Pot

Cuisine:

American
---
Description
Does your family want macaroni and cheese but you think it's hard to cook? Try out my Instant Pot Macaroni and Cheese and become the family hero!
---
Ingredients
2 lbs elbow macaroni
8 cups water
2 – 12 oz cans evaporated milk
1 stick butter
1 TBSP salt
Pepper to taste
8 cups shredded cheese (I used Colby, you can use whatever you prefer)
---
Instructions
Put macaroni in IP.
Cover with 8 cups water.
Add 1 TBSP salt.
Secure lid according to manufacturer's directions.
Set valve to Sealing.
Set IP for 5 minutes on MANUAL HIGH.
When cycle completes, turn valve to Quick Pressure Release. (Remember, you promised me to be very careful with this step.)
Once all the pressure is released, open lid and drain if desired. (I didn't drain mine at all.)
Add stick of butter and 2 cans of evaporated milk.
Stir gently. Be careful not to break those soft noodles.
Add 4 cups of cheese and stir gently again.
Add last 4 cups of cheese and give one last stir.
Keywords: Large Family Instant Pot Macaroni and Cheese
If your family loves mac and cheese, try this one and let me know how you like it. Although I'll be honest, I've never had mac and cheese that I didn't love. ; ) It's always a hit for small people and anytime you need a dish to bring to a potluck.
Need More Instant Pot Recipes?
Here are all of my large family Instant Pot Recipes! Tons and lots, that's all I know 🙂
Need an Instant Pot?
Here are my favorite must-have family cooking tools including electric pressure cookers, roasters, big metal bowls, and much more!