What's dinner if you can't have a little creativity behind it? We have eaten Pad Thai a lot over the years, but I decided to try it in the Instant Pot. Wow, this is the perfect Large Family Instant Pot Pad Thai. When I look at this dish, I'm in awe of how colorful and tasty it truly is. Go ahead and make this meal and you'll be amazed at how the family just gobbles it right up.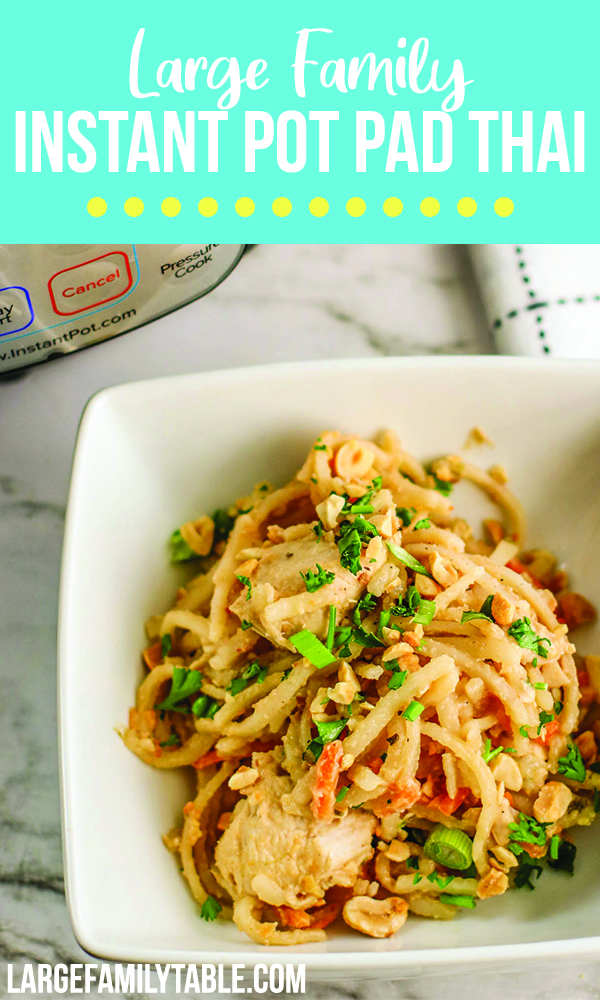 Large Family Instant Pot Pad Thai
If you're unfamiliar with what Pad Thai is, it's quite simple. Pad Thai is stir-fried rice noodle concoction. Typically, you'll see ingredients like shrimp or chicken. You can also add beef or Tofu if you're going for a more vegetarian type dish. You'll also find eggs, veggies, and even peanuts in this meal. I think a lot of people love this meal because it's so versatile. If you need a gluten-free meal, you can easily make it gluten-free. You can change it up as much or as little as you'd like.
What Kind of Noodles Should I Use?
If you were to wonder what kind of noodles you can use in this Instant Pot Pad Thai, you can get creative. I used a box of rice noodles. You can truly use whatever type of noodles you want. If you are going the low carb route, you can even leave the rice noodles out. I personally think they taste delicious with the noodles, but everyone has their own preferences.
What is the Fish Sauce in Pad Thai?
You may be wondering what this fish sauce is that's used in Pad Thai. Known as "nam pla" in Thai, this sauce is added to almost every Thai dish. The fish sauce that you buy at the store is normally made from anchovies and salt. It's a very slow process that yields a very tasty sauce that you see in this very Pad Thai recipe. Sometimes if I run out of Fish Sauce, I'll use soy sauce and it's equally delicious.
How to Store Pad Instant Pot Pad Thai
Once I've made this Pad Thai, storing it is not a problem. Since it makes a lot of food in the Instant Pot, sometimes I'll have us eat it for 2 days in a row for lunches and dinner. As long as you store it in the fridge in an airtight container, you're good. You could freeze this recipe too, but consume it within 3-6 months of freezing it.
How to Make Pad Thai From Scratch
Using this recipe I'm giving you and your Instant Pot, you'll be able to make Pad Thai from scratch. While I enjoy eating out and having this dish, it's so much better when you can make it yourself. My recipe outlines exactly how to make this recipe in your Instant Pot. I don't think there is any other way I'll be making this recipe anytime soon.
Have you made Instant Pot Pad Thai before? I'd love to hear all of your thoughts on it and if you liked it or not.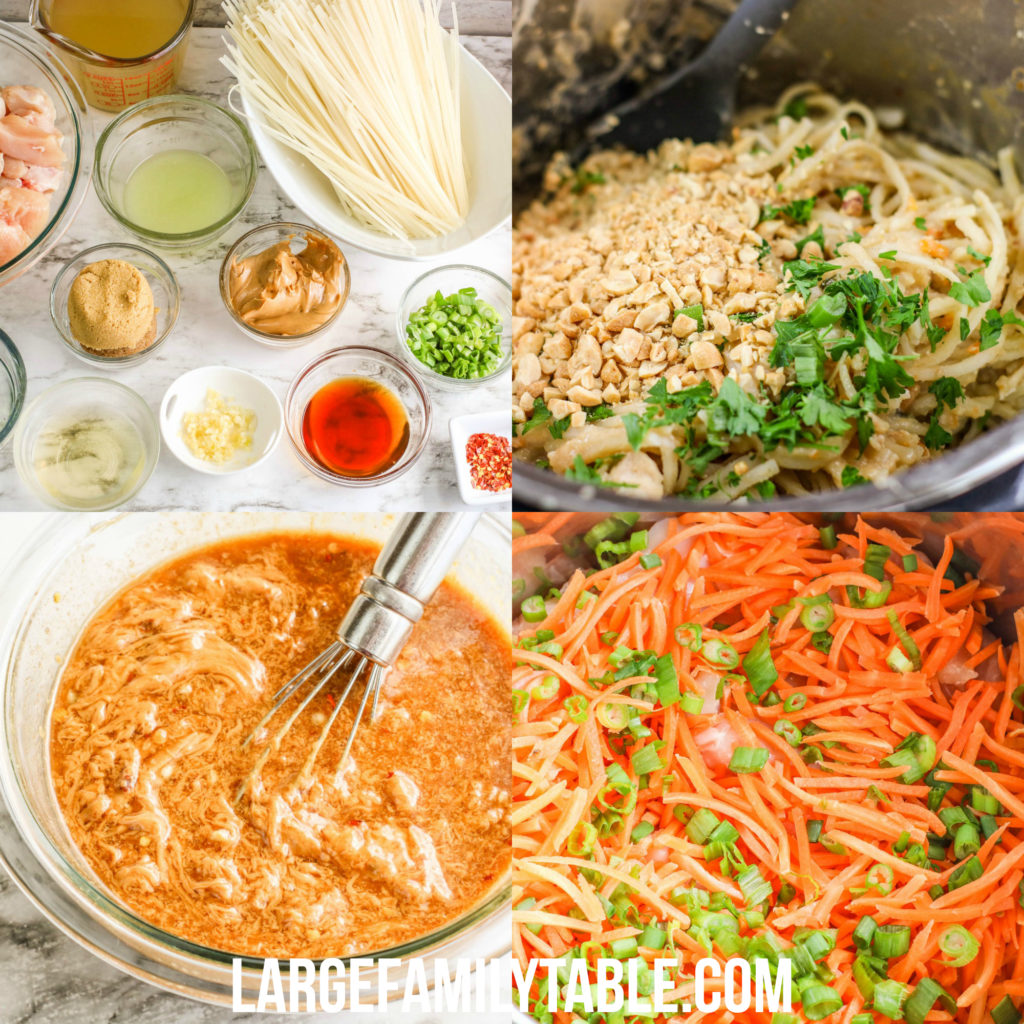 NEED MORE LARGE FAMILY INSTANT POT RECIPES?
If you're looking for more large family recipes for the Instant Pot, look no further!
Instant Pot Ranch Chicken and Rice | Large Family Recipes
Large Family Instant Pot Spaghetti SO easy and good!!
Large Family Instant Pot Low Carb Teriyaki Chicken
Here are 80+ Large Family Instant Pot Freezer Meal Recipes
Instant Pot Hawaiian Chicken – large family style!
And don't miss this amazing Instant Pot Beef Stroganoff Recipe
As always the Crock Pot directions are listed below the Instant Pot directions if you need those! xoxo
Print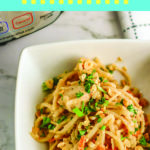 Large Family Instant Pot Pad Thai
Author:

Prep Time:

5

Cook Time:

7

Total Time:

12 minutes

Yield:

12

Method:

Instant Pot
---
Description
It's time to change up dinner with this Instant Pot Pad Thai recipe. Your family will LOVE this recipe, it's that good! I've also included the slow cooker recipe directions below. 
---
Ingredients
3 pounds chicken breast, cubed

½ cup sliced green onions, the green parts only

½ cup liquid aminos or soy sauce

¼ cup fish sauce

3 tablespoons sesame oil

3 tablespoons rice wine vinegar

⅔ cup brown sugar

⅓ cup peanut butter

6 cloves garlic, minced

2 teaspoon ground ginger

½ teaspoon crushed red pepper flakes

¼ cup lime juice (about 4 small limes)

1 (10 ounce) bag matchstick carrots

2 cups chicken broth

1 (14 ounce) box rice noodles

½ cup chopped cilantro, to garnish

1 cup coarsely chopped peanuts, to garnish
---
Instructions
Instructions
Whisk together the liquid aminos, fish sauce, sesame oil, brown sugar, peanut butter, garlic, ginger, red pepper flakes, lime juice, and broth. Set aside.

Prepare the liner of the electric pressure cooker with non-stick cooking spray. 

To the liner, add the chicken, carrots, and green onions. Pour liquid mixture over the chicken and vegetables and stir.

Close and set the valve to sealing. Set the pressure cooker to manual or pressure cook for 7 minutes. After the cycle, perform a quick release.

Stir in the noodles and stir well. (Break the noodle in half if needed.) Recover the pressure cooker lid. Allow to rest for 10 minutes.

When the noodles have softened to your desired texture, serve with cilantro and peanuts.
For the slow cooker:
In a large skillet, brown the chicken on all sides before adding to the slow cooker.

Prepare the slow cooker crock with non-stick cooking spray.

Toss all ingredients EXCEPT garnishes together in the slow cooker, mixing well. 

Cover and cook on low for 4 hours.
Freezer Cooking Challenge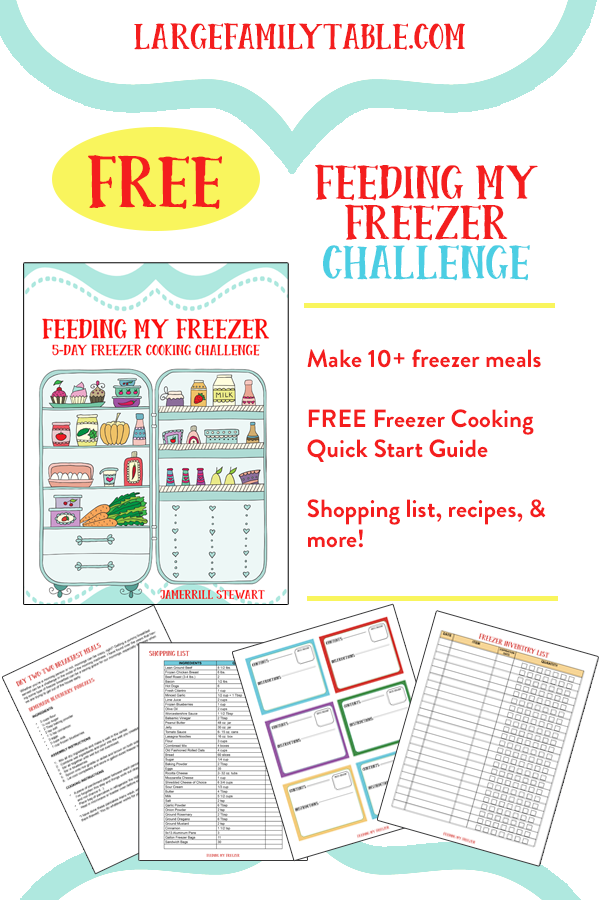 CLICK HERE to join the FREE 5-Day Feeding My Freezer Freezer Cooking Challenge! You'll fill your freezer with 10 to 12 awesome freezer meals to help make life easy!!