Give your loved ones something good to eat this holiday season by preparing the Big Family Chocolate Peppermint Cookies. These chocolate and mint cookies are perfect to serve after a big dinner with everyone.
Do you have a lot of cookie lovers in your household? If you have a large family, you might want to come up with new and delicious cookie options for your loved ones to choose from, especially during the holiday season. The Big Family Chocolate Peppermint Cookies are ideal for several reasons. The recipe is simple, the cookies taste delicious, and you can prepare the cookie dough weeks or months before baking them for your large family. These cookies will taste better than anything you could buy in the store because they are made from scratch with fresh ingredients just like our Homemade Oatmeal Rasin cookies, our Homemade Trail Mix cookies, and our Keto Thin Mint Cookies.
****Use special promo code HELLO20 to take 20% off the entire MEGA DEAL get-it-all Bundle including the best-selling Large Family Freezer Meal Packs 1-12 + so much more!!****
What to Use When Preparing the Big Family Chocolate Peppermint Cookies
There are a few ingredients you will need to have in stock to make the Big Family Chocolate Peppermint Cookies, including:
All-Purpose Flour. You will need the all-purpose flour to create the dough for your cookies.
Unsweetened Cocoa Powder. Using unsweetened cocoa powder is the perfect way to create chocolate cookies from scratch.
Baking Soda. The baking soda will give your cookies a fuller appearance while enhancing their texture.
Chocolate Chips. Use chocolate chips that will melt in your mouth with each bite of a cookie.
Crushed Peppermints. The crushed peppermints naturally taste good with the chocolate.
Vanilla Extract. A splash of vanilla extract gives these cookies a sweeter taste that is just right.
These and a few other ingredients are must-haves when you would like to prepare the flavorful cookies for the family.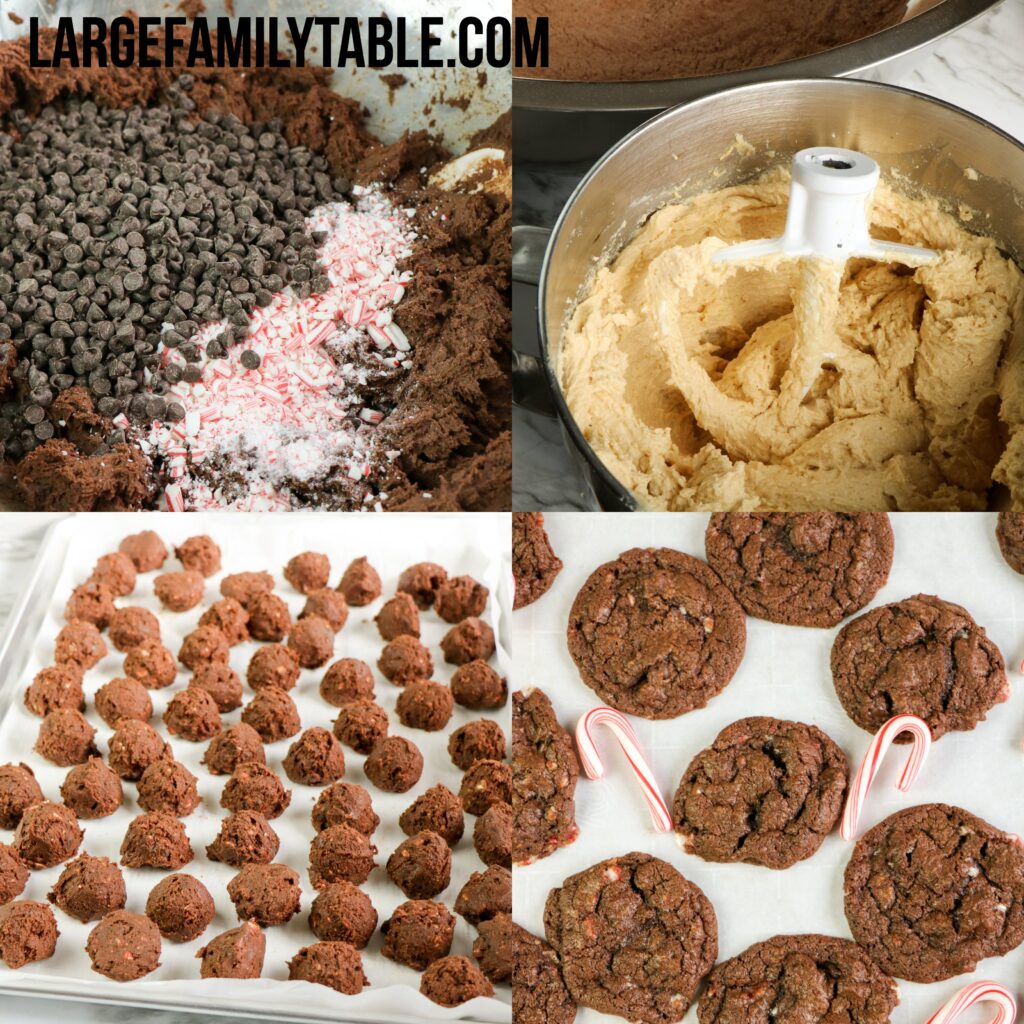 Ways to Store Your Big Family Chocolate Peppermint Cookies
You can bake your cookies and keep them in an airtight container. You do not necessarily need to put them in the fridge to keep them fresh. However, if you are preparing the dough in advance, you should place it in the fridge for up to three days or put it in the freezer to preserve it until you are ready to make the cookies.
How to Make-ahead and Freeze Your Cookie Dough
The dough will stay good in the freezer for six months. You should scoop it onto wax paper, freeze the dough, then when it's frozen transfer it to an air-tight container and place it in your freezer. When you are ready to use it, remove it from your freezer and bake it from frozen adding a few minutes as necessary. Make the dough when you have a few extra minutes and then bake the cookies closer to the holidays to ensure that you have plenty of delicious cookies to go around.
How to Make Different Variations of the Big Family Chocolate Peppermint Cookies
You can make different variations of the Big Family Chocolate Peppermint Cookies for your large family by switching out some of the ingredients in the recipe. For example, you might want to use miniature white chocolate chips instead of traditional milk chocolate chips in your cookie dough. You can even add peppermint-flavored chips to your cookies instead of the peppermint candies. Some people like to add holiday-themed sprinkles to their cookies to give them an added touch.
Here are more make-ahead cookies for your family to enjoy!
Big Family Chocolate Peppermint Cookies
Print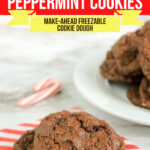 Big Family Chocolate Peppermint Cookies | Freezable and Make-Ahead Cookie Dough
Author:

Prep Time:

25 Minutes

Cook Time:

10 minutes

Total Time:

35 minutes

Yield:

6 dozen

Category:

Dessert

Method:

Oven
---
Description
Give your loved ones something good to eat this holiday season by preparing the Big Family Chocolate Peppermint Cookies. These chocolate and mint cookies are perfect to serve after a big dinner with everyone.
---
Ingredients
4 cups all purpose flour

1 ½ cups unsweetened cocoa powder

2 teaspoon baking soda

½ teaspoon salt

2 cups (4 sticks) unsalted butter, room temperature

2 cups packed light brown sugar

1 ½ cups sugar

4 eggs

4 teaspoons vanilla extract

4 cups chocolate chips

2 cups crushed peppermints
---
Instructions
In a large bowl, whisk together the flour, cocoa powder, baking soda, and salt.

In a large mixer bowl, beat the butter, brown sugar, and white sugar until fluffy, about 5 to 10 minutes. 

Add the eggs, one at a time, beating until well blended after each addition. Add in the vanilla. 

Slowly add the flour mixture, scraping down the sides as needed.

Fold the chocolate chips and crushed peppermint into the batter.

Using a small cookie scoop, drop the cookies onto the prepared baking sheet about 2 inches apart.

Bake for 8 to 10 minutes. Allow the cookies to cool for 5 to 7 minutes on the baking sheet before transferring to a wire rack to cool completely.
To freeze:
Place waxed paper on a baking sheet.

Prepare the batter as directed and scoop onto the waxed paper.

Place the baking sheet in the freezer until the cookie dough is frozen.

Transfer to an airtight container and freeze up to 6 months.

Follow the baking directions above! You can bake the cookies from frozen, but they will need a few more minutes added to the baking time if you chose. I like to defost the cookie dough beforehand and bake as directed. 
Keywords: Chocolate Peppermint Cookies, freezable cookie dough
These Peppermint Cookies just scream Christmas! Your sure to impress your loved ones with these tasty cookies year after year. It's such a bonus that you can make them ahead and freeze them, too.
FREE Emergency Pantry Planning Pack!
Don't forget to sign up for the emergency pantry planning pack for free to help you plan your pantry meals! The free Emergency Pantry Planning Pack will help you plan your needed pantry items! Printable pages include pantry inventory, grocery lists, meal planners, list of pantry staple items, and more.