If you are a fruitcake fan, these Large Family Fruitcake Cookies will satisfy your craving for a slice of the popular seasonal treat. Prepare these crisp, slightly sweet, and delicious cookies at home with your favorite candied fruit.
Do you look forward to having a delicious fruitcake during the holiday season? While you can eat it all year round, it is the kind of treat that people often prepare as it gets closer to Christmas. If it is one of your favorite holiday treats of all time, you will love these Large Family Fruitcake Cookies.
You can make them from scratch using flour and other assorted baking ingredients, including candied cherries and candied pineapples. The slightly crisp, slightly chewy texture of these cookies will blow your mind. This will become a highly-requested treat for your entire family because of how good these cookies taste. You might also try our Homemade Oatmeal Rasin cookies, our Homemade Trail Mix cookies, and our Keto Thin Mint Cookies.
****Use special promo code HELLO20 to take 20% off the entire MEGA DEAL get-it-all Bundle including the best-selling Large Family Freezer Meal Packs 1-12 + so much more!!****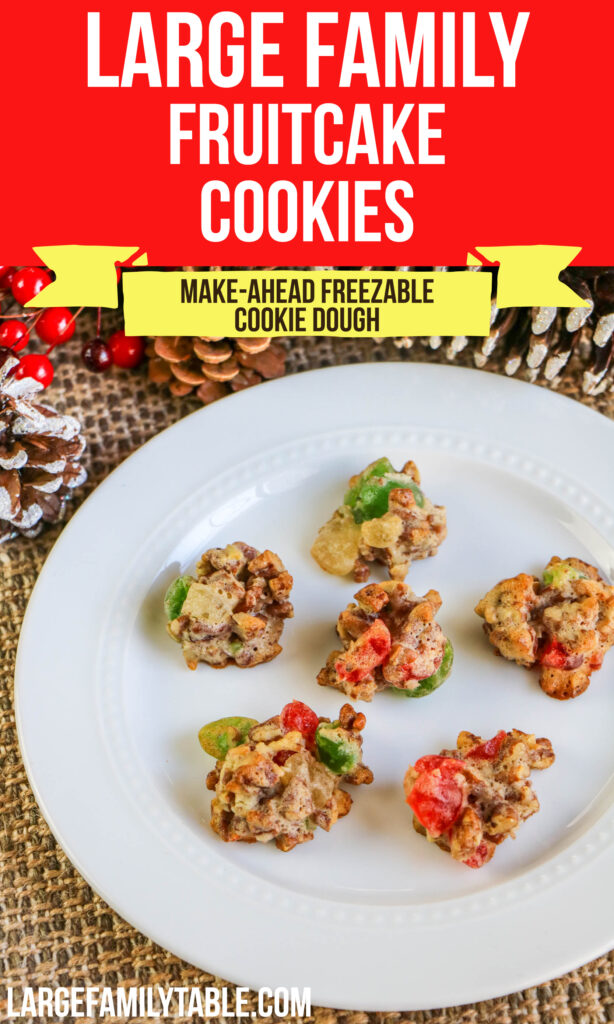 The Necessary Ingredients For the Large Family Fruitcake Cookies
If you want to make the Large Family Fruitcake Cookies for you and your family to enjoy, be sure to grab these ingredients:
Flour. Work on preparing your cookie dough by using flour mixed with sugar and more.
Sugar. The sugar goes with the flour to create a sweet dough for your fruitcake cookies.
Candied Pineapple. The candied pineapple adds flavor to the fruitcake cookies and adds a slightly chewy consistency.
Candied Cherries. Like the candied pineapple, the candied cherries are the perfect addition to the fruitcake cookies.
You will also need chopped pecans, butter, and eggs to complete the Large Family Fruitcake Cookies. With just a few ingredients, you can create the best cookies for your family to enjoy throughout the holiday season.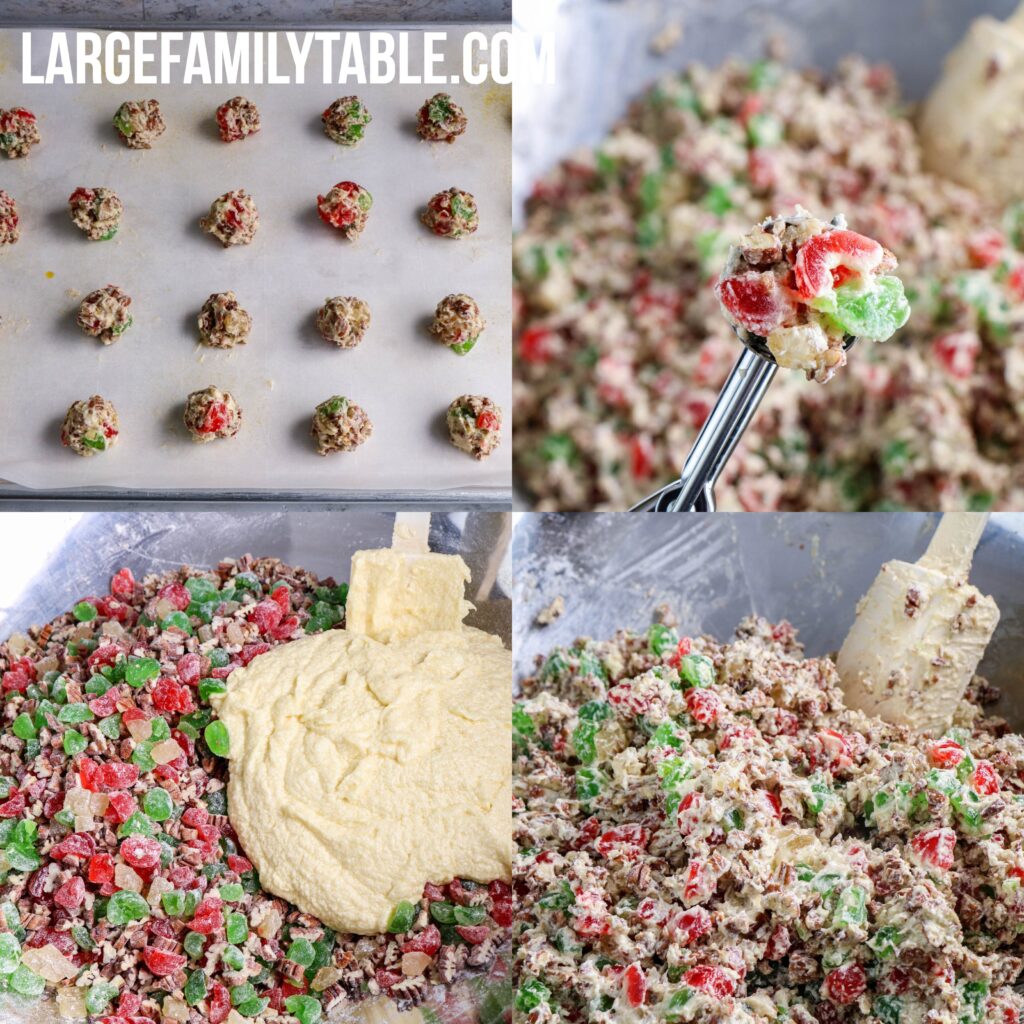 What to Add to Your Large Family Fruitcake Cookies
You can add any dried fruits that you like to the Large Family Fruitcake Cookies for your loved ones to eat. While dried cherries and pineapples are a great addition, some other dried fruit options are worth trying, such as raisins and dried apricots. If you do not like pecans, you can replace them with chopped walnuts. If you want both types of nuts, you can add some walnuts into the cookie dough balls with the pecans.
How to Make the Dough Ahead and Bake Your Large Family Fruitcake Cookies
Make your Large Family Fruitcake Cookies days before baking them when you have the extra time to mix your ingredients. After combining the wet and dry ingredients to create the perfect cookie dough, use a cookie scoop or an ice cream scoop to grab your cookie dough. Place balls of dough on a baking sheet and set in the freezer for at least 30 minutes or until your dough becomes fully frozen.
When you have frozen cookie dough balls, be sure to put them in an airtight container. You can set the container in the freezer and hold your cookie dough for about six months. When you are ready to bake them, place the airtight container in the fridge overnight and then place it on a baking sheet before putting the dough balls in the oven. Your cookies will need to bake for around 15 minutes.
Do you love baking with your family?
Baking is a great way to save money on groceries and it is so fun to do as a family! Buying prepackaged bread, rolls, muffins, baking mixes, and sweet treats can get expensive fast. Baking ahead and freezing it in the freezer means it's ready for you when you need it and you can make it when you have the time. Try my Frugal from Scratch Baking Recipes and Staples Book One for lots of money-saving recipes like Depression Era Chocolate Cake plus three other sweet treats, four delicious versions of bread recipes, plus baking staples like cake mixes, baking mix, baking powder, and more. My Frugal From scratch Baking Book Two expands into ten new recipes. Grab them both in the DOUBLE BUNDLE!! Frugal From Scratch Baking Recipes & Baking Staples to save even more!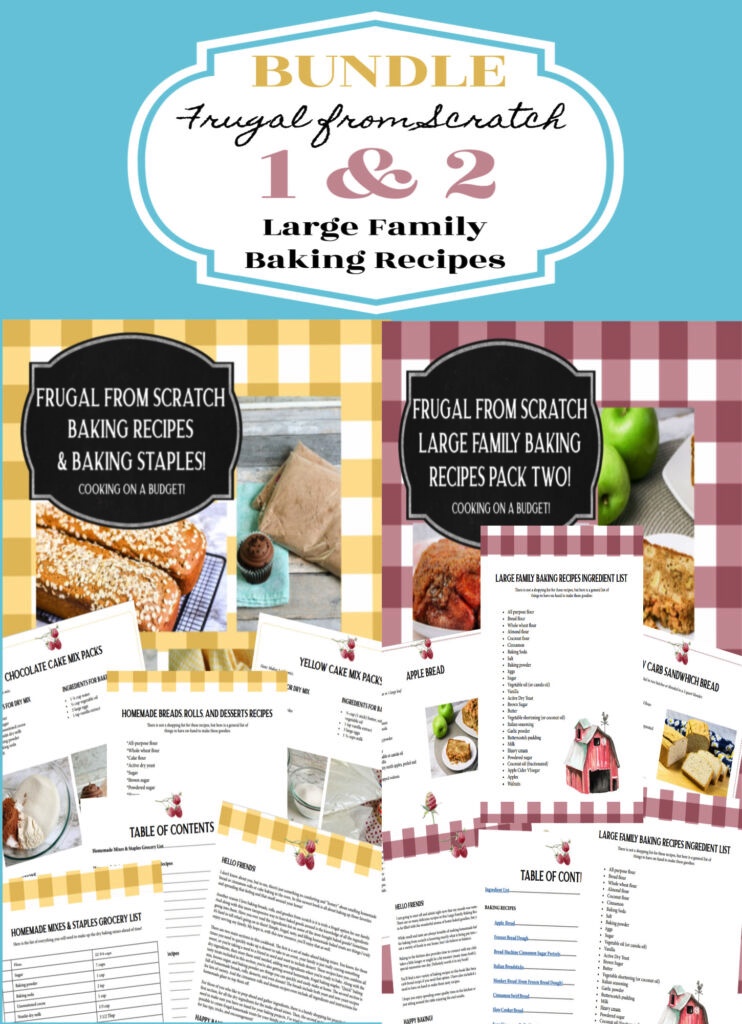 Here are more cookies your family will enjoy!
Large Family Fruitcake Cookies
Print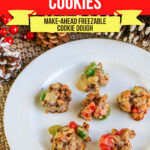 Large Family Fruitcake Cookies | Holiday Treats for a Big Family
Author:

Prep Time:

20 Minutes

Cook Time:

15 Minutes

Total Time:

35 minutes

Yield:

8 dozen

Category:

Dessert

Method:

Oven
---
Description
If you are a fruitcake fan, these Large Family Fruitcake Cookies will satisfy your craving for a slice of the popular seasonal treat. Prepare these crisp, slightly sweet, and delicious cookies at home with your favorite candied fruit.
---
Ingredients
1 pound candied cherries, quartered  (red and green)

1 pound candied pineapple, cut into small pieces

8 cups pecans, coarsely chopped

1 ½ cup flour, divided

2 sticks butter, softened

5 large eggs

1 cup sugar

¼ cup imitation vanilla 
---
Instructions
Preheat the oven to 350 degrees. Line cookie sheets with parchment paper and spray lightly with nonstick cooking spray.

Using a very large mixing bowl coat the fruits and pecans with ½ cup flour.

Cream the butter and sugar until fluffy. 

To the butter, add the eggs, flour, and imitation vanilla. Mix until well blended.

Pour the batter over the fruit/pecans mixture and mix together until all fruits and pecans are well coated with batter.

Portion the batter using a small cookie scoop or drop the dough onto the cookie sheet using two teaspoons.  

Bake for 15 minutes.  
---
Notes
Note: It is best to make very small, bite-size cookies.  This will give each cookie a crunchy texture.
Keywords: Fruitcake Cookies
What amazing holiday memories you will make with your children when you make these cookies. They are so festive and good.
FREE Emergency Pantry Planning Pack!
Don't forget to sign up for the emergency pantry planning pack for free to help you plan your pantry meals! The free Emergency Pantry Planning Pack will help you plan your needed pantry items! Printable pages include pantry inventory, grocery lists, meal planners, list of pantry staple items, and more.