Everyone loves a hot waffle for breakfast. The best way to make that happen on busy mornings is to make a big batch ahead of time for your freezer. These freezer friendly make ahead waffles are easy to make even with little helpers.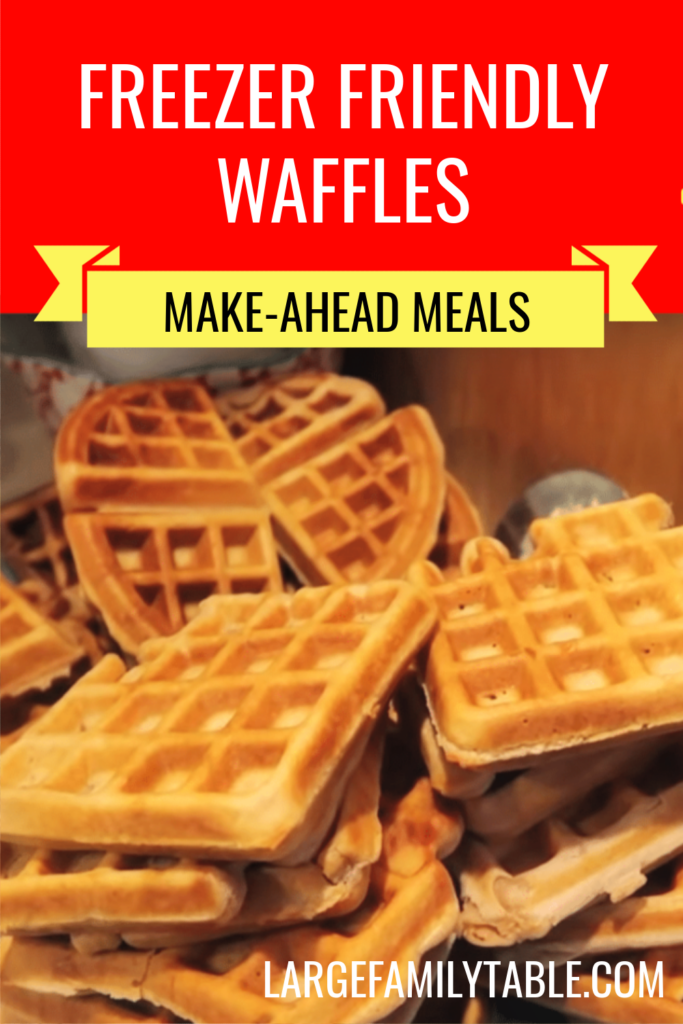 Make Ahead Freezer Waffles
This recipes makes a large batch of waffles, so you have some for eating now, for the next morning, and some for freezing later. These are the easiest make-ahead waffles, and you will marvel at why you haven't done this before.
How to cook make ahead freezer waffles
Lay out your mixing bowls, measuring cups and ingredients and start preheating those waffle irons.
Add all of your dry ingredients together first, then add your wet ingredients.
Mix well in a large mixing bowl. You will want to use a hand mixer for such a large batch.
Make sure you have a preheated waffle maker. You can use a belgian waffle maker or a waffle maker that makes 4 square waffles at a time.
Spray your waffle makers with cooking spray so that the batter doesn't stick.
Use a measuring cup to fill 1/2 – 1 cup of waffle batter and pour it into your hot waffle iron. You may need to tweak this as you go along, you won't always get the perfect waffles the first time.
Follow the manufacturer's instructions on how long to cook the waffle for. You can adjust the temperature if you want crisp waffles or light waffles.
When your waffles are done, carefully remove them and lay them on a cooling rack, or a baking sheet to cool off.
Ingredients for make ahead waffles
This recipe makes a huge batch, so the ingredient list is quite large. Don't worry, you will have so many leftovers with this large family recipe.
12 whole eggs – you can use your own eggs if you have chickens, or just pick up a dozen the next time you are out.
12 cups of flour – you can use all-purpose flour or whole wheat flour
1 cup of sugar
4 tbsp. of cinnamon (optional)
8 tbsp. baking powder
2 tsp. salt
8 cups of cold milk
4 cups of oil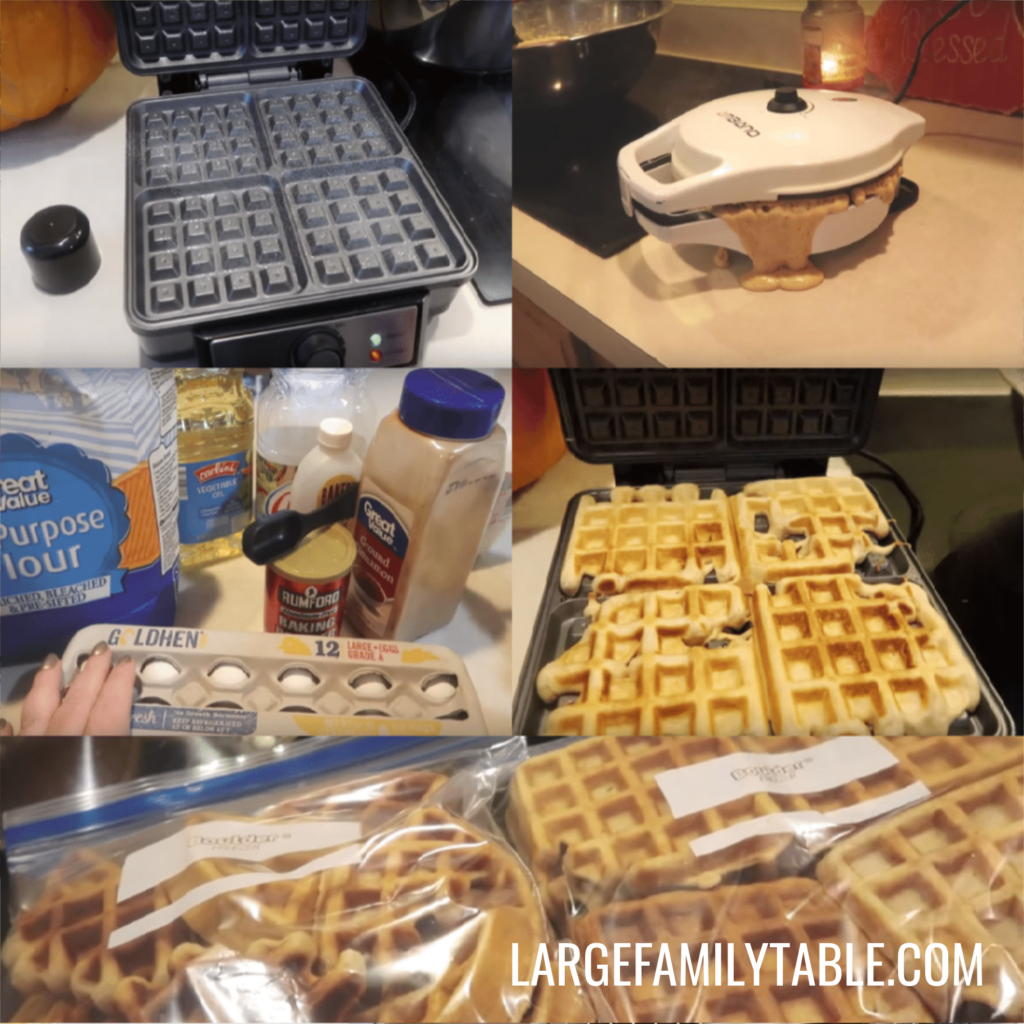 Frequently Asked Questions about Make Ahead Waffles
Make-ahead waffles are a favorite way to get a hot breakfast on the table any day of the busy school year. Here are some frequently asked questions about this delicious breakfast treat.
What is the difference between Belgian waffles and regular waffles?
Beligan waffles are usually thicker than regular American waffles. A traditional belgian waffle recipe usually has egg whites and yeast which makes for extra fluffy waffles. The dry ingredients are still the same.
You can use a belgian waffle maker to get a belgian style waffle using any waffle mix or recipe. Belgian waffles have deeper pockets than regular waffles which make them perfect to hold melted butter and maple syrup.
What kind of waffle maker is best?
You can use any kind of waffle maker that you would like. Belgian waffle makers make large, single waffles. The one in my video is from Aldi, and it makes 4 square waffles at a time. The more waffle makers that you have, the quicker that the process will go to make a bunch of them at one time.
Can you refrigerate the batter ahead of time?
Waffle batter can be made ahead of time, and stored in the fridge for up to 5 days refrigerated. You can store it in an old pitcher, or reuse large water bottles for easier pouring.
You may want to make the batter the night before and leave it in your fridge overnight so you can start making the waffles quickly the next morning.
How do you reheat the waffles?
You can use a toaster oven or microwave to reheat them in individual or small batches. You can also reheat them in the oven in large batches, by putting them on a rimmed baking sheet.
Preheat your oven to 350 degrees and warm them for 5-10 minutes. This is a great way to reheat waffles for the whole family at one time.
What can you put on Belgian waffles?
The sky is the limit to the toppings you can put on belgian waffles. Some of our favorite toppings are:
fresh fruit
butter
maple syrup
fruit compote
chocolate chips
sprinkles
whipped cream
Storing for the freezer
Freezer friendly make ahead waffles are an easy way to Feed Your Freezer. I package them in family size portions in gallon freezer bags.
Take them out the night before to defrost in the fridge. Whatever morning you want to eat them, pop them in the microwave, toaster oven or oven to warm them up. You will feed everyone a hearty breakfast in no time flat.
How do you reheat the waffles?
You can use a toaster oven or microwave to reheat small batches of waffles. You can also reheat them in the oven in large batches, by putting them on a rimmed baking sheet. Preheat your oven to 350 degrees and warm them for 5-10 minutes.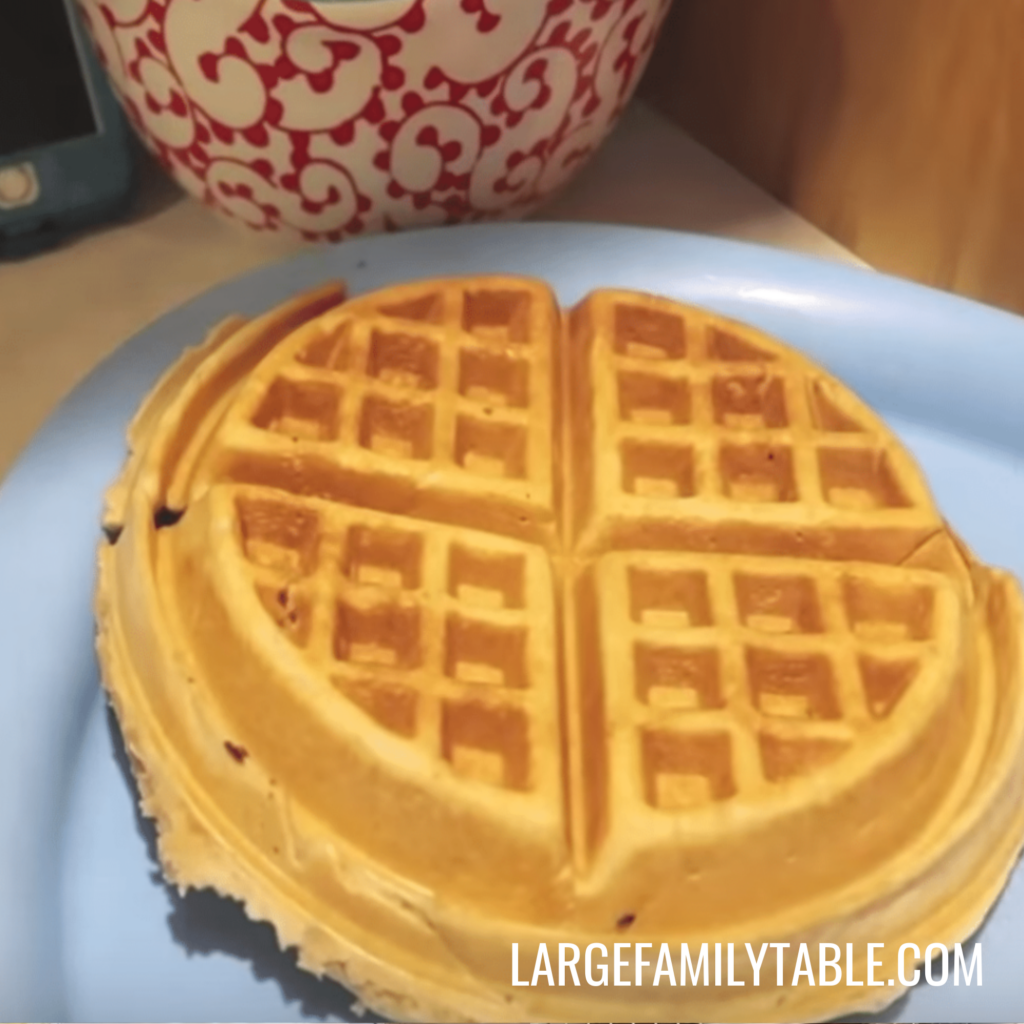 🎉 Use Coupon Code HELLO20 to take 20% off the SUPER MEGA EXTRAVAGANZA BUNDLE which includes 50+ meal-time sanity-saving products like Big Batch Freezer Meal Guides 1-18!!! 🎉
Where can I get more freezer-friendly breakfast ideas?
Breakfast doesn't have to be complicated to be filling and healthy. I know it may seem easier to buy pre-made breakfast items, but you can save lots of time and money just by making breakfast ahead of time with my Breakfast Freezer Meal Packs, which are numbers Three, Ten, and Fourteen in my Large Family Freezer Meals Series. It includes 10 amazing breakfast recipes with directions to help you make 25 breakfast meals to put in your freezer! If your freezer is already full or you just don't have the freezer space, then try my Easy and Simple Large Family Sheet Pan Breakfasts which includes 10 delicious and easy breakfast meals to make your large family. Save time and money!
Want more freezer friendly breakfast recipes?
Make Ahead Freezer Breakfast Cookies – There are 3 different recipes for healthy breakfast cookies that are perfect for busy mornings on the go.
Freezer to Oven Hearty Breakfast Casserole – This hearty and warm breakfast casserole is great for cold mornings.
Blueberry Buttermilk Pancake Casserole – If your kids love blueberry pancakes they are going to love this sweet and buttery pancake casserole.
Breakfast Casserole Bowls – Learn how to make personal casserole bowls just like the ones you would get in the freezer section of your local grocery store.
This video shows how I stay up late making loads of breakfast freezer meals for our busy days ahead.
Print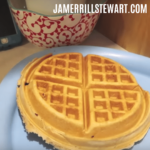 Freezer Friendly Make Ahead Waffles
Author:

Prep Time:

5 mins

Cook Time:

10 minw

Total Time:

10 hours 15 minutes

Category:

Freezer

Method:

Make Ahead

Cuisine:

Breakfast
---
Description
Feed your family a hearty breakfast with these make ahead waffles. They are freezer friendly as well as delicious.
---
Ingredients
12 eggs
12 cups flour
8 cups milk
4 cups oil
1 cup sugar
4 Tbsp vanilla
4 Tbsp cinnamon
8 Tbsp baking powder
2 tsp salt
---
Instructions
Mix all ingredients together well.
Preheat waffle irons.
Use 1/2 cup to 1 cup of make ahead waffle mix depending on your waffle iron.
---
Notes
Freeze in family size portions. Thaw out the night before then heat in microwave.
Keywords: waffles, breakfast, freezer friendly