Quick note from Jamerrill: Today Clarissa is back with us sharing about large family homeschooling in a small house. I'm currently doing this (in fact this has been my entire homeschooling mom life, ha) and I appreciate her tips. I hope you find several helpful nuggets as well! ~ Jamerrill xoxo
If you are a large family homeschooling in a small house, you can appreciate the fact that I have been teaching 7 children in our 1000sqft home for 7 years now. We can all use encouragement as moms and sometimes just hearing about how other moms are doing things can help spark ideas!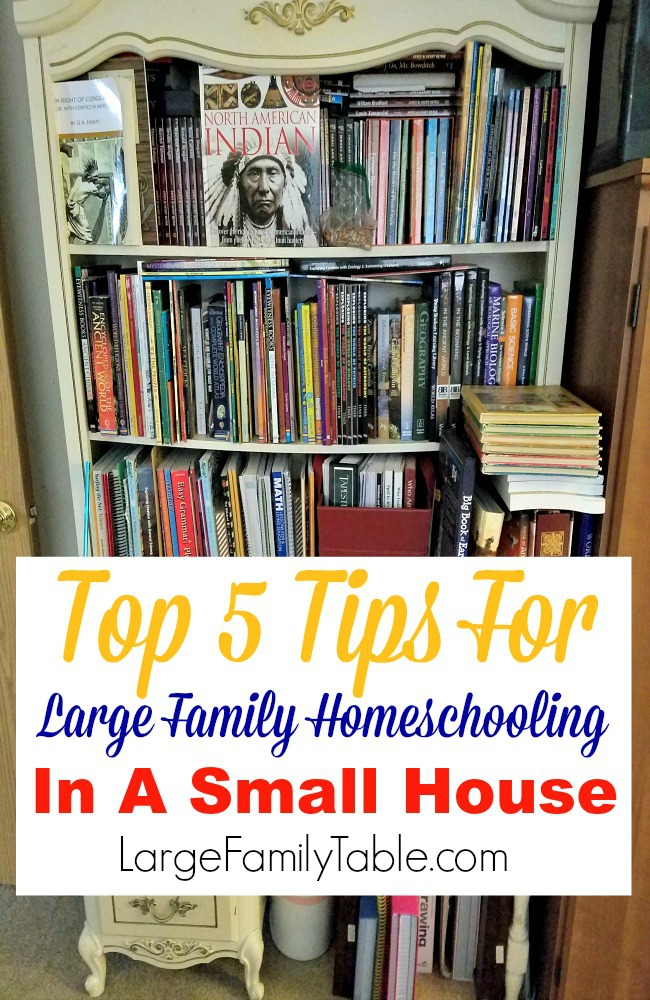 It is not easy to keep everything organized, but I have had to learn to make it work. I thought I would share the top 5 tips I have for homeschooling in small spaces.
Top Five Tips For Large Family Homeschooling In A Small House
Use The Entire House – By this I mean, make the most of the space you do have. Whether you are able to have a dedicated homeschool room, closet, or only a cabinet for storing all of your homeschool material or if you have several small areas that you use to the best of your ability – you can make it work! For us, we use our master bedroom and living room mostly because they are the two largest rooms in our house.
Be Portable – Make use of compact tools such as folding tables and chairs, backpacks, rolling carts, and totes to be able to set up and take down your "classroom" as needed. We use T.V. trays/tables and folding chairs, and a 'teacher bin' with my teacher manuals that can be moved from their stored places into our living room during school hours. It is the kids' jobs to set up their desks each morning and take them down each afternoon. It has simply become part of our school day. Each of my children has their own backpacks with their own creative supplies which are nice for them as one of many children in a large family homeschooling in a small house.
Keep Things Vertical – Bookshelves, tall free-standing cabinets, chalkboard or whiteboard on the walls, maps and other learning charts on the walls, etc.. All of these will make homeschooling easier without taking up much floor space. We have a tall cabinet from Walmart in our master bedroom where we store our art, craft, and other supplies. It has doors that lock, so I like that. We also have a desk in our room where we keep my kids' current textbooks and my Teacher Bin and it has a tall bookshelf on top where we keep all of our science, history, geography textbooks and other types of reference books. We have another two bookshelves in our living room with all of our educational DVDs, historical fiction, fiction books, read aloud books, etc. I also have a huge chalkboard that takes up most of one living room wall and I love it!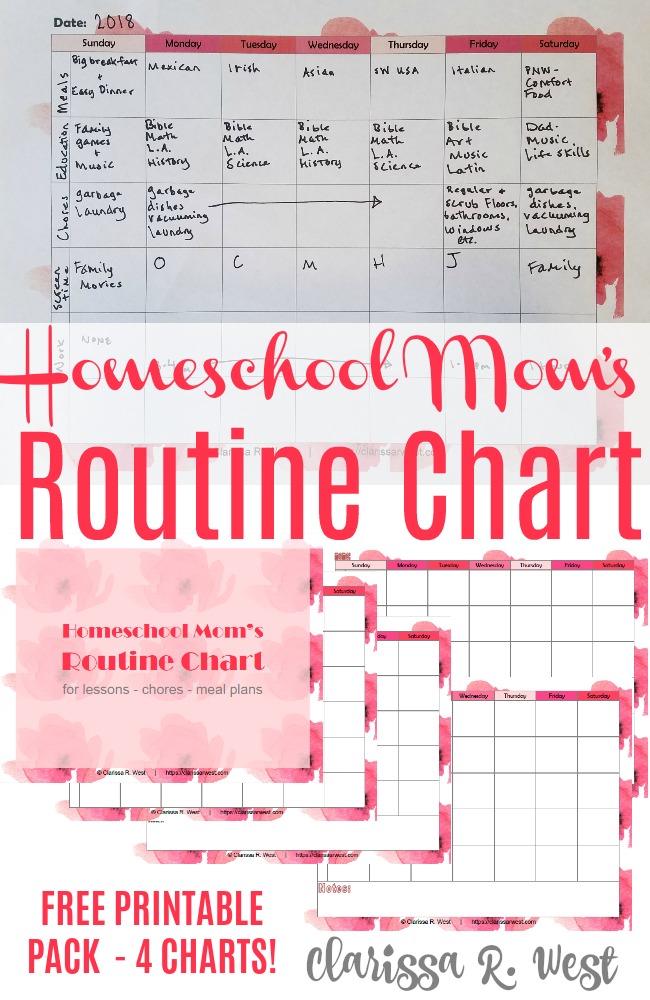 Purge, Declutter, and Organize – Make a habit of getting rid of unnecessary stuff. Stay on top of the stuff in small ways daily, weekly, monthly, and yearly. As well as doing monthly and/or yearly overhauls on everything. I like to focus on keeping our bookshelves tidy weekly, our school cabinet tidy monthly, and then all of our curricula and books get an overall "going-through" yearly before we attend our local homeschool conference. This flows over into our entire life/home and I try to be intentional about how we use our available space for all aspects of our life. Grab my Free Homeschool Mom Routine Chart to help with this!
Embrace A Lifestyle Of Learning – Learn to utilize all time, tools, and spaces for learning opportunities – for your children and yourself. You don't have to keep a lot of "homeschool supplies" on hand if you just use real life for educating your children. Time outside and in the kitchen for science, time playing 'store' and baking for math, games and living books for fun-schooling, outings to the grocery store or to serve a family for life skills, read aloud time for covering history, and so on. Choosing joy and accepting that your house will not be perfectly tidy, but that you are doing the important work of raising (and teaching) little humans helps keep our priorities in order.
If you need encouragement as a homeschool mom, you'll want to grab my FREE ebook: 7 Biblical Word Studies For Homeschool Moms with journaling pages! It will walk you through studying 7 words from a biblical perspective to encourage and equip you to continue the journey of homeschooling your children to the Glory of God, even in a tiny house.
Clarissa is a Christian, Wife, Homeschool Mom to 7 Children with Medical & Special Needs, Grieving Mom to 1 Child in Heaven, Homemaker, and Writer. You can find her at www.ClarissaRWest.com sharing practical tips & encouraging others to count blessings, seek joy, and find strength in Jesus.