Hey friend, it's Jamerrill. I wanted to quickly share that I've invited a few of my favorite fellow large family moms over here to Large Family Table to share with us from time to time. First up we have Amy from Raising Arrows. Amy is full of tips for a large family mom's heart! Today she's going to help us with big family craft time. ~ Jamerrill
Taking the Crazy out of Large Family Craft Time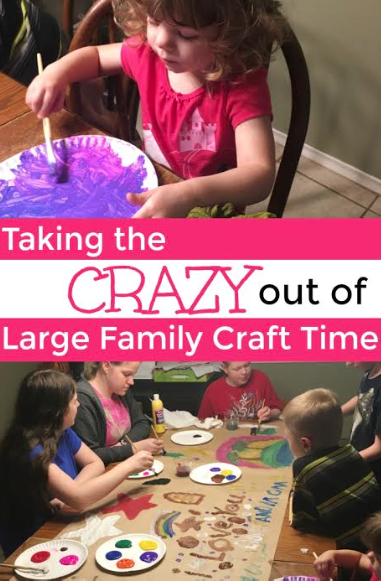 Crafts with kids can get kind of crazy anyway, but multiply that craziness by 5, 6, 10 times, and you are bordering on insanity if you think you can do a normal looking craft time with your crew! Honestly, most of us with big families tend to quit being crafty somewhere along the way in favor of streamlined survival! But, let me share with you some tried and true secrets to taking enough of the crazy out of craft time to be able to enjoy a few fun activities with the kiddos with minimal stress.
Keep it Simple & Short
Go ahead and scour Pinterest for awesome kid crafts, but if there's more than a few steps and you need more than a couple of supplies, keep scrolling, honey! You can also try eliminating steps like I did with the apple craft we made last week. You don't need to shellac the pet rocks or dye individual grains of rice or make your own nature journals with homemade paper, plant fiber binding, and 6 rolls of washi tape to be a good mom. Don't overwork yourself trying to create the perfect craft. The second you start feeling like a craft is too complicated, it probably is. I'd rather my kids had a calm mom rather than a crafty mom any day of the week!
Buy in Bulk
It never fails – I start a craft with my elementary school aged kiddos and next thing I know I have the preschoolers and high schoolers jumping in! I've quit trying to separate crafts by age in our household because my kids didn't grow up like that and have no concept of being segregated by age for anything. Instead, I just buy craft supplies in bulk and let them all join in!
Don't Plan
I know this sounds counter-intuitive, but as a large family mom I've learned that being flexible is key to just about every aspect of my day. I don't tell the kids that "on Monday we're going to do an apple stamping craft" because I don't know what my Monday is really going to look like. What if the baby kept me up all night and I need a nap? What if the toddler ate all the apples we were going to use? What if everyone is grouchy and going outside to play would be a better use of our time? I buy supplies, keep them in a crate, and spring crafts on the kids when I feel like it. No expectations! No stress!
Be Prepared for Messes
I try to minimize messes by sticking close to the littles ones when we are crafting, but I know better than to think we'll complete a crafting session without mishap. I use washable paint and glue, put paper underneath projects, and keep wet and dry rags nearby for quick clean up. But, the biggest way I prepare is to EXPECT a mess. If I'm not in a place in my day where I can manage a mess, then that is not the appropriate time for crafts! Pick another time. Pick another day.
Have fun!
You might have to psych yourself up a bit, but try to enjoy yourself, mama! Take time to watch your little ones paint and color and glue. Take pictures, praise their efforts, display their work when they are finished! This is the stuff of memories! And if you don't have fun doing crafts with the kids, then re-read this post – you might be making it way too complicated!
Amy Roberts of RaisingArrows.net is a Christ-follower, devoted wife, homeschooling mother of 10, blogger, conference speaker, podcaster, and author. Amy inspires the hearts of weary, overwhelmed mamas across the world as she offers practical and encouraging advice to help simplify the path and enjoy the journey of homemaking, homeschooling, marriage, and mothering. Find her on Facebook, Pinterest, YouTube, and Instagram.