Today I present the last ornament in the Christmas Crafts for Kids series. I have certainly saved the best for last! These candy jar ornaments are an excellent way to add a fun treat to your Christmas tree. Kids, young and old, will certainly appreciate being sent to the tree to pick out an ornament filled with fun treats. I know I would!
**Use special promo code HELLO20 to take 20% off your first order in the shop including the SUPER MEGA ULTIMATE Large Family Freezer Meals Bundle here! Get packs 1, 2, 3, 4, 5, 6, 7, 8 & 9!**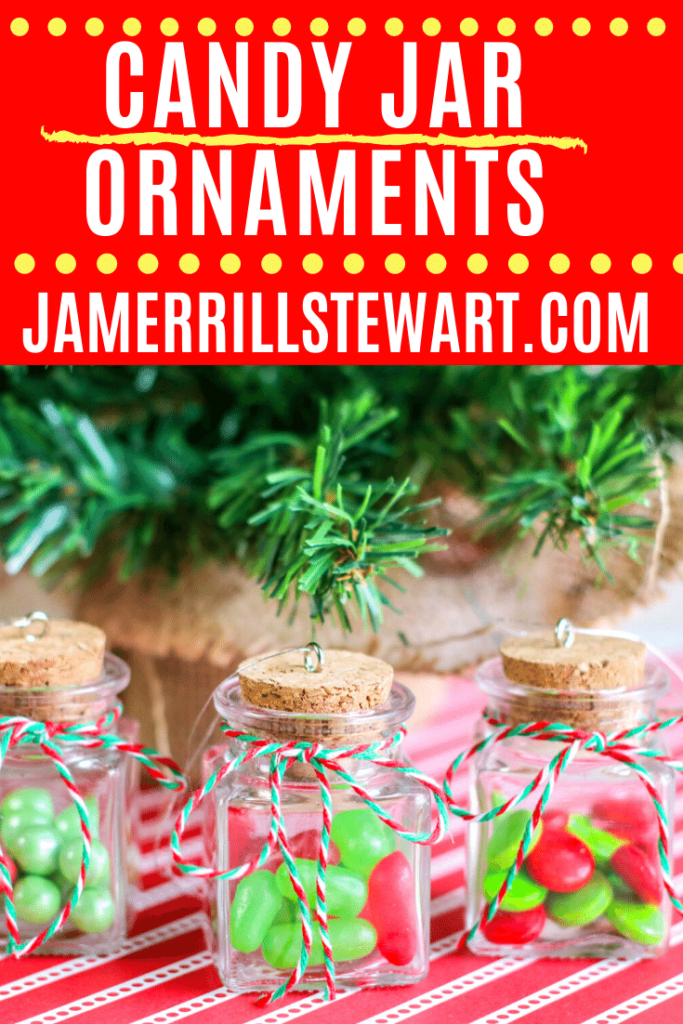 These ornaments are super easy to make. You could get them done and on the tree in less than an hour. This is an excellent activity to put an older child in charge of with the little people, so you can get some wrapping done. All mamas need to multitask sometimes not just large family mamas. Yes and amen.
Gather all your materials in one spot. Take the corks out of the bottles. Add a screw eye to the center of each cork. Fill the jars with the small candy of your choosing. You don't have to use the same candy for each one. If it fits in the opening then you can fill the jar with it. M&M, Mike and Ike, and Skittles are perfect. Press the cork with the screw eye attached firmly back on the jar. Add a decorative ribbon then hang on the tree.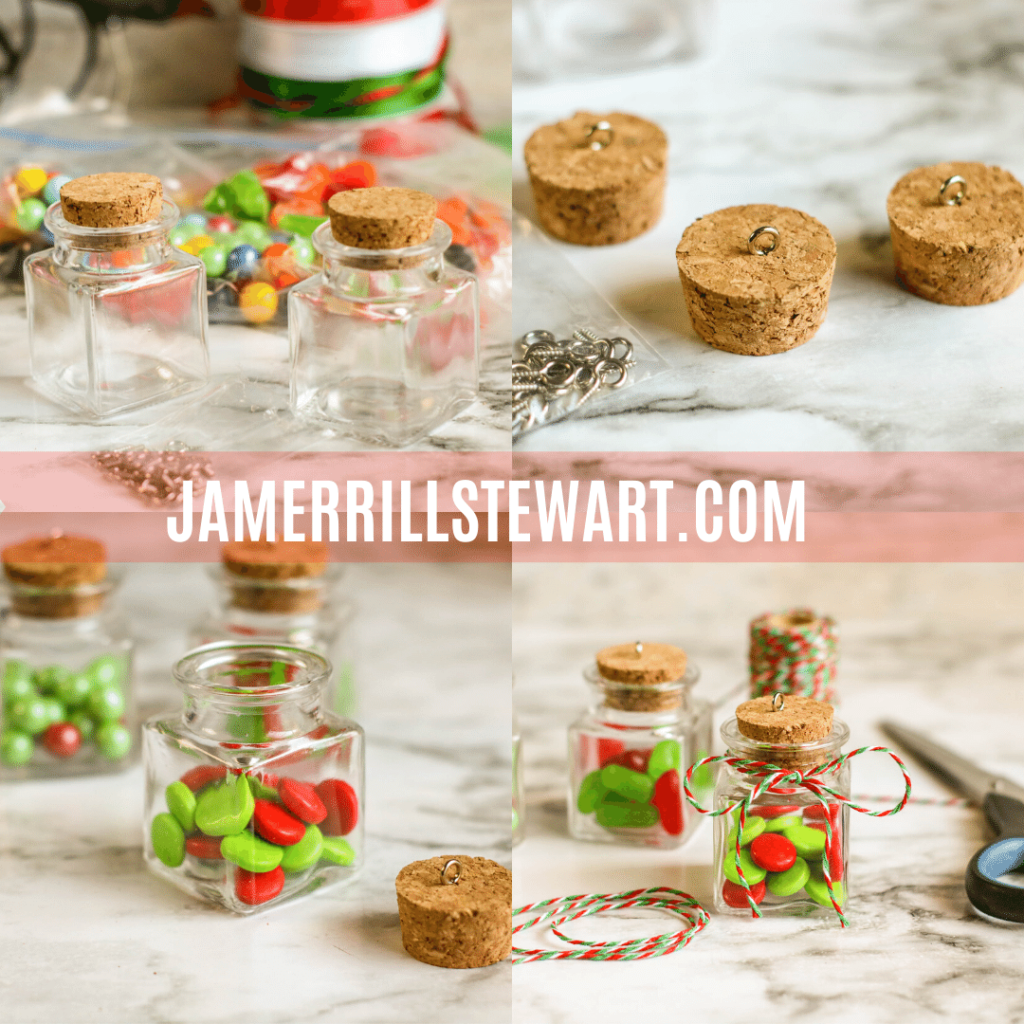 Print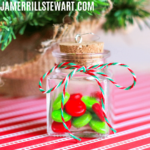 Homemade Christmas Candy Jar Ornaments
---
Description
Looking for a fun way to add treats to your Christmas tree? These candy jar ornaments are sure to make your kids squeal.
---
Ingredients
glass bottles with cork
decorative ribbon
various hard candies
screw eyes
---
Instructions
Remove corks from bottles.
 Attach a screw eye to the center of each cork lid.
 Pour candies into each jar. 
 Reattach the cork lid with the screw eye attached. Press firmly.
 Use the decorative ribbon to tie a bow around each bottle.
---
Notes
You might be able to find jar ornaments with the screw eye already attached at craft stores.
If you aren't eating the candy inside, you could hot glue the cork to the jar to be sure it remains together.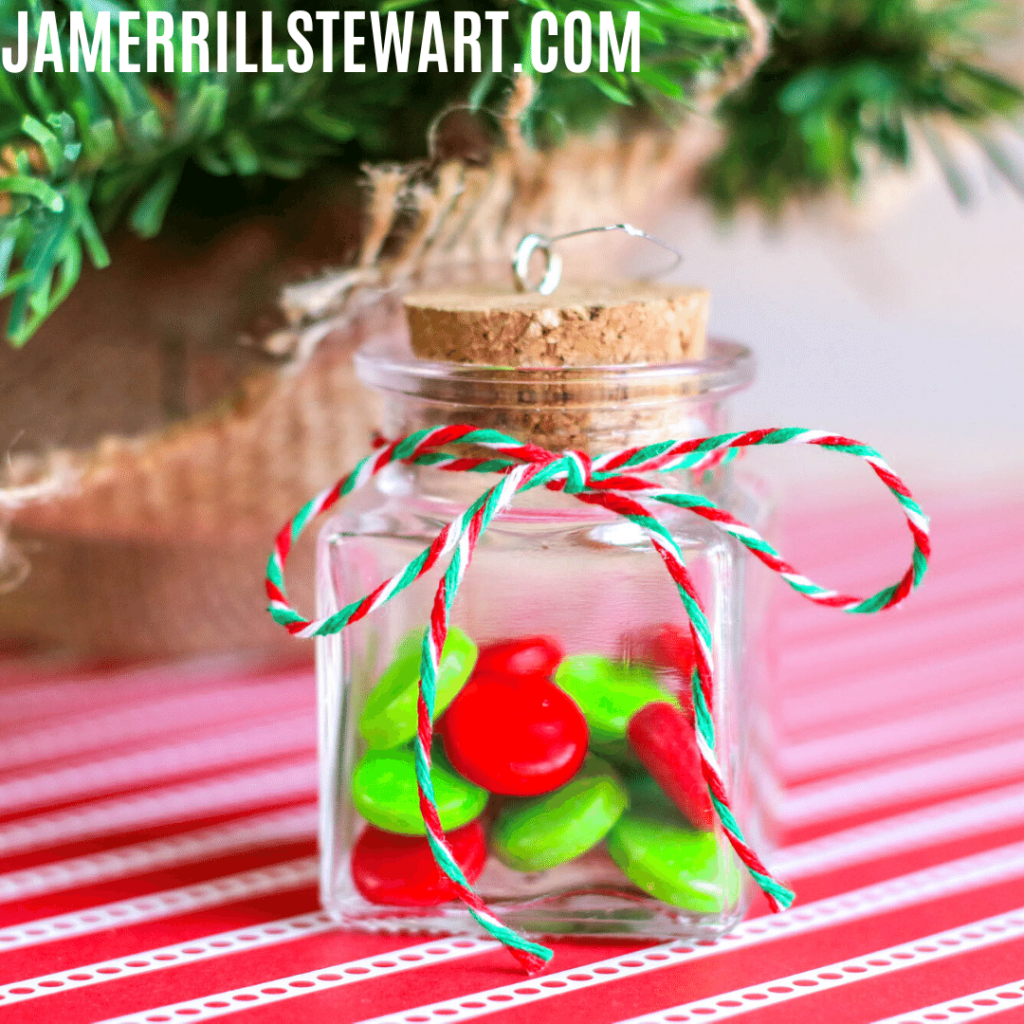 These make such a cute addition to any tree or as a package tie on. Your kids will have such a fun time making these while eating the leftovers. It would be a great way to keep kids occupied while you did your Advent reading. We all know busy hands make the reading go smoother. You will get cool mom points as a Christmas bonus.
Check out the rest of the series!
See the other homemade Christmas ornaments in the series!
Homemade Cinnamon Ornaments
Christmas Tree Handprint Ornament
Homemade Christmas Melted Bead Ornaments
Need some ideas to feed your Large Family over the Holidays? 
I am very excited to share this newest big-batch cookbook with you because I truly believe it will be helpful as you plan your family holiday get-together meals (or, really, any large family gathering where you need to feed a crowd)! In my Make-Ahead Holiday Meals to Feed a Crowd, you will find some of those wonderful and traditional holiday favorites like green bean casserole, stuffing, and gravy. But you also will get some "out-of-the-box" recipes that might just possibly become your family's NEW holiday favorites!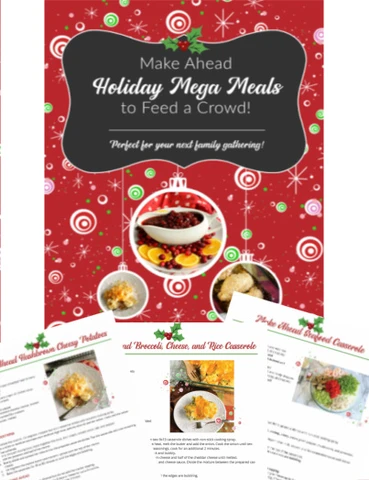 Here's a frugal way to get lots of candy!
FREE Emergency Pantry Planning Pack!
Don't forget to sign up for the emergency pantry planning pack for free to help you plan your pantry meals! The free Emergency Pantry Planning Pack will help you plan your needed pantry items! Printable pages include pantry inventory, grocery lists, meal planners, list of pantry staple items, and more.