Spicy Chicken Legs | Large Family Low Carb – Instant Pot or Slow Cooker Recipe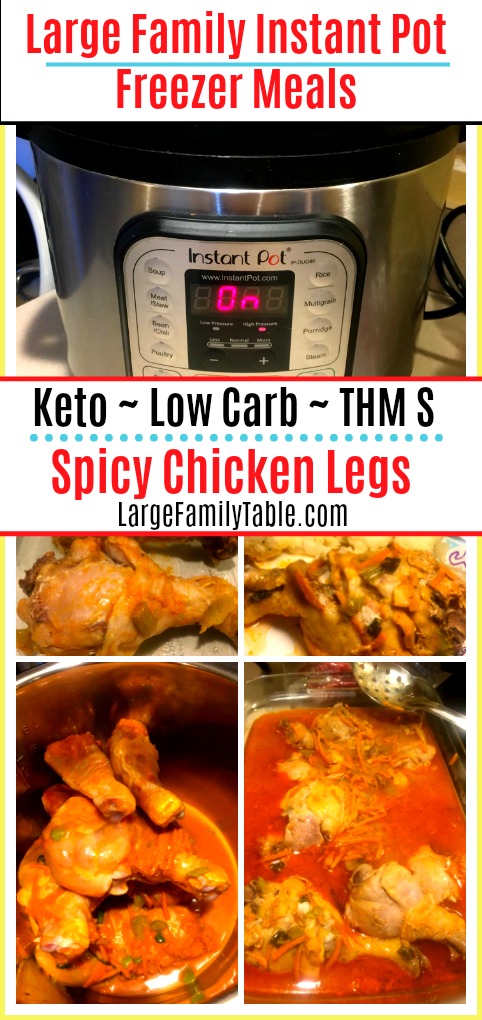 I am a momma who loves spicy! Chicken with hot sauce has always been one of my favorites. Now, believe it not, the full hot and spicey flavor comes out pretty mild in these low carb Keto Spicy Chicken Legs. For my large family that means that even though this is a spicy recipe, several of my kids gobble it right up!
I made four 4lb bags of this Spicy Chicken Leg freezer meal recipe on my last freezer cooking day where I made 50 Keto Low Carb Large Family Instant Pot Freezer Meals. I kept two bags to fill my family freezer and shared two bags with another large family mom friend.
Since I like to turn many of these easy freezer meal recipes into Instant Pot freezer meals as well I used the quick cold water defrost method.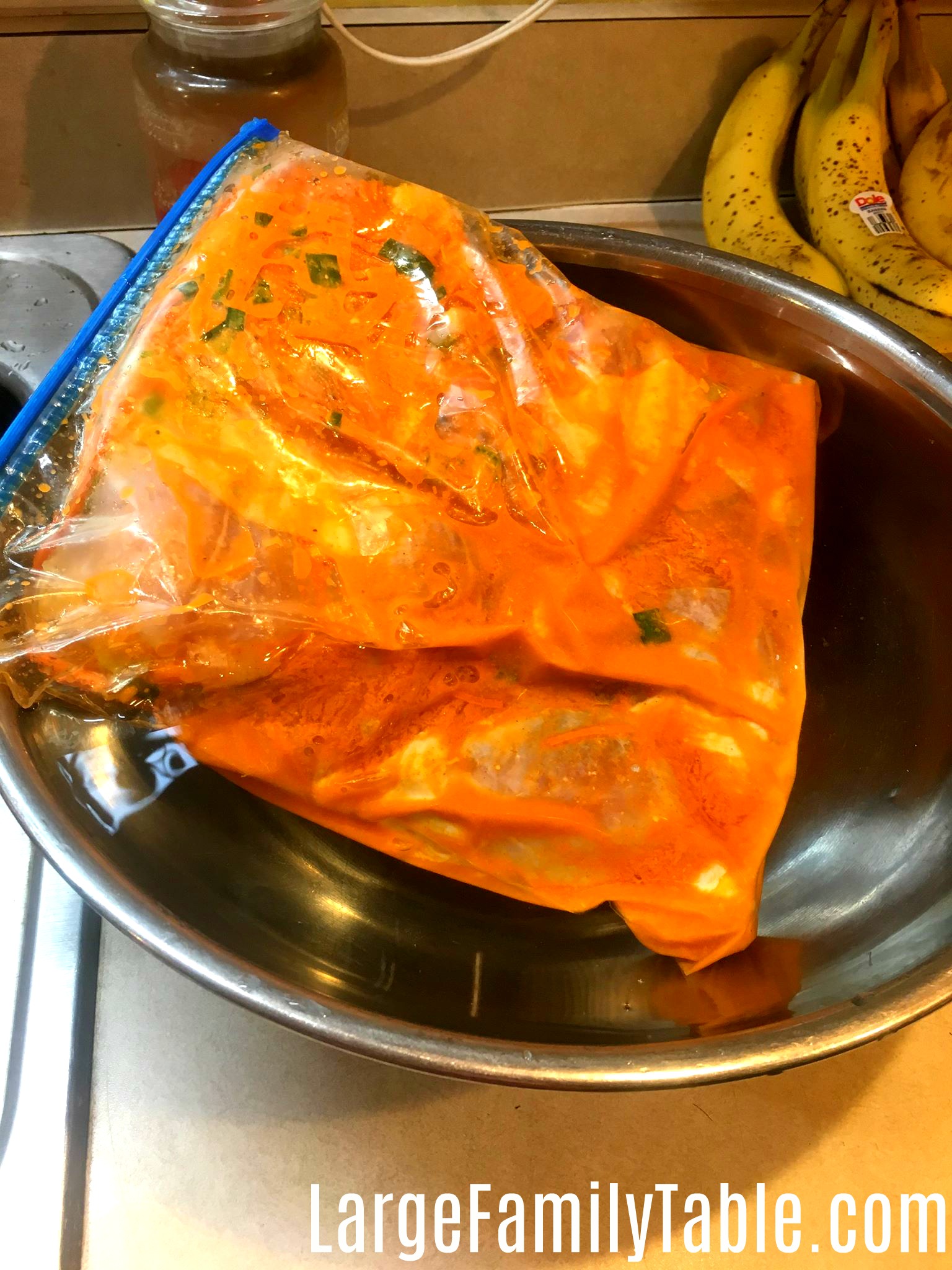 You see, I can't open my frozen gallon freezer meal bag and have all the frozen ingredients dump out into my pressure cooker. I have to loosen up the bag ingredients first. I safely defrost my freezer meal for just a few minutes in a bowl of cold water. This allows the meal componets to loosen from the sides of the freezer bag. In just a few minutes (up to 15 minutes from my experience) I'm able to dump the contents from the gallon freezer bag into the Instant Pot.
There are sites online that share to use plastic tubs for your Instant Pot freezer meals. I have found that I can't always fit all I need in those tubs, plus I can't always store them as easily in my freezers. However you may try that Instant Pot freezer meal method and find it works wonderful for you!
Print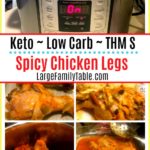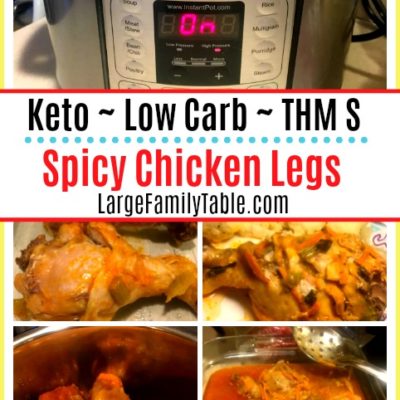 Spicy Chicken Legs | Large Family Low Carb – Instant Pot or Slow Cooker Recipe
---
Description
Spicy Chicken Legs is a simple large family low carb Instant Pot recipe that is perfect for dinner with a twist! Add steamed cauliflower, carrot or celery slices.
---
Ingredients
12 lbs of frozen chicken legs (four 4 lbs bags from Walmart)

8 cups of your favorite mild to hot wing sauce (2 cups per bag)

4 cups shredded celery (1 cup per bag)

8 chopped green onions (2 green onions per bag)

4 cups shredded carrots (1 cups per bag)

8 TBS butter (2 TBS per bag)

This will make four large family freezer meals
Directions for each large family freezer meal bag. This recipe makes four-gallon bags (for 4 meals) total.
Place 4 lbs of frozen chicken legs into your gallon freezer bag
Add 2 cups of hot wing sauce
Add one cup of shredded celery
Add 2 chopped green onions
Add 1 cups of shredded carrots
Add 2 tbs butter
Remove all air from labeled freezer bag and store in your freezer 3 months or more.
---
Instructions
INSTANT POT FREEZER MEAL DIRECTIONS:
For this Spicy Chicken Leg freezer meal recipe, I needed to do a quick cold water defrost in a bowl of cold water just long enough to be able to get the freezer meal components to dump out of the bag.
Dump Spicy Chicken Leg freezer meal into the Instant Pot. Close pressure cooker lid and set pressure valve to seal.
Place Instant Pot on manual high for 25 minutes. Let naturally release or safely do a quick release.
Once done make sure the internal temperature of your meat reaches at least 165 degrees.
SLOW COOKER DIRECTIONS:
The USDA recommends not cooking chicken from frozen in the slow cooker. Because of this set your bag of frozen Spicy Chicken Legs from your freezer into your refrigerator the night before you need to cook it.
Place defrost freezer meal in the slow cooker on the cooking day for 7-8 hours on low and up to 4 hours on high.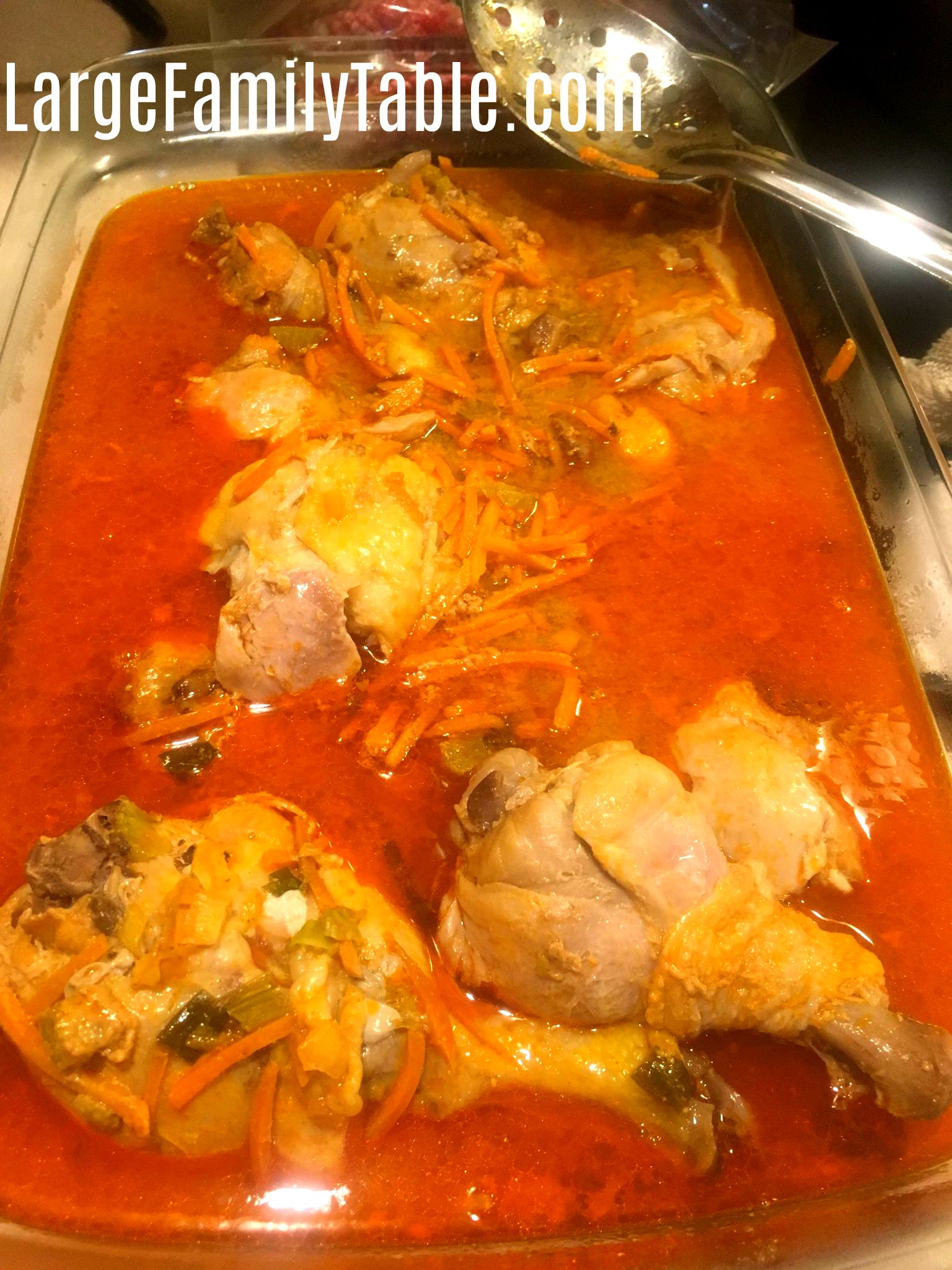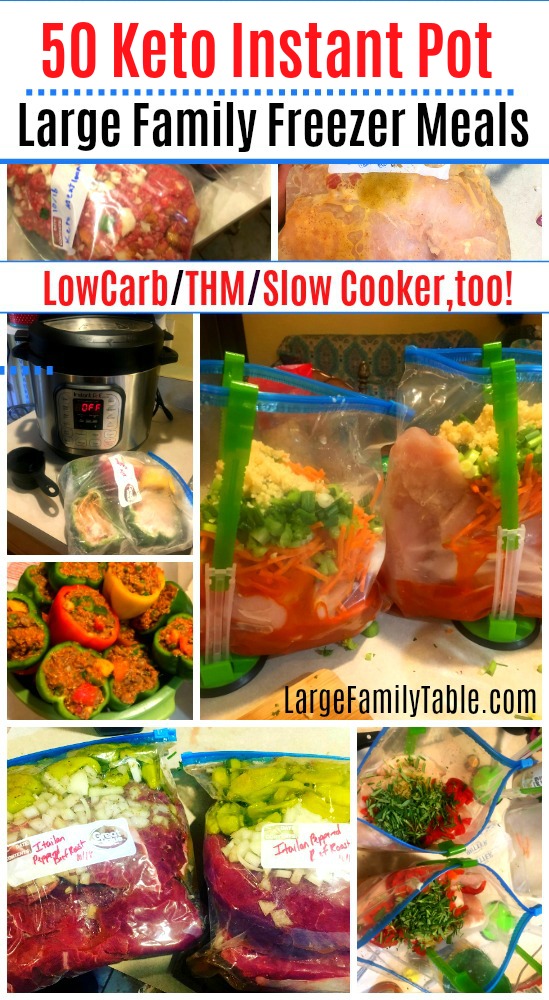 If you love this easy Large Family Instant Pot Recipe you are sure to love these 50 Large Family Keto Instant Pot Freezer Meal Recipes here!
FREE LARGE FAMILY FOOD COLLECTION!

Don't miss the *super mega* Large Family Food Collection includes everything you need to plan, organize, and feed your family well! The entire collection includes:
Free Mega Freezer Meals Planning Pack (8+ Pages!)

Free 10 Large Family Table Recipes eBook

Free Family Favorite Recipes Binder Creation Kit

Free Family Meal Planner Collection (with weekly, bi-weekly, and monthly planning pages, grocery lists, and more!)

Sweet "Mommy & Me" Baking Printables

NEW Free Happy Family Holiday Meal & Household Planner Set (Including Thanksgiving, Christmas, New Years, and Easter) – over 30 pages!!!

Click here to get the Free Large Family Food Collection!