Large Family Freezer Cooking | May 2017 Report
*Thank you for your over 3-months of patience waiting for me to get this Mega Freezer Cooking resource post and videos published! Growing the baby and birthing the baby put me in super slow-mo. He sure is cute though.**
_________________________
Let's face it, whether you have three kids or twelve, as moms we all need grace and an easy button to press from time-to-time (okay, daily!). I love having freezer meals and no-brainer items on hand for convenience. That's why as a family of nine, almost ten, I've found getting in large family freezer cooking days a huge life saver.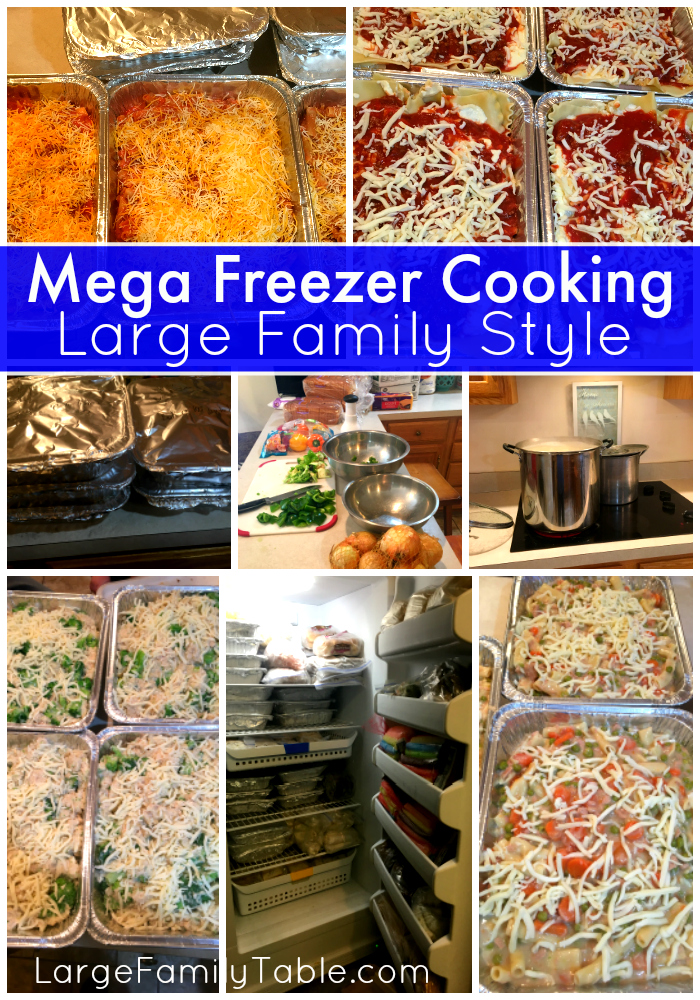 In the past, I've done many 4-hour freezer cooking sessions that didn't so much focus on dinners, but easy items to help me feed my growing family and get meals on the table. I focused on making simple breakfast and lunch items in bulk. This includes items like french toast, ham & egg cups, pancakes, muffins, various loaves of bread, burritos, and peanut butter & jelly sandwiches. Don't fuss at me about healthy. 🙂 Food is food, and any help for momma is help for momma (amen); just add-on fruit, yogurt, or 10 lbs of pre-made carrot sticks as able. Other side item ideas are cheese sticks, smoothies, or hard boiled eggs.
Miss Amelia at age two and brand new baby Daniel making 50 PBJs for the freezer a few years ago.
I also precooked a lot of my ground beef and chicken for the month that I'd need for additional quick and easy dinners. I find it very helpful to cook meat in bulk up front. This way I can make the massive meat cooking mess once and be done.
Past Large Family Freezer Cooking Days
These are a few of our past freezer cooking afternoons I've shared online over the years.
Because of my growing love for freezer cooking, it was so sad when our used full-size freezer died a little over a year ago. This didn't stop me from freezer cooking convenience foods. I was still able to store everything we made in our 4-hours freezer cooking sessions (more examples linked above) between our three top freezers above our three refrigerators. But I longed for a fresh full-size freezer so I could prep many dinner meals in bulk once again.
I was thrilled to get this beautiful new freezer in early May, finally. The new freezer, plus the fact that I'm having baby number eight very soon, along with how recently I've saved hours of my life with Walmart's new grocery pick-up service, all added up to me finding a ton of inspiration to stock up on large family freezer meals.
May 2017 Large Family Freezer Cooking Report
There are several different styles of freezer meals out there. I also like to do slow cooker freezer meals, and I did a few of those this time. However, I focused heavily on easy casserole dinners for the freezer in these freezer cooking days shared below for the ease of my family. The slow cooker freezer meals generally require I set them in the refrigerator the night before or morning I plan to cook them. Then I dump the slow cooker meal in the slow cooker, turn it on, walk away, and serve at dinner time. Easy peasy.
Easy Lasagna Freezer Meals – Large Family Style!
For my family though, since I'm about to have a baby and will be out of commission, I wanted to make it even easier. By having the meal completely done in a pan, all they have to do is put the meal in the oven, eat the meal at dinner time, and throw the pan away when they're done. In my planning pregnant mind, it seemed like the best method for these freezer cooking undertakings.
Day One Freezer Cooking Prep
I always believe the best and enthusiastically think I can pull off all the things. It's the ENFP in me. 🙂
I thought I could hammer out all the prep work and freezer meals in one day, but my 3rd-trimester baby #8 body told me otherwise. I didn't get started until early afternoon and worked until bedtime. My husband had our youngest four to five kids with him. Our oldest son helped me until he had to leave for work. Our 2nd oldest son, Zion, stayed right with me and helped throughout the day. Naomi, age 10, helped several times as well when she wasn't with her dad. So I had one steady teen helper, and two as they were able helpers throughout day one. I'll take what I can get! 😉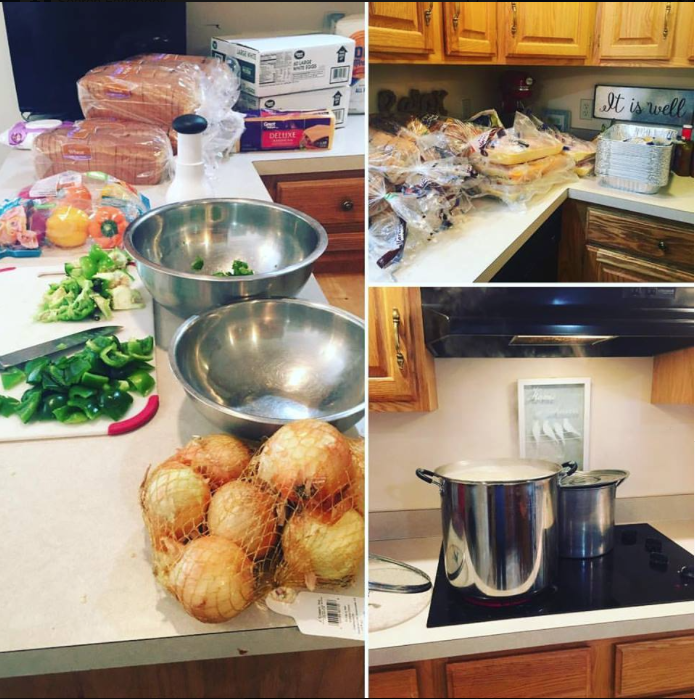 I joyfully shared all of my day one freezer cooking goals here on Instagram.
I use my Amazon affiliate links for the Instant Pot, and Bread Machine below. Here's my full disclosure policy.
I was able to get the following completed and took at least an hour afternoon nap right in the middle of it all. I used my Instant Pot, stove, bread machines, and oven to prep as much as possible.
> 25+ pounds of boneless/skinless chicken breast cooked in the instant pot
> 25+ pounds of ground beef cooked in the oven
> 10 pounds of brown rice cooked in the instant pot
> 5 pounds of pinto beans cooked
> 4 pans of freezer chicken enchiladas (One pan was for dinner tonight)
> 4 Freezer Slow Cooker Meatloaves
> 3 loaves of banana bread in the bread machine
> 3 loaves of blueberry bread (I have both the Oster and Breadman models)
Our two teen boys got the following done plus both took a turn tackling the dishes and kitchen clean up.
> All peppers and onions prepped
> 50 freezer PBJ's
> 50 freezer grilled cheese (these aren't actually grilled already, but they're prepped and in the freezer for when we need them)
> 30 egg and cheese freezer breakfast burritos
I shared on Instagram how things looked by the end of the night. That was our one last load, which everyone helped with the following morning. Momma couldn't move another muscle.
Day Two Freezer Cooking Day
On day two I was able to get started a little earlier, and I had more consistent helpers. I had most of the food items prepped minus the various noodles.
My three big helpers finished 50 more PBJs, 50 additional grilled cheese, 100 slices of french toast, and 70 more egg/cheese breakfast burritos.
I assembled 5 Freezer Lasagnas, 4 pans of Baked Ziti, 4 Tuna Noodle Casserole, and 1 Italian Chicken for the Slow Cooker. I also bagged the remaining brown rice, chicken, hamburger, veggies, and beans.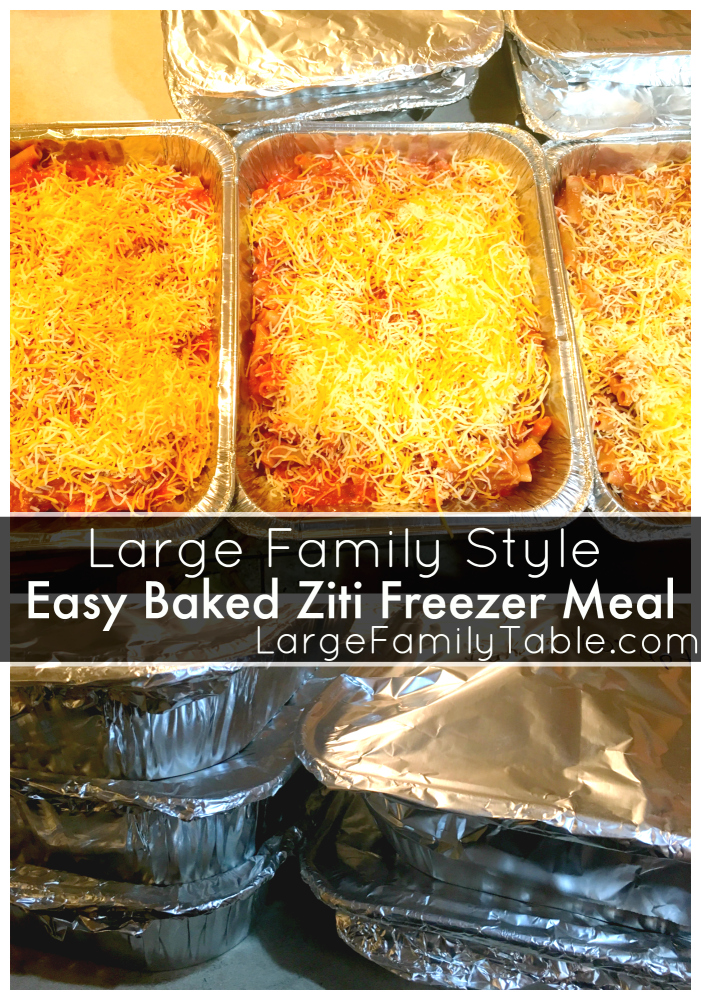 Large Family Style Easy Baked Ziti Freezer Meal
The Grand Total Freezer Meals List
26 Freezer Meal Dinners for our Large Family
All of these are served with available various veggies, fruits, butter bread, applesauce, etc.
Plus dinner prep ahead helps including 3-gallon bags of precooked brown rice, 5 lbs of shredded cooked chicken, 5 lbs of cooked Ground Beef, six packs of chopped veggies (great to throw in sauces, soups, chili, etc.), and 2-gallon bags of pre-cooking pinto beans.
Large Family Dinners – Chicken Enchilada Freezer Meals
21 Easy Freezer Breakfast Meals
All of these breakfasts are also served with fruit or yogurt as well.
100 Egg & Cheese Breakfast Burritos (8 Breakfasts for our family) – These break down to be about eight breakfasts for us over a month. We usually pack 12 freezer breakfast burritos per gallon freezer bag.
100 Slices of Freezer French Toast (4 to 5 Breakfasts for our family) – We pack these 12 to a bag as well. This makes for 4 to 5 breakfasts for our family because younger kiddos might only eat two pieces, but several will eat 3 or 4 slices.
8 Loaves of Fruit Bread (8 Breakfasts for our family) – Freezer Banana or Blueberry (or any berry) bread is another helpful breakfast. I just set a loaf out into the refrigerator the night before.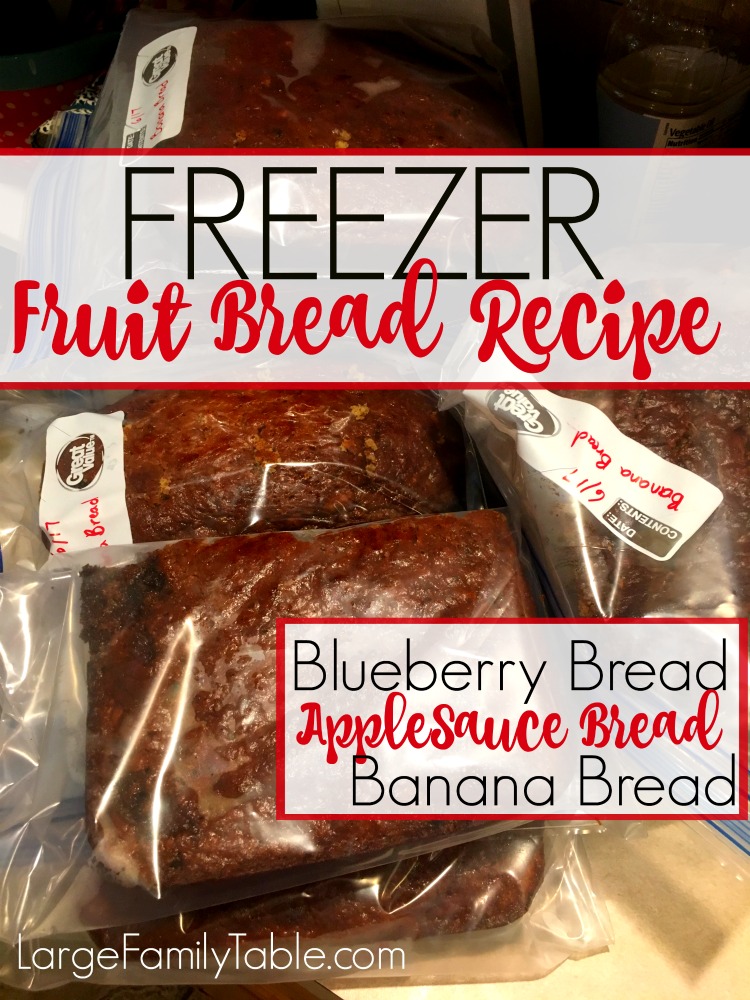 12 to 16 Easy Freezer Lunches
I can't tell you how many times I breathe a sigh of relief as I grab a dozen PBJs from the freezer. Add along to that a bag of clementines or carrot sticks, and lunch is served. You can see here and here how I quickly add in these freezer PB&Js as needed into our large family daily meal plan.
100 Freezer Peanut Butter and Jelly Sandwiches (8-10 Lunches for our family). The picture below is of a defrosted Freezer Peanut Butter and Jelly Sandwich. I'm often asked if they turn out soggy. Hopefully, you can tell by the picture that they are not.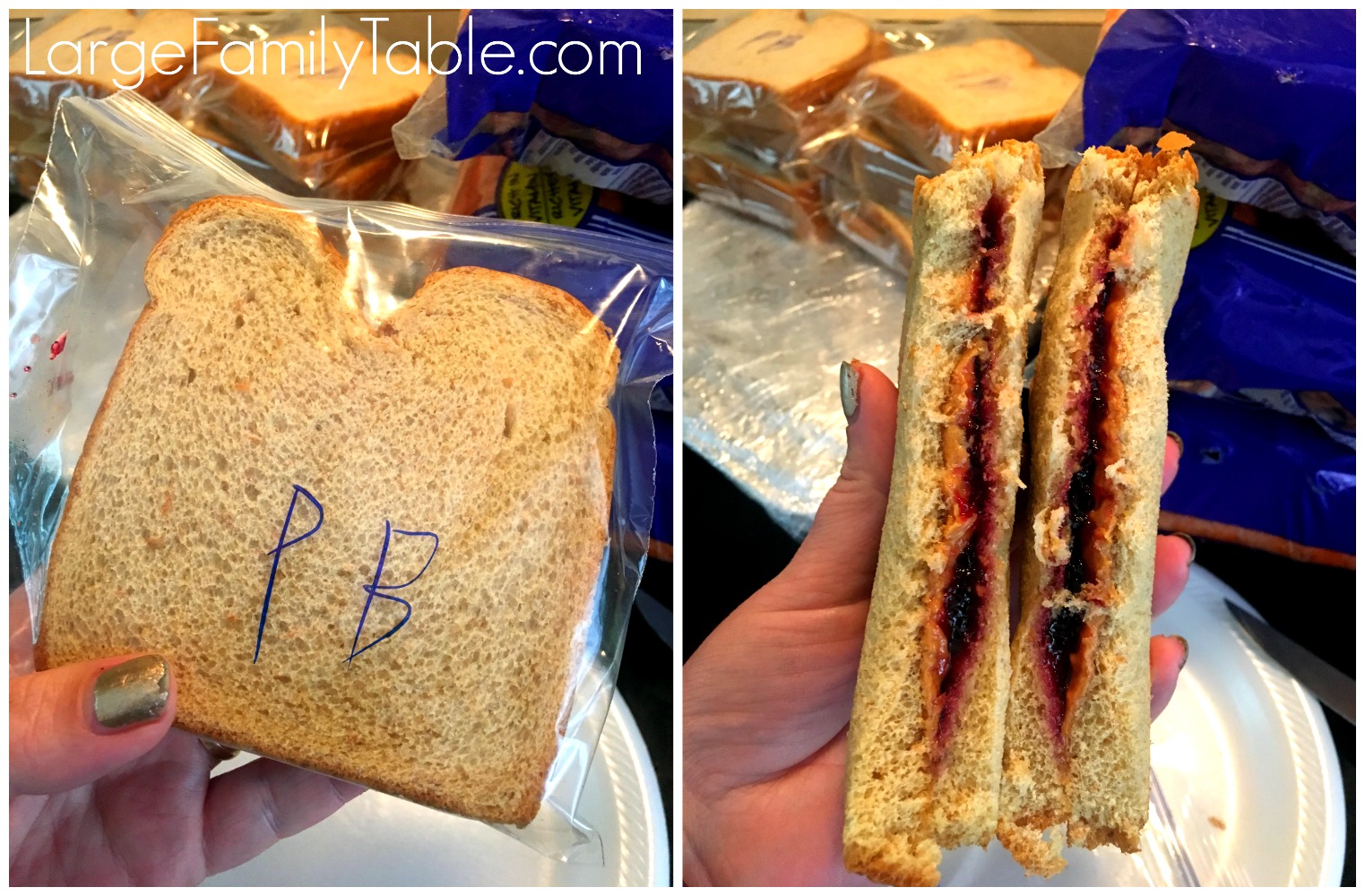 100 Freezer Cheese Sandwiches (to be used as grilled cheese) also 8-10 lunches for our family.
Yes, crazy simple! Put two slices of cheese in-between two slices of bread. Place in plastic baggies and freeze. When you need to make 12 or 24 grilled cheese fast, quick, and in a hurry, just put your frozen cheese sandwiches in the heated stove pan or griddle and make your grilled cheese sandwiches as you normally would. We usually add butter to the outside of the bread right at grilling time.

If youre interested, here's my Amazon affiliate link for the two griddles I use here. I can do 16 at a time with these. Or for even more convience you can throw your grilled cheese in the oven!
?LARGE FAMILY FREEZER MEALS | Day One | ?Massive Freezer Cooking Meal Prep ?

Click here to watch the full LARGE FAMILY FREEZER MEALS | Day One | ?Massive Freezer Cooking Meal Prep ?
LARGE FAMILY FREEZER MEALS | DAY TWO | 26 DINNERS, 21 BREAKFASTS, 16 LUNCHES!
Click here to watch the full LARGE FAMILY FREEZER MEALS | DAY TWO | 26 DINNERS, 21 BREAKFASTS, 16 LUNCHES!
Share how you handle massive freezer cooking days in your neck of the woods. Of course, ask any questions or contribute additional tips as you're able. Thanks so much for stopping by Large Family Table today.
Don't forget to grab the FREE MEGA FREEZER MEALS PLANNING PACK!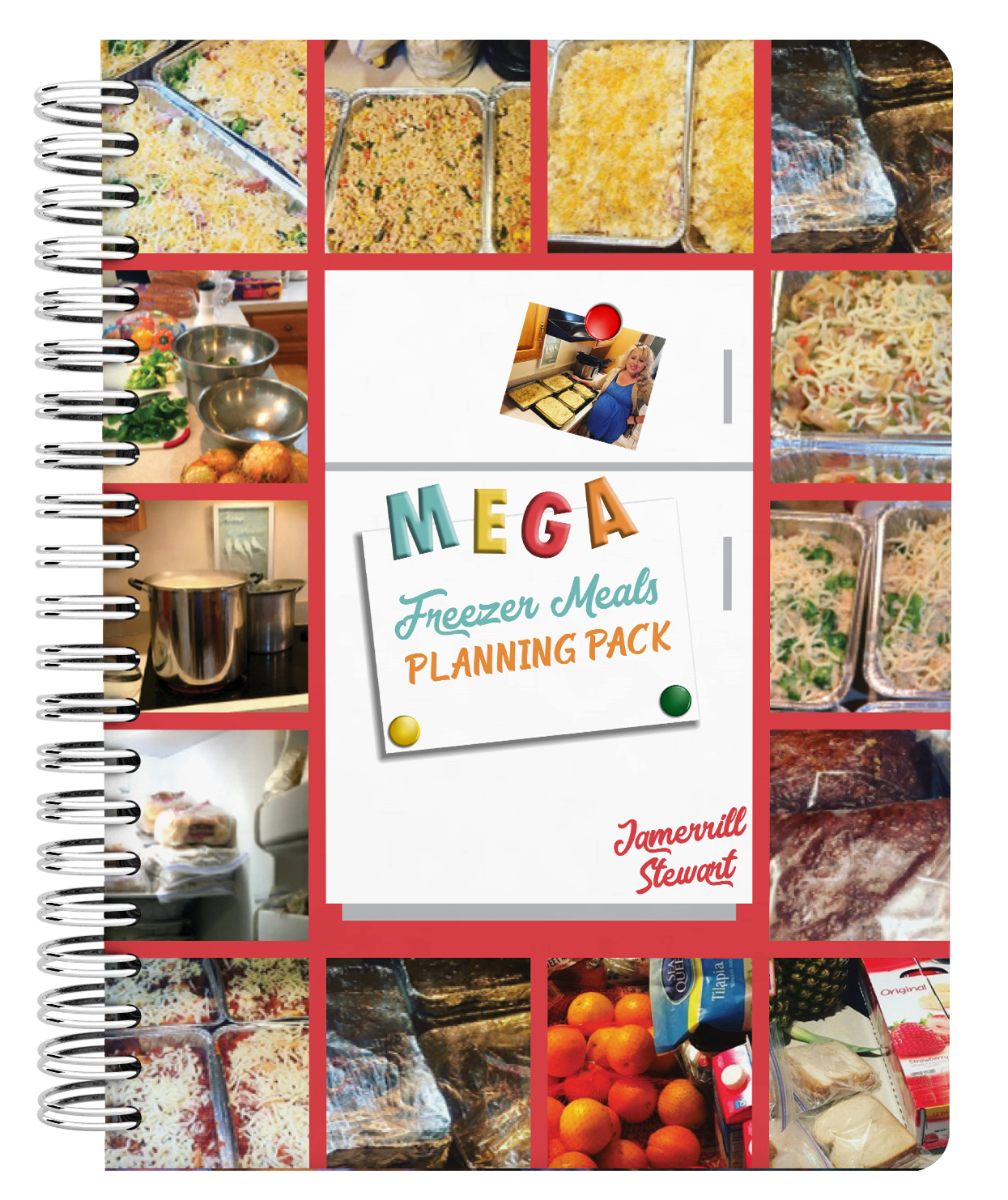 I've created a free mega freezer meals planning pack to help you plan your next freezer cooking day! It's 8 pages of freezer meal planning goodness!!
What's included in the Mega Freezer Meals Planning Pack
Freezer Inventory
Plan Your Freezer Cooking Day – Phase One
Plan Your Freezer Cooking Day – Phase Two
Weekly Freezer Meal Planning
Monthly Freezer Meal Planning
Freezer Meal Labels
Family Favorites Freezer Meals Recipe List
What To Freeze/What Not To Freeze – Reference Page
Get your Mega Freezer Meals Planning Pack here, today!