If you find yourself wondering what do you serve a big crowd for dinner, look no further than these large family meal ideas with over 100 BIG recipes to feed a crowd! Sometimes the cheapest meal to feed a crowd can be the tastiest. Whether you have a large family, you are cooking for guests, or you have a church potluck, you'll find 100+ meals to feed a large crowd. Cooking Mega and Lots sometimes requires more tools in the kitchen, so be sure to check out this busy Mama's favorite kitchen tools.
Use coupon code HELLO20 to take 20% OFF the best-selling Large Family Freezer Meals Bundle Collection!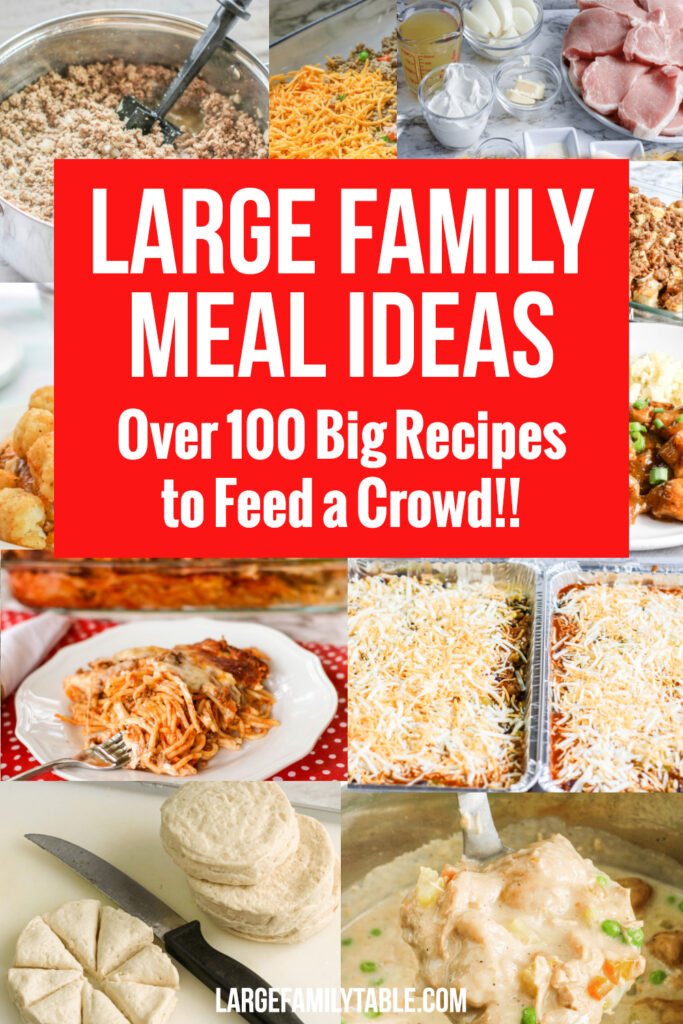 I hope you enjoy this collection of large family meal ideas and recipes! I am giving you a TON of recipes for large family lunch, dinner, and dessert!! Feeding a crowd is one of my favorite things to do with lots of good food and friends and family gathering. You know we always cook to feed a crowd around here but sometimes our large family style cooking really comes in handy. 
I've put together for you a list of large family dinner ideas recipes that will feed a big gathering. There are classic recipes like sloppy joes and macaroni and cheese that every kid will love, and also some creative twists on meals to adapt them more to feed more people. You'll find slow cooker, make ahead and freezer-friendly recipes and even dessert recipes to help you make feeding a large crowd go more smoothly.
What should I make for a large family dinner?
If you have found yourself wondering what to feed a large crowd for dinner, below you will find over 100 recipes to give you ideas on what to feed a large group. Coming up with what to make for a dinner party or what to make for a large family gathering can be daunting, so I have compiled over 100 recipes for you to try.
Here you will find over 100 easy recipes to cook for large groups that will leave your guests happy, even kids!
And if you need even more large family dinner ideas, see this original post with over 250 Cheap Meals for Large Families with even more big family recipes!
If you find yourself wondering how to cook for a large group of people, you may also be wondering what tools are necessary. Check out my Must Have Large Family Cooking Supplies.
Large Family Meal Ideas to Feed a Crowd
Taco Salad for a Large Crowd Have you made this yet? YUM.
Chicken Spaghetti Recipe A healthy low carb alternative made with spaghetti squash!
Homemade Pizza Easy to customize for every single guest!
Apple Broccoli Salad Vegan friendly and delicious salad!
Chicken Pot Pie Recipe If you're looking for a delicious large crowd sized recipe, give this a try!
Pecan Overnight French Toast Casserole Any morning where I can drink my coffee while breakfast bakes is a good start to my day. Easy!
Cheesy Ham Soufflé This Cheesy Ham Soufflé is a long-time family favorite recipe that is also perfect as a breakfast freezer meal!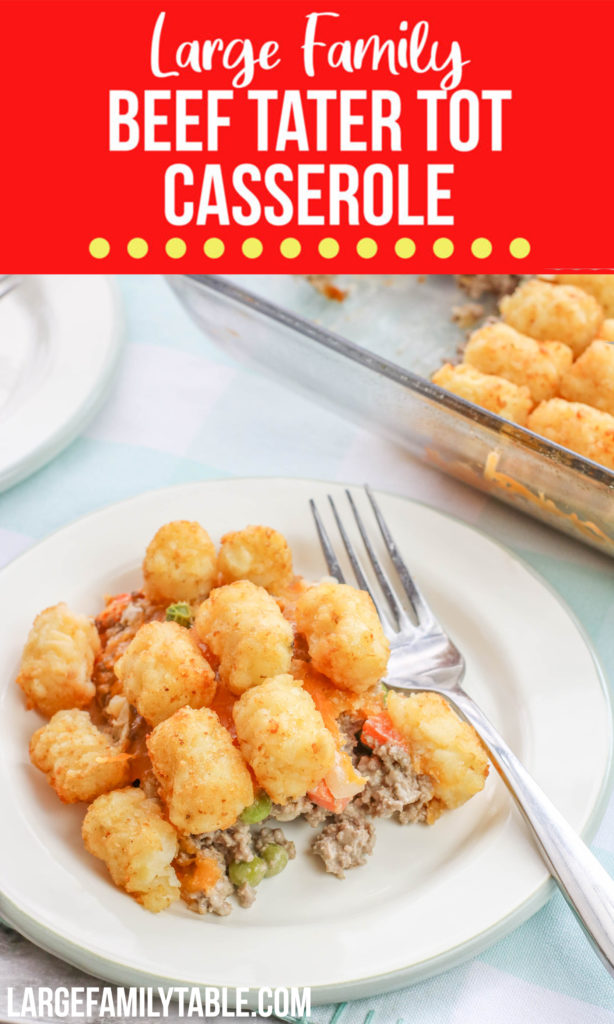 LARGE FAMILY BEEF TATER TOT CASSEROLE RECIPE Home cooked and delicious!
Chicken Enchiladas for a Large Crowd This is another quick and easy dinner!
Loaded Nachos Recipe These loaded nachos are overflowing with seasoned ground beef, ooey gooey melted cheese, fresh tomatoes, spicy jalapenos and crisp green onions.
Large Family BBQ Meatloaf Recipe Meatloaf that's ready to put in the slow cooker for a delicious meal at the end of the day with minimal effort.
Looking for more casserole ideas? 
If you've loved my meal ideas so far, you will LOVE the many Low Carb Casserole Dinners in my shop! LOW CARB Casserole Dinners & Freezer Meals ~ Cookbook TWO ~ One for Now, One for Later Digital Pack gives you 10 delicious, low carb style casserole recipes and two choices of complete grocery lists (shop for 20 meals or shop for 10 meals). Each recipe will make TWO 9×13 casseroles –one to eat right away, and one to put in your freezer for a later date. That's TWENTY meals!!!  I have done the math for you on these large family recipes.  This is an easy and quick way to build a freezer stash in a hurry and feed your family at the same time!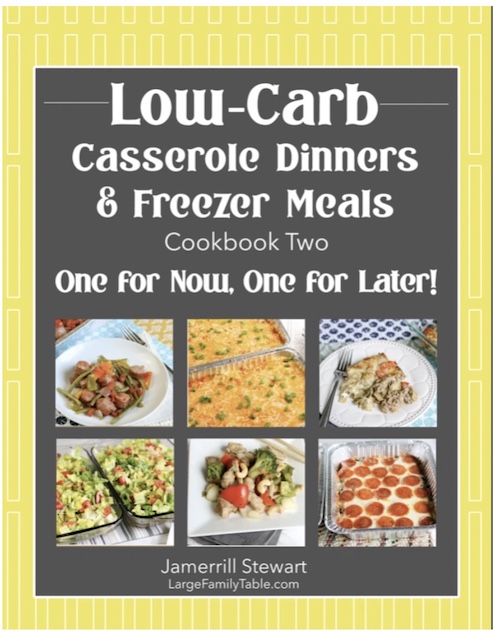 Large Family Meal Ideas for Slow Cooker and Instant Pot Recipes
Easy Slowcooker Chicken Fajitas Recipe Fajitas are tasty and easy in the slow cooker.
Large Family Instant Pot Lazy Lasagna – Very tasty lasagna recipe without all of the work of assembling.
Large Family Size 8 Qt Instant Pot Spaghetti + 14 Qt Electric Pressure Cooker
Large Family Instant Pot Chicken and Dumplings Chicken and Dumplings is filling and easy to make.
Instant Pot Ranch Chicken and Rice | Large Family Recipes Ranch Chicken and Rice is delicious and always a crowd favorite.
Slow Cooker Orange Chicken Trust me when I say that you'll forget all about take-out after making this simple dish!
Kielbasa and Potato Slow Cooker Meal This kielbasa and potato slow cooker meal is tasty, easy, and frugal.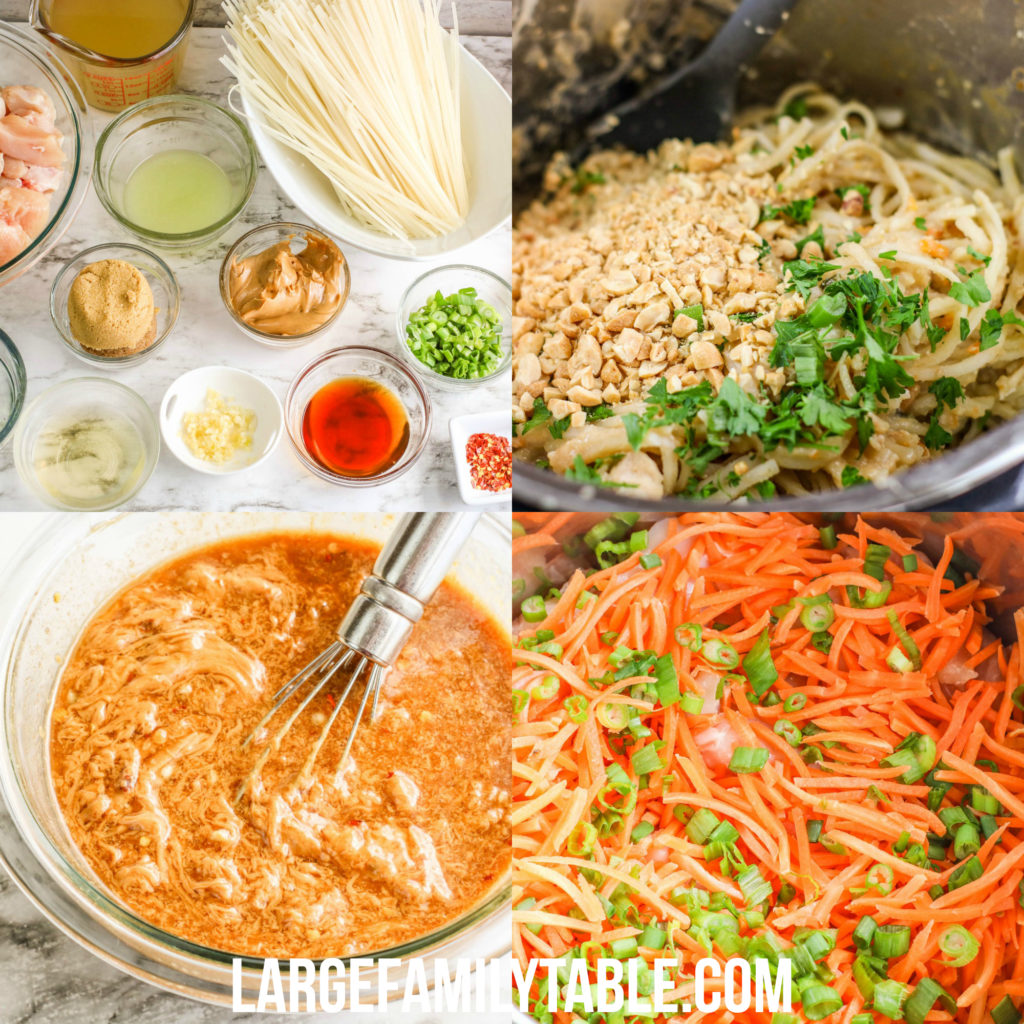 Large Family Instant Pot Pad Thai Recipe Skip the take-out and the cost of take out, and make this delicious meal at home.
Instant Pot Sloppy Joes – Who doesn't love sloppy Joes?
Large Family Instant Pot Cowboy Casserole You will love this meal! Ground beef and potatoes and onions in the instant pot. Super easy!
Large Family Instant Pot Macaroni and Cheese Recipe – Macaroni and Cheese. Need I say more?
Low Carb Broccoli Cheddar Soup – Healthy and tasty soup.
Slow Cooker Pork Ragu Over Fettuccine | Large Family Recipes You won't believe how easy this is to throw together.
Large Family Slow Cooker Shepherd's Pie Recipe This is a great way to fill up on vegetables.
Large Family Instant Pot Low Carb Teriyaki Chicken Simple recipe, easy to follow, you'll love how this turns out!
Large Family Classic Pot Roast in the Slow Cooker Everyone needs a great pot roast recipe.
Slow Cooker Pork Carnitas These are super juicy, easy and so much more flavorful than other versions complete with glorious caramelized crispy burnt ends! They are great for large crowds or make ahead meals and makes the best tacos, burritos, nachos, salads, etc.
Large Family Sweet and Sour Pork in the Slow Cooker I love the convenience and the aroma of large family sweet and sour pork in the slow cooker.
Instant Pot Beef Stroganoff Recipe Beef stroganoff is one of those comfort foods that look like it's a ton of work to make when it really isn't. This Instant Pot beef stroganoff recipe make it even easier.
Crockpot Ham Macaroni and Cheese Dinner – I've never met someone who didn't like Macaroni and Cheese!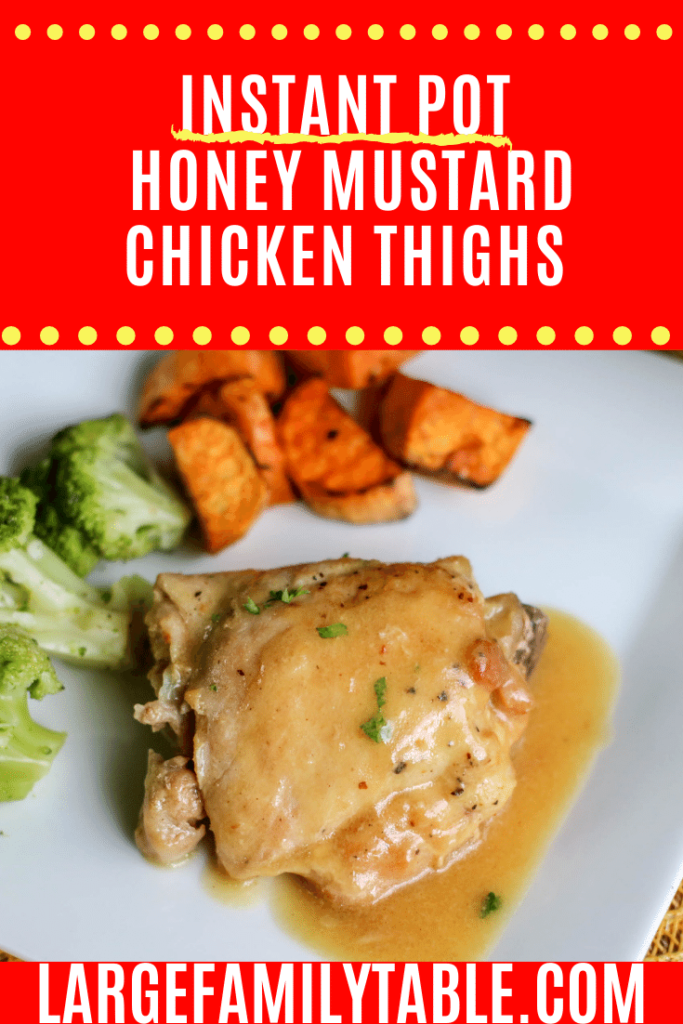 Instant Pot Honey Mustard Chicken Thighs – Chicken thighs are a super budget friendly protein! Easy to prepare and delicious.
Kielbasa and Potato Slow Cooker Meal – Mouth watering and filling. What more could you ask for?
Slow Cooker Philly Cheese Steak Recipe Give these easy and delicious sandwiches a try.
Easy Sheet Pan Quesadillas Why didn't we think of this? Who doesn't love quesadillas!
Easy Shrimp Alfredo A tried and true dish that is sure to please a crowd.
Do you have more Instant Pot recipes?
Yes!! I have a ton more recipes in my shop! Check out my Large Family Delightful and Abundant 4-Week Electric Pressure Cooker Meal Plan Pack One, and the Large Family Filling and Wholesome 4-Week Electric Pressure Cooker Pack Two.Or make it easy on your budget and time and grab the DOUBLE BUNDLE that includes both Electric Pressure Cooker Packs packs one and two!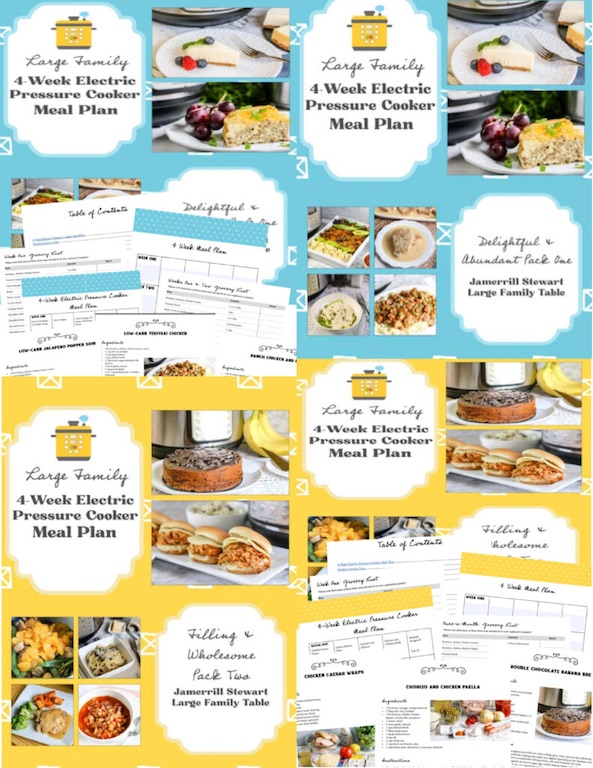 Make Ahead and/or Freezer Meal Recipes – perfect large family meal ideas!
Sausage, Egg, & Cheese Breakfast Burritos – Breakfast for breakfast or breakfast for dinner, these breakfast burritos are a delicious and easy make-ahead meal that will feed a large crowd.
LOADED Breakfast Biscuits – This is another crowd pleaser. Tasty and filling breakfast biscuits are easy to have prepared in advance when you know you're going to have a lot of people to feed.
Sausage & Cheese Quiche – Who doesn't love quiche?
Easy Freezer Meals: Freezer Peanut Butter and Jelly Sandwiches Did you know you can make sandwiches ahead of time?
Easy Homemade Family Chili Recipe Who doesn't love chili? Easily customizable with a topping bar for everyone to enjoy.
Slow Cooker Meatloaf Recipe | Freezer Friendly Meatloaf is filling and budget friendly. Meatloaf is also easy to double or more for the size of the crowd you're feeding.
Chicken and Brown Rice Bake Recipe ~ Large Family Style! Simple recipe that impresses!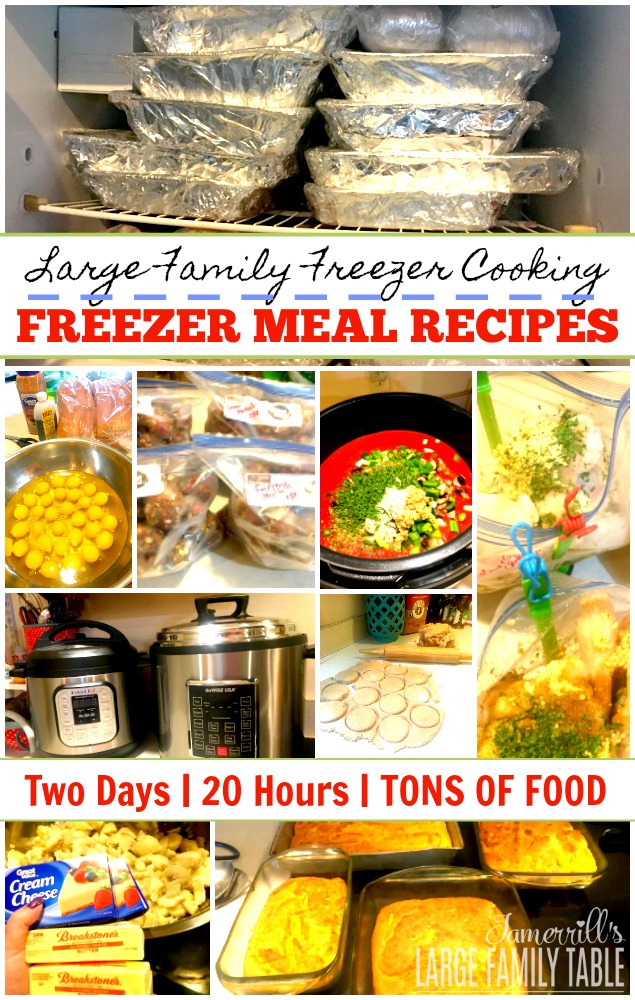 You can see all the large family freezer cooking days here. Don't miss all these large family freezer meal recipes! Here's how to start freezer cooking and you might also want to read my personal journey into freezer cooking that I shared.
Jamerrill's Large Family Stir Fry Fried Rice Recipe Have you tried making fried rice at home? Budget friendly and crowd pleasing.
Chicken, Broccoli, and Rice Casserole | Large Family Style! Casseroles are perfect for a crowd!
Pulled Chicken BBQ in the Slow Cooker Recipe Serve over rice or with vegetables, also can be made into roll-ups or served on buns.
Slow Cooker Philly Cheese Steak Recipe | Large Family Style!
Foil Packet Burgers Large Family Recipe Not just for camping!
Homemade Potato Soup ~ Large Family Style! Low cost, belly filling and easy!
Freezer Meals for Dayysss!!
You can find so many more great freezer meals in my Ultimate Super Mega Large Family Freezer Meals 1, 2, 3, 4, 5, 6, 7, 8, 9, 10, 11, 12 Digital Bundle!!! It includes packs 1-12 of my best-selling large family freezer meals. You will have everything you need to make over 250 large family freezer meals (make as little or as much as you want ) including 12 batch cooking meal prep guides, 12 pack specific freezer meal grocery shopping lists, freezer meal tips, freezer meal printables including a freezer meal planner and more.
Pasta Recipes for Large Family Meal Ideas – BIG Recipes to Feed a Crowd!
Kielbasa and Cheesy Broccoli Bow Tie Bake | Freezer Meal Recipe You won't believe how quick this meal comes together.
Homemade Baked Macaroni and Cheese Homemade Mac and Cheese wins every time! such a versatile dish. You can serve it as a main dish with veggie sides or as a side with hot dogs or hamburgers. And this recipe makes enough to feed your whole crew. It's a must on the list.
Grandma's Old Fashioned Goulash Easy to throw together and mostly with pantry staples.
Slow Cooker Sausage Baked Ziti When you need a hearty meal that's fast and easy, slow cooker sausage baked ziti comes to the rescue!
Best Creamy Pasta Salad – Pair with hot dogs or easy sandwiches.
Greek Pasta Salad Recipe Spice up that greek flavor with some greek pasta salad.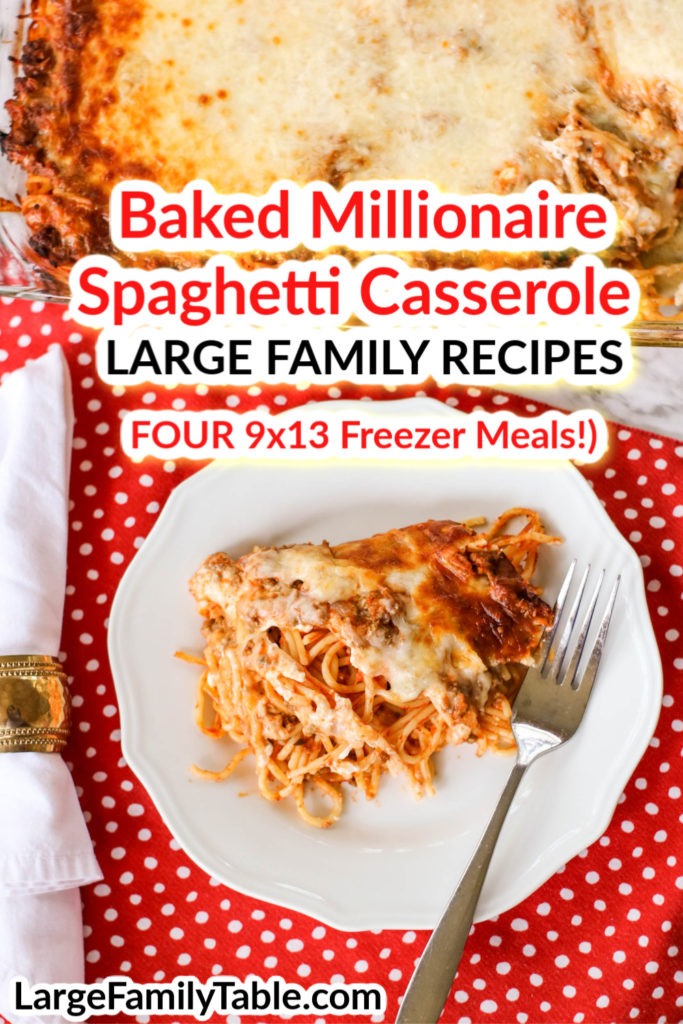 Baked Millionaire Spaghetti is a huge hit! This recipe will guide you through making several 9×13 pans which can give you some for now and some for the freezer for later!
Turkey Tetrazzini Recipe Delicious and perfect to make with leftovers.
Baked Penne Pasta with Meat Sauce Perfect for the pot luck or large family gathering.
Pepperoni Pasta Bake Large groups will love this pepperoni and pasta dish.
Large Family Easy Lasagna Lasagna is always a large crowd pleaser!
Chili Macaroni Easy. Delicious.
Chicken Broccoli Alfredo Noodle Bake There's tons of room to customize and adapt this recipe, changing it up to have many different dishes for the crowd to choose from.
Tuna Pasta Salad Kicking that tuna sandwich up a notch.
Cheesy Chorizo and Tomato Baked Pasta Simple ingredients and a very tasty dish.
Large Family Meal Ideas for Sandwiches, Subs and Sliders
Ham and Cheese Pinwheels | Large Family Freezer Meals – Quick and Easy to throw together for a large crowd.
Italian Party Sub Making this at home is easy and budget friendly.
Instant Pot Hawaiian Chicken Sliders Recipe So easy, you can start with frozen chicken. The Instant Pot is such an incredible kitchen tool!
Ham & Cheese Sliders Easy hot sandwiches for a crowd.
Ultimate Club Sandwiches for a Crowd Quick to put together and tasty.
Italian Sliders Quick and delicious.
Chicken Salad Croissants This dish is easily multiplied for any size crowd.
Here are more lunch ideas for your Large Family Table!!
What's for lunch? For all you mamas who don't have time to make lunch this is the pack you've been asking for! In the Large Family Lunches Freezer Meal Pack Eleven, you'll be guided through how to make 20-25 delicious lunches for your large family and freeze them! I've also included many more planning pages to help you along the way!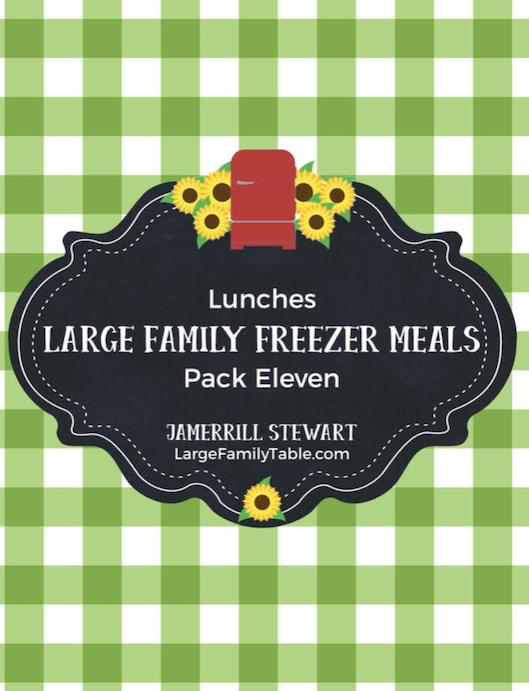 Easy Peasy Sheet Pan Recipes
Have you ever made a Sheet Pan Recipe? Nothing could be simpler, you just put all of the ingredients on the sheet pan, preheating the oven while you cut up the vegetables. Pop it in the oven. The meat and the sides are all done at the same time, all cooked on the same pan! One dish to clean up! Perfect for large family meal ideas!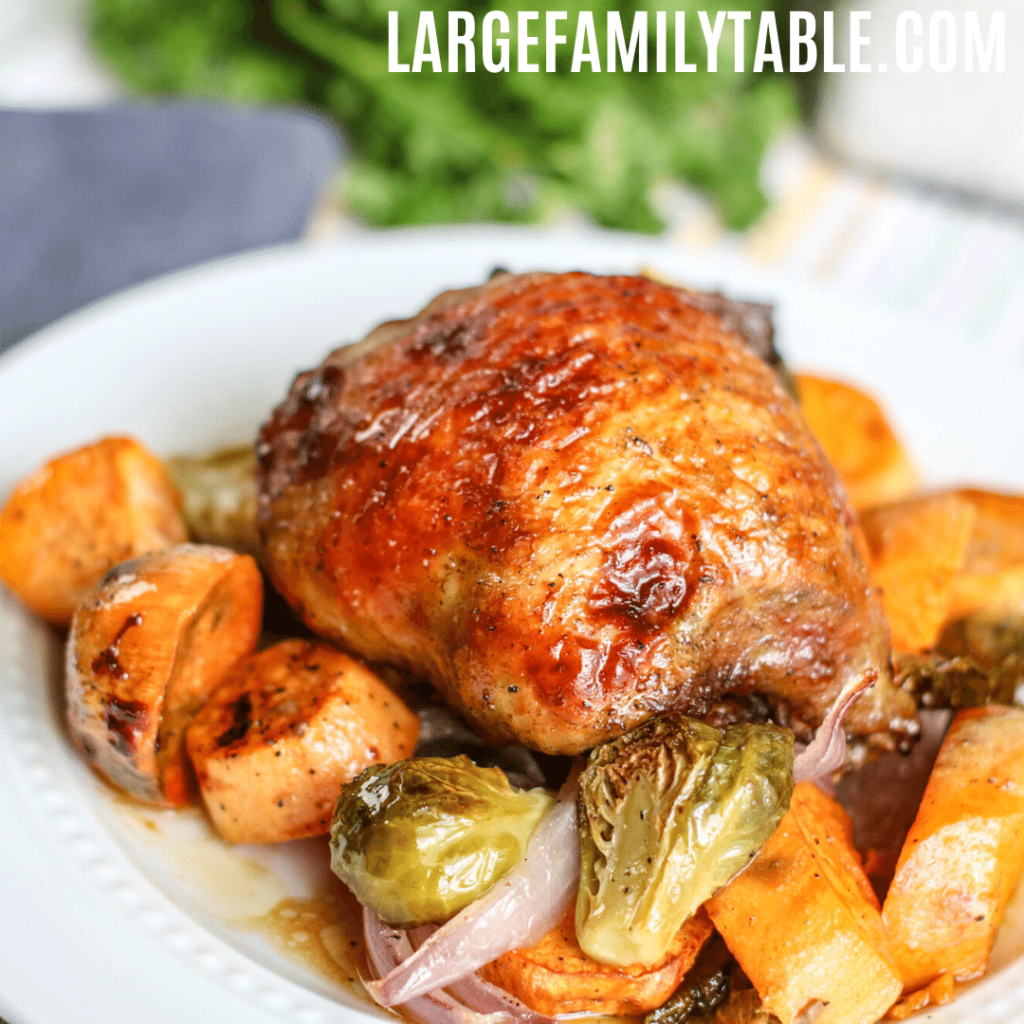 Fall Chicken and Vegetables Sheet Pan Dinners Recipe – One dish to wash, all the protein and vegetables. So easy!
Italian Bone-In Chicken Thighs & Roasted Red Potatoes Sheet Pan Dinner Cooking on sheet pans is the way to go!
Garlic Butter Salmon with Roasted Red Potatoes Sheet Pan Dinner Garlic butter, need I say more?
Roasted Chicken Legs & Red Potatoes Sheet Pan Dinner – Keep it simple.
Garlic Steak & Veggies Sheet Pan Dinner – Steak for a crowd in a snap!
Pork, Roasted Cauliflower, & Petite Potatoes Sheet Pan Dinner – Delicious.
Bratwurst & Broccoli Sheet Pan Dinner – This is a great recipe to break up the usual grilled or boiled bratwursts!
Lemon Pepper Drumsticks with Roasted Brussel Sprouts Sheet Pan Dinner A delicious twist on a healthy dinner.
Sheet Pan Deconstructed Beef Kebabs Sometimes simpler IS better, especially when feeding a large group of people.
Looking for more Sheet Pan Meal Ideas?
If you enjoy the simplicity of sheet pan meals, then be sure to check out my Easy and Simple Large Family Sheet Pan Dinners Pack One, my Easy and Simple Sheet Pan Breakfasts Pack Two, and my Easy and Simple Sheet Pan Lunches Pack Three. You can also grab them all in this amazing bundle of ALL THREE Sheet Pan Packs.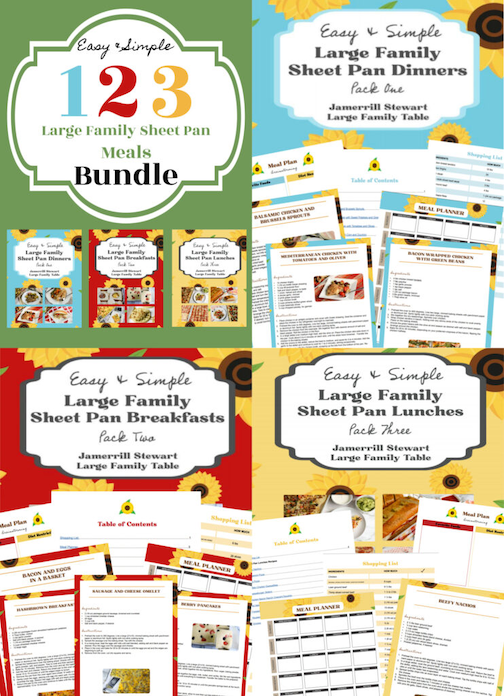 Soups for Large Families and to Feed lots of folks!
Soups are always a great for large family meal ideas. They are frugal, filling, and be even be made super scrumptious with leftovers and odds and ends.
Large Family Healthy & Cheap Stockpot Soup This is one of those kitchen sink meals, toss all of those vegetables in there and a tasty soup comes out!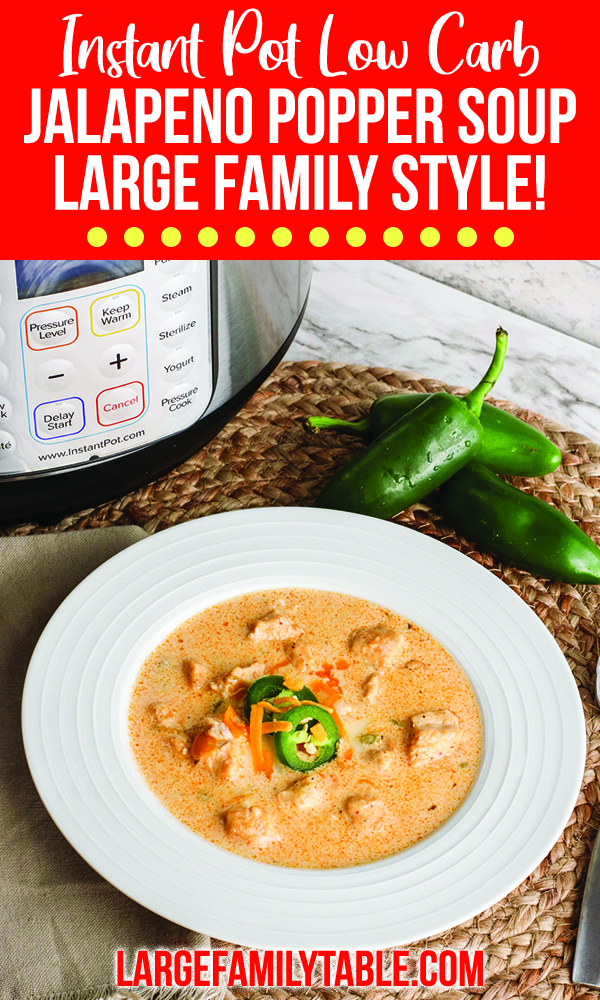 Instant Pot Low Carb Jalapeno Popper Soup Are you tired of feeding your large family the same thing over and over? This Instant Pot Low Carb Jalapeno Popper Soup is so tasty and delicious, your kids will love it.
Ham, Potato, and 5 Bean Soup Your family will love the comfort of ham, potato, and 5 bean soup. Hands down, you will love how easy it is to put together. This is a dump and go recipe at it's finest.
Low Carb Taco Soup for the Instant Pot or Slow Cooker, Keto, THM too! This recipe gives you the warmth and flavor of family favorite tacos in a soup. You can top with sour cream, shredded cheese, green onions, olives, peppers, salsa – any of your taco favorite flavors!
Low Carb Broccoli Cheddar Soup This soup is thick and creamy with a delicious cheesy taste.
Low Carb Cheesy Cauliflower Soup I'm a big fan of cauliflower so this recipe is a favorite around here. Even my 6-year-old requests it!
Turkey Noodle Soup A super easy and filling soup!
Quinoa Tortellini Sausage Soup This soup does not fail to please with the savory sausage goodness, various vegetables, and cheese tortellini treats.
Hamburger Soup This soup comes together fairly quickly and it's so super easy to make. You can literally use whatever you have on hand!
Vegetable Beef Soup This classic Vegetable Beef Soup is sure to be a winner at your house. Serve alongside a big green salad or a hot grilled cheese sandwich if you'd like.
Homemade Potato Soup There is just nothing as comforting as some homemade potato soup.
Homemade Chicken Soup Recipe Perfect to make for a large crowd.
Desserts for a Crowd
You will love these large family meal ideas and dessert recipes!
Homemade Andes Mint Brownie Lush A delicious twist on brownies.
The Best Chocolate Sheet Cake Sometimes a simple sheet cake is the best dessert to feed a large group.
Sheet Pan Cookie Cake Large family style dessert, baking cookies into bar form is a great short cut.
Homemade Trail Mix Cookies Delicious twist on chocolate chip cookies.
Homemade Peanut Butter Chocolate Chip Cookies Chocolate and peanut butter is a timeless combination.
Oatmeal Raisin Cookies Give this delicious classic a try.
No Bake Chocolate Oatmeal Cookies Recipe An oldie, but a goodie.
Peanut Butter Sheet Cake Peanut butter sheet cake is a favorite for all ages and it is a perfect dessert to feed all of your people.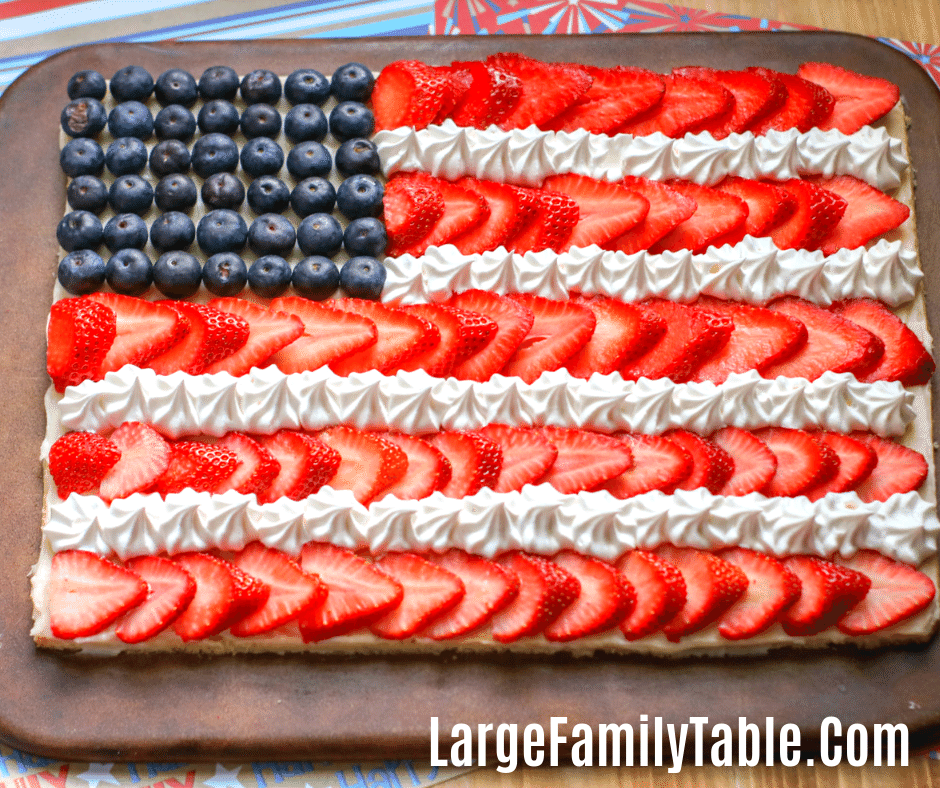 Fruit Pizza Flag Cookie Beautiful and decorative dessert.
Homemade Cinnamon Rolls This classic dessert is a crowd pleaser any time of day.
Easy S'mores Dip Delicious without the fire.
Here are even more large family meal ideas and recipes on the blog!
**2021 Super Mega Deal!!!**
You can get all my recipes in my 2021 SUPER MEGA DEAL!!***Get it all 30+ Products Bundle. It includes everything in my shop through 2021!! You will get so many recipes, make-ahead and freezer meals, lots of sheet pan meals, planning packs to help you organize all your meals (breakfast, lunch, and dinner) and so much more. That's why I call it the super-mega deal!