This is a hearty meal that you will serve time and time again. It can certainly cook on high while you are at church then all you need to do is add the cornstarch to make the gravy. Large family classic pot roast in the slow cooker is even better on those days when you have a full day planned and need dinner done without you hovering over it.
**Use special promo code HELLO20 to take 20% off your first order in the shop including the SUPER MEGA ULTIMATE Large Family Freezer Meals Bundle here!**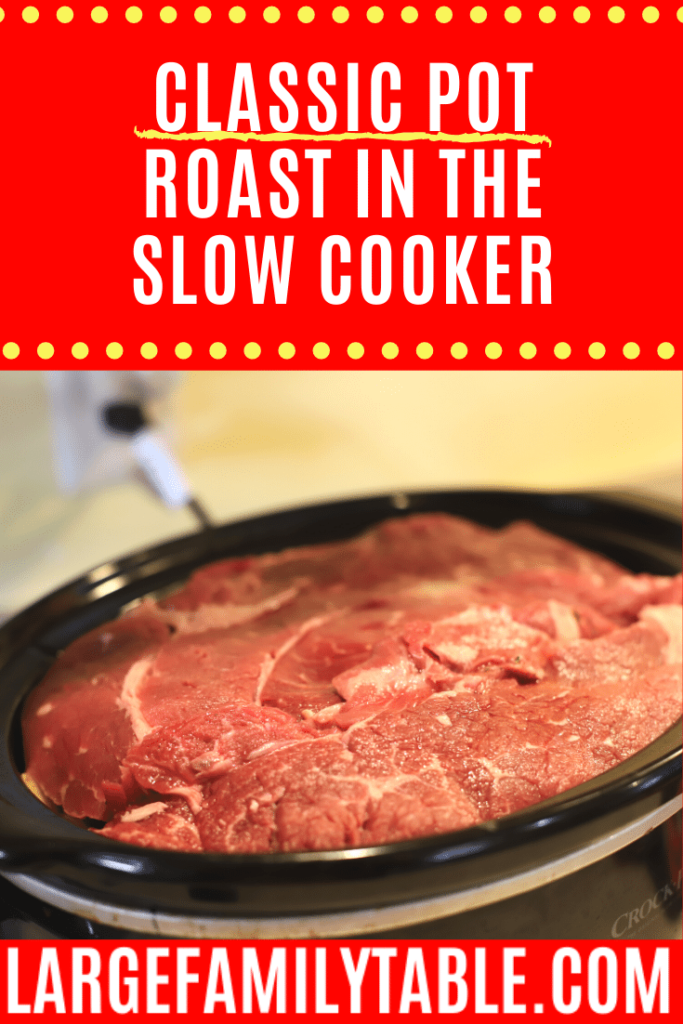 In the Youtube video, you see classic Jamerrill overfilling the crockpot and having to cut up the meat to fit. It's my alter ego, Headless Jamerrill with the talking hands is the one who does that, you get to see her too. All the fun happens over on Youtube so don't miss it by not clicking over. (Headless Jamerrill appears toward the end.) I'm just a large family mama trying to help out other mamas. Thank God I don't need to have it all together. Yes and amen!
Spray your slow cooker with non stick cooking spray. Trust me on this one. Layer potatoes, carrots, then beef roast. Sprinkle seasonings on top then pour beef broth on top. Cover with lid and turn on high for 6 hours or low for up to 10 hours. Mix in cornstarch during the last 30 minutes of cooking to make the most delicious gravy.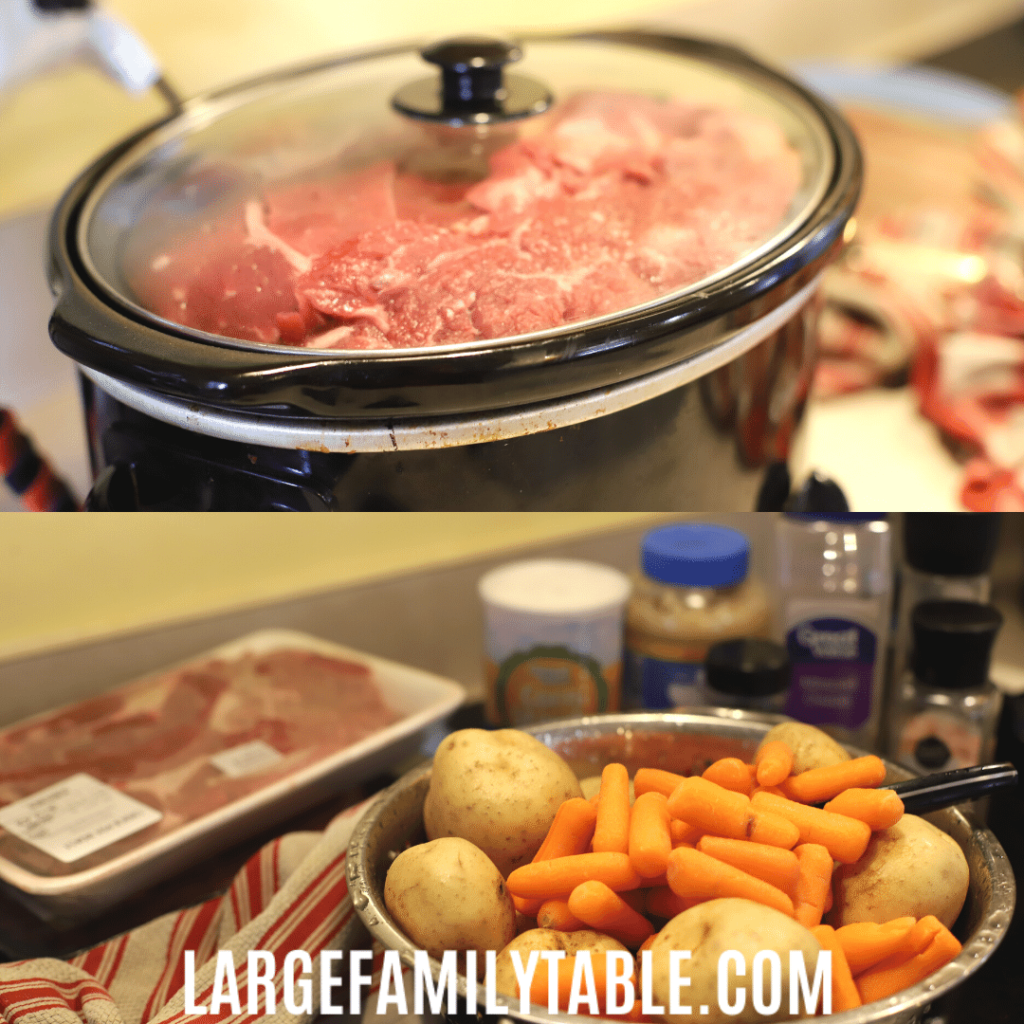 Print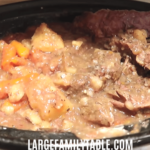 Large Family Classic Pot Roast in the Slow Cooker
---
Description
A hearty meal that cooks itself is a winner in my book anyday.
---
Ingredients
2.5 lbs Chuck Pot Roast (this was two 2.5 lb roasts)
1 lb Baby Carrots
5 lb Golden Potatoes (I had to slice down)
1 tbs Minced Garlic
1 tbs Minced Onion
1 tsp Basil 
1 tsp Thyme
1 tsp Salt
1 tsp Pepper 
3 cups beef broth 
3 tbs corn starch
---
Instructions
Layer carrots, potatoes, beef roast, seasonings,  Pour broth, cook on high six hours or low up to 10 hours
In the last 30 mins remove cup of broth from slow cooker. Whisk in 3 tbs of corn starch into the removed cup of broth. Return broth and corn starch to the slow cooker. Allow to cook another 30 minutes to thicken up sauce into more of a gravy.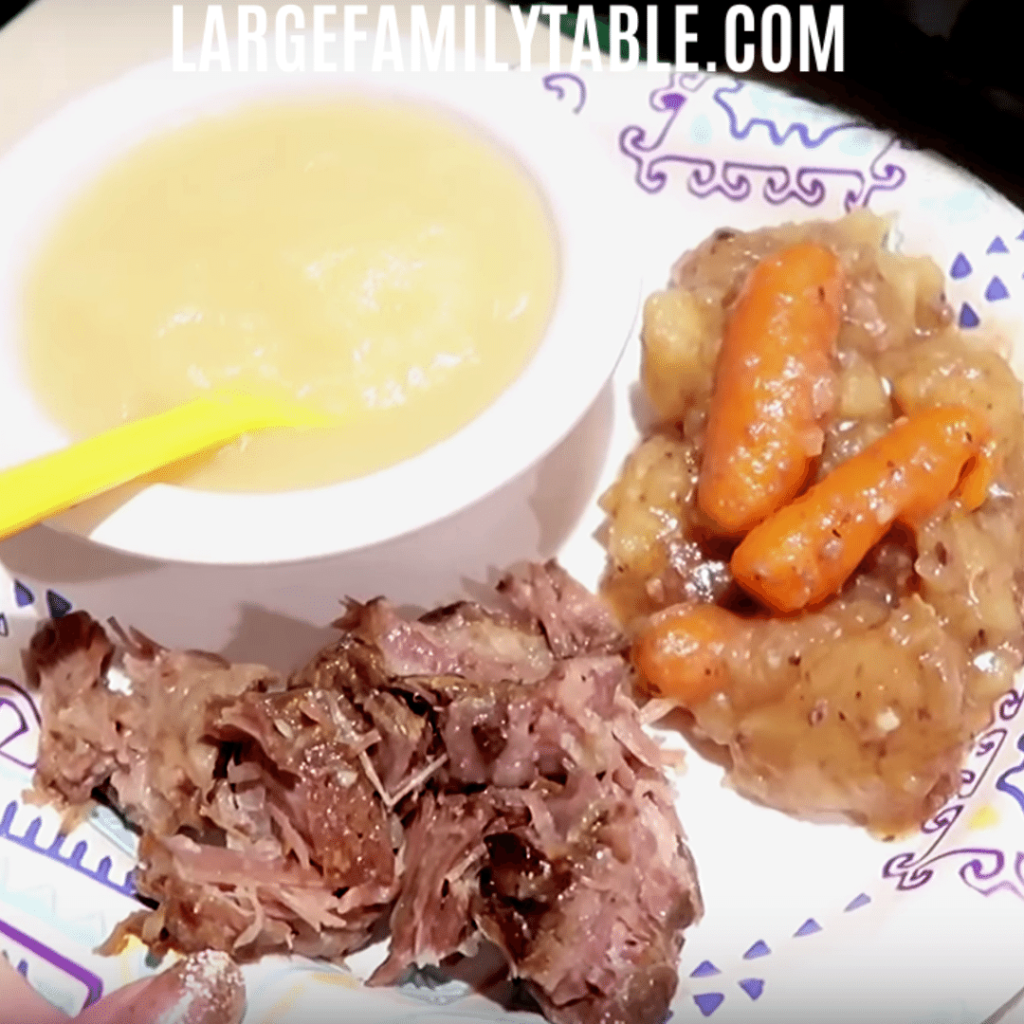 I like to serve large family classic pot roast in the slow cooker with a nice bowl of applesauce to complement it. You could serve it as is right out of the slow cooker. You could make some freezer biscuits or even some cornbread if you like. No matter what you serve with it, this meal is perfect on a cold day.
Looking for more dump & go recipes?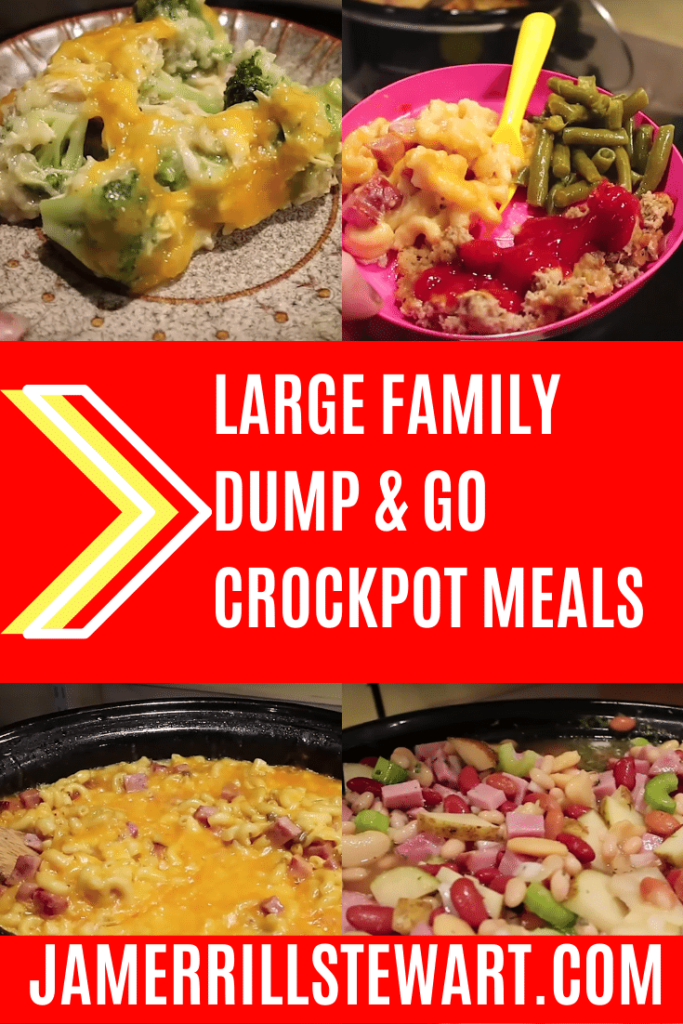 I'm a large family homeschooling mom of 8, and I've been in the trenches feeding lots of kids all day long for years. That's why I know you'll be super blessed by the large family freezer meal packs that take you from zero plan and nothing in the freezer to jam-packed freezer and knowing what's for dinner in advance every night!