Cauliflower rice is a staple in any low carb lifestyle. It's a perfect substitution for rice in any recipe. I like to buy large bags of it at Costco to keep in the freezer sometimes. What if I told you it was super easy to make at home but also to freeze as well? Making your own cauliflower rice makes it a super frugal option to your feed your freezer.
**Use special promo code HELLO20 to take 20% off your first order in the shop including the SUPER MEGA ULTIMATE Large Family Freezer Meals Bundle here!**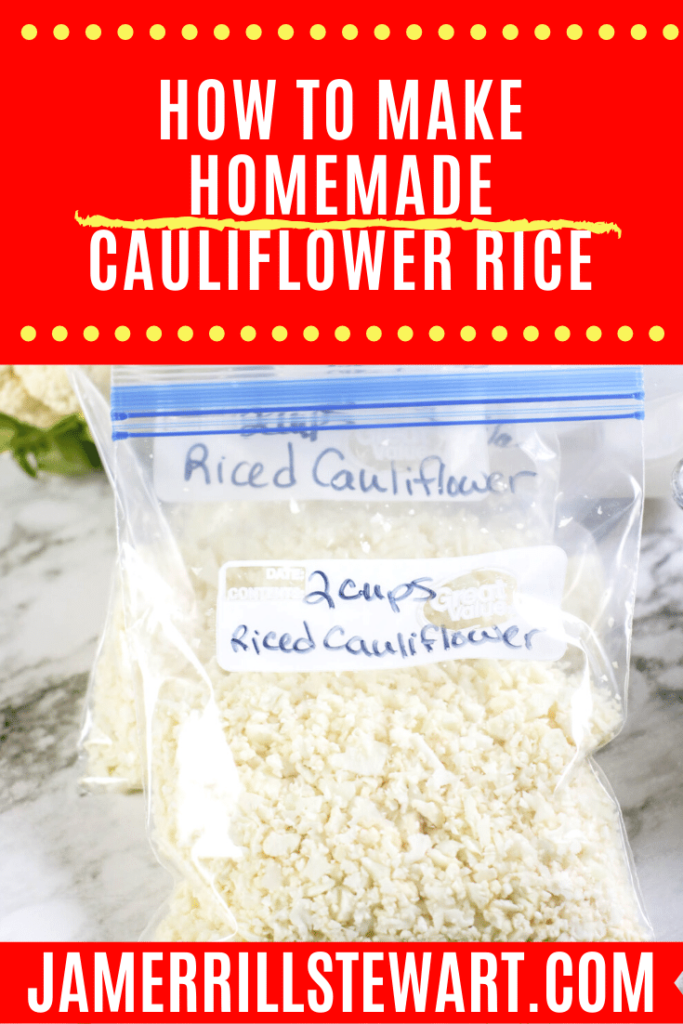 What are the benefits of cauliflower rice?
Cauliflower rice can be added to any dinner as a low calorie substitute for rice which is high in carbs and starch. An added bonus to eating cauliflower is that it's full of fiber as well as helps to slow digestion. This keeps you feeling full longer which translates to eating less and leads to losing weight. These reasons make it a staple in any low carb/keto lifestyle. I will give you the instructions to prepare cauliflower rice ahead of time and you may refrigerate for several days or freeze for a later time!
Does cauliflower rice taste like rice?
Let's be honest here. It's a great substitute but it's just that, a substitute. If you expect it to taste exactly like regular rice, then you will be disappointed. If you realize there is a slight difference then you will agree that it's a great substitute.
Regular rice is has a neutral flavor which absorbs the flavor of the dish it's starring in.
Cauliflower rice has a slightly mild flavor with subtle nutty and sometimes bitter undertones. Know this difference and you won't be surprised.
How long does cauliflower rice last?
You can freeze homemade cauliflower rice for up to 2 months. Is it going to go bad at that point? No, but it can get a sulphur smell when you thaw it. Rinse it off and you should be fine. I've never had that happen but it's a possibility so be aware.
In the fridge, I find it's best to use it up in 2-4 days. If it smells like sulphur then rinse it and use immediately. If it looks slimy then throw it out. You don't want to go there. Trust me on this one.
How easy is it to make homemade cauliflower rice to freeze?
You are going to be flabbergasted with how easy it is to make it and freeze it. Get a whole head of cauliflower. Unwrap then cut the greens and bottom core off. Cut the rest into large chunks. Process 1/4 to 1/2 at a time in your food processor until they are rice sized. Got large chunks left? Take them out to process with the next batch.
Let cauliflower dry completely. Don't skip this step. I like to lay it out in one layer on pieces of parchment paper to dry quickly. Just leave it there for an hour or so to hang out on the counter. Go play a game with the kids or read a book.
After it's dry, portion it by 2 cup increments into quart sized freezer bags. Squeeze all the air out as you close the bag. Lay flat to freeze.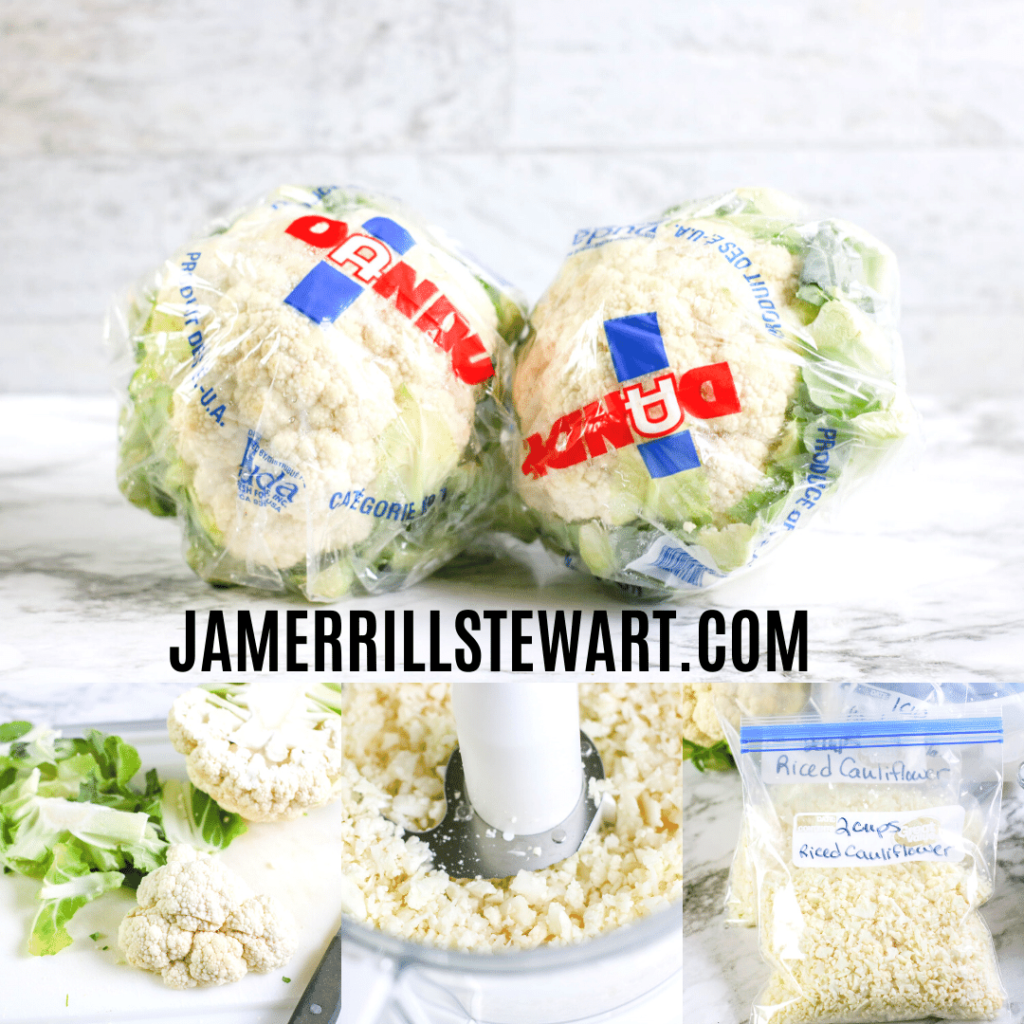 In which recipes should I use cauliflower rice?
Use in any recipe where it calls for frozen cauliflower rice or you can experiment with substituting cauliflower rice when recipes call for rice! Smile as you grab a bag knowing exactly what is in it and that you saved your family money by doing it yourself. It's the little things in life that make us mamas happy, isn't it? Here are a few of my recipes which call for cauliflower rice!
Keto Red Pepper Meatballs over Cauliflower Rice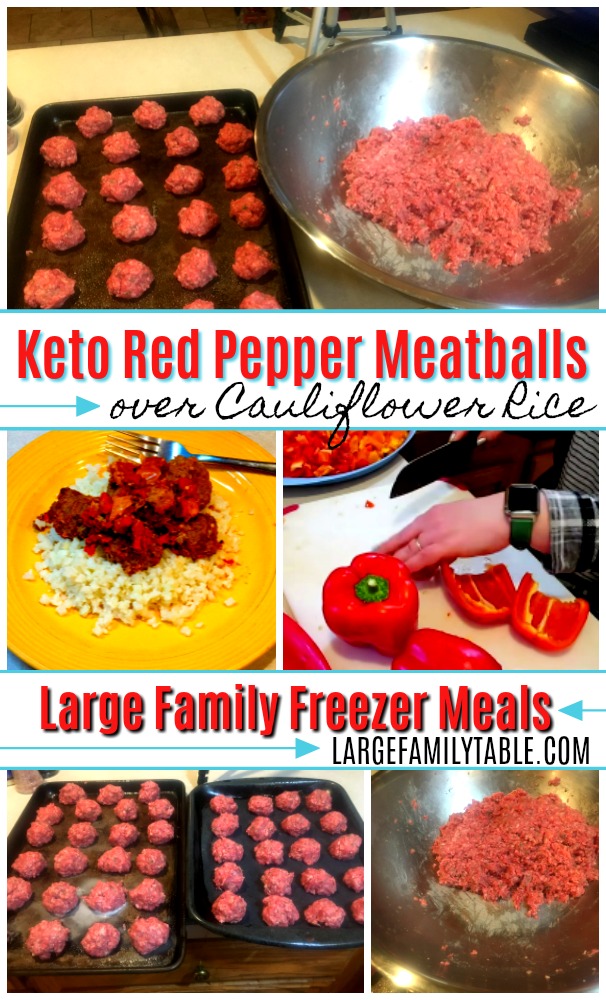 Stir Fried Cauliflower Rice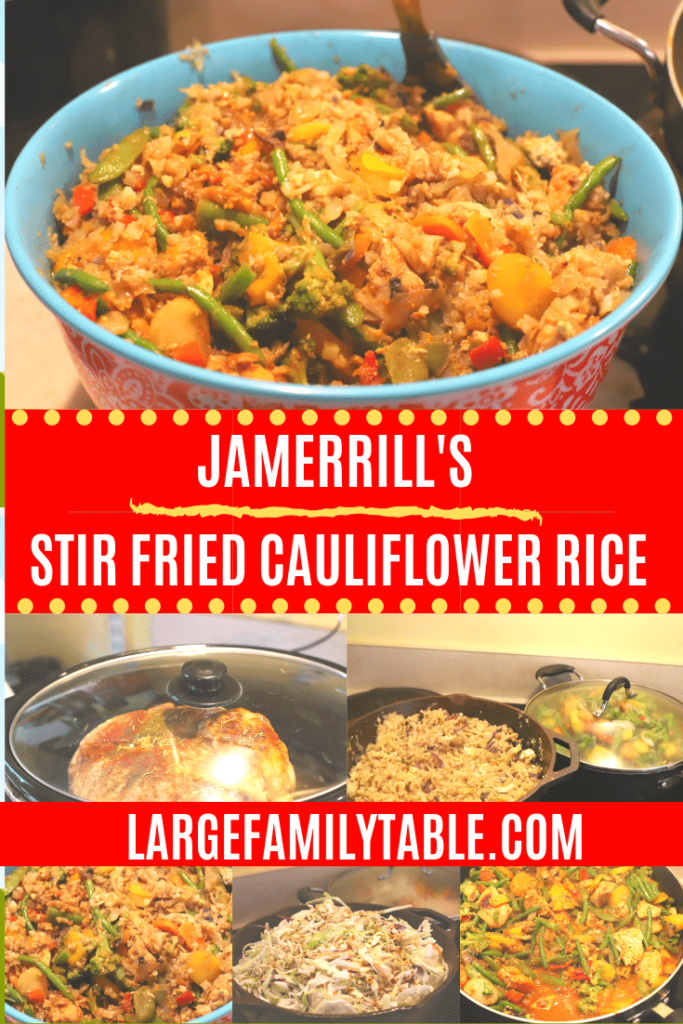 Looking for more Low Carb Recipes?
You won't want to miss these amazing Large Family Low Carb Meals to Feed a Crowd (Budget Friendly, too!). This post has over 65 low carb meal ideas including low carb recipes made with beef, chicken, soup, slow cooker recipes, and low carb instant pot recipes. You also might enjoy the LOW CARB Large Family Freezer Meals Pack 7 and LOW CARB Large Family Freezer Meals Pack 8 to FILL YOUR FREEZER with amazing low carb freezer meals!!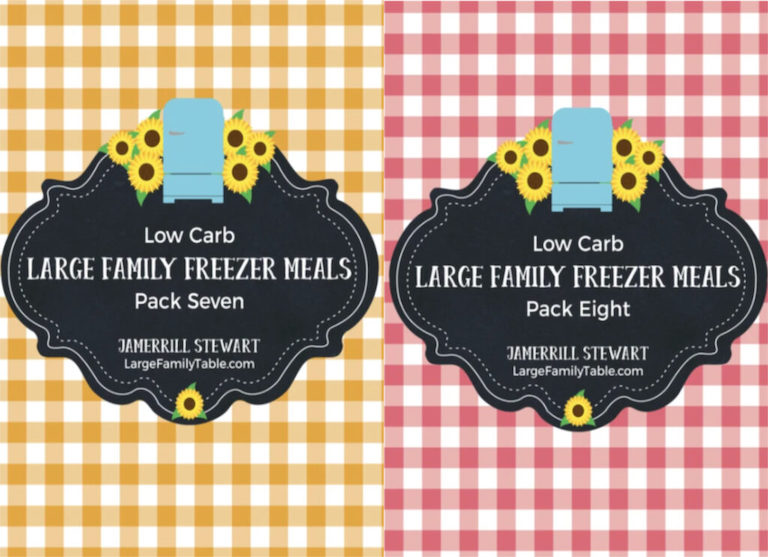 Homemade Cauliflower Rice
Print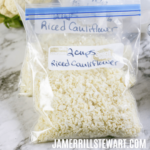 How to Make Homemade Cauliflower Rice
Author:

Prep Time:

10 mins

Total Time:

10 mins

Yield:

8

Category:

Batch Cooking

Method:

Freezer
---
Description
Cauliflower rice is a staple in any low carb lifestyle. Make it at home easily to throw in your freezer.
---
---
Instructions
Wash cauliflower and pat completely dry.
Remove greens and end of core.
Cut remaining cauliflower into large chunks.
Place about 1/4 to 1/2 of cauliflower into food processor.
Pulse until cauliflower is in rice sized pieces. If large pieces remain, pull those out and put in next batch.
Continue until all cauliflower is processed.
---
Notes
To freeze: Make sure cauliflower is completely dry. Portion 2 cups into a quart sized freezer bag. Freeze flat for easier thawing.
To refrigerate: Place in airtight container for up to 2 days. You can keep it longer but it will develop a sulphur smell. 
Keywords: riced cauliflower, freezer
This Cauliflower Rice Recipe was featured in Large Family Meal Plan #2. You can find more large family meal plans here.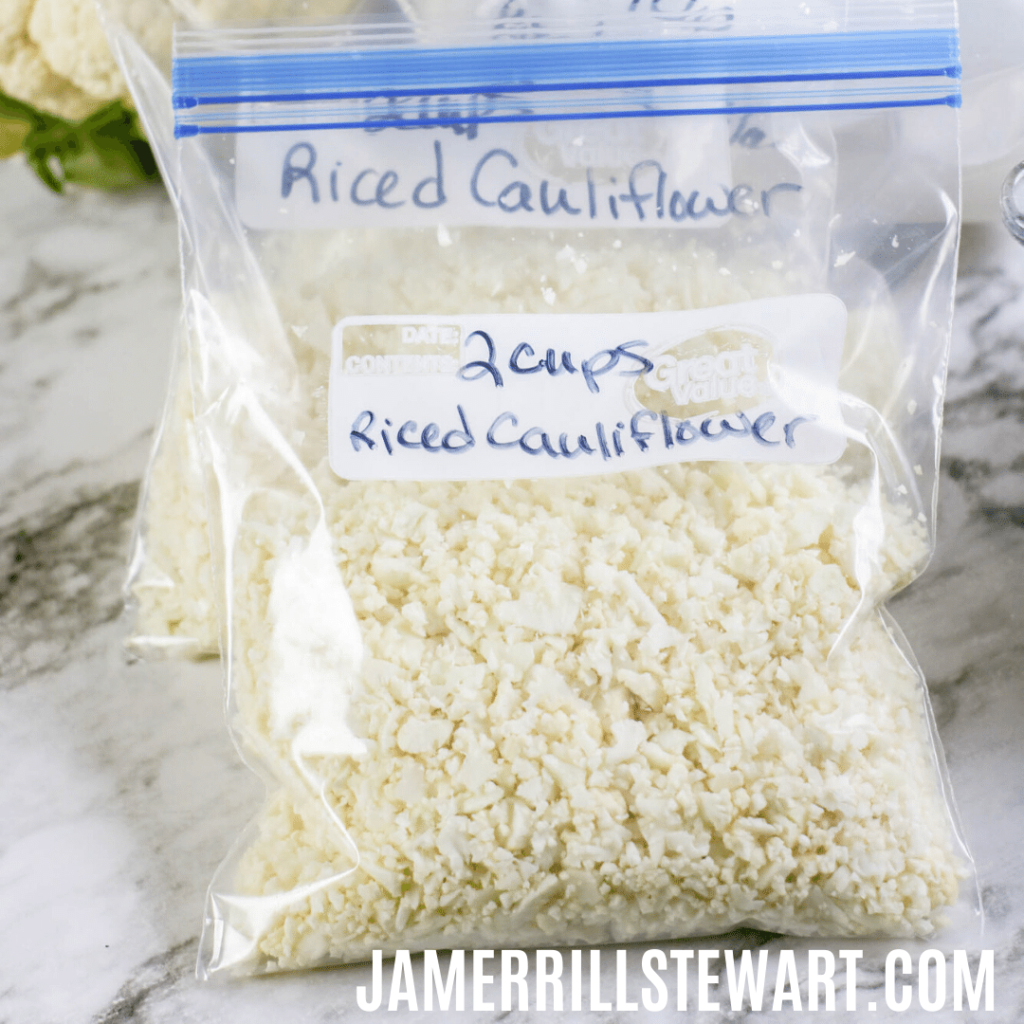 FREE Emergency Pantry Planning Pack!
Don't forget to sign up for the emergency pantry planning pack for free to help you plan your pantry meals! The free Emergency Pantry Planning Pack will help you plan your needed pantry items! Printable pages include pantry inventory, grocery lists, meal planners, list of pantry staple items, and more.