Taco Tuesday is a favorite in the Stewart household. It's a meal everyone will run to the table when announced. Low Carb Crustless Taco Pie means you can keep Taco Tuesday in the rotation without sabotaging your low carb lifestyle. It's a win for everyone.
**Use special promo code HELLO20 to take 20% off your first order in the shop including the SUPER MEGA ULTIMATE Large Family Freezer Meals Bundle here!**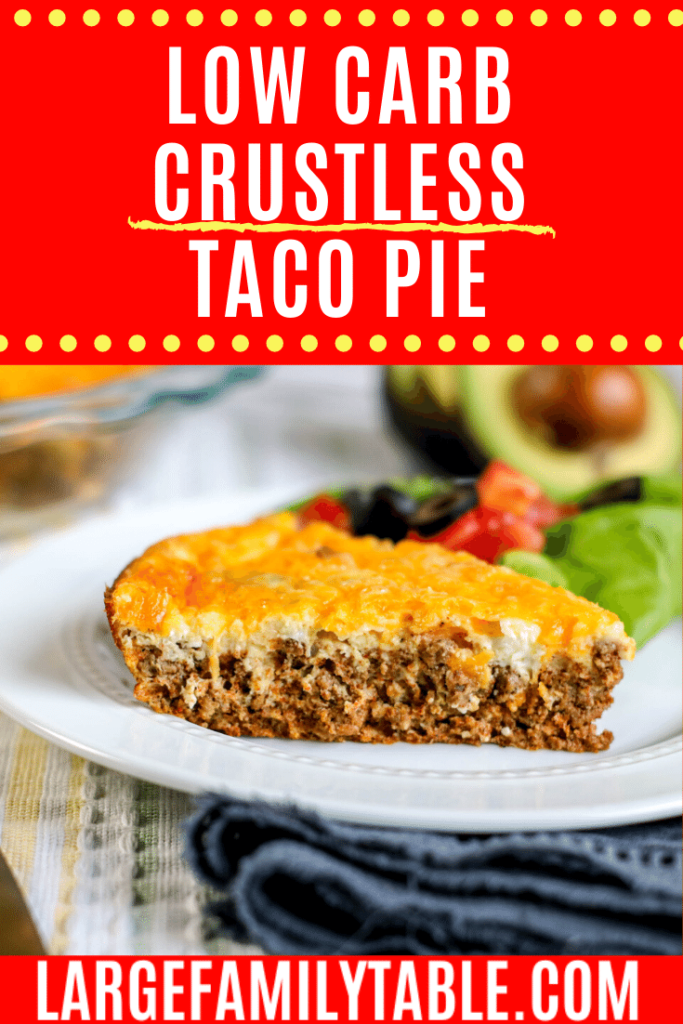 If you have the taco meat already batched cooked in your freezer, then this recipe is even easier to prepare and serve. It's ok if you don't because the recipe is pretty easy regardless. Your family will eat both pans so if you want to make any for the freezer, increase the recipe.
Preheat oven to 350 degrees. Spritz your pans with some non stick cooking spray to make clean up easier. Whoever does the dishes will thank you, trust me. If you haven't browned the ground beef, do it now.
In your large mixing bowl, combine the cooked meat, garlic, and taco seasoning. Mix it all together thoroughly. Spread the beef mixture between the 2 baking pans. Set aside while you make your egg mixture.
You could use a separate mixing bowl for this next step, but I usually reuse the meat bowl. It's empty and means one less bowl to clean later. Mama has better things to do than wash dishes. Yes and amen.
In a bowl of your choosing , crack the eggs. Add the heavy cream and whisk together until combined. Pour half over each beef mixture so it sinks into the meat. Top each casserole with cheese. Don't be stingy with the cheese. Cheese solves everything.
Bakke for 30- 35 minutes or until egg center is set. Let stand for 5 minutes before serving. Top with your favorite toppings like black olives, salsa, sour cream, etc.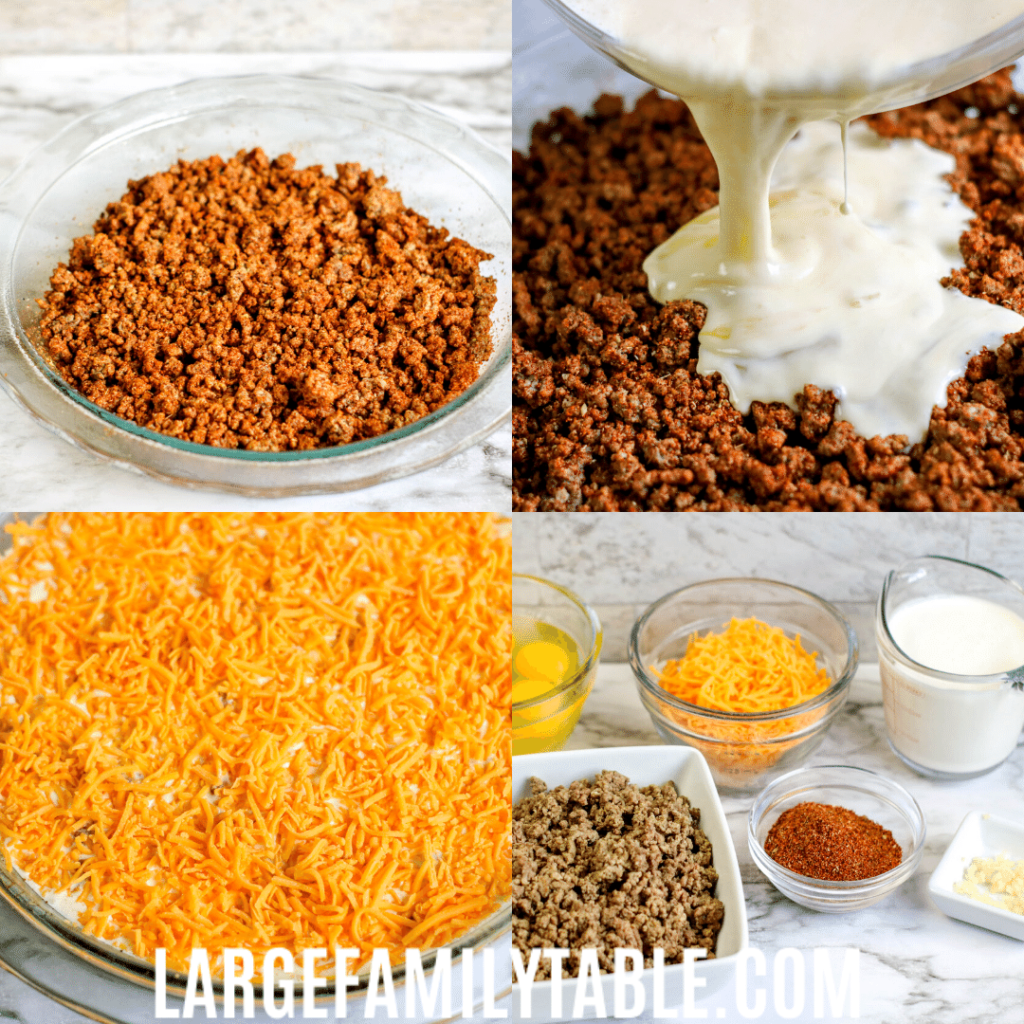 Print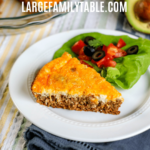 Low Carb Crustless Taco Pie
Author:

Prep Time:

15 minutes

Cook Time:

35 minutes

Total Time:

50 minutes

Yield:

2 pans

Category:

Dinner

Method:

Oven

Cuisine:

Low Carb
---
Description
This low carb taco pie will make Taco Tuesday a reality again.
---
Ingredients
3 pounds ground chuck, browned and drained

4 to 6 tablespoons taco seasoning

12 eggs

4 cloves garlic, minced

2 cups heavy cream

2 cups shredded cheddar cheese
---
Instructions
Preheat oven to 350 degrees. Spritz  two 9 inch round or 9×13 inch casserole dishes with nonstick cooking spray.

In a large mixing bowl, stir together the cooked meat, garlic, and taco seasoning. Spread the beef mixture equally between the baking dishes.

In a separate mixing bowl, whisk together the eggs and heavy cream. Slowly pour half over each beef mixture so it sinks into the meat.

Top both casseroles with cheese.

Bake for 30 to 35 minutes or until the center is set. Allow the casserole to rest about 5 minutes before slicing.

Serve with taco toppings like black olives, salsa, jalapenos, sour cream, etc.
---
Notes
FREEZER MEAL DIRECTIONS
Make extra for the freezer. Stop at the baking step and wrap for freezer. Take out 24 hours in advance to thaw in fridge. Cook as directed.
Keywords: taco, low carb, dinner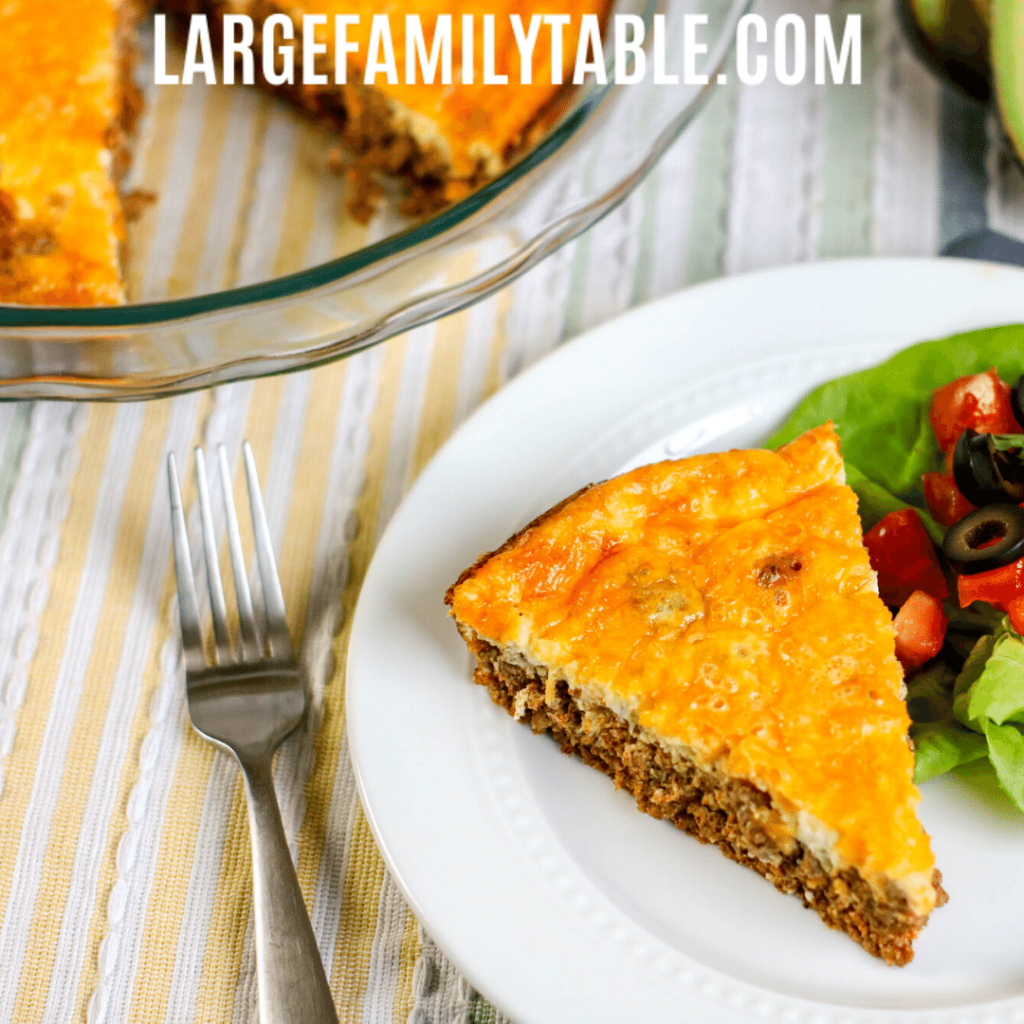 The whole family is sure to gobble this down and ask for seconds. It's a great meal full of flavor not carbs. I like to place the toppings on the table allowing everyone to make their own piece. You can make several of these pies and store them in the freezer. Stop at the baking part and wrap as usual. They will keep in the freezer for up to 6 months.
Batch cook taco meat in the slow cooker!
Looking for more freezer meals for your family?
You need this huge large family freezer meals collection because you have a lot of people to feed every. single. day. They always seem to want breakfast, lunch, and dinner (don't forget the snacks!) and they always look to you for all this food.
NOW in this brand new freezer meals bundle, you also get brand new LOW CARB packs 7 & 8, plus DAIRY FREE pack 9!
I'm a large family homeschooling mom of 8, and I've been in the trenches feeding lots of kids all day long for years. That's why I know you'll be super blessed by the large family freezer meal packs that take you from zero plan and nothing in the freezer to jam-packed freezer and knowing what's for dinner in advance every night!