A few weeks ago in mid-May, I had another large family freezer cooking day where I cooked up a bunch of easy Crockpot Freezer Meals, simple casserole freezer meals such as stuffed shells, a mega bazillion twice baked potatoes (40 lbs worth!), freezer sandwiches, and much more!
All of these easy Crockpot freezer meals, oven freezer meals and more that I cooked up are from my Large Family Freezer Meals Pack Four which you can get here. Freezer Meals Pack Four is included in my best value Large Family Freezer Meals Bundle Collection which you can use the coupon code HELLO20 to take 20% off!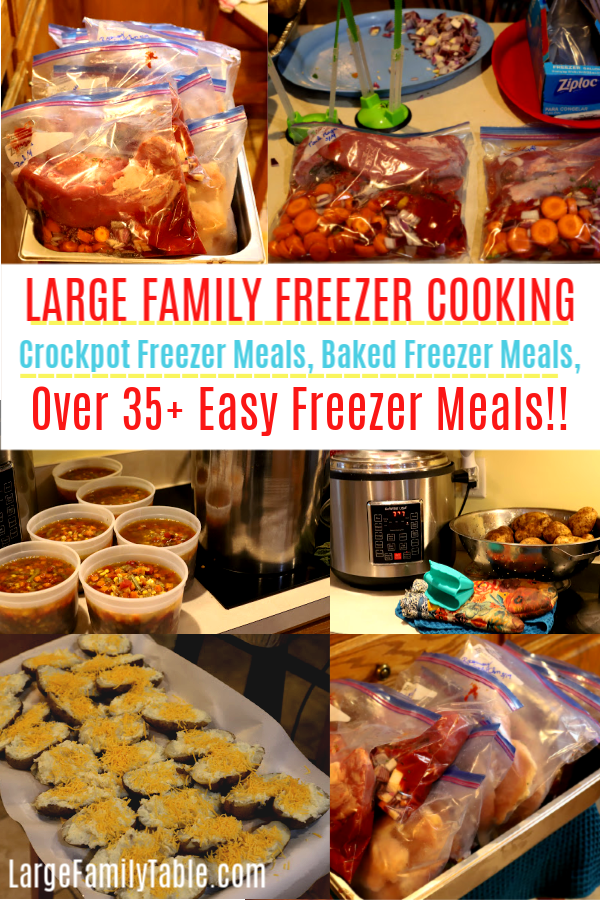 Large Family Freezer Cooking
Freezer Meal Prep
On my recent large family freezer cooking day, I had "planned" (that's such a loose term, ha!) to freezer meal prep during the day while the kids finished up their homeschool and we later got some hiking in. The kids were headed out to dance classes later in the afternoon and that's when I planned to dive in head first.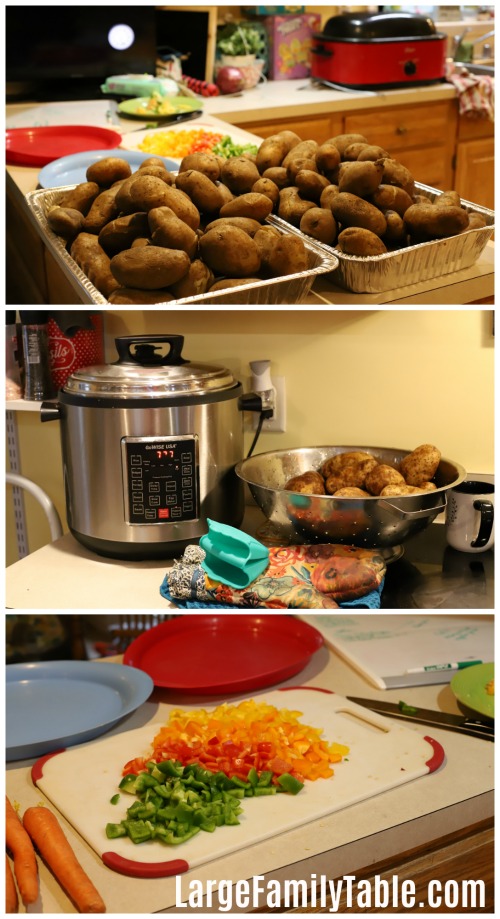 Big Batch Cooking
The first items that needed to be done according to my big batch freezer cooking guide for pack four were to bulk cook 50 lbs of potatoes and 25 lbs of ground beef.
Meal prep was rolling as I started batch cooking 25 lbs of ground beef in the 22 qt roaster oven. I also set up my pressure cooker assembly line to big batch cook 10 lbs of potatoes at a time for a total of 50 lbs of potatoes. I needed 40 lbs of potatoes for my homemade twice baked potatoes. The other 10 lbs were for homemade mashed potatoes.
Freezer Cooking Failures
Once the kids left for dance with Travis, I headed to get myself ready for the day (yes, real-life mom confession – got ready from 4 pm to 5 pm, answered some emails and had a phone call, haha!). I thought the potatoes and ground beef continued to batch cook while I did my other mom stuff. However, a little after 5 pm when I got back in the kitchen I found I had tripped the breaker by having both the roaster oven and electric pressure cooker on the same wall.
This was freezer cooking failure was okay in the long run, but I was so sad to lose an entire hour that potatoes and ground beef could've been batch cooking. I was crying big freezer cooking momma tears, hold me!!
Crockpot Freezer Meals
After getting the veggies prepped per my big batch freezer cooking guide, I dove into doing 10 Crockpot Freezer Meals. These freezer meals for the Crockpot are also simple Instant Pot Freezer Meals as well. Here's the full list of the Crockpot Freezer Meals and Pressure Cooker Freezer Meals I made on this freezer cooking day.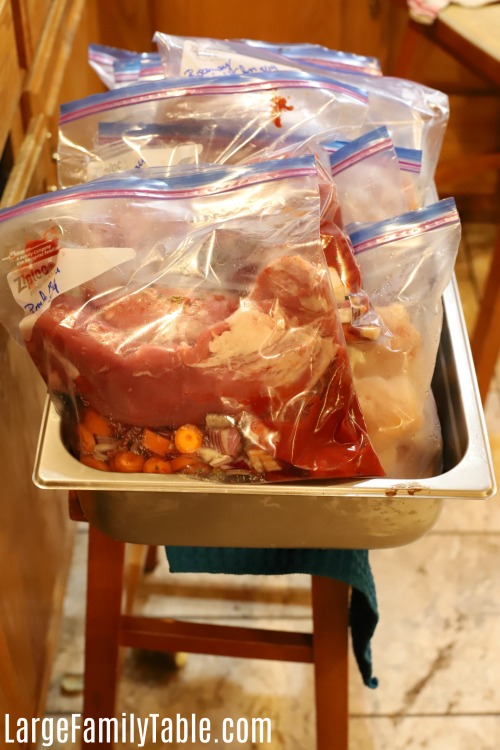 I made three Easy Slow Cooker Chicken Fajitas freezer meals for the crockpot. These are so good and pair great with pressure cooker corn. I can keep these on the low carb side for myself by having the Crockpot Chicken Fajitas in a lettuce wrap or low carb wrap.
Next, I made three Rosemary Garlic Chicken Crockpot freezer meals. Rosemary Garlic Chicken goes great with buttery broccoli or pressure cooker steamed carrots!
Easy Slow Cooker Sloppy Joes – easy, thank you! I made two freezer meals ready to go for a homemade sloppy joes meal.
Pork Ragu over Fettuccine for the Crockpot – is another Crockpot freezer meal I made two of for upcoming busy days!
In total, I made 10 large family Crockpot freezer meals. I will cook all of these in my 8 qt slow cooker or 8 qt Instant Pot when it comes times to eat these easy freezer meals!
Freezer Cooking Continues
After I finished these 10 Crockpot freezer meals I jumped into other meal prep. Per my big batch freezer cooking guide, I batch cooked the noodles for the stuffed shells freezer meals, and kielbasa bow-tie casseroles. Then I chopped the 4+ lbs of precooked Kielbasa to make the Bow-Tie Casseroles.
I filled my favorite 30 qt mixing bowl (you can see it here in my list of favorite freezer cooking supplies) with all the ingredients to make the Kielbasa Bow-Tie Bakes. Then I filled six 9×13 glass baking dishes with this easy casserole freezer meal.
Freezer Cooking Evening Day One Wrap Up
By the end of my first evening freezer cooking, I had complete 16 freezer meals total including 10 Crockpot freezer meals and 6 casserole freezer meals. Plus I meal prepped 50 lbs of potatoes, upcoming casserole noodles, 25 lbs of ground beef, veggies, and more. I could've kept pushing to get more freezer cooking done. I decided that I'd just rather go to bed. And that's what I did 🙂
If YOU wanted to complete all of the freezer meals in large family freezer meals pack four in ONE day you could do so by starting much earlier than I did. For example, I made 40 freezer meals for new moms using freezer meals pack two in ONE EVENING but I started several hours earlier. The best way to get freezer cooking done is by leaning into whatever works for you and your family's schedule during that time.
Freezer Cooking Evening Two
The next day we got our school done and had tons of outside nature time. Once the kids were nice and worn down (my secret sauce to getting much of anything done, ha!) in the late afternoon I dove in for my 2nd freezer cooking evening.
The first freezer meal I got cooking was a big 22 qt stock pot full of Vegetable Beef Soup. Yes, you can freeze soup! It's so nice to have a stash of Vegetable Beef Soup in the freezer. I've heard from friends who repurpose used ice cream buckets for freezer soups, which is a great idea. I purchased these soup containers on Amazon.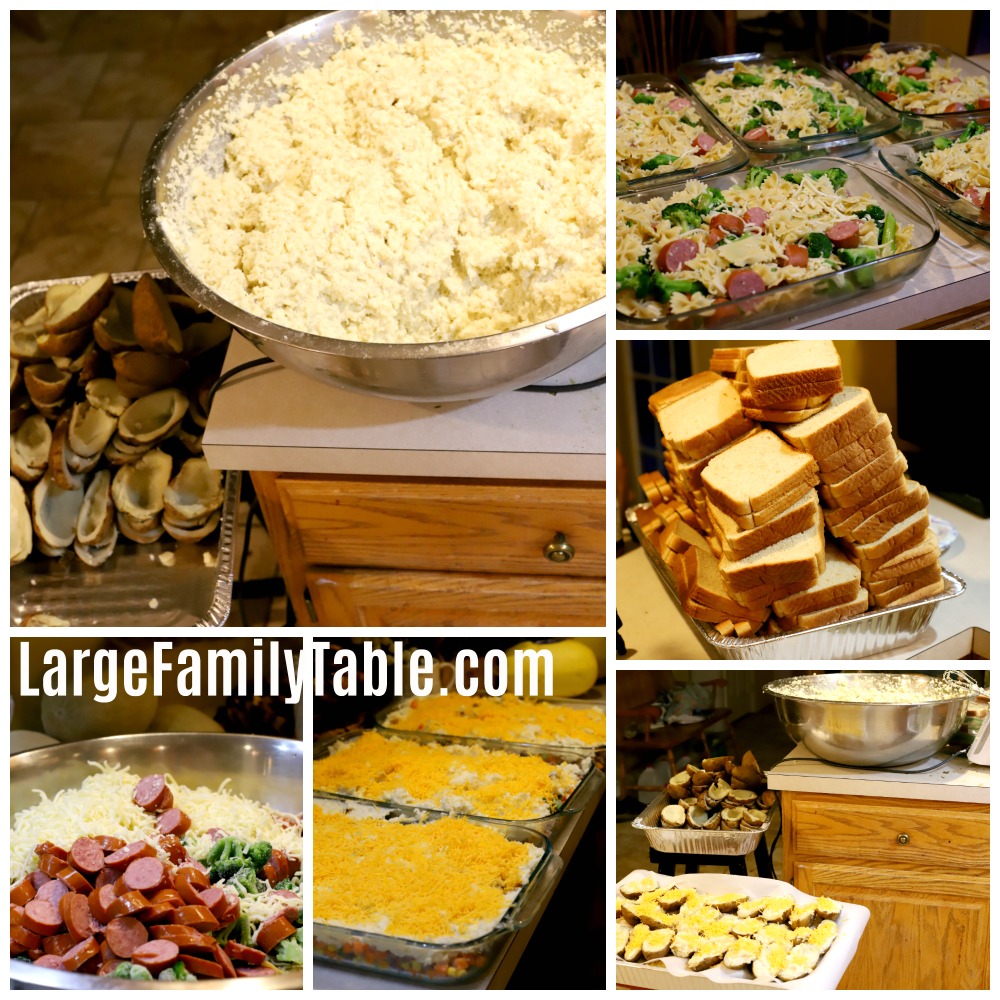 While the freezer soup was cooking I began the process of prepping my 50 lbs of potatoes. I left a firm rim in each potato to use as the Twice Baked Potatoes shell. I yet again used my 30 qt giant mixing bowl to hold the 50 lbs of potatoes. I stacked the potato shells in large metal pans. Then I went through the process of making the 50 lbs of potatoes into freezer-friendly mashed potatoes.
I took a break in the middle of potato mixing to get the Vegetable Beef Freezer Soup in its containers. I then washed that 22 qt stock pot and filled it with the ingredients to make big batch spaghetti sauce. Then I got back the business of stuffing the bazillion Twice Baked Potatoes for the freezer!
Why would you need 40 lbs of Twice Baked Potatoes in the freezer? Believe me, if you have a stash of Twice Baked Potatoes you will use them for so many things! We used these as meals served with salad. Or we use these as side dishes with meals like a big pot of chili or alongside grilled chicken. So many options and if you have 40 lbs of Twice Baked Potatoes in the freezer they will get used up!!
Since I had the homemade freezer mashed potatoes complete and approx 10 lbs left for the Shepherd's Pie Freezer Meals I made 4 big pans of Shepherd's Pie (technically "Cottage Pie" since it's made with ground beef ). This recipe will make 6+ 9×13 baking pans full of Shepherd's Pie. I was running low on my 9×13 glass baking dishes since many were already in my freezer from past freezer cooking days. Because of this, I used my 11×18 MEGA glass baking pans for several of these upcoming freezer meals. I made three 11×18 Shepherd's Pie Freezer Meals and one 9×13 pan full.
Next up I make four 11×18 pans of Freezer Friendly Stuffed Shells and three dozen Parmesan Turkey Burgers. Also during my 2nd evening of freezer cooking my teen son made 120 Peanut Butter and Strawberry freezer sandwiches.
Do Freezer Meals Save Money
From my experience with freezer cooking, freezer meals do save money and far more. Freezer Meals of all sorts be it Crockpot freezer meals, casserole freezer meals, Instant Pot freezer meals, (all kinds) save money, time, and precious momma brain cells.
Yes, I have a family of ten including several teens, tweens, and growing young children. Believe me, every penny, moment, and prep work help. However, even when I was a momma with "just" one, two, or three small kiddos having freezer meals in the freezer (which I slowly learned back when I worked full-time night shift as a nurse during our first few years of homeschooling) saved my momma life countless times!
Even more time and sanity are saved now when I use my big batch cooking guide that is made special for each large family freezer meals pack. The big batch cooking guide has the thinking and planning done for me. I just follow the guide to hold my hand as I make the freezer meals from each pack!
40 Freezer Meals for $267
THIS huge freezer meal stash of about 40 freezer meals cost me around $267. I just put all the grocery items from the big batch grocery list guide in large family freezer meals pack four into my Walmart Grocery Order cart online. It took me all of ten minutes.
You can watch the full freezer meal grocery haul here if you'd like to see what all of the freezer meal groceries look like fresh from the store. Sometimes I have several needed freezer meal ingredients on hand like meat. However, for this freezer meal grocery haul, I needed most items, including meat. Your grocery shopping prices may vary based on your location, store prices, sales/coupons, and other items you may already have on hand.
Remember to get the Best-Selling Large Family Freezer Meals Collection here that includes large family freezer meals pack four that I made over these two freezer cooking evenings! Use promo code HELLO20 to take 20% off your first order. 🙂
LARGE FAMILY FREEZER COOKING | Crockpot Freezer Meals, TONS of Twice Baked Potatoes, More!!
Today on YouTube you can watch the full LARGE FAMILY FREEZER COOKING | Crockpot Freezer Meals, TONS of Twice Baked Potatoes, and more play out!