It's Large Family Meal Plan time. That's right, It's time for another episode in my Large Family Meals of the Week series. This week for Large Family Meal Plan #10, we have a crazy week involving a hospital emergency for a very close family friend, a basketball game, a power outage, and some snow and sleet to make it all fun.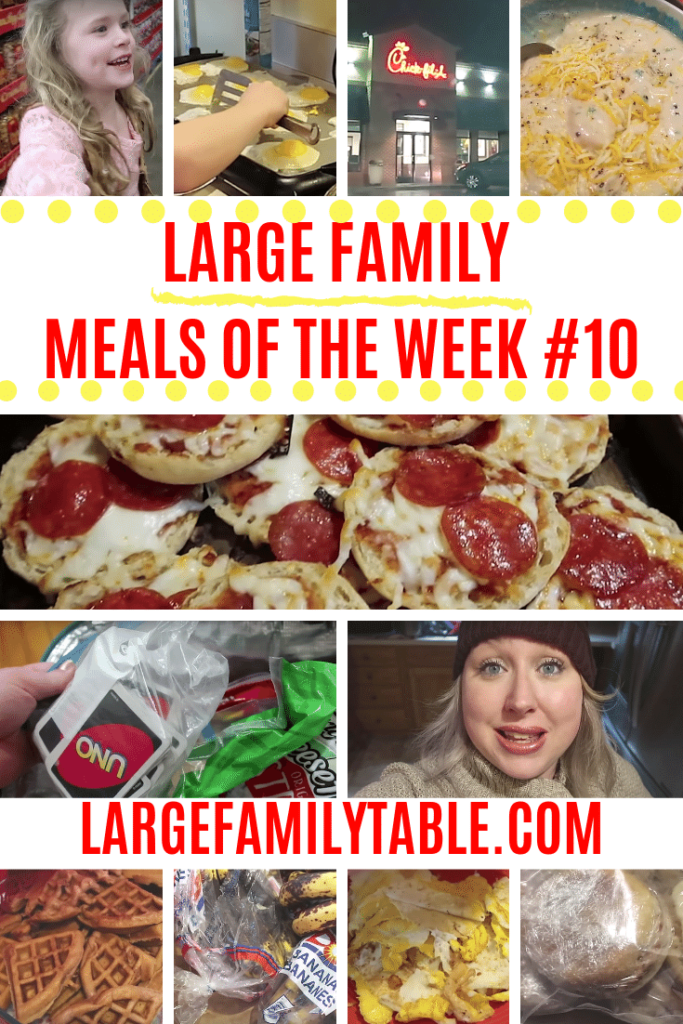 (Don't miss my most popular large family meal plan of all time when I shared this large family meal plan for the entire month!)
SUNDAY
We celebrate Amelia's birthday with a fun cake from Costco. Our new family tradition is to eat out on birthdays. It's a fun treat for the birthday person plus it gives this mama a much needed break from cooking.
About a week ago, we were called with the news that a very close family friend had been hospitalized and we should come say our goodbyes. Naturally we went immediately. Our friend survived, Praise the Lord, but we aren't prepared for the week and there will be more hospital visits.
MONDAY
After a long day at the hospital, dinner ends up being Chick Fil A where it's sleeting. Sometimes a mama needs help. Yes and amen!
TUESDAY – Freezer Cooking Day Or Not
Breakfast – peanut butter & jelly bananas is on tap for this large family that is out of bread. Not all of us put jelly on our bananas. It's a fun breakfast especially for the kids.
Today has no hospital visits so I plan to do some freezer cooking to get ahead. Mother Nature has other plans as she knocks out the power with her ice storm. Oh well, I guess I will stay in pjs and take a day of rest.
Well, since it's below freezing in the garage so the fridge and freezer out there don't need to be hooked up to the generator, I will use it to power my Instant Pot to make Baked Potato Soup.
Dinner – Baked Potato Soup with heaping mounds of cheese on top.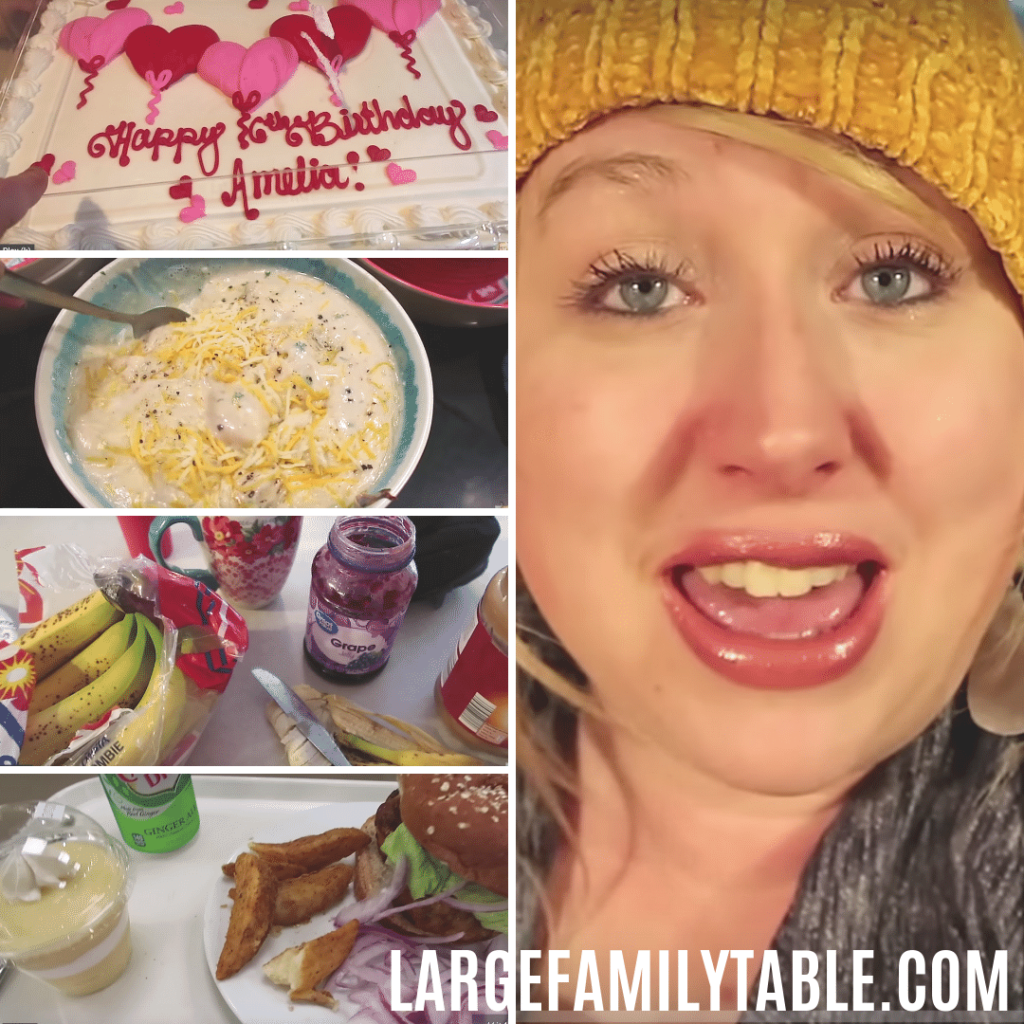 WEDNESDAY
All of our meals come to you from Walter Reed Medical Center where our beloved family friend has been transferred. Food consists of a chicken sandwich with more onions than I intended, chicken tenders, pudding & ginger ale.
THURSDAY
Happy Valentines Day!
Breakfast is fried eggs made by Liam for the whole family! Teach your kids to cook my friends.
Lunch is Valentines candy. Seriously, I'm sure we ate something else too. It's ok that I forgot because all the kids remember is the candy. Fun mama for the win!
Freezer cooking is going down today! I get several meals in the freezer while Zion makes amazing english muffin pizzas that I have every intention of putting in the freezer. My hungry family has other ideas come dinnertime.
Dinner becomes english muffin pizzas! So much for best laid freezer plans. At least all my people are fed.
FRIDAY
Breakfast is cut up pears and fried eggs. The pears are amazing.
Lunch becomes a garlic lime chicken instant pot freezer meal, caulirice, and brussel sprouts. I should be able to get loads of work done this afternoon while Travis and the kids are gone.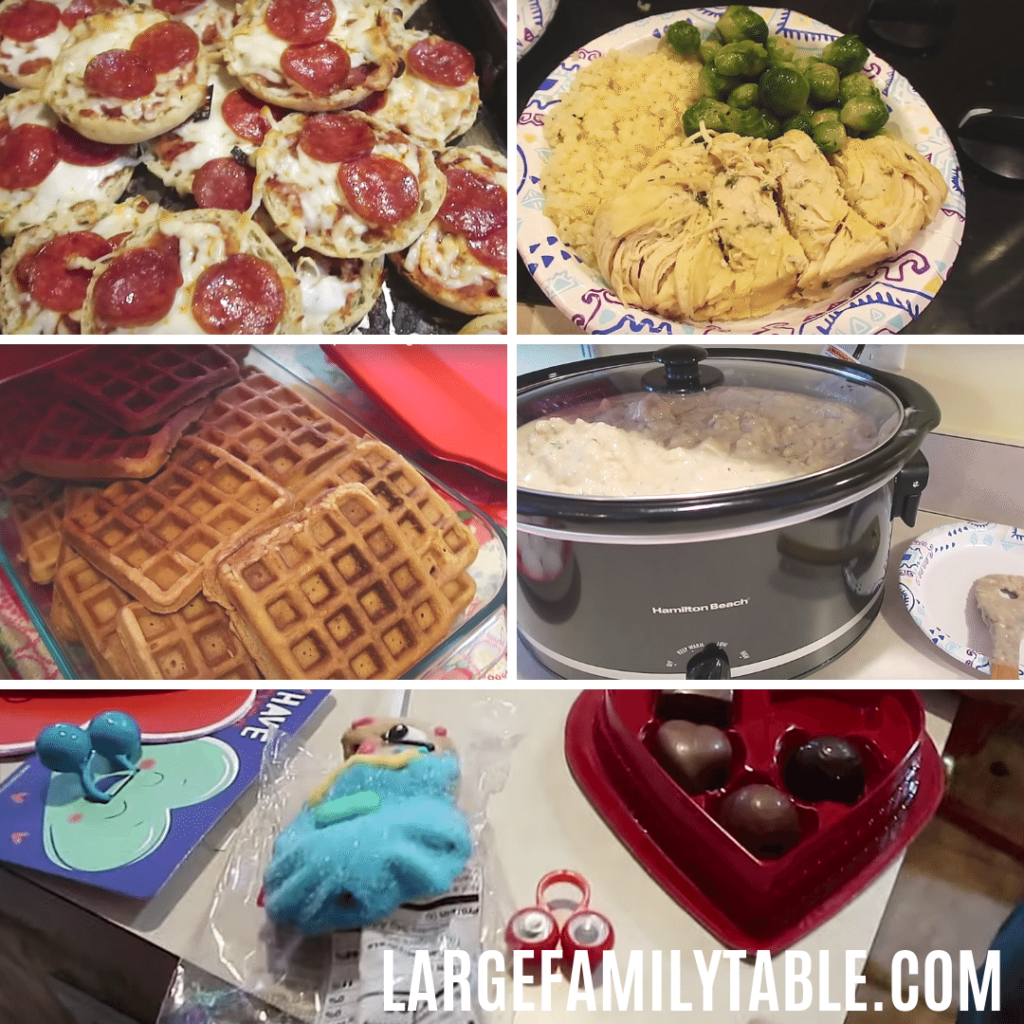 SATURDAY
It's basketball game day! This translates to a fun family day as well as packing lunch.
Breakfast is sausage english muffins from the freezer. You can heat and eat on the go! That makes them a winner in my book.
For lunch, we graze through the insulated bag I brought that contains pb&j, chocolate cheerios, cheesesticks, pears, pepperoni and Uno. Technically you can't eat Uno but you never know when the urge to play will hit you.
Dinner is Jamerrill's world famous chicken broccoli alfredo.
Sunday
Today's forecast calls for a couple inches of snow with the worst coming just when we are leaving church. This means we stay home where it's safe and have a huge family breakfast.
Our huge family breakfast is fried eggs by Liam, bacon, and regular as well as Belgian waffles made by Naomi. We are all full to the gills when we push away from the table.
A long forgotten banana box is discovered by the fireplace. In our survival mode week, we totally overlooked it. No worries. They are good enough to eat today. I will encourage the kids to have as many as they want then freeze the rest for smoothies. Nothing to waste here.
There you have it! Our large family meals for the week. Even in survival mode, I manage to get all these people fed. If I can do it, so can you. Here's to a less hectic week coming up!
I hope you enjoyed this peek at how I fed my large family this week. You can find more large family recipes and weekly meal plan ideas in the Large Family Meal Plans category on the blog & be sure to check out the rest of the Large Family Meals of the Week playlist on YouTube!
More Large Family Meal Plan Inspiration –
75+ Large Family Casseroles That Freeze Well
75+ Large Family Gluten Free Meals & Freezer Meals
and here are all of the Large Family Meal Plans!