Who doesn't love 5 NEW large family slow cooker meals? I can't think of a single person who shouldn't love this post or the circus that is the Youtube video. Seriously, you get to see me all put together, in my bathrobe, and headless all in the same video. I don't know why Food Network hasn't called yet. No one can accuse me of not keeping it real that's for sure.
**Use special promo code HELLO20 to take 20% off your first order in the shop including the SUPER MEGA ULTIMATE Large Family Freezer Meals Bundle here!**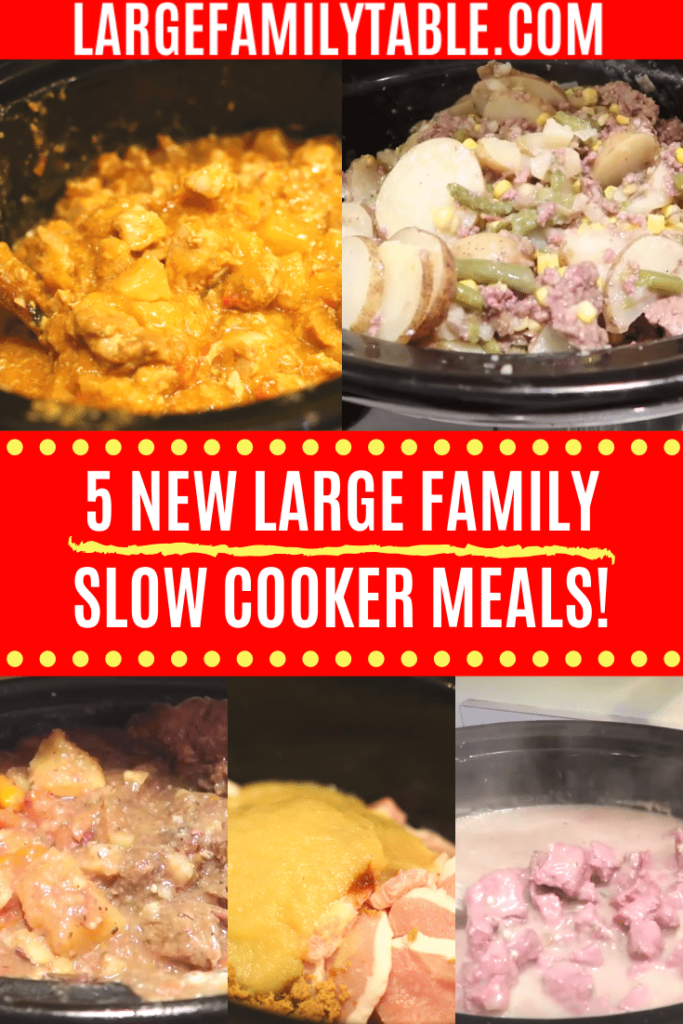 In 5 New Large Family Slow Cooker Meals Video, I prepare FIVE new comfort food dinners that your family will love! They are so simple to dump and go in the slow cooker and will be instant family favorites! Enjoy Real Life Jamerrill as I prepare these meals and chat about our homeschool life!
Here are the recipes prepared on the video!
Slow Cooker Beef Stroganoff is a delicious comfort food that is so simple to make! Make this slow cooker dinner complete with some Instant Pot Brown Rice or egg noodles. Fresh cornbread or some garlicky green beans and tomatoes would be a perfect accompaniment.
This is one of the simplest recipes you will ever prepare! It takes literally three ingredients and I bet you can guess at least two of them! Applesauce, Pork Chops, and Brown Sugar!
There are days when you not only need to put dinner in the slow cooker but you need it to be frugal as well. You want frugal, easy, and tasty. Sometimes us mamas want the moon. Large family beef & potato slow cooker dinner meets all those requirements. I think I hear angels singing. Yes and amen.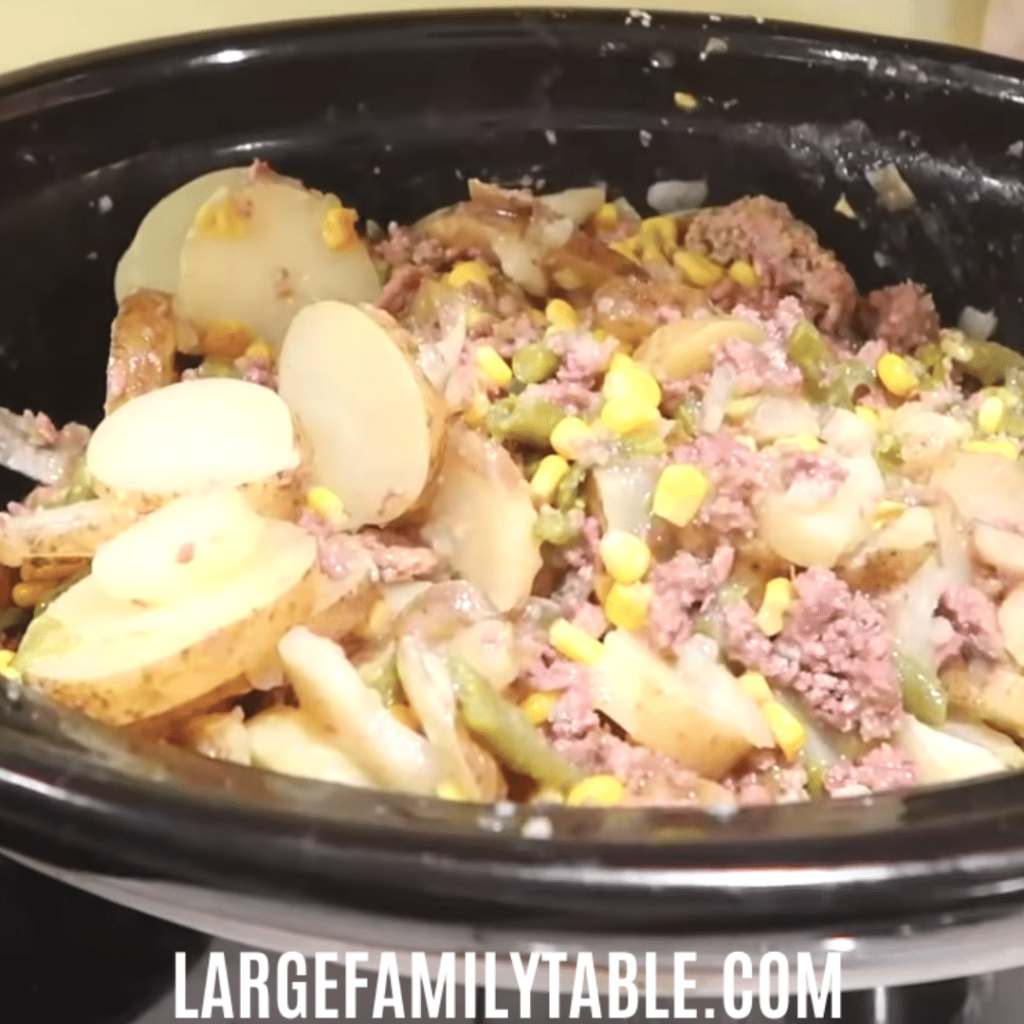 Sweet and Sour Pork gives you the delicious flavor of take out made in your very own Slow Cooker! The Slow Cooker will do all the work for you all day as it cooks the pork and fills your home with yummy aromas all day long! You can eat in right away but it also makes a great freezer meal for later as well!
This is a hearty meal that you will serve time and time again. It can certainly cook on high while you are at church then all you need to do is add the cornstarch to make the gravy. Large family classic pot roast in the slow cooker is even better on those days when you have a full day planned and need dinner done without you hovering over it.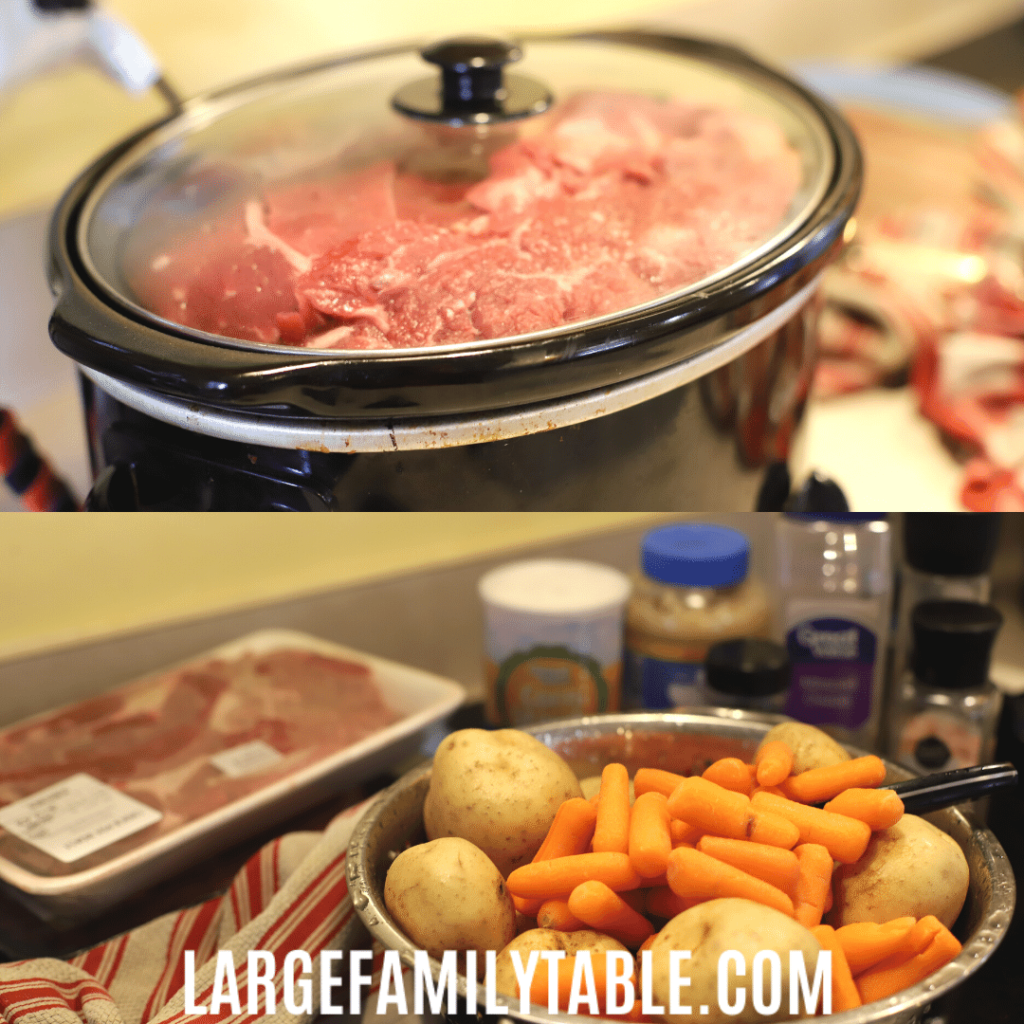 Want to stock your freezer with lots of easy meals or dump & go recipes?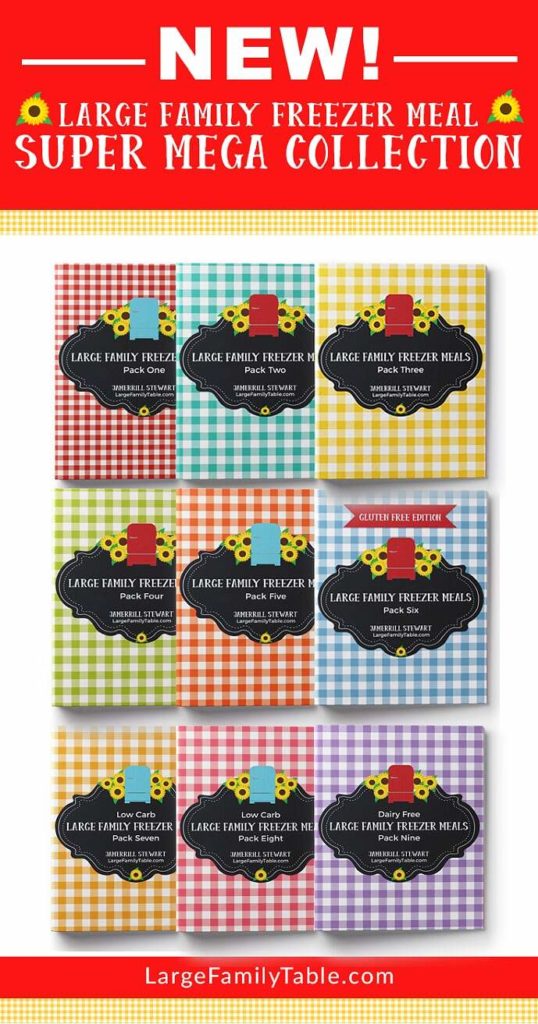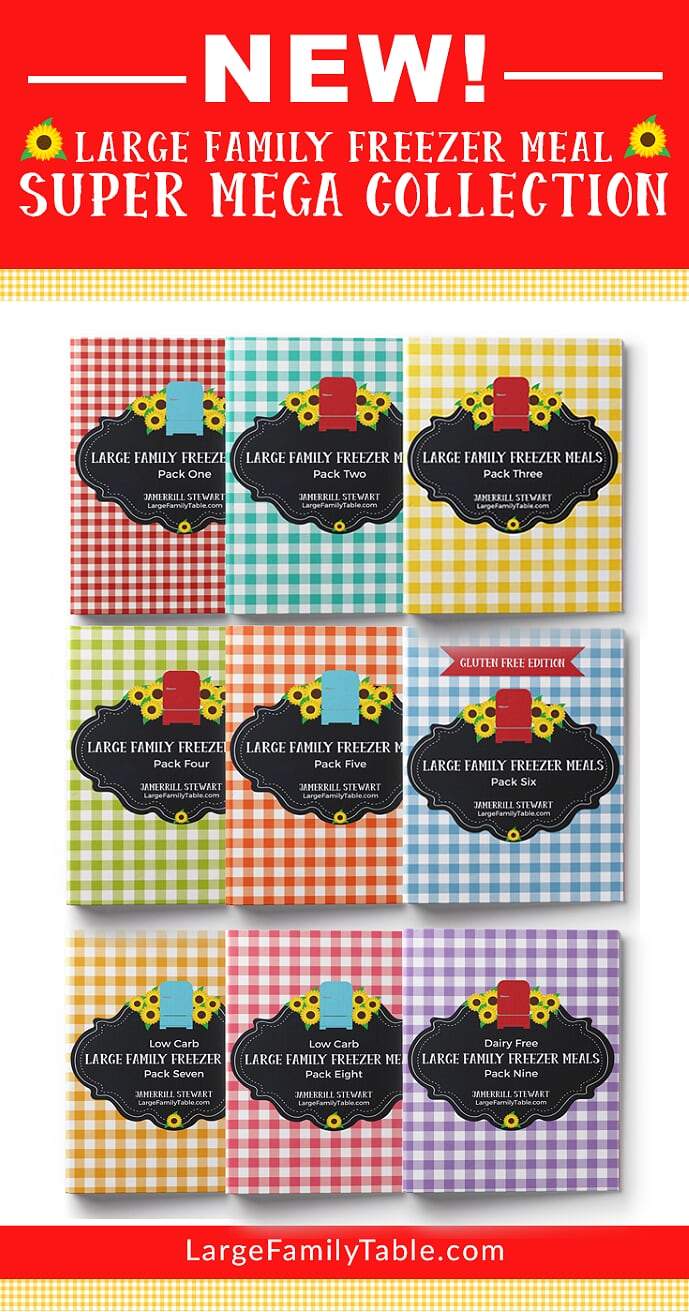 I'm a large family homeschooling mom of 8, and I've been in the trenches feeding lots of kids all day long for years. That's why I know you'll be super blessed by the large family freezer meal packs that take you from zero plan and nothing in the freezer to jam-packed freezer and knowing what's for dinner in advance every night!
You need this huge large family freezer meals collection because you have a lot of people to feed every. single. day. They always seem to want breakfast, lunch, and dinner (don't forget the snacks!) and they always look to you for all this food.
Here are some other slow cooker recipes you will love!
FREE Emergency Pantry Planning Pack!
Don't forget to sign up for the emergency pantry planning pack for free to help you plan your pantry meals! The free Emergency Pantry Planning Pack will help you plan your needed pantry items! Printable pages include pantry inventory, grocery lists, meal planners, list of pantry staple items, and more.