Sometimes you need a side dish that is quick yet healthy. Not dripping with sauce or hundred steps to prepare. A dish that lets the taste of the vegetables shine like the star they are! This healthy squash, zucchini, and tomato bake recipe fits the bill perfectly. It's also great to bring to a potluck or any gathering!
**Use special promo code HELLO20 to take 20% off your first order in the shop including the SUPER MEGA ULTIMATE Large Family Freezer Meals Bundle here!**
Squash, Zucchini, and Tomato Bake Recipe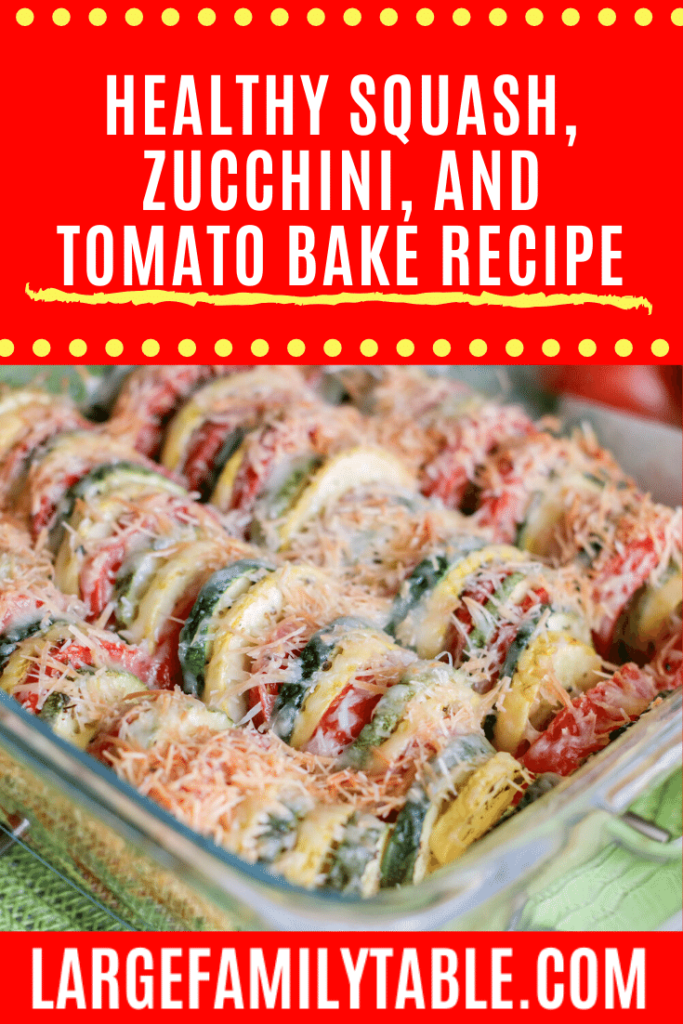 This Squash, Zucchini, and Tomato Bake makes a perfect tasty side dish to any meal! You'll be surprised at how excited your family will be about eating their vegetables when this is served at dinner! Serve with some delicious rolls and a chicken, pork, or beef dish!
How do I prepare Healthy Squash, Zucchini, and Tomato Bake?
First, wash and dry your vegetables. Nobody wants to find a beetle or hornworm in their meal. It would make for a great family story! Slice all the vegetables into even slices. Lay flat on some paper towels or a large cutting board.
Mix your dried herbs together. Sprinkle evenly over the top of all the vegetables. Stack them up in the pan alternating zucchini, yellow squash, and tomato making 3 to 4 rows. After you have them all in , pour olive oil over the top and add the parmesan cheese. Don't have any bagged parmesan cheese? Use the "shakey cheese" or the one generally used for pasta.
What is the difference between zucchini and yellow squash?
Well, one is green and one is yellow. Sorry, I couldn't help myself. Zucchini is straight while yellow squash has a rounded bottom and tapered neck. Yellow squash generally has more seeds as well. Both are considered summer squash though.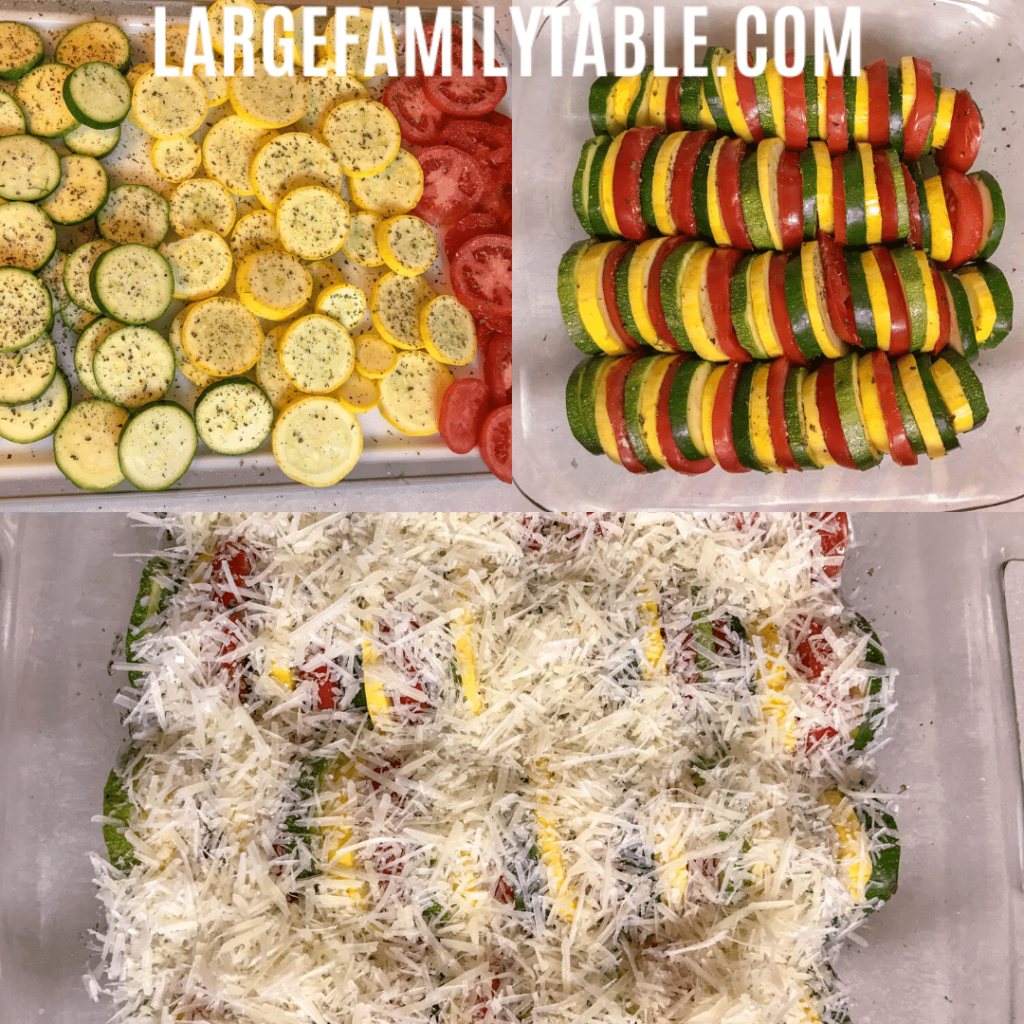 Looking for Healthy Casserole Ideas?
If you loved this Healthy Squash, Zucchini, and Tomato Bake, you will LOVE the many Low Carb Casserole Dinners in my shop! LOW CARB Casserole Dinners & Freezer Meals ~ Cookbook TWO ~ One for Now, One for Later Digital Pack gives you 10 delicious, low carb style casserole recipes and two choices of complete grocery lists (shop for 20 meals or shop for 10 meals). Each recipe will make TWO 9×13 casseroles –one to eat right away, and one to put in your freezer for a later date. That's TWENTY meals!!! I have done the math for you on these large family recipes. This is an easy and quick way to build a freezer stash in a hurry and feed your family at the same time!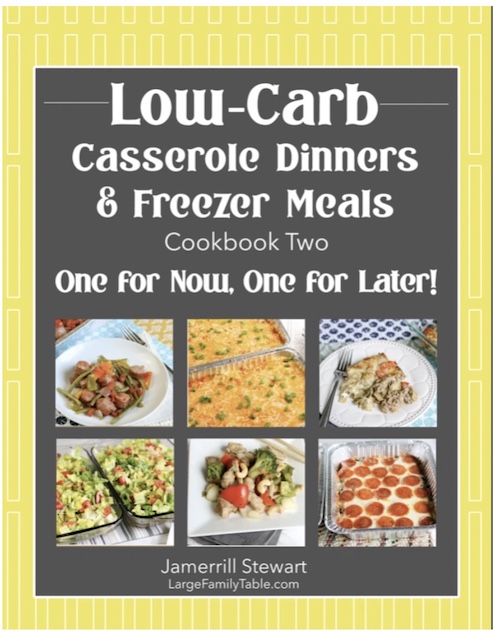 Here are more Side Dish Ideas for your family!
Large Family Slow Cooker Garlic Smashed Red Potatoes
Garlicky Green Beans and Tomatoes
Cheesy Asparagus – Low Carb Recipes!
Large Family Slow Cooker Cheesy Hashbrown Potatoes
Healthy Squash, Zucchini, and Tomato Bake
Print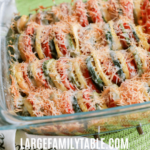 Healthy Squash, Zucchini, and Tomato Bake Recipe
Author:

Prep Time:

10 mins

Cook Time:

45 mins

Total Time:

55

Yield:

12

Category:

Vegetables

Method:

Oven

Cuisine:

Side Dish
---
Description
Looking for a healthy side dish that doesn't take forever to make? This healthy squash, zucchini, tomato bake is perfect!
---
Ingredients
2 medium zucchini, sliced evenly
2 medium yellow squash, sliced evenly
3 plum tomatoes, sliced evenly
1/4 tsp dried oregano
1/4 tsp dried basil
1/4 tsp garlic powder
1/4 tsp black pepper
1/2 tsp salt
2 TBSP olive oil
1/2 cup shredded parmesan cheese
---
Instructions
Preheat oven to 350 degrees.
Spray a square baking dish with non stick cooking spray.
Lay sliced vegetables on a flat surface. Mix dry seasonings together and sprinkle evenly on vegetables.
Stack vegetables, alternating zucchini, yellow squash, and tomato and place in baking dish making 3 to 4 rows.
Pour olive oil evenly over rows of vegetables then top with parmesan cheese.
Bake for 3o to 45 minutes depending on desired tenderness.
Keywords: zucchini, yellow squash, tomatoes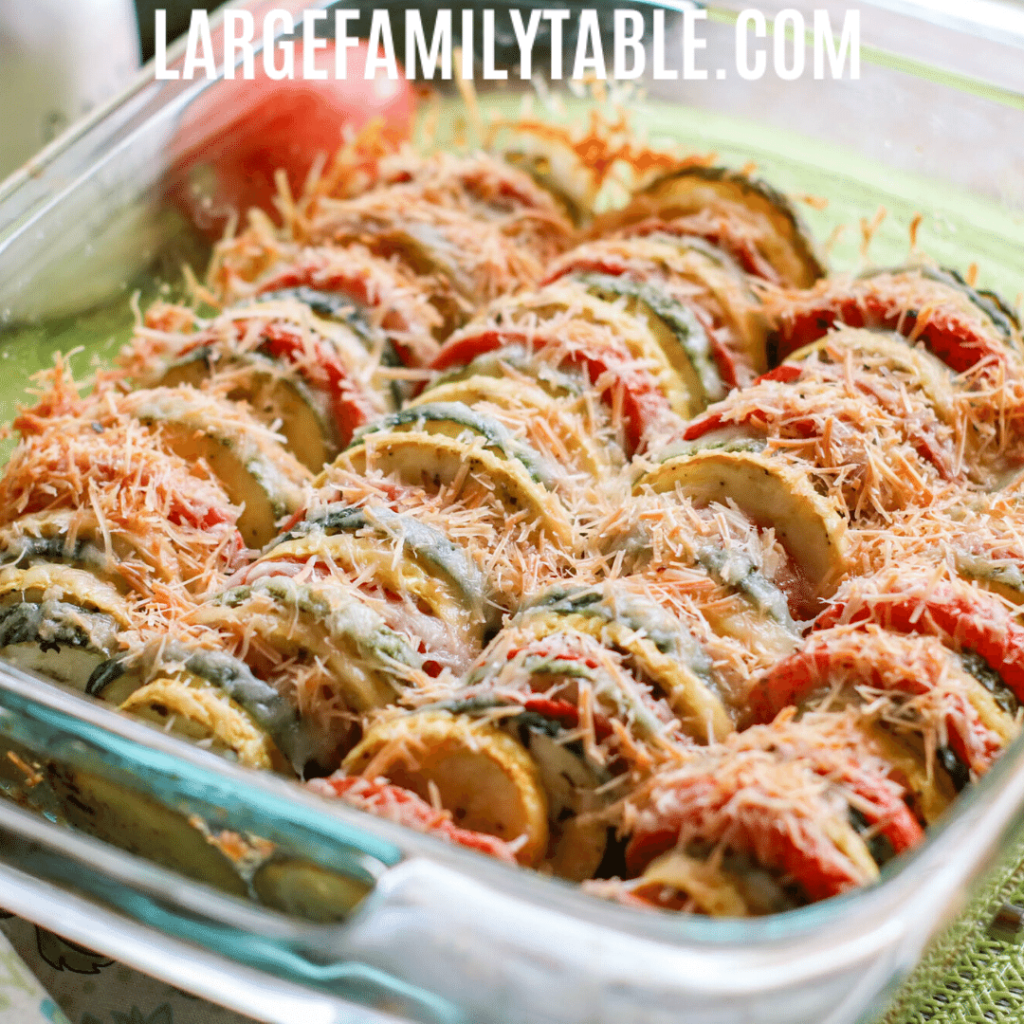 After letting it bake for 30- 45 minutes depending on how tender you want the vegetables, pull it out of the oven. Serve while hot by scooping it out by pattern. Make sure everyone gets one of each vegetable. Healthy squash, zucchini, and tomato bake pairs well any meat. You can't go wrong with this dish.
FREE Emergency Pantry Planning Pack!
Don't forget to sign up for the emergency pantry planning pack for free to help you plan your pantry meals! The free Emergency Pantry Planning Pack will help you plan your needed pantry items! Printable pages include pantry inventory, grocery lists, meal planners, list of pantry staple items, and more.