Easy Large Family Dinner
If you're anything like me, you love an easy large family dinner. And I bet you're going to love this new large family dinner I'm sharing today. It's easy to prepare, will make your whole house smell good, and will provide a wholesome, filling meal your family will enjoy.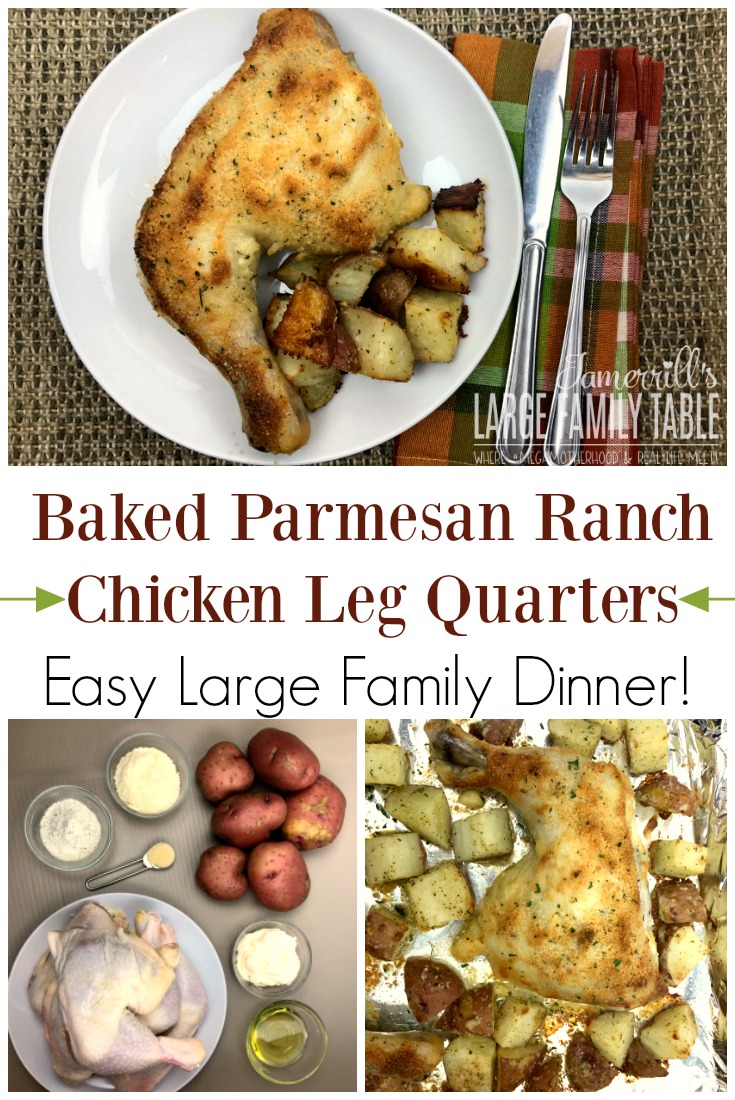 Chicken goes on sale frequently. When it does, it's a great time to buy in bulk to make feeding a large family more affordable. While this particular large family recipe calls for leg quarters, you could easily substitute another bone-in chicken you have in the freezer.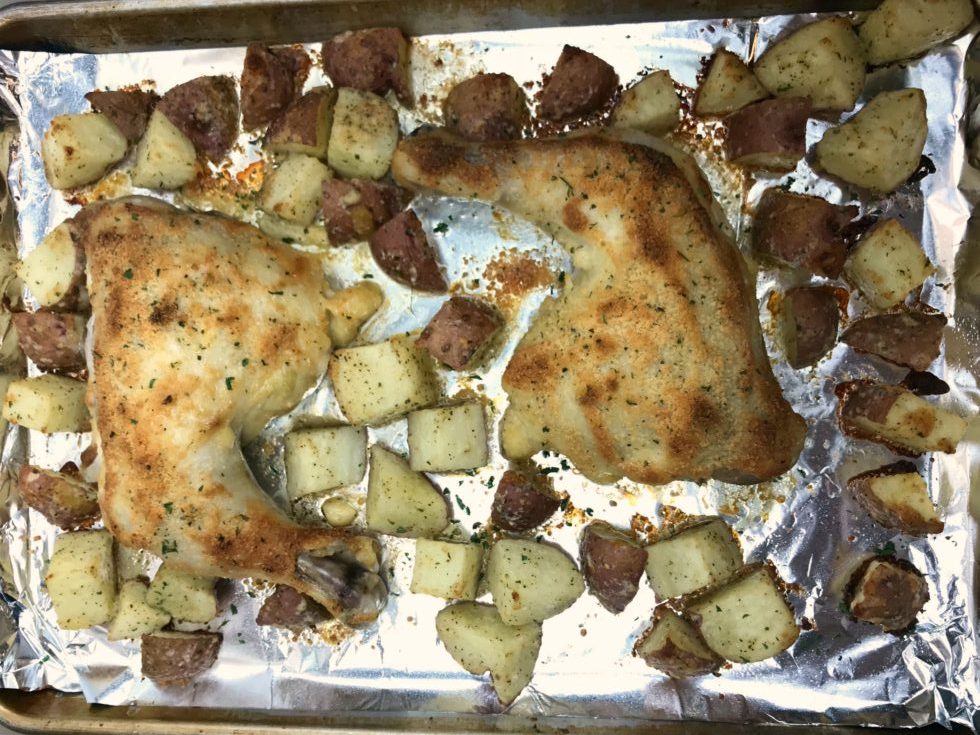 Print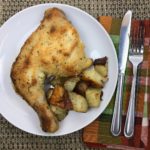 Easy Large Family Dinner | Baked Parmesan Ranch Chicken Leg Quarters
---
Description
Enjoy this easy large family dinner that's super frugal, too!
---
Ingredients
Chicken leg quarters, family pack
3 pounds red potatoes, scrubbed and cut into large pieces
1 packet dry ranch seasoning mix
1 cup grated Parmesan cheese
1 teaspoon garlic powder
1/2 cup mayonnaise
2 tablespoons olive oil
Salt and pepper, as desired
---
Instructions
Preheat over to 400 degrees.
Cover baking sheet with aluminum foil for easier clean-up. Spray with non-stick cooking spray.
Mix together ranch seasoning, Parmesan cheese, and garlic powder.
Place chicken leg quarters on baking sheet, leaving room for potatoes. (Do not crowd the pan to allow for the extra moisture to evaporate and a crunchy crust to develop as the chicken bakes.)
Add a layer of mayonnaise to the chicken. Sprinkle the Parmesan cheese mixture, about half the mixture, over the chicken.
In a large bowl, pour olive oil over potatoes. Add salt and pepper to the remaining Parmesan mixture as desired. Pour over potatoes. Toss to coat. Add the potatoes to the sheet pan with the chicken.
Bake for about 60 minutes or until the chicken reaches an internal temperature of 170 degrees and juices run clear.
Both the chicken and potatoes are quick and easy to prepare. That makes this large family recipe an easy choice at the end of a long homeschool day.
You can even add some steamed veggies and dinner rolls to stretch the meal even further if you'd like.
Be sure to check out these large family recipes for easy large family dinner ideas!