Who says you can't have cookies for breakfast? With this Large Family Oatmeal Banana Breakfast Cookie recipe, you can prepare tasty, healthy cookies that are great to eat in the morning.
****Use special promo code HELLO20 to take 20% off the entire MEGA DEAL get-it-all Bundle including the best-selling Large Family Freezer Meal Packs 1-12 + so much more!!****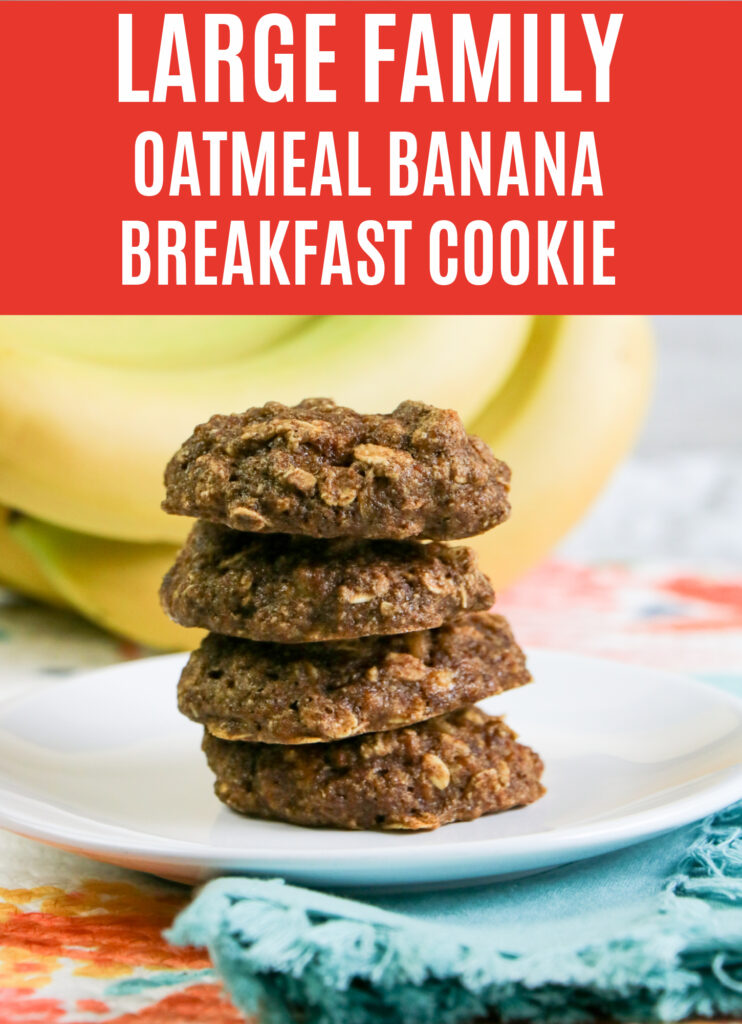 Oatmeal Banana Breakfast Cookie
If you are not the kind of person who has time in the morning for a large breakfast, but you want to make sure you and your kids have something to eat before heading out the door, try this recipe. The Oatmeal Banana Breakfast Cookie recipe requires simple, wholesome ingredients that are good for you. The cookies have a fantastic banana taste with a slight crunch that comes from the walnuts added to the cookie batter. They are the perfect grab-and-go breakfast to have when you want to feel full and energized until it is time for lunch.
The Ingredients Needed to Make the Banana Breakfast Cookie
You can make the cookies with the following essential ingredients:
Old-Fashioned Oats. Buy any brand of old-fashioned oats to use when preparing these cookies.
Ground Cinnamon. Give your cookies a naturally great taste by adding cinnamon into the mix.
Bananas. You will need two ripe bananas mashed into pieces to add to your cookie batter.
Maple Syrup. Use maple syrup to bring an added sweetness to the cookies.
Vanilla. A hint of vanilla pairs perfectly with the flavors of cinnamon and sweet maple syrup.
You will also need baking soda, melted butter, ground nutmeg, salt, flax, an egg, and some chopped walnuts.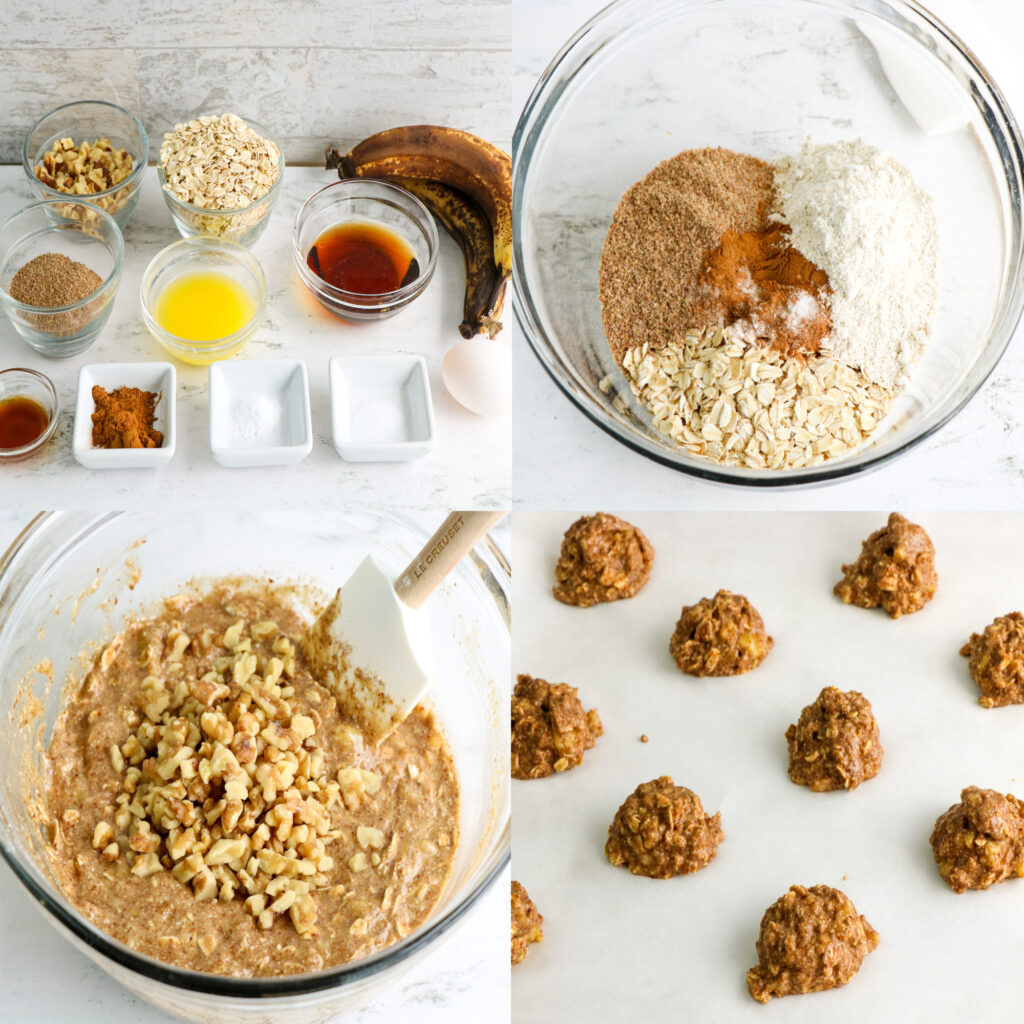 Can I Replace the Walnuts With Other Nuts?
If you do not like walnuts, you can leave them out! If you would like to replace them with other nuts, consider using chopped pecans or peanuts, both of which will provide that added crunch and flavor to the cookies.
How Many Servings Does the Recipe Make?
If you follow this recipe for Large Family Oatmeal Banana Breakfast Cookie, you will have 32 cookies ready to eat.
What Other Ingredients Can I Add to the Cookies?
While these cookies taste great the way they are, you can add a chocolate touch to them if you are a chocolate lover. When combining your ingredients, such as the mashed banana and oats, you can toss some mini chocolate chip morsels into the cookie batter. The chocolate will add a great touch to these flavorful, sweet cookies.
How Do I Store the Cookies to Save Them?
Give these cookies time to cool down on a wire rack before you attempt to store them. Once they are no longer hot, you can place them in a large food storage container, separating rows of the cookies with parchment paper. Place a lid on the container and leave them on the kitchen table for up to three days. You can place them in the fridge to keep them fresh for up to five days. If you keep the cookies in the fridge, consider heating them in the microwave for a few seconds to enjoy them while hot and fresh.
Where can I find more large family breakfast recipes?
Breakfast doesn't have to be complicated to be filling and healthy. I know it may seem easier to buy pre-made breakfast items, but you can save lots of time and money just by making breakfast ahead of time with my Breakfast Freezer Meals Pack, it's number 10 in my Large Family Freezer Meals Series. It includes 10 amazing breakfast recipes with directions to help you make 25 breakfast meals to put in your freezer!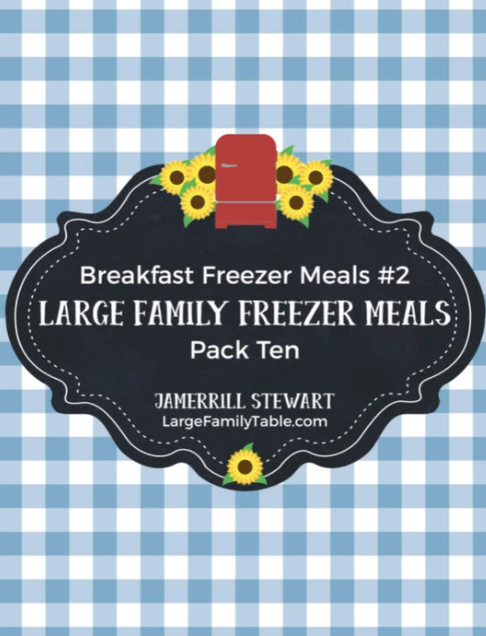 If your freezer is already full or you just don't have the freezer space, then try my Easy and Simple Large Family Sheet Pan Breakfasts which includes 10 delicious and easy breakfast meals to make your large family. Save time and money!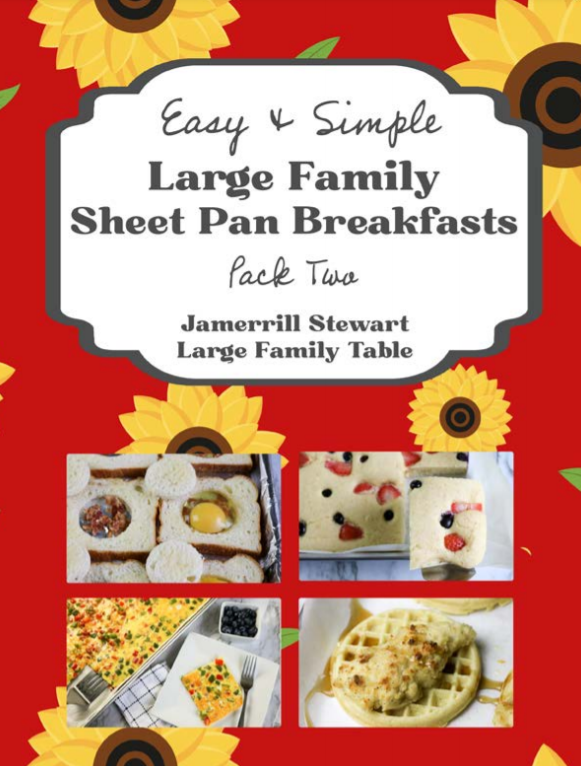 Here are more large family breakfast ideas!
Large Family Oatmeal Banana Breakfast Cookie
Print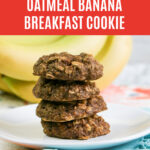 Large Family Oatmeal Banana Breakfast Cookie | On-the-Go Breakfast Meal! Dairy-Free Option
Author:

Prep Time:

25 Minutes

Cook Time:

10 minutes

Total Time:

35 minutes

Yield:

32 cookies

Category:

Breakfast

Method:

Oven
---
Description
Who says you can't have cookies for breakfast? With this Large Family Oatmeal Banana Breakfast Cookie recipe, you can prepare tasty, healthy cookies that are great to eat in the morning.
---
Ingredients
2 cup old-fashioned oats, divided

1 teaspoon baking soda

3 teaspoon ground cinnamon

1/2 teaspoon ground nutmeg

1/2 teaspoon salt

1/2 cup ground flax

4 tablespoons butter, melted and cooled (replace with coconut oil for dairy-free option)

1/2 cup maple syrup

2 egg

2 teaspoon vanilla

4 ripe bananas, mashed

1 cup chopped walnuts, optional
---
Instructions
Preheat the oven to 375 degrees. Prepare two large baking sheets with parchment paper or nonstick cooking spray.

Place 1 cup oats into a food processor or blender and pulse until the oats are ground into oat flour.

In a large bowl, whisk together 1 cup of whole oats, oat flour, baking soda, cinnamon, nutmeg, salt, and flax.

In a medium bowl, whisk together the butter, maple syrup, egg, and vanilla. Combine the wet ingredients with the dry ingredients.

Stir in the bananas and walnuts.

Using a large scoop, divide the dough into 32 cookies. Press the tops flat as these cookies remain in the same shape as they cook.

Bake for 10 minutes or until the middle is set. Allow to cool on the baking sheet for 10 minutes before transferring to a wire rack.
Keywords: Large Family Oatmeal Banana Breakfast Cookie
FREE Emergency Pantry Planning Pack!
Don't forget to sign up for the emergency pantry planning pack for free to help you plan your pantry meals! The free Emergency Pantry Planning Pack will help you plan your needed pantry items! Printable pages include pantry inventory, grocery lists, meal planners, list of pantry staple items, and more.