Hummus is one of those recipes that look hard but it is really super easy if you know the right hacks. This roasted garlic hummus recipe is sure to be a crowd-pleaser for both adults and kids. The hardest part is smelling the amazing aroma of the garlic roasting.
Get the Best-Selling Large Family Freezer Meals Collection here! Use promo code HELLO20 to take 20% off your first order.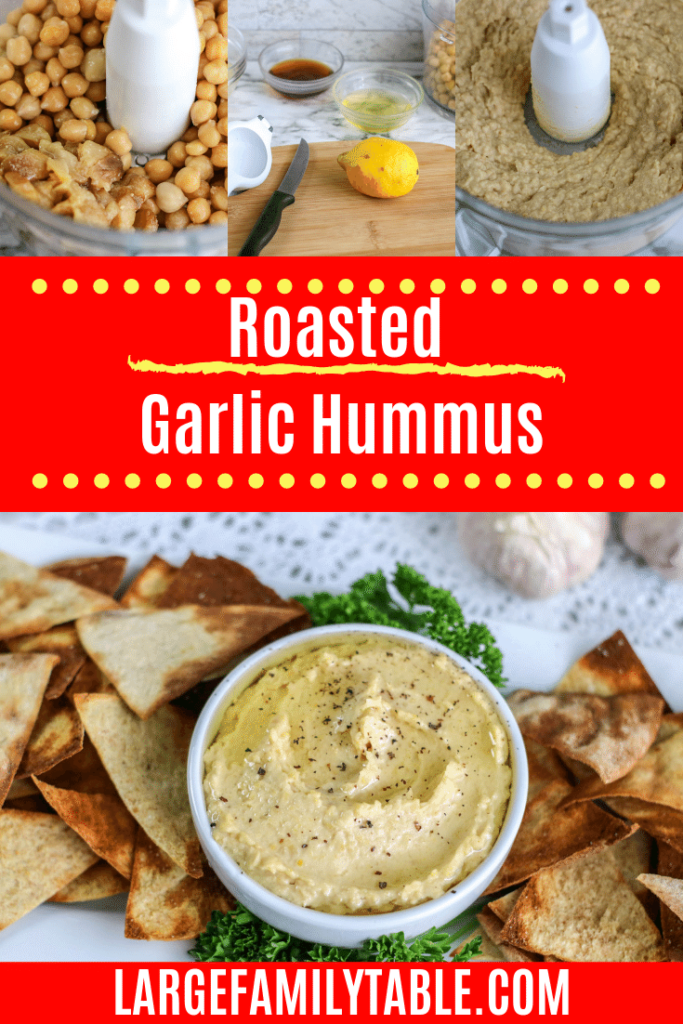 The first part of the recipe calls for roasting the garlic. This step launches the hummus into a whole new realm of deliciousness. Roasting garlic is one of those things that people think is hard, but is really super easy. Peel off the outer papery skin leaving the cloves attached. Chop off the top 1/4 of each clove, drizzle with olive oil, then wrap in aluminum foil. Bake for 55 minutes and revel in the aroma that is about to waft through your house.
Cool slightly then squeeze the cloves into the food processor. Add all the other ingredients except the liquid. Pulse to blend then add liquid 1 Tbsp at a time until you reach the consistency you like. We like our hummus thick so it sticks to whatever we're dipping in it. If I'm using it for a sandwich spread, I'll make it a bit thinner.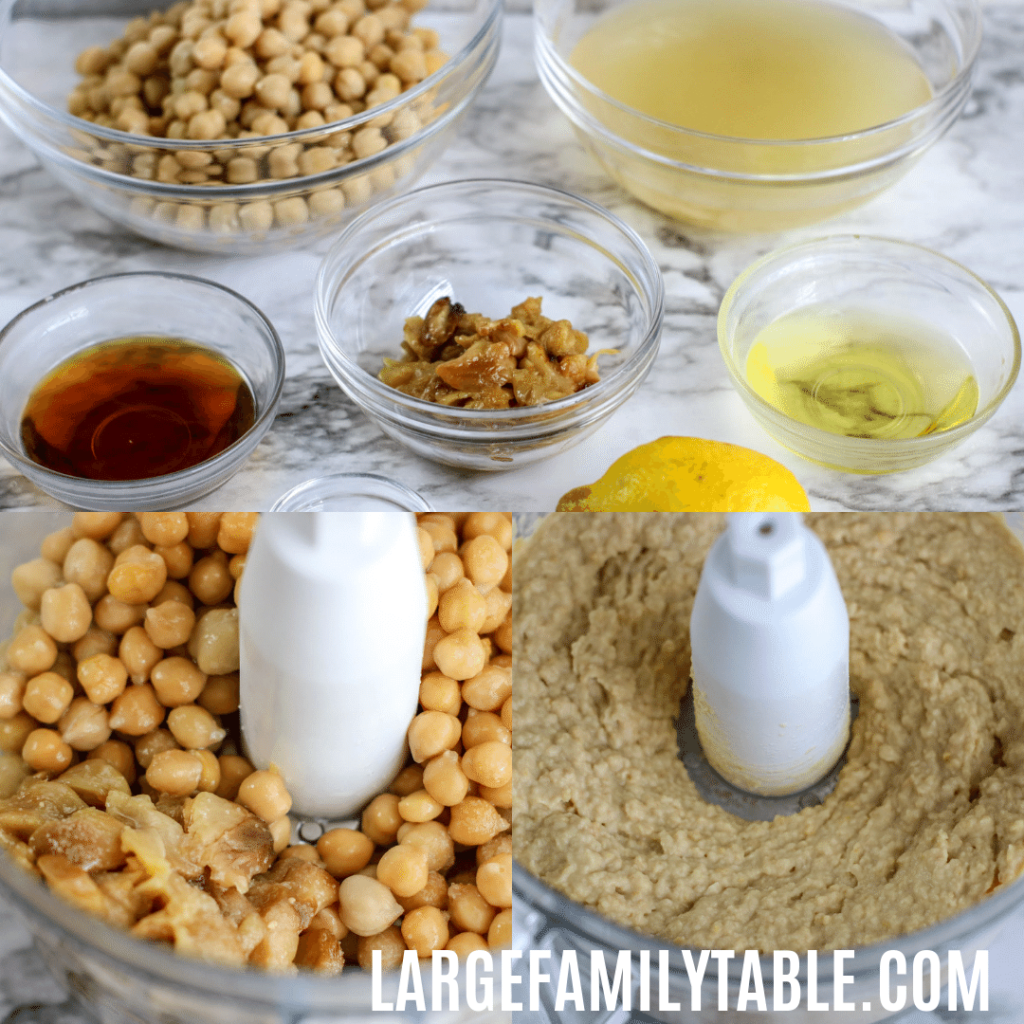 Print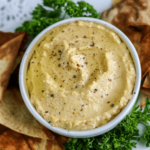 Roasted Garlic Hummus
Author:

Prep Time:

15 mins

Cook Time:

55 mins

Total Time:

1 hour 10 minutes

Category:

Snacks

Method:

oven

Cuisine:

Mediterranean
---
Description
Are you looking for a healthy yet tasty snack recipe that your family will love? This roasted garlic hummus is perfect for pita chips, crackers, pretzels, veggies, you name it.
---
Ingredients
1 head garlic
2 (15.5 ounce) cans chickpeas, drained but liquid reserved
2 teaspoons sesame oil
4 tablespoons olive oil, divided
Juice of 1 lemon
¼ teaspoon salt
¼ teaspoon freshly ground black pepper, optional
---
Instructions
Preheat oven to 350 degrees.
Remove paper-like skin from outside of garlic bulb, leaving cloves attached.
Cut ¼ inch from the top (stem side) of each garlic bulb, exposing the top of the cloves.
Pour olive oil over the top of the cloves.
Wrap each garlic head tightly in aluminum foil. Place on a baking sheet.
Bake for 55 minutes or until the cloves are tender.
Cool slightly before separating cloves. Squeeze to remove garlic into the bowl of a food processor.
Place all remaining ingredients, except liquid reserved from chickpeas, into the bowl of the food processor. Pulse to blend.
Slowly add liquid from chickpeas into the food processor, 1 tablespoon at a time, pulsing until you reach the desired consistency.
Refrigerate until ready to serve. Store in an airtight container in the refrigerator for up to 5 days.
When ready to serve, drizzle with olive oil and/or top with fresh ground black pepper if desired. Serve with vegetable dippers, pita chips, or as a condiment for sandwiches.
Keywords: roasted garlic hummus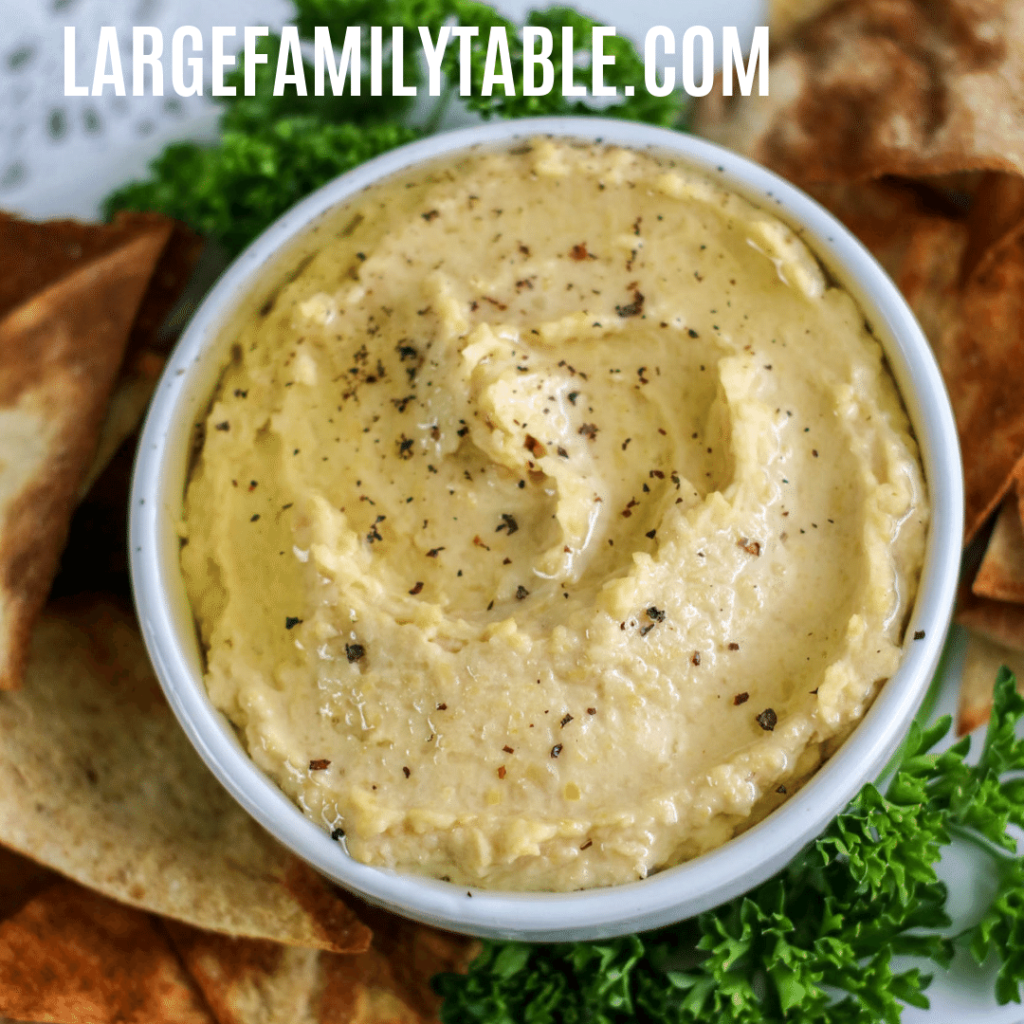 Your kids will devour this in one sitting. It is so tasty that they won't mind dipping their carrot sticks. I personally love to eat it with air fryer pita chips for a nice crunch. No matter what you eat it with, you are sure to love this roasted garlic hummus recipe. Bonus points that no vampires will come by your house with all that garlic. Oh, it lasts 5 days in the fridge but we never have leftovers and neither will you.
Looking for more snack recipes?