Need a savory dish that's dairy-free? Prepare this Large Family Easy Stovetop Cabbage Soup, Dairy-Free recipe that tastes great and will keep you feeling satisfied.
When you want to make a healthy, tasty meal without dairy, you may struggle to find that perfect large family recipe. However, this Large Family Easy Stovetop Cabbage Soup, Dairy-Free is a fantastic recipe that will leave you an enjoyable meal to eat for lunch or dinner. It is the kind of soup that you can get everyone in the household to eat because it is just that good.
If you are a cabbage fan, this will become your go-to recipe whenever you feel like having a bowl of soup made from scratch. Forget about the canned soups that contain way too much sodium. Why settle for less? You can make this soup that tastes even better and is naturally healthier for you and your family.
***Use special promo code HELLO20 to take 20% off your first order in the shop including the SUPER MEGA ULTIMATE Large Family Freezer Meals Bundle here!**
Ingredients Needed to Make the Cabbage Soup
Making the Large Family Easy Stovetop Cabbage Soup is quite simple. You need to have the following ingredients to get started:
Low-Sodium Chicken Broth. You can make your own chicken broth in the Instant Pot. It is good to use low-sodium chicken broth to reduce the amount of salt in the soup. If you do not have chicken broth, you can replace it with vegetable broth.
Kosher Salt. Adding just a bit of kosher salt is a great way to give this soup a naturally great taste without making it too salty.
Cabbage. Chop your cabbage into pieces before adding it to your broth with a mixture of seasonings.
Carrots. The carrots are a great addition to this soup. Make sure you shred them into pieces before putting them into the pot with your cabbage.
Stewed Tomatoes. Using stewed tomatoes in this soup is a great way to give it a slight acidic kick while enhancing its flavor and thickening it up a bit more. Learn how to can your own tomatoes.
Other ingredients that you should have to prepare the cabbage soup include chopped onions, dried thyme, olive oil, and thinly sliced celery pieces.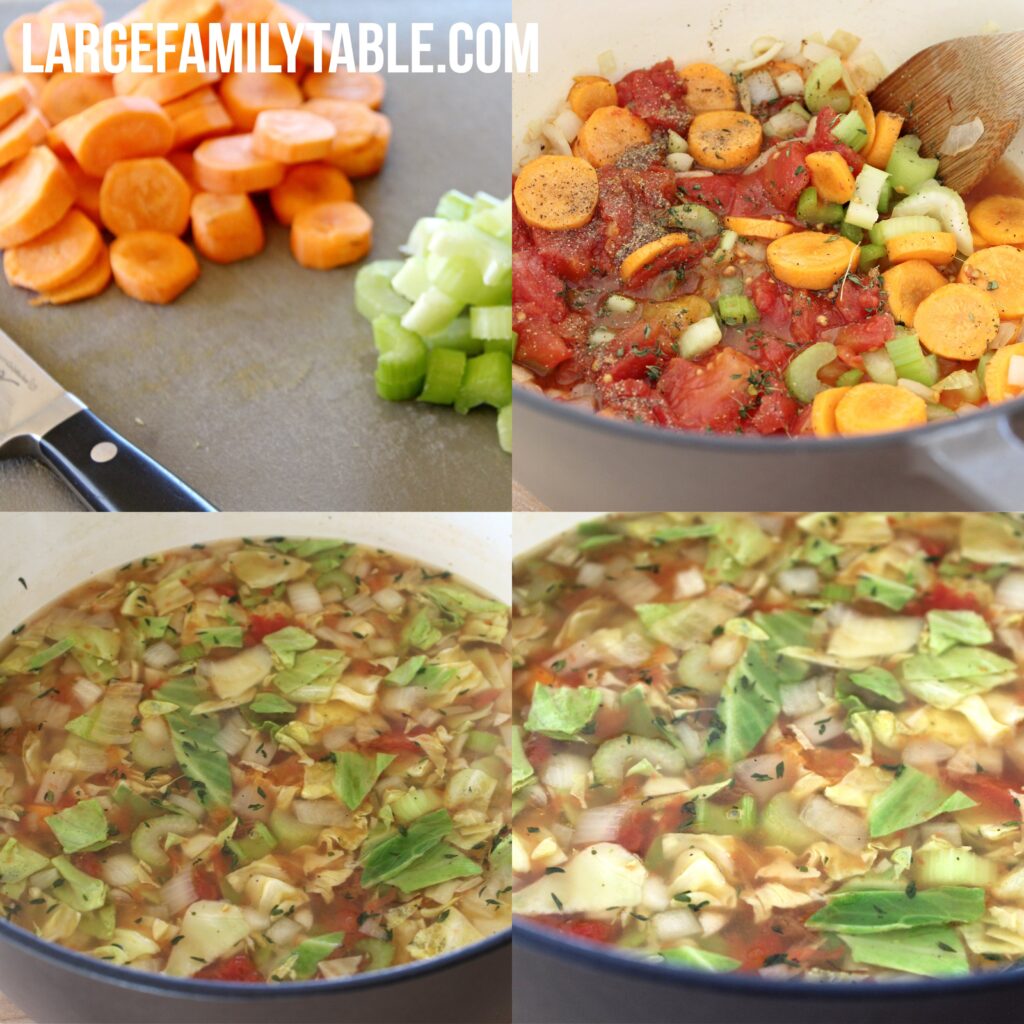 Tips on Storing the Stovetop Cabbage Soup
When you have some of the Large Family Easy Stovetop Cabbage Soup left, pour the remaining amount into a large plastic container with a lid and put it in the refrigerator. You can keep your soup in the fridge for up to five days in a freezer-safe container or freezer zipper bags. It is also possible to freeze the soup in those containers if you want to have it a month or two from now. The soup will remain fresh in the freezer for up to three months.
What to Add to Your Large Family Easy Stovetop Cabbage Soup
You can keep it simple or add more to your Large Family Easy Stovetop Cabbage Soup, including croutons, oyster crackers, and even corn. If you want to add meat to the soup, you may want to consider adding shredded pieces of chicken or turkey to it, both of which will taste great with cabbage, celery, tomatoes, and carrots. Some people like to add a bag of frozen peas to their cabbage soup. You can experiment with different ingredients to see what you like best in your soup. Be sure to add this dinner to your meal planning list!
Try these large family soups!
We have 100's of recipes to help you feed your large family including low carb ideas, THM recipes, simple and easy oven dinners, desserts like our make-ahead cookies, ways to fill your freezer, Casseroles that freeze well, and so much more!
Do you have any more freezer-friendly recipes?
Yes! You can find so many more great freezer meals in my Ultimate Super Mega Large Family Freezer Meals 1, 2, 3, 4, 5, 6, 7, 8, 9, 10, 11, 12 Digital Bundle!!! It includes packs 1-12 of my best-selling large family freezer meals. You will have everything you need to make over 250 large family freezer meals (make as little or as much as you want ) including 12 batch cooking meal prep guides, 12 pack specific freezer meal grocery shopping lists, freezer meal tips, freezer meal printables including a freezer meal planner and more.
Large Family Easy Stovetop Cabbage Soup
Print
Large Family Easy Stovetop Cabbage Soup, Dairy Free
Author:

Prep Time:

20 minutes

Cook Time:

30 Minutes

Total Time:

50 minutes

Yield:

16 Cups

Category:

Dinner

Method:

Stove Top
---
Ingredients
6 tablespoons olive oil
1 yellow onion diced
4 cloves garlic minced
16 cups low sodium chicken broth or vegetable broth
2 teaspoon kosher salt
1 teaspoon dried thyme
1 teaspoon black pepper or to taste
1 head cabbage chopped in about 1 1/2″ chunks
8 medium carrots peeled and chopped in circles
4 stalks celery thinly sliced
2 14.5 oz. can stewed tomatoes
---
Instructions
In a large pot add olive oil, onion and garlic, and cook until the onions are see through about 3-5 minutes.
Add in the broth, thyme, salt, pepper, cabbage, tomatoes, carrots, and celery; simmer on low for 30 minutes.
Keywords: Large Family Easy Stovetop Cabbage Soup
This easy soup is a great go-to meal when you are in a time crunch. It's easy to make and cooks up in 30 minutes. Try adding french bread or dessert, like our Best Cheesecake!
FREE Emergency Pantry Planning Pack!
Don't forget to sign up for the emergency pantry planning pack for free to help you plan your pantry meals! The free Emergency Pantry Planning Pack will help you plan your needed pantry items! Printable pages include pantry inventory, grocery lists, meal planners, list of pantry staple items, and more.