Take your bagels to the next level with this Big Family Sausage & Egg Bagel Pizza recipe. You can make these on-the-go breakfast bagels with ease for your loved ones to enjoy.
Sausage and Egg Bagel Pizza
Who says pizza is not a breakfast food? If you want to have a delicious and creative breakfast to prepare and have breakfast ready in the freezer too, try this Big Family Sausage & Egg Bagel Pizza recipe. It contains egg, cheese, and your favorite breakfast sausage to leave you satisfied in the morning. It is a great meal to make when you have limited time, but want to have something nutritious and tasty to eat.
****Use special promo code HELLO20 to take 20% off the entire MEGA DEAL get-it-all Bundle including the best-selling Large Family Freezer Meal Packs 1-12 + so much more!!****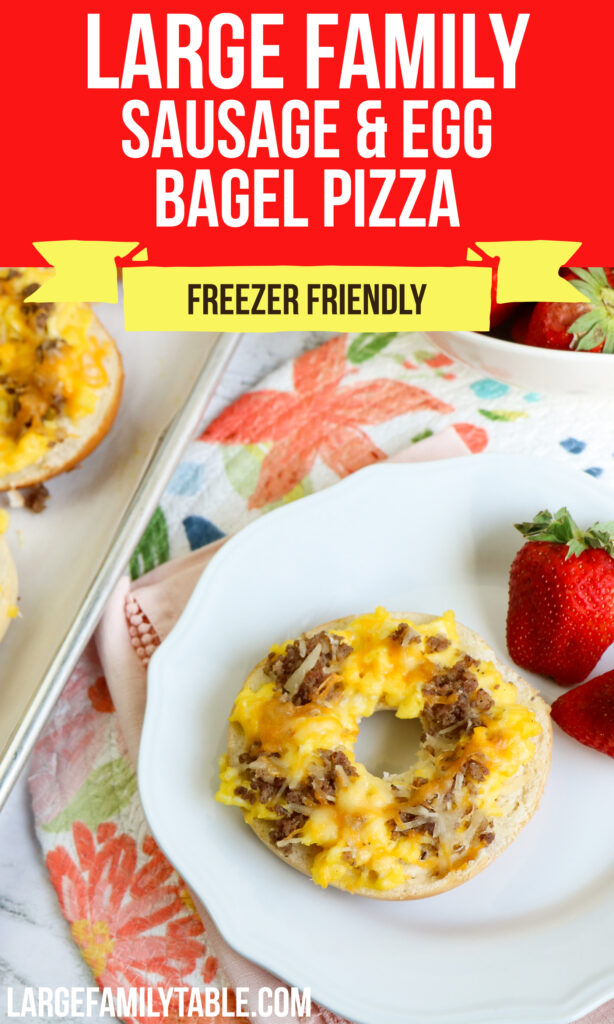 Ingredients Needed to Make the Sausage & Egg Bagel Pizza
Regular Bagels. You will need about 20 regular bagels cut in half when following this recipe.
Eggs. Use about eight eggs to create one of the toppings to add to your bagels.
Sausage. Brown your sausage and chop it into crumbled pieces that you can easily add to your bagels with the eggs.
Colby Jack Cheese. Add shredded colby jack cheese to the eggs and sausage for a finishing cheesy touch.
The only other ingredients you will need include butter, salt, pepper, and milk.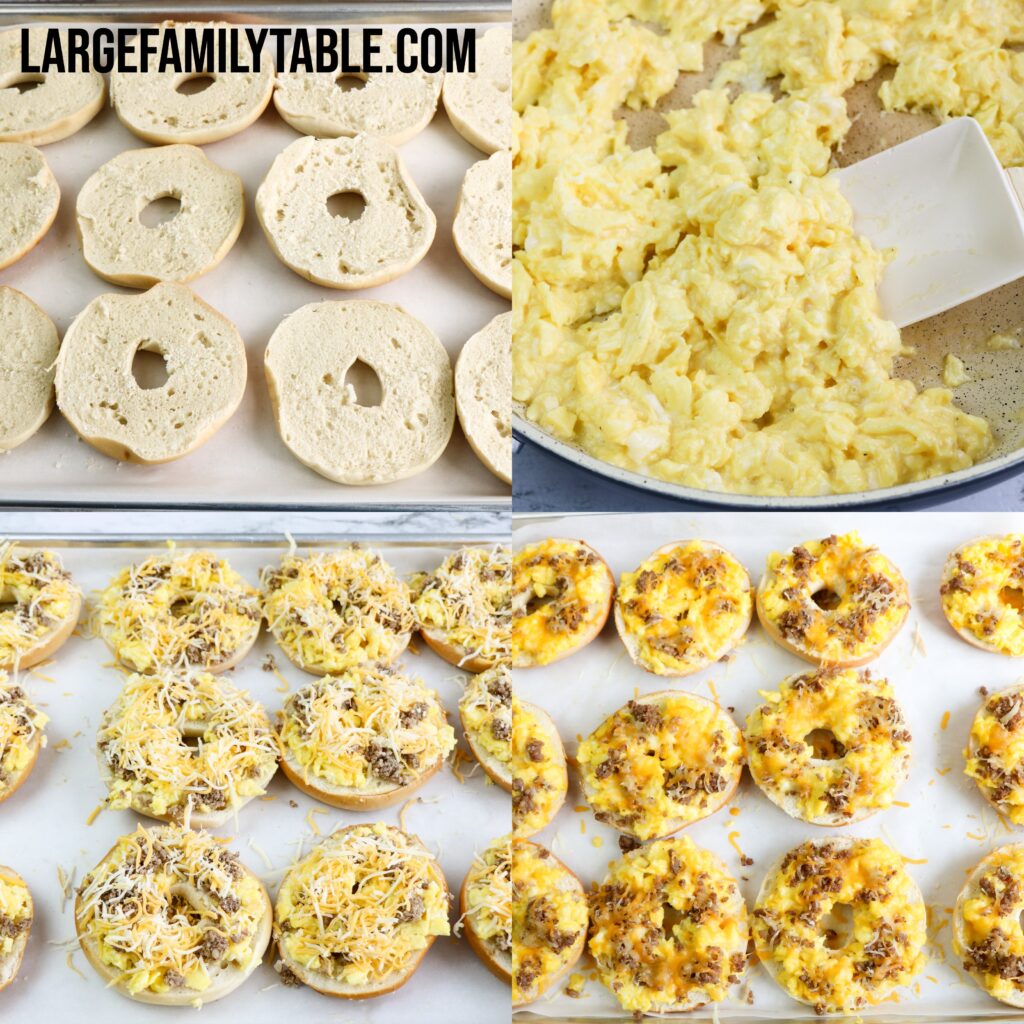 Do I Have to Use Regular Bagels?
While this recipe uses regular bagels, you can use other types of bagels. It all depends on your preference. Some of the options that will taste good with the eggs, cheese, and sausage include onion bagels, everything bagels, and even cinnamon raisin bagels. You can switch it up and offer a variety of different bagel pizzas.
Can I Use Egg Whites?
If you typically only eat egg whites, you can use them in this recipe. Separate the yolk from the egg whites and add the yolks to the container because you can save them and use them in recipes. If you have a carton of egg whites, pour enough of the egg whites liquid to have eggs for each of your bagel halves.
Can I Add Bacon to the Breakfast Bagel Pizzas?
If you love bacon, feel free to add it to the bagels. You will need to cook the bacon in the oven in advance and then chop it into small pieces before tossing it on your bagels with the eggs and cheese.
How to Freeze the Pizza Bagels
You know I love a good freezer meal! Breakfast freezer meals are one of my favorite things to have in the freezer. I have stayed up late a night just to fill my freezer. To freeze these, wrap each bagel individually in plastic wrap and place them all in a food storage container. Place them in the freezer to keep them fresh for a month. When you want to have the Big Family Sausage & Egg Bagel Pizza, remove one from the freezer and heat it in the microwave or oven. Yay, it's that simple!
Here are more large family recipes to try!
We have lots more yummy breakfast ideas!
Where can I find more large family breakfast recipes?
Breakfast doesn't have to be complicated to be filling and healthy. I know it may seem easier to buy pre-made breakfast items, but you can save lots of time and money just by making breakfast ahead of time with my Breakfast Freezer Meals Pack, it's number 10 in my Large Family Freezer Meals Series. It includes 10 amazing breakfast recipes with directions to help you make 25 breakfast meals to put in your freezer!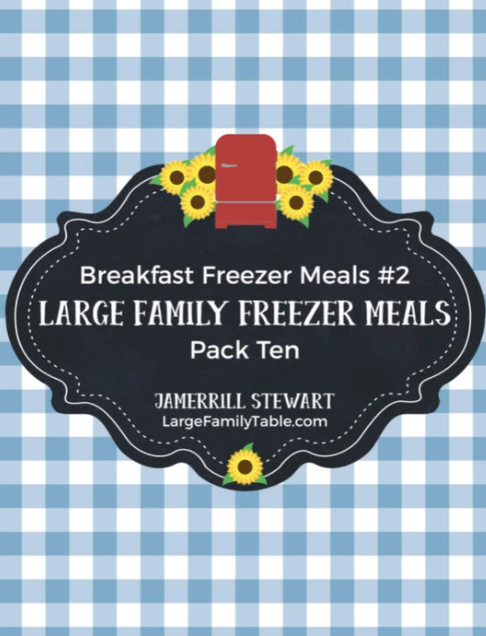 If your freezer is already full or you just don't have the freezer space, then try my Easy and Simple Large Family Sheet Pan Breakfasts which includes 10 delicious and easy breakfast meals to make your large family. Save time and money!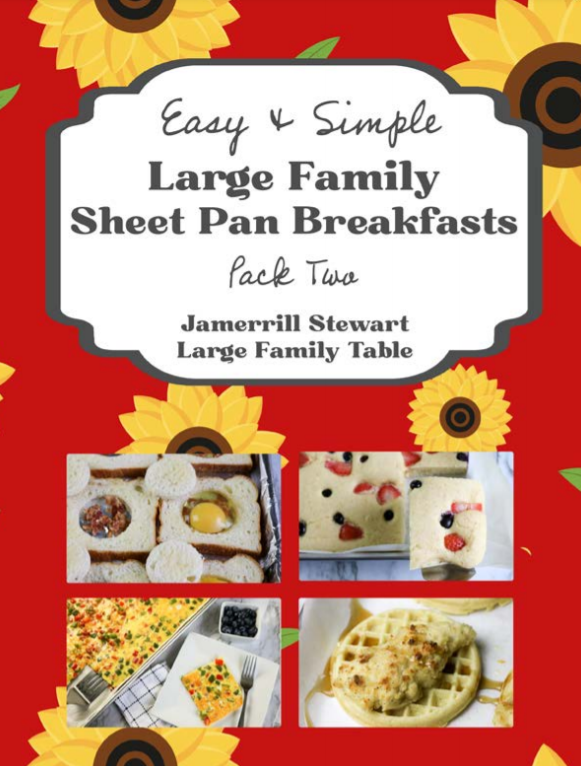 Big Family Sausage & Egg Bagel Pizza
Print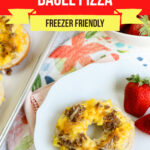 Big Family Sausage & Egg Bagel Pizza | Make-Ahead, Freezer-Friendly
Author:

Prep Time:

15 Minutes

Cook Time:

7 Minutes

Total Time:

22 minutes

Yield:

20 Servings

Category:

Breakfast

Method:

Stove top/ Oven
---
Description
Take your bagels to the next level with this Big Family Sausage & Egg Bagel Pizza recipe. You can make these on-the-go breakfast bagels with ease for your loved ones to enjoy.
---
Ingredients
20 regular bagels, halved

1 tablespoon butter

8 eggs

2 tablespoons milk

Salt and black pepper, to taste

1 (8 ounce) package sausage, browned and crumbled

2 to 3 cups shredded colby jack cheese
---
Instructions
Preheat the oven to 400 degrees. Prepare two 17×11 inch baking sheets by lining them with parchment paper.

In a large skillet over medium-high heat, melt the butter. Meanwhile, beat the eggs together with the milk, salt, and black pepper. Add to the skillet and cook, stirring often, until the eggs are almost completely cooked through. Keeping the eggs slightly soft makes it easier to spread on the bagels.

Place a layer of bagels on each baking sheet.

Top the bagel slices with scrambled eggs, smashing into the bagel so they stick. Sprinkle the bagels with browned sausage and cheese.

Bake for 5 to 8 minutes or until the cheese has melted.
---
Notes
To freeze: Wrap bagels individually and then place in an airtight container. Store for up to one month. Reheat in the oven or microwave.
Keywords: Big Family Sausage & Egg Bagel Pizza
Make this easy breakfast for your next large family meal. It's sure to be a hit with everyone!
FREE Emergency Pantry Planning Pack!
Don't forget to sign up for the emergency pantry planning pack for free to help you plan your pantry meals! The free Emergency Pantry Planning Pack will help you plan your needed pantry items! Printable pages include pantry inventory, grocery lists, meal planners, list of pantry staple items, and more.