From carnitas to the family favorite BBQ, pork is a versatile protein that's so easy for mommas to use! Pork Dinners can be used in so many delicious ways to feed your large family. Here are 48 Large Family Pork Dinner Ideas in one place! Be sure to bookmark this page for fresh and new 48 Large Family Pork Dinner Ideas for your crowd!
Do you love having some fresh dinner ideas to help feed your family? Here you can find 48 Large Family Pork Dinner Ideas that I've put together to help you out! I love helping busy Mommas to help their own family to gather around during meal time. And who doesn't like easy work that makes momma happy? These 48 Large Family Pork Dinner Ideas are easy to make and filled with oh-so-yummy ingredients. What's not to love?
****Use special promo code HELLO20 to take 20% off the entire meal time sanity-saving MASSIVE MEGA 40+ Product Bundle which includes the best-selling Large Family Freezer Meal Packs 1-15 + so much more!!****
Large Family Pork Dinner Ideas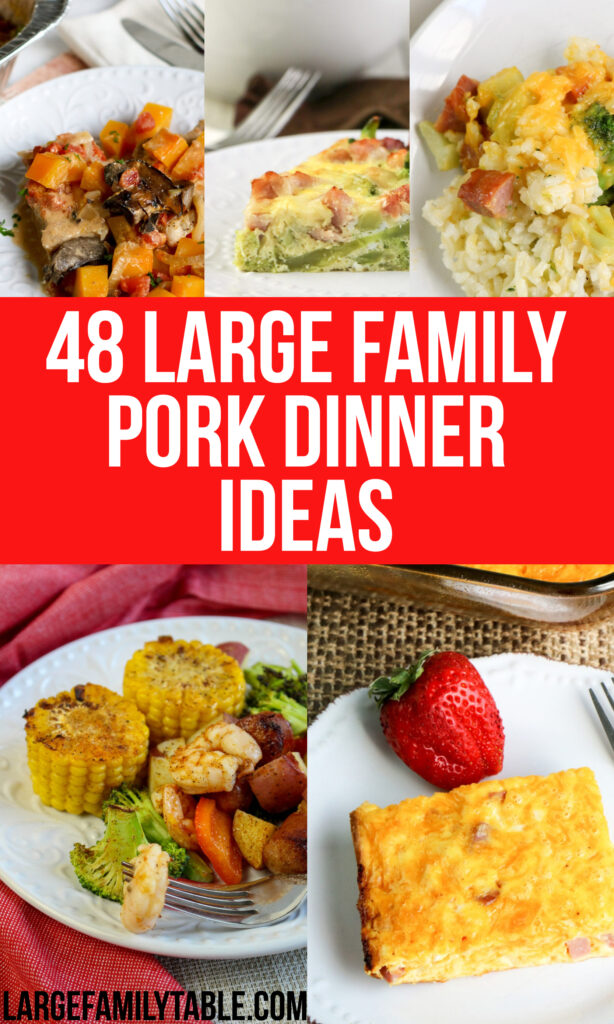 Do you find yourself wondering what to serve your big crowd for dinner? Look no further than these Large Family Pork Dinner Ideas! Sometimes the cheapest meal to feed a crowd can be the tastiest. Maybe you have a large family, a church potluck, or you want to make one/freeze one for later? Here you'll find all the easy and delicious recipes to feed all of your people!
Large Family Slow Cooker Ham and Bean Soup so great for a chilly day and also dairy free!
Seasoned Pork and Black Bean Stew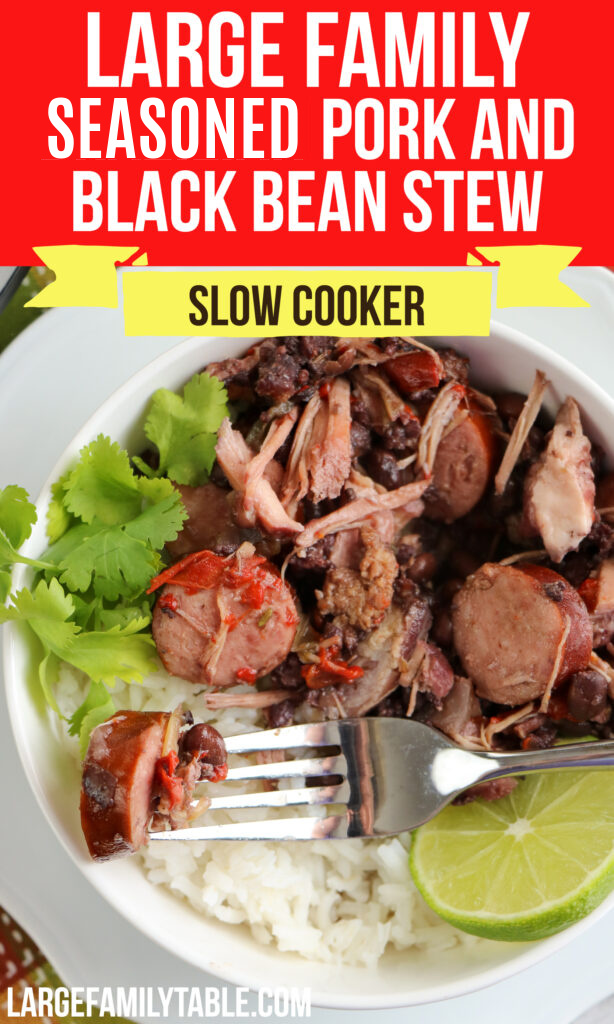 Slow Cooker Hoppin John and my Large Family Instant Pot Collard Greens with Ham are great together!
Large Family Low Carb Creamy Pork Casserole is simple and unique with great flavor!
Pork Tenderloin in Creamy Mushroom Sauce and Pasta
This Large Family Sausage and PeppersCasserole is freezer friendly, low carb, and dairy free!
The Easy Pork Stir Fry is ready to eat in 30 minutes!
Large Family Ham and Gruyere Crustless Quiche !! This is a great way to make use of leftover ham while feeding the whole family. Yes and Amen!
Pork Chop and Hashbrown Casserole is amazing in so many ways! Yum!
Need some more Freezer Meal ideas?
You can find so many more great freezer meals in my BRAND NEW* Large Family Freezer Meals 1-15 Digital Bundle!! It includes packs 1-15 of my best-selling large family freezer meals. You will have everything you need to make over 270 large family freezer meals (make as little or as much as you want ) including 15 batch cooking meal prep guides, 15 pack specific freezer meal grocery shopping lists, freezer meal tips, freezer meal printables including a freezer meal planner and more.
Large Family Pork Dinner Ideas for the Oven
If you have a large family, it's important to have a stash of recipes that are easy to cook. These Large Family Pork Dinner Ideas for the oven are quick and easy to throw together at the last minute. These delicious pork dinner recipes are sure to become your family's favorites.
Here's a flavorful, keto-friendly meal with the Large Family Low Carb Cheesy Ham and Cauliflower Casserole recipe.
Low Carb Ham and Cheese Casserole combines egg, ham, and cheese for an easy yet tasty keto-friendly dish.
Large Family Easy Stromboli is a quick and easy dinner idea for your oven.
Large Family Breakfast Tacos Sheet Pan Recipe is an easy dairy free option!
Combine the wholesome taste of pork chops with rice and cream of mushroom soup to create Large Family Freezer-Friendly Pork Chops and Rice Casserole.
Smoked Sausage and Brocoli Casserole !! The broccoli and cheese compliment the flavor of the smoked sausage so well in this fool proof recipe
Large Family Ham and Asparagus Casserole is perfect for those spring time dinners!
Looking for More Casserole Meal Ideas?
Casseroles are classic crowd-pleasers! I have tons of casserole recipes in my shop, including my TRIPLE BUNDLE Casserole Dinners and Freezer Meals | One for Now, One for Later. These three digital cookbooks provide you with TWENTY meals each–making a total of 60 incredible meals!! Each cookbook includes casserole recipes that you can make now, save for later, or BOTH!! It is so convenient to make one casserole and save the other in the freezer for another day!!
Sheet Pan Pork Dinner Ideas
One dish meals are the perfect way to feed your large family (or any size family, really)! And if your family is anything like mine, these Pork Dinner Ideas are sure to become family favorites!
In the Bratwurst Broccoli Sheet Pan Dinner, the bratwurst make a great addition to an easy oven-baked sheet pan dinner. No pre-boiling required!
Smoked Sausage and Potatoes Sheet Pan Breakfast Hash (for dinner!)
Easy Pork Chop Sheet Pan Dinner
Large Family Chicken, Sausage, and Vegetable Sheet Pan Dinner Recipe This is easy to pull together and made with all of the family favorites!
Easy One-Pan Pork and Squash Dinner
Italian Sausage and Peppers Bake – Low carb, Keto friendly, and would be a Trim Healthy Mama S-meal if that's your thing, too!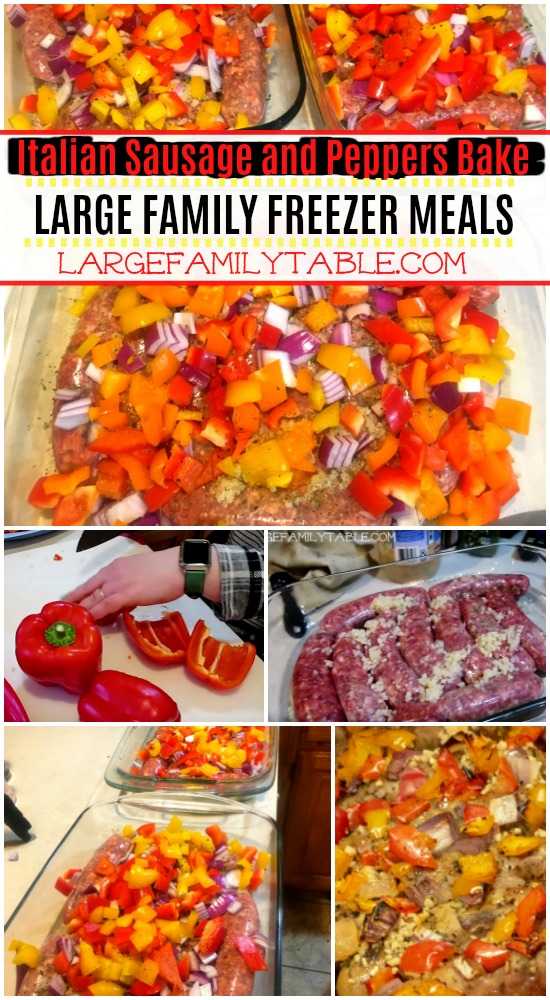 These Sheet Pan Ham, Egg, and Crescent Roll Squares are just the thing when you're looking for a fast breakfast-for dinner option!
Pork, Roasted Cauliflower, and Petite Potatoes Sheet Pan Dinner Recipe
How about a Toasted Sub Sheet Pan to go with some soup?
Lemon Pepper Pork & Veggies Sheet Pan Dinner This wonderful recipe makes TWO giant Lemon Pepper Pork and Veggies sheet pan dinners!
Large Family Cajun Shrimp and Sausage Sheet Pan Dinner is dairy free and perfect when you want something easy and just a bit different!
Here are more Sheet Pan meal ideas!!
Some seasons in life can be busier than others, but figuring out what's for dinner doesn't have to be. These nutritious recipes have a short prep time and minimal clean-up. You get the Easy & Simple Sheet Pan Dinners Pack One, Easy & Simple Sheet Pan Breakfasts Pack Two, Easy & Simple Sheet Pan Lunches Pack Three, and Easy & Simple Sheet Pan Dinners Pack Four ALL included in this great deal. These amazing sheet pan recipes utilize two sheet pans with a variety of veggie, meat/protein, and delicious seasonings that bake together to perfection. They are simple to make and you can change up the recipes just by switching out different veggies, seasonings, and proteins. It's simplicity without the mess!
Low Carb/Keto/GF Pork Dinner Ideas
It can be so challenging for Mommas to put dinner on the table every night! Especially when someone in the family has dietary restrictions. Here are recipes that are made with certain nutrition plans in mind- and just perfect for your Large Family Table!
Shake And Bake Keto Pork Chops
Large Family Low Carb Cauliflower Alfredo Casserole (with Bacon)
Zesty Italian Pork Roast This meal is not only Low carb, THM, and Keto, but it's also made in your Instant Pot.
Instant Pot Low Carb Meatloaf with Pork Rinds is a Keto freezer meal for when you're watching your carbs.
Large Family, Low Carb Pepperoni and Sausage Casserole (THM, Keto)
Bean with Bacon Soup is Gluten Free
Gluten free Sausage and Potato Skillet
This Pork and Sauerkraut Dinner is gluten free and dairy free
Don't miss these LOW CARB Meal Recipes!
You also don't want to miss these amazing Large Family Low Carb Meals to Feed a Crowd (Budget Friendly, too!). This post has over 65 low carb meal ideas including low carb recipes made with beef, chicken, soup, slow cooker recipes, and low carb instant pot recipes. You also might enjoy the LOW CARB Large Family Freezer Meals Pack 7 and LOW CARB Large Family Freezer Meals Pack 8 to FILL YOUR FREEZER with amazing low carb freezer meals!!
Slow Cooker/Instant Pot Pork Dinner Ideas
You know I love a meal that comes together fast and these Slow Cooker/ Instant Pot Pork Dinners fit right into that plan. These are great recipes for meals where you will be away for hours like after church or a homeschool group day out.
These Instant Pot Creamy Lemon Pork Chops have just the right amount of lemon, spinach, mushrooms, and parmesan flavors that combines deliciously with the creamy sauce for a tasty and filling meal.
Large family Instant Pot Country Style Ribs are tender, fall apart, delicious ribs that are also dairy free!
Slow Cooker Apple BBQ Pork Tenderloin is dairy free
Slow Cooker Garlic Balsamic Pork Loin
Large Family Instatnt Pot Pork Carnitas are dairy free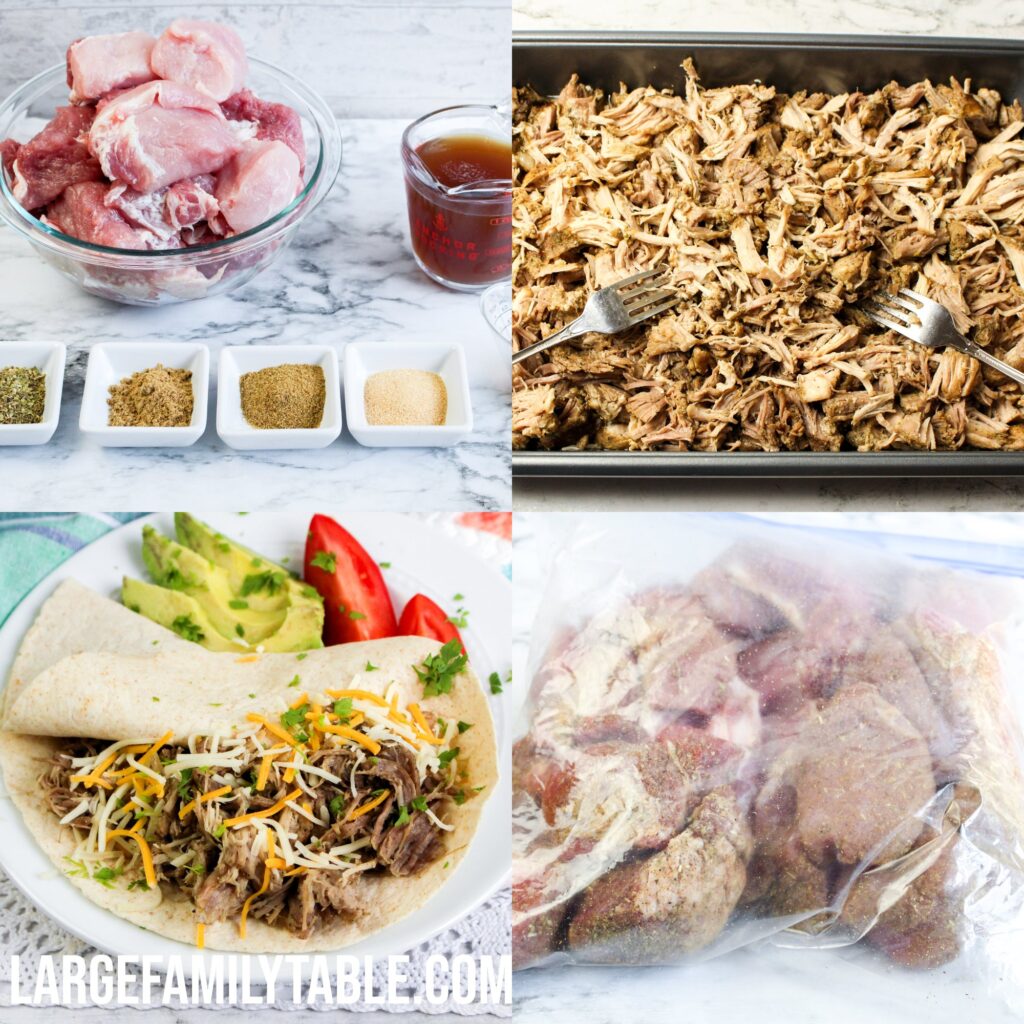 Large Family Slow Cooker Pork Tenderloin is always a family favorite, especially when served with these Garlic Smashed Red Potatoes!
Crock Pot Pork Roast with only five ingredients!
Slow Cooker Tropical Pork Chops
Here's a Slow Cooker Pork Shoulder Recipe!
How about this Easy Slow Cooker Ham Bone Soup (that's freezer friendly and dairy free) for those nights when you need a warming meal?
Do you have more slow cooker recipes?
Slow cooker meals are so easy. Most of them are dump-and-go recipes that you spend ten minutes preparing and a few hours later dinners ready. Yay for convenience! You'll find lots more easy slow cooker meals in my Large Family Slow Cooker Dinners and Meal Plans Vol 1, 2, 3 Bundle. It includes 60 meals and 12 weeks of meal plans!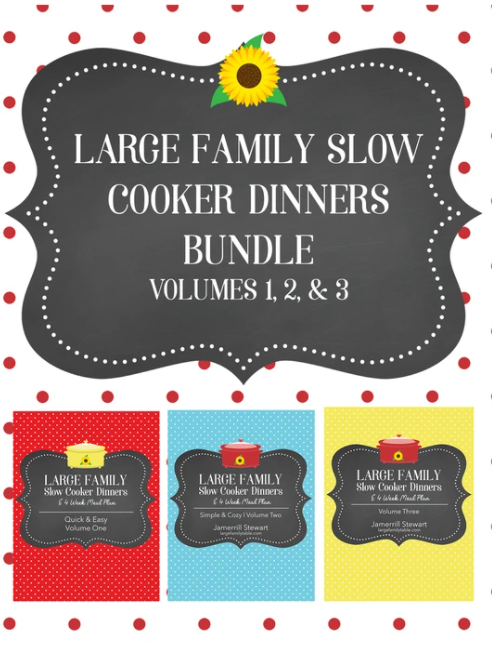 Kitchen Tools That Make Large Family Freezer Meals Cooking Easier
Y'all know I'm a firm believer in the use what you have mentality. The best tools are the ones you actually use, right? I am a huge believer in using my kitchen "servants" to help make these mega freezer cooking days easier. Things like slow cookers and instant pots can be working behind the scenes, cooking rice, meat, potatoes, etc. while I am busy prepping more hands-on type dishes. I get asked all the time about what I use in my kitchen, so here ya go on My Favorite Large Family Cooking Tools Page!
Don't forget to grab your BRAND NEW 40+ Product MASSIVE MEGA BUNDLE!!
You can get all my 40+ Recipe Packs in my meal time sanity-saving 2022 Massive Mega Bundle! It includes all the food products in my shop through Spring 2022!! You will get so many recipes, make-ahead and freezer meals, lots of sheet pan meals, baking bundles, and planning packs to help you organize all your meals (breakfast, lunch, and dinner) and so much more. That's why I call it the massive mega deal!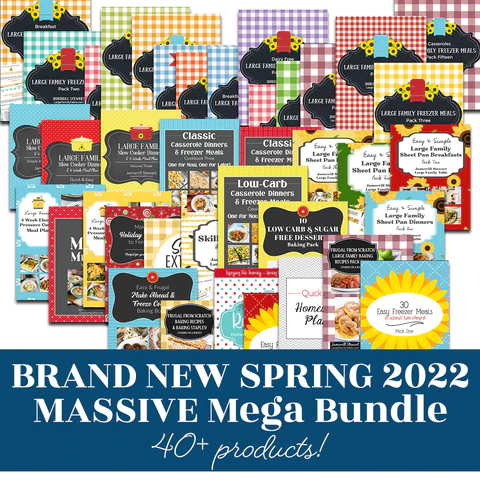 FREE Emergency Pantry Planning Pack!
Don't forget to sign up for the emergency pantry planning pack for free to help you plan your pantry meals! The free Emergency Pantry Planning Pack will help you plan your needed pantry items! Printable pages include pantry inventory, grocery lists, meal planners, list of pantry staple items, and more.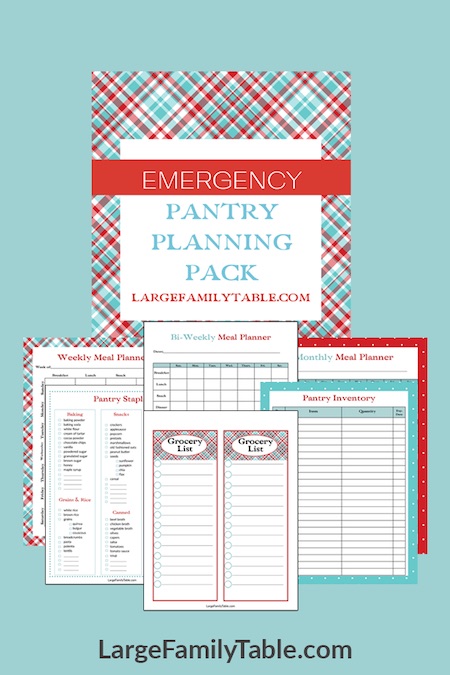 Looking for Other Large Family Dinner Ideas?
Jerk Chicken Sheet Pan Dinner/ Dairy Free
Large Family Berry Blue Layered Salad
Instant Pot Cheeseburger Macaroni
Large Family Poppyseed Chicken Casserole
Instant Pot Creamy Tomato and Olive Chicken Pasta