For flavorful meat that melts in your mouth, prepare this Large Family Apple Barbecue Pork Tenderloin. It is a simple dish that you can serve with potatoes and other easy sides.
When you want to prepare a tasty meat dish that falls apart with ease and melts in your mouth, this Large Family Apple Barbecue Pork Tenderloin is just what you need. It has a smoky, sweet taste to it that makes it perfect for eating with various sides or as a delicious sandwich to take with you while on the go. Plus, it's dairy-free if you have a special diet.
***Use special promo code HELLO20 to take 20% off your first order in the shop including the SUPER MEGA ULTIMATE Large Family Freezer Meals Bundle here!**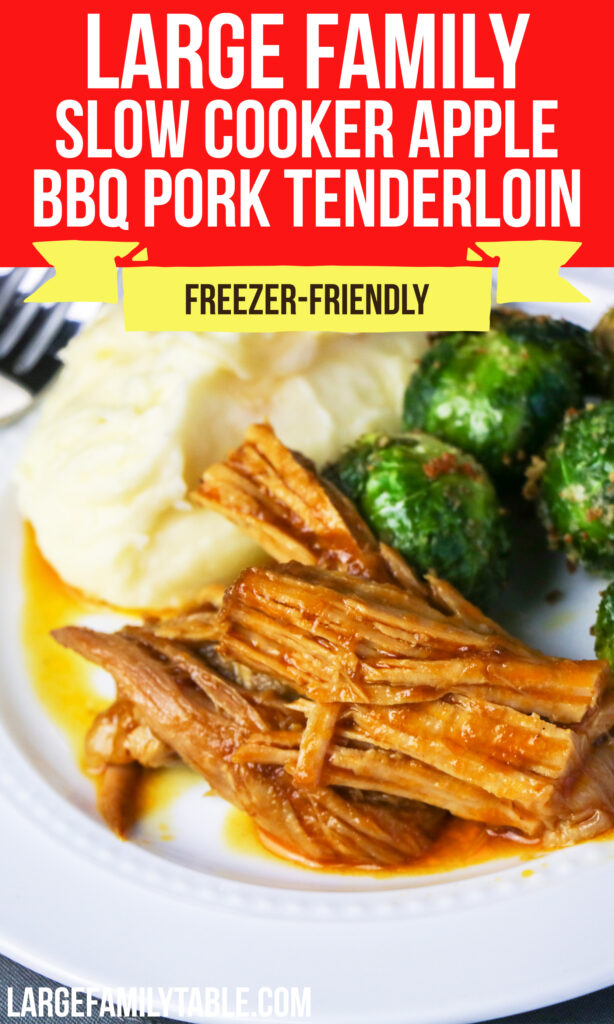 What Is Pork Tenderloin?
Pork tenderloin is a lengthy piece of pork meat. It is often compared to pork loin, but there are differences between these two cuts of meat. Pork tenderloin is boneless, long, and thin, making it even easier to prepare than some other pork cuts.
Ingredients Needed
Prepare the Apple Barbecue Pork Tenderloin for your family with the following ingredients:
Pork Tenderloin. You will need at least five pounds of pork tenderloin when following this recipe.
Applesauce. Use two cups of your favorite applesauce for this recipe. You can make your own using my applesauce recipe.
Barbecue Sauce. Add barbecue sauce over your pork with the applesauce for added flavor.
Dried Minced Onion. Sprinkle a bit of dried minced onion over your meat.
With just four ingredients, you can make the most tender and flavorful pork tenderloin you have ever tried.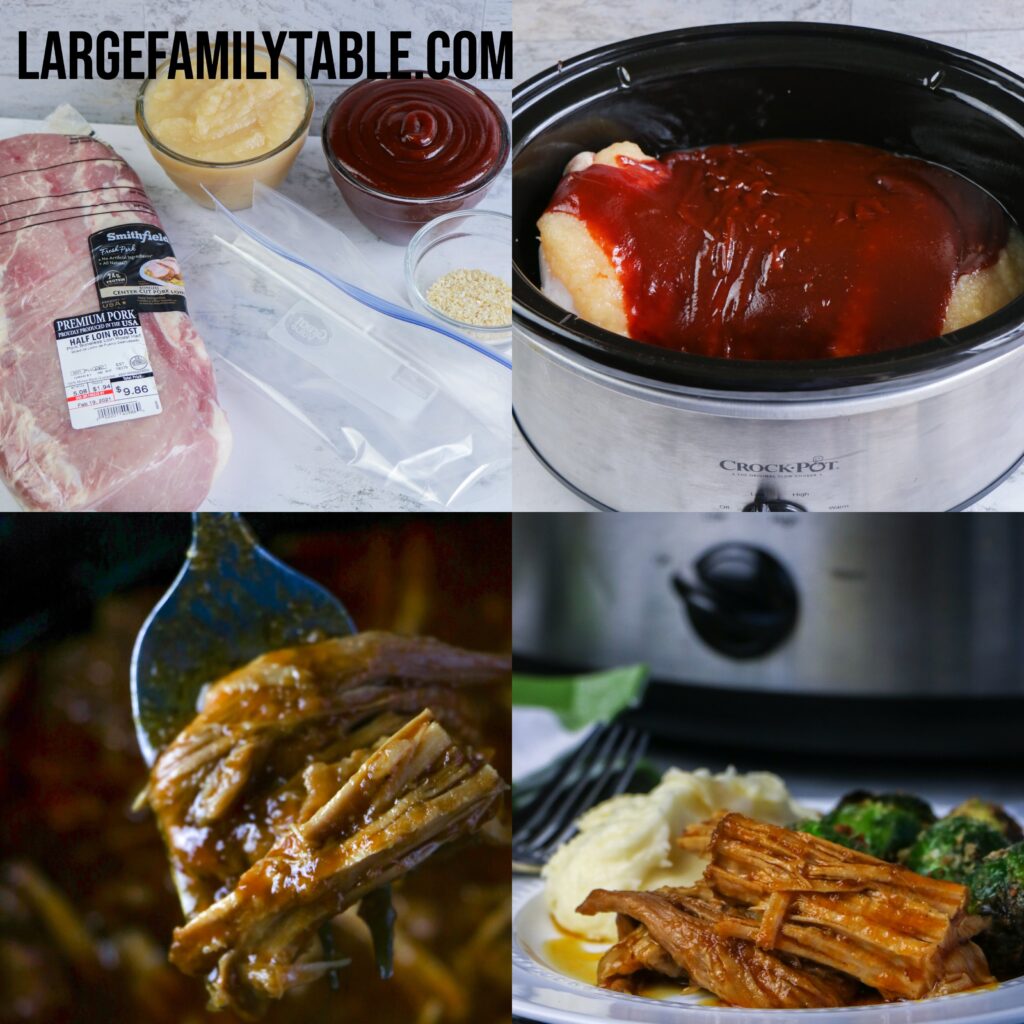 What to Serve With the Apple Barbecue Pork Tenderloin
The Apple Barbecue Pork Tenderloin goes great with a side of homemade mashed potatoes and mixed vegetables, such as steamed carrots, roasted broccoli, or even corn on the cob. You can serve it with a side of applesauce, a baked potato, and even baked macaroni and cheese. The side dishes that go great with this meat are endless. Create your favorite sides to serve with your pork tenderloin for a wholesome, tasty meal.
What to Do With Leftovers
Reheat lunch leftovers in the microwave. You can have the Apple Barbecue Pork Tenderloin with your sides for another fulfilling dinner or make sandwiches using the meat. Because the pork tenderloin falls apart with ease, you can shred it down with two forks and put it on a dinner roll, sweet Hawaiian rolls, or ciabatta rolls. You might also make homemade bread (white bread, honey wheat bread, potato bread, and more!)Add a bit of prepared coleslaw on top to complete these sandwiches.
Can I Freeze the Apple Barbecue Pork Tenderloin?
Yes! You can freeze the Apple Barbecue Pork Tenderloin and serve it at a later time. Freezer meals are a great option for feeding your large family. If you are going to freeze it, put all your ingredients into a food storage container or freezer bag and label them for later. You can leave the pork tenderloin in the freezer for up to three months. When you are ready to heat it and eat it, thaw it in the fridge overnight and then put it in your slow cooker, preparing it as directed.
Here are More Slow Cooker Meals for Your Large Family!
I have lots more fantastic slow cooker and instant pot meals. Plus I have low carb, KETO, THM, Casseroles, Dairy-free, Gluten-Free, and more!!
Do you have more slow cooker recipes?
Slow cooker meals are so easy. Most of them are dump-and-go recipes that you spend ten minutes preparing and a few hours later dinners ready. Yay for convenience! You'll find lots more easy slow cooker meals in my Large Family Slow Cooker Dinners and Meal Plans Vol 1, 2, 3 Bundle. It includes 60 meals and 12 weeks of meal plans!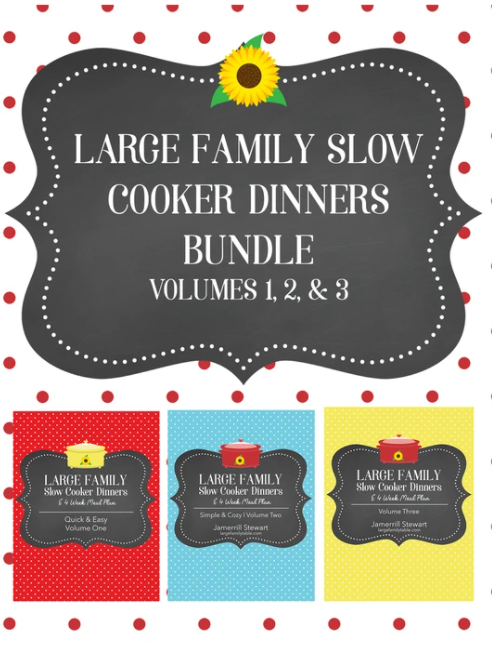 Large Family Apple Barbecue Pork Tenderloin
Print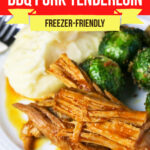 Large Family Apple Barbecue Pork Tenderloin | Slow Cooker Freezer Meal, Dairy-free
Author:

Prep Time:

10 Minutes

Cook Time:

6 Hours

Total Time:

6 hours 10 minutes

Yield:

15 Servings

Category:

Dinner

Method:

Slow Cooker
---
Description
For flavorful meat that melts in your mouth, prepare this Large Family Apple Barbecue Pork Tenderloin. It is a simple dish that you can serve with potatoes and other sides.
---
Ingredients
5 pounds pork tenderloin

2 cups applesauce

2 cups barbecue sauce

¼ cup dried minced onion
---
Instructions
Prepare the slow cooker with nonstick cooking spray.

Place all ingredients into the slow cooker.

Cover and cook on low for 6 to 8 hours.

Serve shredded for sandwiches, over rice or mashed potatoes, or as is.
---
Notes
How to freeze:  Place all ingredients in an airtight container or freezer bag. Freeze up to 3 months. Thaw in the refrigerator overnight. Transfer ingredients to the prepared slow cooker and follow the directions about to cook.
Keywords: Large Family Apple Barbecue Pork Tenderloin
Make double of this delicious freezer meal for your family. Then you can enjoy one for dinner and use the other when you need a night off. Freezer meals keep busy moms sane!
FREE Emergency Pantry Planning Pack!
Don't forget to sign up for the emergency pantry planning pack for free to help you plan your pantry meals! The free Emergency Pantry Planning Pack will help you plan your needed pantry items! Printable pages include pantry inventory, grocery lists, meal planners, list of pantry staple items, and more.