If you enjoy a flavorful stromboli, save money and learn how to make a tasty one at home with this Large Family Easy Stromboli recipe. It contains cheese, sauce, meat, and seasonings that make it taste great.
What Is a Stromboli?
A stromboli consists of a pizza-like dough in the shape of a turnover that gets stuffed with different ingredients, including mozzarella cheese, meat, and sauce. Not all strombolis taste the same because they will have different ingredients inside them. It is a lot like eating a folded slice of pizza, but you can expect the dough to taste even crispier. If you have ever had a slice of stromboli or you enjoy pizza-style meals, you will love this Large Family Easy Stromboli recipe.
****Use special promo code HELLO20 to take 20% off the entire MEGA DEAL get-it-all Bundle including the best-selling Large Family Freezer Meal Packs 1-12 + so much more!!****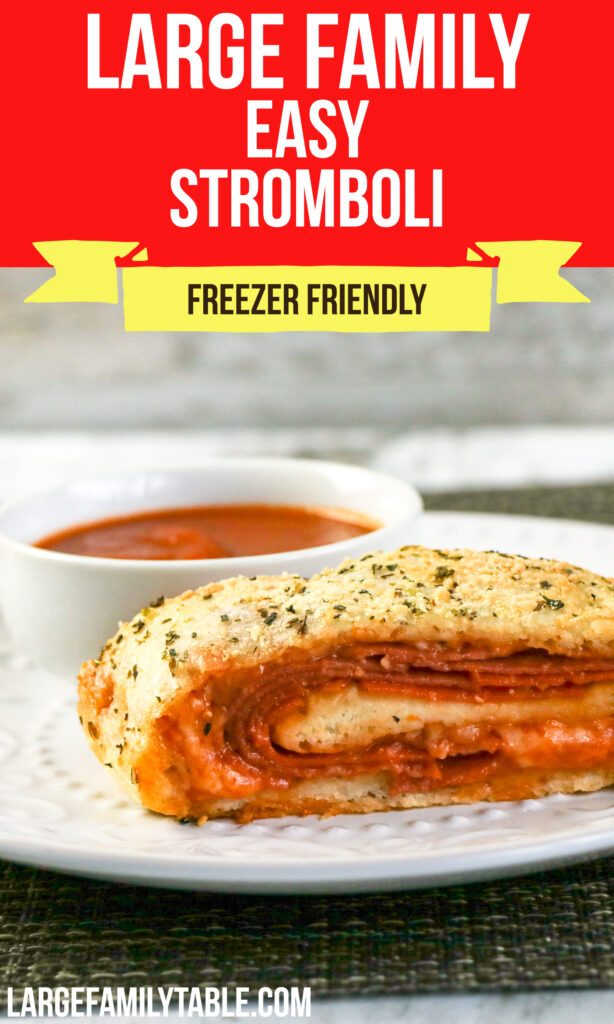 Easy Stromboli Ingredients
Make the Easy Stromboli with the following ingredients:
Pizza Dough. Buy pizza dough at the store or make it from scratch with my recipe.
Pizza Sauce. Use any brand of your favorite pizza sauce. I also have a pasta sauce you can try.
Pepperoni Slices. Give your stromboli more flavor by adding sliced pepperoni inside it.
Mozzarella Cheese. The mozzarella cheese melts perfectly inside the stromboli to give it the perfect taste.
You will also need melted butter, grated parmesan cheese, garlic powder, and Italian seasoning to complete the recipe.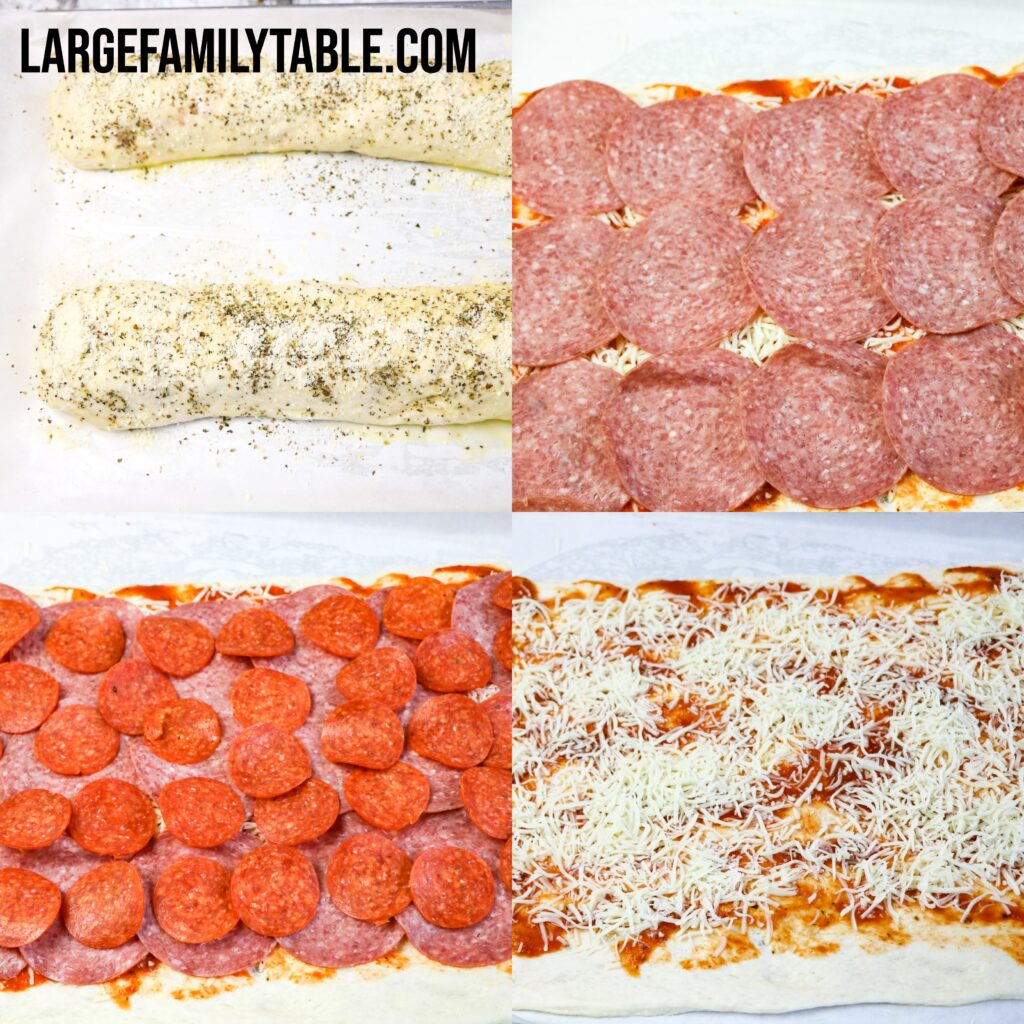 Can I Add Ingredients to the Easy Stromboli?
You can add extra ingredients to the Easy Stromboli. If you want to make it even meatier, feel free to add crumbled pieces of bacon and Italian sausage inside the dough. If you prefer it without the meat, you can skip the pepperoni and add sliced red onion, green peppers, mushrooms, or spinach to the dough. There is nothing wrong with customizing it to your liking to enjoy it even more with your family.
How Long Does It Take to Make the Stromboli?
It does not take long to make the Easy Stromboli, making it the perfect meal to eat when you do not have much time. It will take about 10 minutes for you to assemble the stromboli by adding your ingredients inside the dough, wrapping it, and getting it ready for the oven. Once you put the stromboli in the oven, it only takes 20 minutes to cook. If you need a tasty meal in 45 minutes or less, this Large Family Easy Stromboli recipe is perfect.
Can I Freeze It and Save It For Later?
Yes, this is a make-ahead or freezer meal. You know how I love to stock my freezer with large family meals! After you assemble it, you can wrap it in a sheet of plastic wrap and an additional sheet of aluminum foil. Place it in the freezer and leave it there until the night before you plan on making it. Let it thaw in the fridge overnight before you place it in the oven and bake it.
What Should I Serve With It?
Serve other tasty sides with your Easy Stromboli. It will taste great when served with a side of homemade apple fries or chips. You can prepare my spring salad or Berry Blue salad to eat with your Stromboli. You might also want to make Low Carb Cauliflower Bacon Au gratin or a fresh cranberry salad. Try adding a baked potato, too.
Here are More Large Family Recipes to Try!
Here are more sheet pan dinners, easy oven meals, Instant Pot recipes, and large family lunch and snack ideas to help out a busy mama.
If you loved this easy Stromboli recipe, you can find so many more great freezer-friendly meals in my Ultimate Super Mega Large Family Freezer Meals 1, 2, 3, 4, 5, 6, 7, 8, 9, 10, 11, 12 Digital Bundle!!! It includes packs 1-12 of my best-selling large family freezer meals. You will have everything you need to make over 250 large family freezer meals (make as little or as much as you want ) including 12 batch cooking meal prep guides, 12 pack specific freezer meal grocery shopping lists, freezer meal tips, freezer meal printables including a freezer meal planner and more.
Large Family Easy Stromboli
Print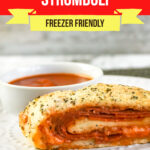 Large Family Easy Stromboli | Quick Lunch or Dinner Idea, Freezer-Friendly
Author:

Prep Time:

25 Minutes

Cook Time:

20 Minutes

Total Time:

45 minutes

Yield:

18 Servings

Category:

Dinner

Method:

Oven
---
Description
2 cans refrigerated pizza dough (or homemade pizza dough)

1 cup pizza sauce

1 (10 ounce) package sliced salami

1 (6 ounce) sliced pepperoni

2 cups shredded mozzarella cheese

4 tablespoons butter, melted

2 teaspoons Italian seasoning

2 tablespoons grated parmesan cheese

½ teaspoon garlic powder

 
---
Ingredients
Preheat the oven to 400 degrees. Prepare a large baking sheet with parchment paper spritzed with nonstick cooking spray.

Unroll the pizza dough and press into an even rectangle. 

Spread each piece of dough with about ½ cup of pizza sauce, leaving 1 to 2 inches across one side.

Over the sauce, sprinkle mozzarella cheese. Then, add a layer of salami and pepperoni over the cheese.

From the long side, begin rolling the dough up like a jelly roll or cinnamon roll, tucking the toppings as you roll. Pinch the ends to seal.

Transfer the loaves to the baking sheet with the seam side down. 

Brush the loaves with melted butter and sprinkle with the Italian seasoning, garlic powder, and parmesan cheese. 

Using a serrated knife, cut slits diagonally on the tops of each loaf.

Bake the stromboli for 20 minutes or until golden brown. 

Serve with additional pizza sauce if desired.
---
Instructions
To freeze: Wrap in plastic wrap and then aluminum foil. Best if thawed overnight in the refrigerator. Reheat in the oven or slice and reheat in the microwave.
Keywords: Large Family Easy Stromboli
Make this easy Stromboli for your next large family meal. Add a few sides and enjoy!
FREE Emergency Pantry Planning Pack!
Don't forget to sign up for the emergency pantry planning pack for free to help you plan your pantry meals! The free Emergency Pantry Planning Pack will help you plan your needed pantry items! Printable pages include pantry inventory, grocery lists, meal planners, list of pantry staple items, and more.