During this time of year we're all just living a life that is a bit more full. From time spent in the garden, taking the kids to the pool, and all of the wonderful family filled long days- Momma needs all the help she can get! Am I right? Here are 67 Quick-Prep Meals for Big Families to Feed a Crowd!
Summer months are filled to the brim with all of the goodness and all of the things! At the end of the day we still need to treat our family with the love that goes into feeding them! Add to that the last minute large meal get-togethers when friends drop by for a visit, and each of us can really use 67 Quick-Prep Meals for Big Families to Feed a Crowd go-to guide! This mega list of easy throw together meals is just what your summer ordered!
****Use special promo code HELLO20 to take 20% off the entire meal time sanity-saving MASSIVE MEGA 40+ Product Bundle which includes the best-selling Large Family Freezer Meal Packs 1-15 + so much more!!****
67 Quick-Prep Meals for Big Families to Feed a Crowd!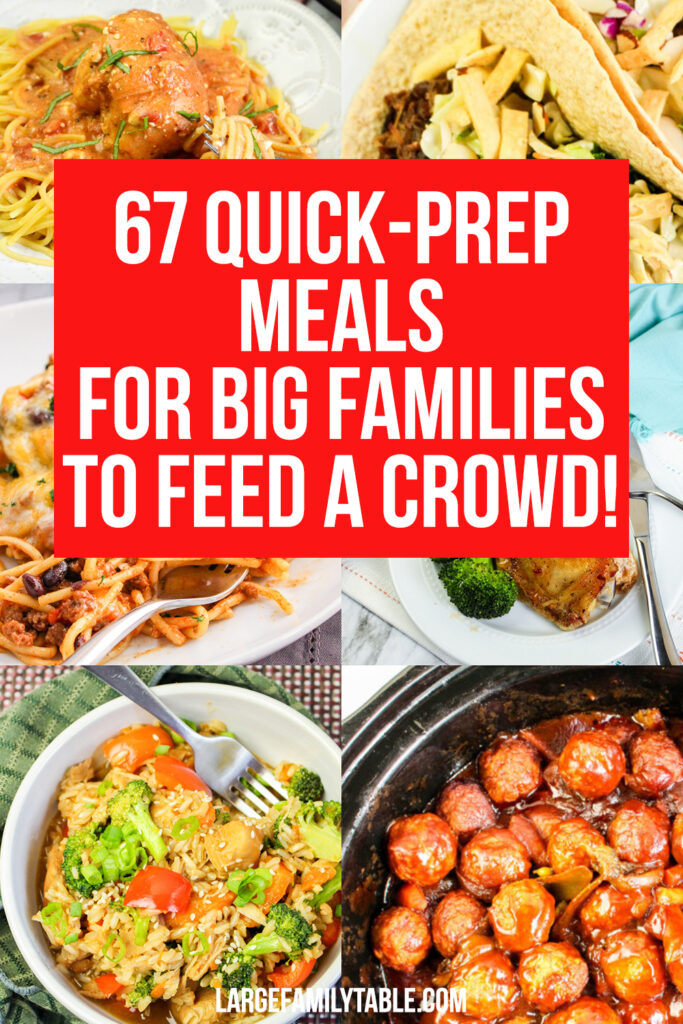 What is the easiest way to feed a crowd?
There is almost no better way to spend time with those you care about than to do it around food! Where friends and family gather, there is always food. But sometimes feeding a crowd can be tough, especially when it has to be done quickly and for a large group. Here are some of the easiest ways to throw together a quick and fun meal for your crowd.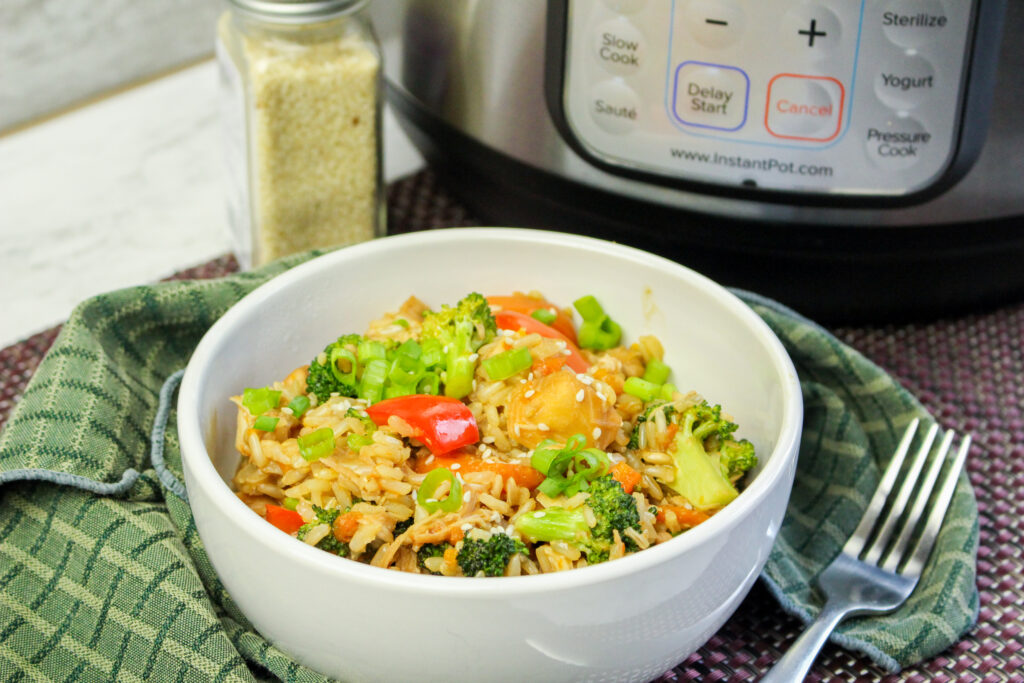 Do You Have More Instant Pot Recipes for Big Families?
Did you enjoy a nourishing and simple electric pressure cooker meal? Because I have a ton of recipes in my shop! Check out my Large Family Delightful and Abundant 4-Week Electric Pressure Cooker Meal Plan Pack One, and the Large Family Filling and Wholesome 4-Week Electric Pressure Cooker Pack Two.Or make it easy on your budget and time and grab the DOUBLE BUNDLE that includes both Electric Pressure Cooker Packs packs one and two!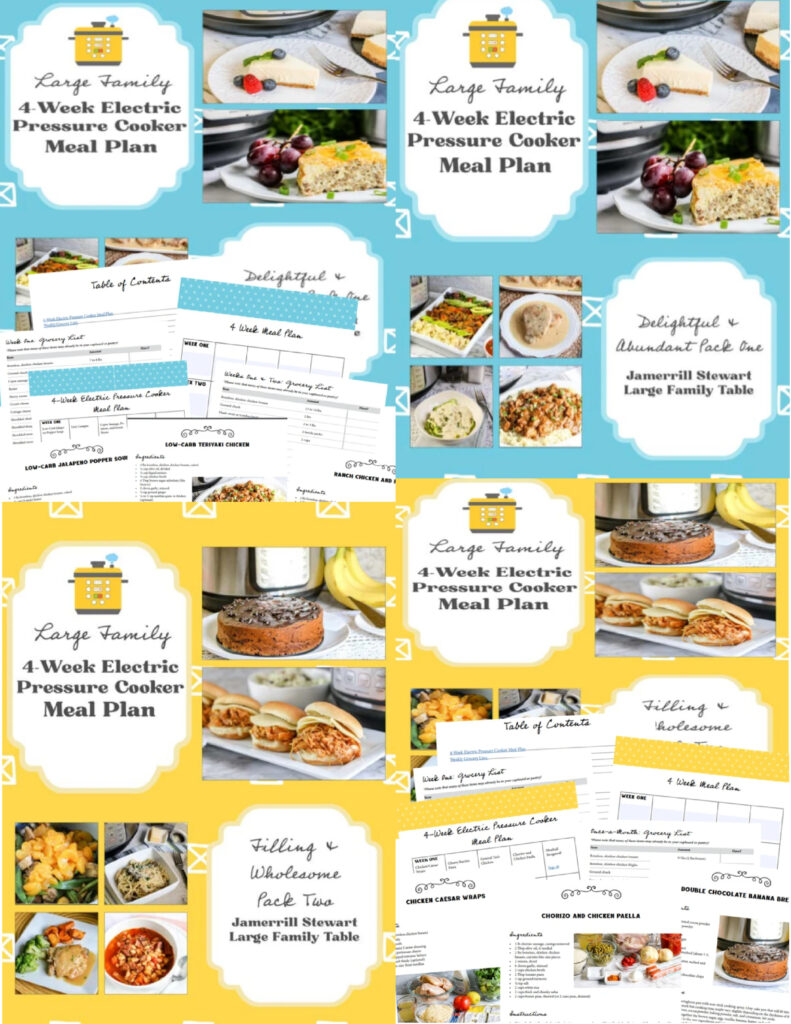 What is the Fastest Meal to Prepare for a Crowd?
What Other Sheet Pan Recipes Do You Have?
Some seasons in life can be busier than others, but figuring out what's for dinner doesn't have to be. The delicious recipes in my Large Family Sheet Pack Meals Four Pack Bundle have a short prep time and minimal clean-up. You get the Easy & Simple Sheet Pan Dinners Pack One, Easy & Simple Sheet Pan Breakfasts Pack Two, Easy & Simple Sheet Pan Lunches Pack Three, and Easy & Simple Sheet Pan Dinners Pack Four ALL included in this great deal. These amazing sheet pan recipes utilize two sheet pans with a variety of veggie, meat/protein, and delicious seasonings that bake together to perfection. They are simple to make and you can change up the recipes just by switching out different veggies, seasonings, and proteins. It's simplicity without the mess!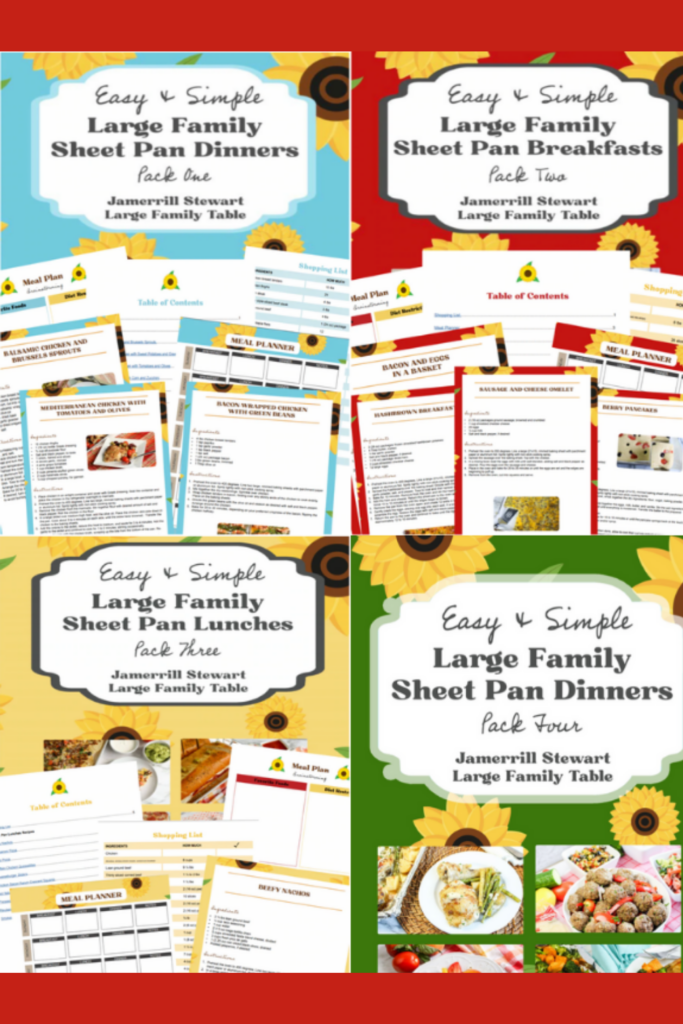 What can I feed a large crowd cheap?
Sometimes we have to learn to pull our budget belt a bit tighter than normal. Here is list of quick meals that are easy on wallet and super easy on your time.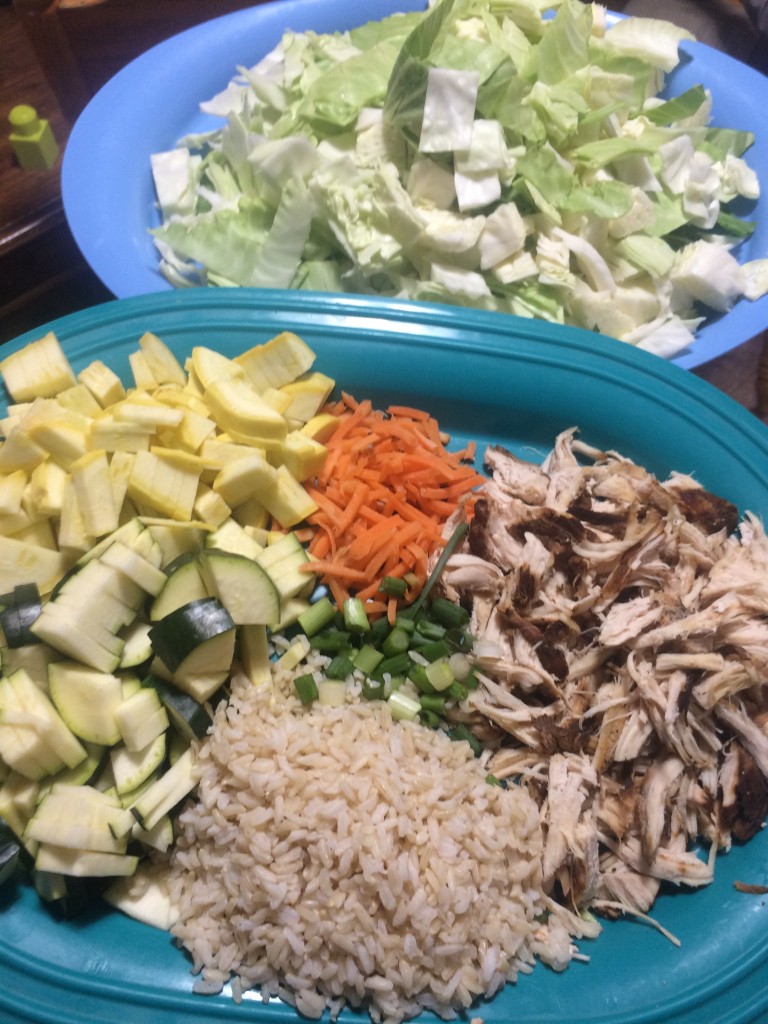 You will not want to miss these amazing Large Family Low Carb Meals to Feed a Crowd (Budget Friendly, too!). This post has over 65 low carb meal ideas including low carb recipes made with beef, chicken, soup, slow cooker recipes, and low carb instant pot recipes.
You also might enjoy the LOW CARB Large Family Freezer Meals Pack 7 and LOW CARB Large Family Freezer Meals Pack 8 to FILL YOUR FREEZER with amazing low carb freezer meals!!
What is an Easy Make Ahead Dinner for a Crowd?
The Make-Ahead Meal is something I always fall back on when I'm pressed for time to feed all of my people. For any years I've used menu planning and freezer meals to make meal time so quick and easy. I hope these make meal time for your crowd quick, easy, and fun!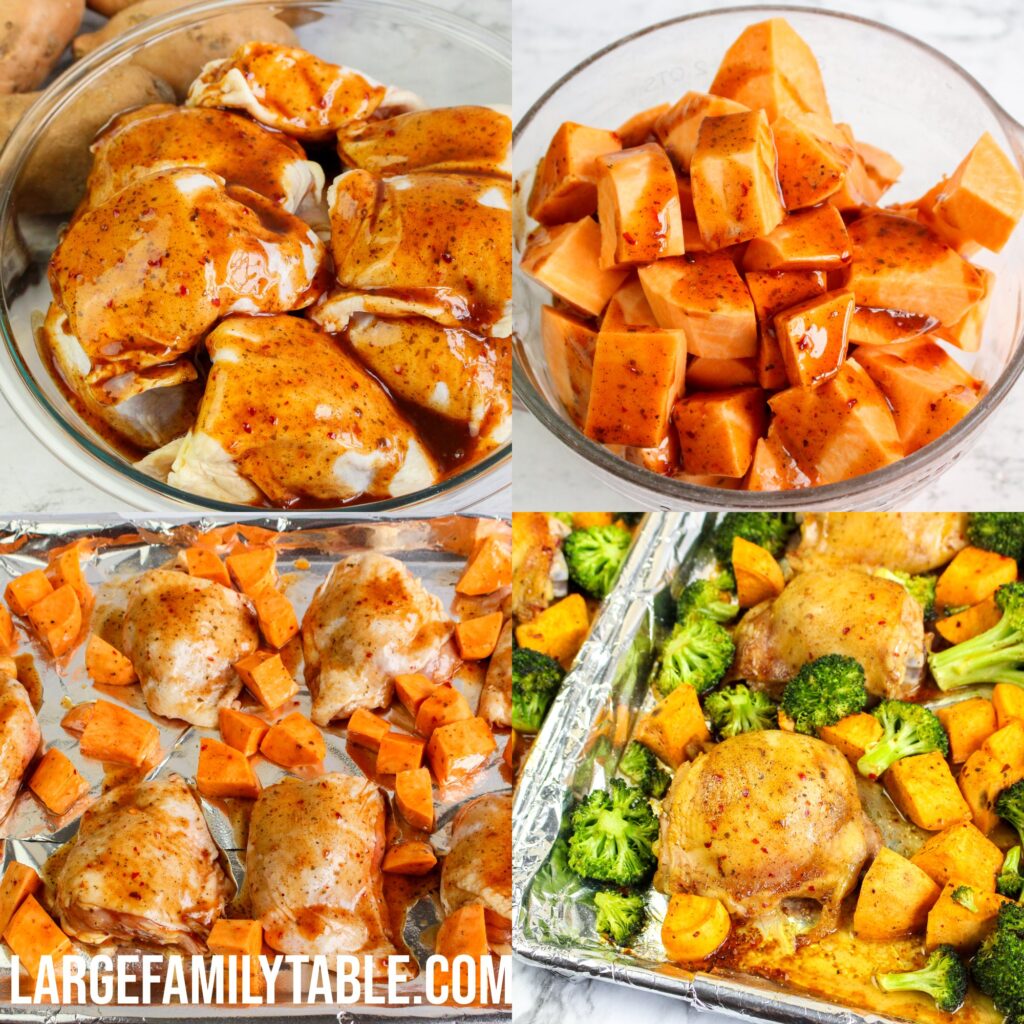 Slow Cooker Homemade Chicken Noodle Soup
Easy FishTacos With Cumin Lime Slaw
Slow Cooker Enchilada Quinoa Bake
Check out my Massive Mega Bundle!!
You can get all my 40+ Recipe Packs in my meal time sanity-saving 2022 Massive Mega Bundle! It includes all the food products in my shop through Spring 2022!! You will get so many recipes, make-ahead and freezer meals, lots of sheet pan meals, baking bundles, and planning packs to help you organize all your meals (breakfast, lunch, and dinner) and so much more. That's why I call it the massive mega deal!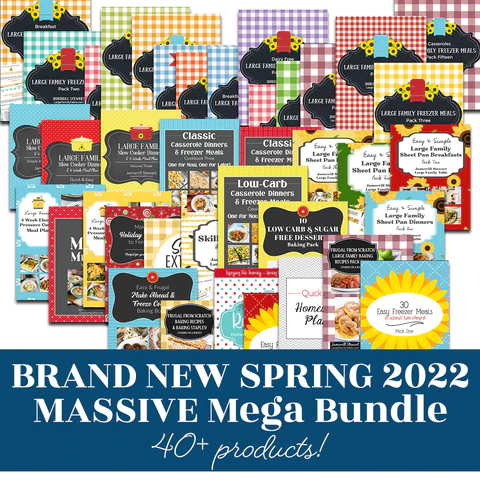 FREE Emergency Pantry Planning Pack!
Don't forget to sign up for the emergency pantry planning pack for free to help you plan your pantry meals! The free Emergency Pantry Planning Pack will help you plan your needed pantry items! Printable pages include pantry inventory, grocery lists, meal planners, list of pantry staple items, and more.