Large Family Meal Plan of the Week
?Get the Best-Selling Large Family Freezer Meals Collection here! Use promo code HELLO20 to take 20% off your first order.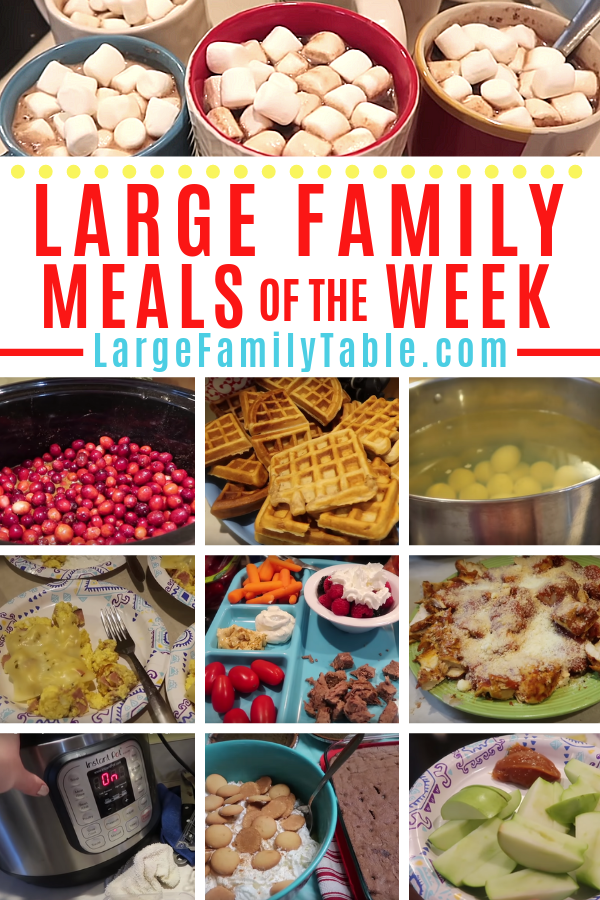 Welcome back to the next edition of the Large Family Meal Plan of the Week! You know I love sharing large family meal plans here on LargeFamilyTable.com and over on YouTube. If you haven't seen it already, my most popular large family meal plan of all time is when I shared this large family meal plan for the entire month!
Large Family Meal Planning
This is my third post in the Large Family Meal Plan of the Week which is a new series on YouTube where I'm sharing what I fed my large family of ten last week (you can watch last week's large family meal plan #1 here). It doesn't share what I'd planned to feed us. This large family meals of the week shares how our meals actually worked out. 😀
Large Family Meals of the Week #3 | Friendsgiving, Homemade Waffles, Meal Planning
You can click here to watch Large Family Meals of the Week #3 | Friendsgiving, Homemade Waffles, Meal Planning on YouTube and see our large family freezer meals, fresh fruits and veggies, omelet scrambles, and even a couple of cheat and treat meals in action! (That "Buy Two, Get Two" pizza coupon came in handy this week! Can I get an Amen? And pumpkin pie for lunch? Yes, please!) And you can hear the saga of the broken dishwasher, because it's always something, isn't it?
Feeding a Large Family
This installment of Large Family Meal Plan of the Week covers from Monday morning through the following Sunday, and the roughly 21 meals that I fed my large family that week before Thanksgiving. I hope you can use some ideas from this large family meal plan to help you feed your people!
Monday
Breakfast – Yogurt smoothies, turkey rolls, grapes, and a couple of ripe cantaloupes that needed to fulfill their destiny, LOL!
Lunch – Pumpkin pie 😀
Dinner – Chicken Parmesan Freezer Meal
Tuesday
This Tuesday was our Friendsgiving celebration with one of our local homeschool groups. I didn't get much recorded beyond the pumpkin pies, banana pudding (instant pudding mix and vanilla wafers for the win!), and a big pan of Ultimate Cookie Bars (from a mix from Aldi!)
Wednesday
Breakfast – Fried eggs and cottage cheese for the younger kids, and omelet scrambles with black forest ham and pepper jack cheese for the rest of us.
And hot chocolate, because it's that time of the year!
Lunch – Lunch today was a salad on the go while out and about for piano lessons.
Dinner – Domino's pizza night, thanks to a "Buy 2, Get 2" coupon! And you know this mama had some hot wings!
Thursday
Breakfast – Homemade waffles, snow cream (see how we make it at the end of the waffle video!) And the kids all enjoyed some morning hot chocolate again! 😀
Lunch – Leftover chicken parmesan!
Dinner – I didn't get what we ended up having for dinner this night recorded, but there's a good bet it came out of the freezer! 😀
Friday
Breakfast – Hard boiled eggs & yogurt
Snacks – Apple slices with caramel dip
And that's all I got recorded on Friday, but no worries, I definitely fed my people! 😀
Saturday
Breakfast – Two dozen donuts & some good ol' Nesquik chocolate milk
Lunch – Keto Balsamic Rosemary Beef Roast, fresh veggies with hummus and/or greek yogurt dip. We also enjoyed some berries with cool whip!
Dinner – Chicken in the Instant Pot, carrots and dip, applesauce
Sunday
Breakfast – Yogurt and cheese sticks, because Sunday mornings are often too busy for real cooking.
Lunch – this day we enjoyed lunches that each of the kids packed in children's church. What an unexpected blessing that turned out to be!
Dinner – This food blogger was preparing several Thanksgiving food posts and videos, so we all got to enjoy an extra full Thanksgiving meal! Turkey, mashed potatoes & gravy, corn, stuffing, apple and pumpkin pie, and homemade cranberry sauce! Yum-m-m!
More Large Family Dinner Ideas
I don't know about you, but I feel like as a large family mom I can never have enough large family recipes in my collection. If you're looking for more dinner ideas for your family be sure to check out these 25 quick and easy large family slow cooker recipes! My friend Vicki shared her Large Family Meal Planning System here that is simply brilliant as well.