Shop with me at America's Cheapest Grocery Store (Sharp Shopper!) and Costco! I take you to both grocery stores to shop with me. Sharp Shopper is amazing as you will see in the store and in my frugal Sharp Shopper Haul.
🎉 Use Coupon Code HELLO20 to take 20% off the SUPER MEGA EXTRAVAGANZA BUNDLE which includes 50+ meal-time sanity-saving products like Big Batch Freezer Meal Guides 1-18!!! 🎉
Shop with Me at America's Cheapest Grocery Store and Costco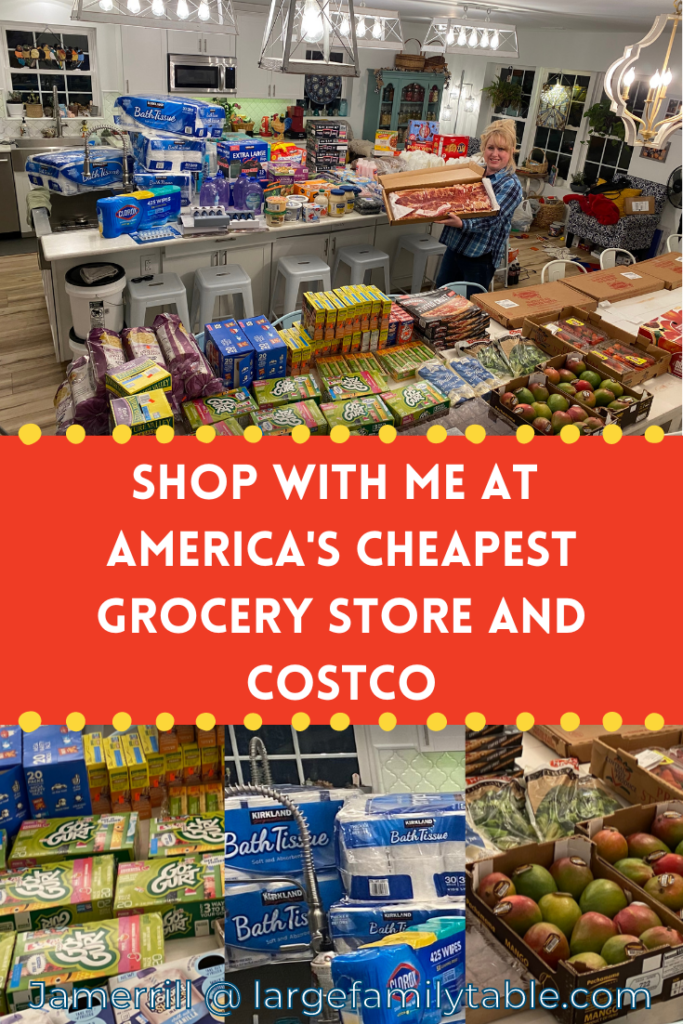 It is time for my monthly massive mega momma grocery haul! I visited my local Costco and America's Cheapest Grocery Store, Sharp Shopper! YAY!
The other day, I had a friend share her finds at Sharp Shopper and I told her, "Ya know, we don't tell Sharp Shopper what we are gonna get. Sharp Shopper tells US." So what did it tell us on this trip?
Find out in my latest grocery haul video! We hit Costco pretty hard. With Sharp Shopper, we went light on it. I usually spent about $100-300 there but only told us we needed a few things there.
Shop with Me!! 💃
My focus for this trip was for more household items and what I like to call convenience items (easy meals for Momma, etc.)
So what did I find? In Costco, I restocked on tons of household items. My goal for the grocery store in my basement is to stay about 4-6 products ahead. I picked up a five container pack of Clorox disinfection wipes, toothbrush replacement heads, hand soap, trash bags, and laundry detergent. I grabbed a package of 30 rolls of toilet paper for $19. My Mom and I are the coffee drinkers in our home, so the few boxes of coffee I grabbed will last us many months!! A find that made me really happy was their deals on Oikos Triple Zero Yogurt–$13 for a box of 18 packs. Good job Costco!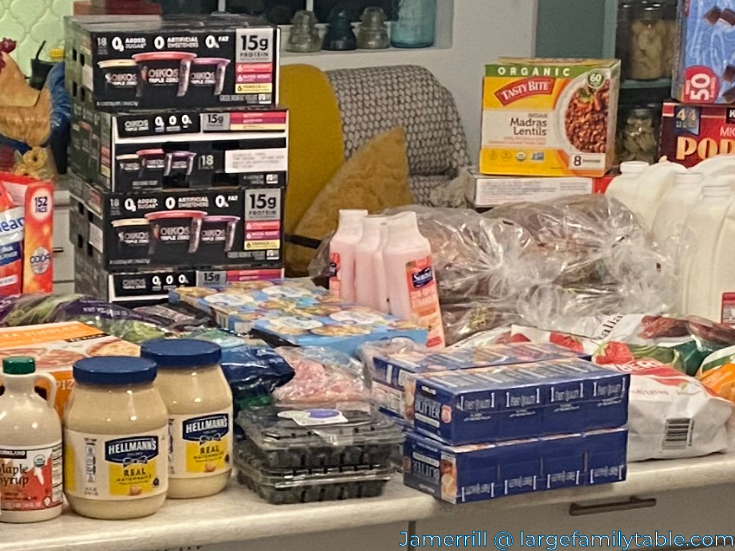 I also found lots of frozen goods like a pack of 40 Panko breaded chicken patties for an easy large family lunch or dinner; lots of frozen fruit for my smoothie drinkers; cauliflower rice with veggies, and one of my favorite emergency mom life go-to's—meatballs. These will probably be used up pretty soon in upcoming freezer meals.
We were also totally out of bread. Can you believe it?! I bought 8 loaves, which will maybe last us a week?! We also had to get some more more milk. I picked up 10 gallons of milk. We can easily go through a gallon a day, so it may sound like a lot but it won't last too long in the mega momma kitchen!
Shop with me at America's Cheapest Grocery Store!
If you don't know about Sharp Shopper, it is a discount grocery store that is only in Virginia and Pennsylvania. They find overstock items and share the savings with us. I have heard from many people it is worth a trip from out of state or that people plan their vacation route to stop at a Sharp Shopper! There, I found GoGurt for $2.49 a box! We haven't had that in a few months, so I knew my kids would love it. I've found better deals on GoGurt before, but I'll take it!
I also found granola bars for $2.49 a box and other simple snacks. We also needed to stock up on some broccoli for the freezer and some pizzas for my adult son.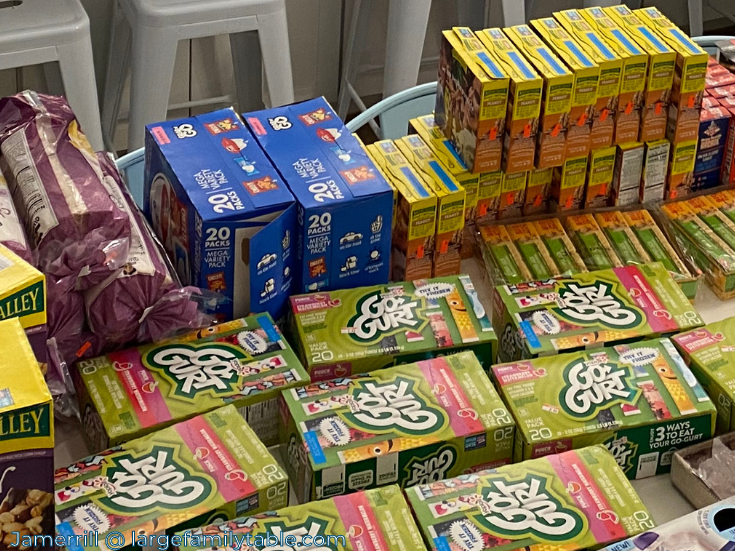 I also share my deals from our local market, the Jon Henry General Store. They always have super deals that they find at produce auctions. We found mangoes, strawberries for $1 a pack, and some 30 lb boxes blood oranges. And if you're a local, you'll have heard about the Jon Henry bacon deal that has been all the rage in our area! Sliced slab smoked bacon, 10 lb boxes for $37!! So naturally, we had to get four boxes. That will last quite a while!!
Grand Totals: In Costco, I spent about $1350, Sharp Shopper was actually under $100 (WOW!) and at Jon Henry, we spent about $55 on those amazing deals.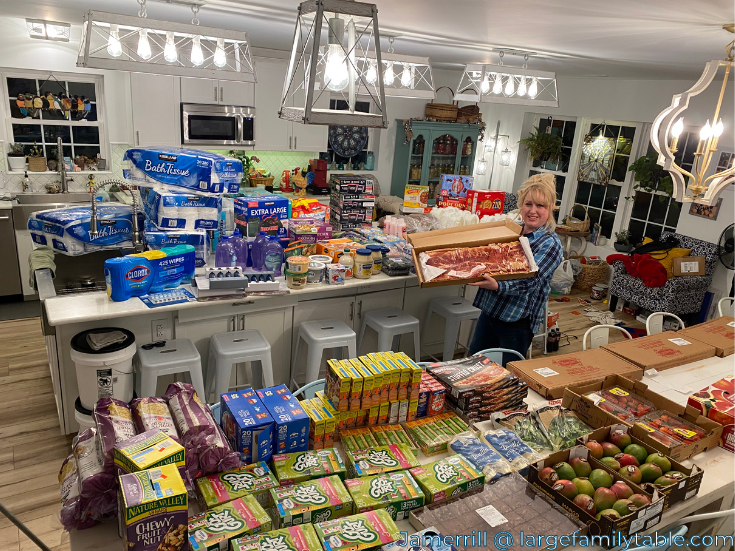 At the end of the video, as a special bonus, you can see WHERE all these groceries go in the grocery store in my basement!!
🎉 Get it all Here and Save your Meal-Time Sanity!!
You can get all my 50+ Recipe Packs in my meal time sanity-saving Super Mega Extravaganza Bundle! It includes all the food products in my shop through Fall 2022!! You will get so many recipes, make-ahead and freezer meals, lots of sheet pan meals, baking bundles, and planning packs to help you organize all your meals (breakfast, lunch, and dinner) and so much more. That's why I call it the Super Mega Extravaganza Deal!