** Get the Best-Selling Large Family Freezer Meals Collection here! Use promo code HELLO20 to take 20% off your first order. **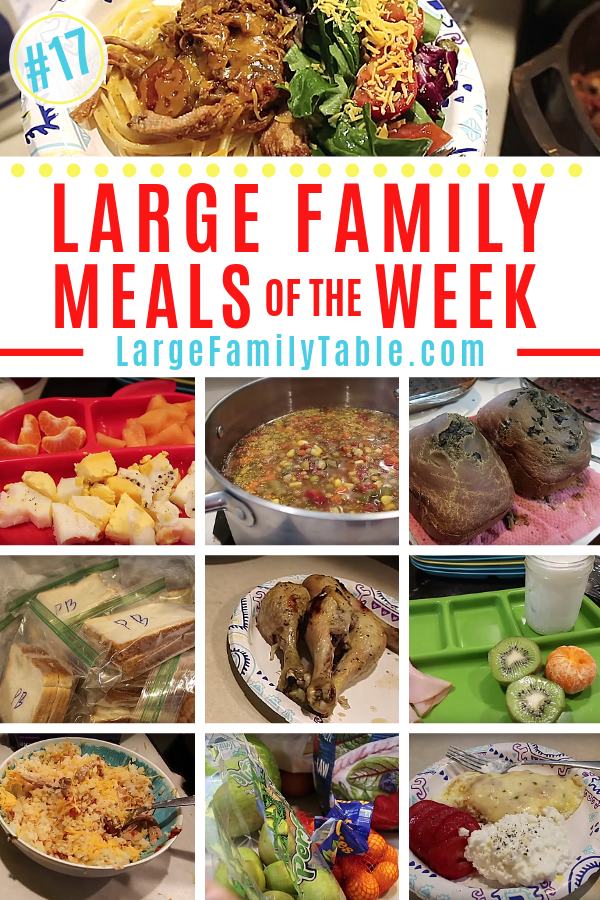 It was another whirlwind week of large family meals for the Stewart household! (OK, let's be real, every week is a whirlwind week in a large family. Can I get an Amen?!) This week started with what I've affectionately termed, "International Gabriel Day", also known as Gabriel's 10th birthday. Another double-digits kiddo, somebody hold me! Enjoy these precious days of childhood, mamas, because they grow up too quickly!
Large Family Meals of the Week – What we actually ate!
We had several sheet pan dinners this week, as well as several things pulled from the freezer.
Monday –
Lunch – For this year, 2019, we've been letting the kids pick where they want to go out to eat as a family for their birthday meal, and Gabriel chose Cicis Unlimited Pizza Buffet for lunch.
Supper – Pork, Roasted Cauliflower, & Petite Potatoes Sheet Pan Dinner
Watch me prepare this recipe, and 4 more sheet pan dinners, on my 5 Sheet Pan Dinners video on my YouTube channel!
Tuesday –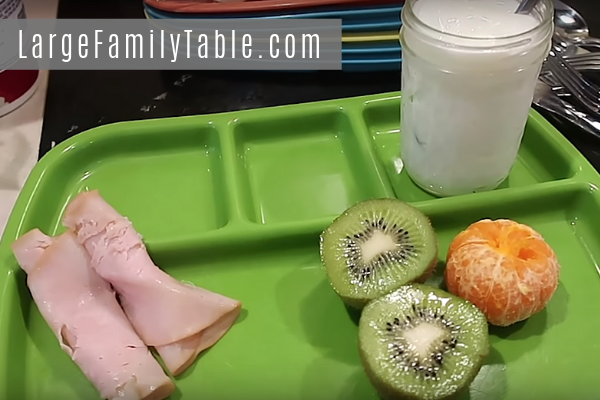 Breakfast – Odds & ends for breakfast today – hard boiled eggs, cottage cheese, some sliced sandwich meats, various fruits, and yogurts.
Lunch – We enjoyed lunch out in nature, snacking on fresh fruit while we had our read-aloud time in the fresh air.
Supper – Bratwurst & Broccoli Sheet Pan Dinner (I'm loving how easy these sheet pan dinners are! And so tasty!)
Wednesday –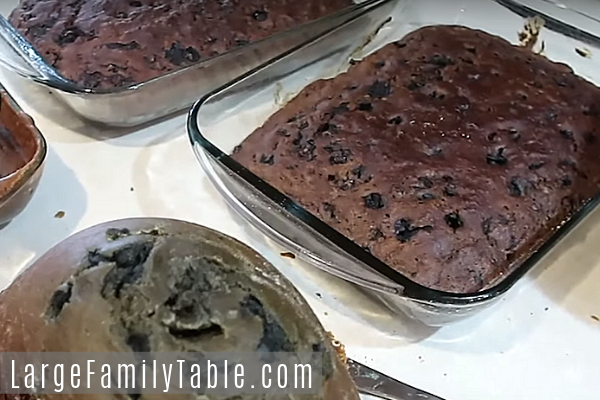 Breakfast – Apples & peanut butter and some yogurts.
Lunch – I'm sure we ate some, but I didn't get it written down. Oops.
We spent the afternoon making many, many, many, loaves of what I like to call Freezer Fruit Bread. Using both of my bread machines and the oven, we made applesauce bread, banana bread, blueberry bread, all the bread! Check out my BATCH FREEZER COOKING: Bread Machine Recipes, Homemade Oven Bread, LOTS! video over on YouTube.
Supper – Lemon Pepper Drumsticks with Roasted Brussel Sprouts Sheet Pan Dinner
Thursday –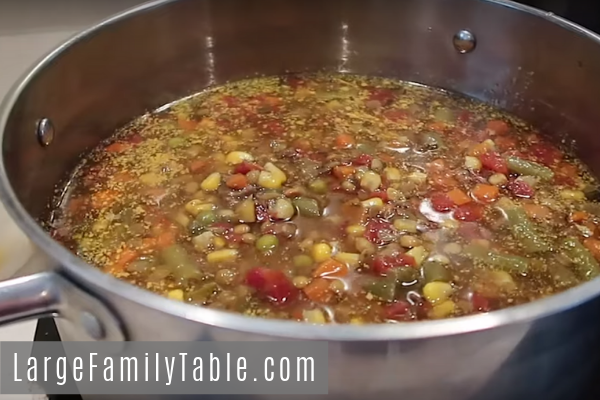 Breakfast – We had fresh pineapple for breakfast and used our new handy dandy pineapple slicer. It was awesome! Where has this thing been all my life??
My mama breakfast consisted of a sliced up small tomato, cottage cheese, 2 eggs topped with pepper jack cheese (Yum!) and a "Big and Holy Pioneer Woman Cup of Coffee". Pretty much perfection.
Lunch – I had set out two containers of Vegetable Beef Soup from the freezer the night before, and they were ready to pour into a big pot to be reheated on the stove top. I also reheated a big pan of Twice Baked Potatoes from the freezer.
Having a freezer stocked with make ahead freezer meals is worth every ounce of the effort it takes ahead of time!
Supper – I pulled out a big batch of Pork Ragu to make my Slow Cooker Pork Ragu Over Fettuccine recipe. Unfortunately, I got it going in the slow cooker a bit late. Then, thanks to an afternoon power outage, it wasn't done in time for supper. These things happen. We scrounged for a late quick supper and saved the Pork Ragu for the next night…
Friday –
I had a meeting in the morning, Mr. Travis took kids to Lowe's, we had FOUR orthodontist appointments, and I made a Walmart run for some seasonal lake stuff. Whew!
No filming, and no notes about what we ate on the go. Too busy living our large family life this day. Some days are just like this, and I keep reminding myself, someday I'll miss this… 🙂
Supper – We had some of that Pork Ragu that we didn't eat on Thursday night.
Saturday –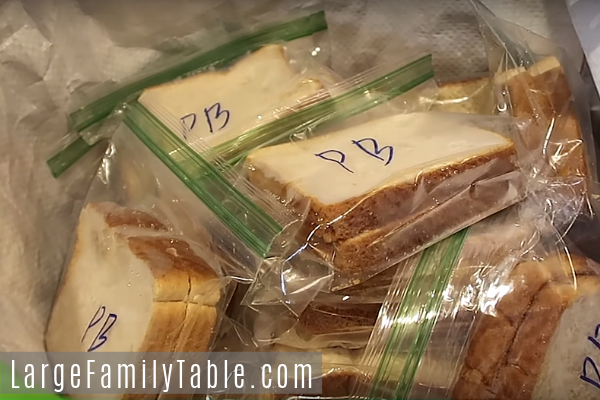 A full day at the lake was on the agenda for this day. I packed up a bunch of pears and mandarins, and around 20 Freezer Peanut Butter and Jelly Sandwiches. I was taking 7 kids for the day and was pretty sure every last one of those sandwiches would get eaten up! We also brought with some M&M cookies and some little lemon pies, that I picked up on discount. We filled up our water bottles to stay hydrated, and we picked up a case or orange soda for a sweet treat on our fun day out!
Supper – I heated up more of the Pork Ragu, and served with some lovely side salads. I made myself a Trim Healthy Mama version and had my serving over some cauli rice instead of the fettuccine noodles.
Sunday –
Breakfast – We had a quick breakfast of watermelon slices before heading out to church.
The rest of the day we were busy living life, including going out to eat. It was an easy dishes day! 😀
Monday –
Breakfast – Banana raisin bread (from my "BATCH FREEZER COOKING: Bread Machine Recipes, Homemade Oven Bread, LOTS!" day) and some leftover watermelon pieces and cuties.
I spent the afternoon making a couple of batches of homemade yogurt in both the Instant Pot and Slow Cooker (aff links).
Check out my "How to Make INSTANT POT YOGURT and SLOW COOKER YOGURT!!!" video on YouTube!
Supper – Shepherd's Pie Freezer Meal, once again, a made ahead freezer meal saves the day!
Watch Large Family Meals of the Week #17
Check Out More Large Family Meals of the Week Posts & Videos
Meal Planning for Large Families
I hope you found this week of meals for busy, large families helpful! Here are some additional large family meal plans and planning helps for you:
Here are even more large family meal planning resources!